In this era of technology, We find that the design and utility of our appliances are very smart and trendy. The concept of fans has undergone a dramatic change in terms of design, features, and results. Tower Fans are a new type of fan with the main feature of mobility.
In the summer season, we try almost everything that gives us some relief. Air conditioners are saviors at that time but breathing fresh air can become a big challenge. To minimize this problem, we can take the help of other appliances like Coolers and Fans. They may take time to give expected results or sometimes fail to give the cooling effect we need during hot temperatures. Tower Fan is a product that can keep us cool without much effort.
How does Tower Fan Works?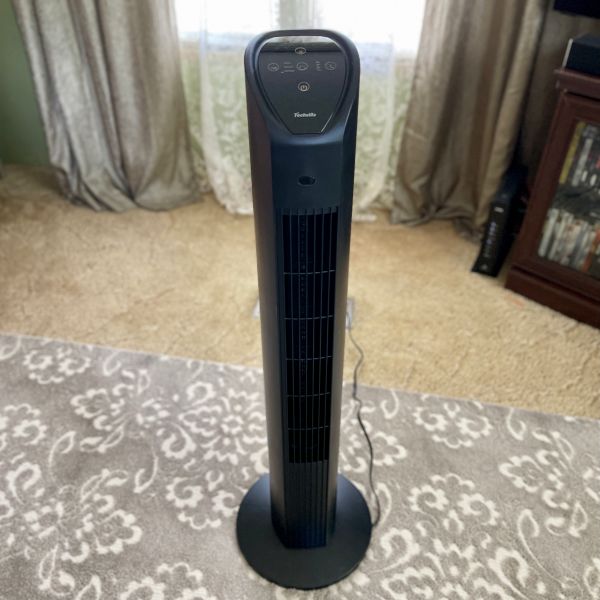 source: Tower Fan
A Tower Fan is a tall tower-like fan that oscillates on a fixed base over which it stands. It has a centrifugal blower-type fan. Air gets sucked into the fan through a tiny inlet at the side of the fan casing. Air is pushed out of the fan at a 90-degree angle and contributes to a wider coverage area of air circulation. A Tower fan may not be a swoon-worthy appliance purchase, it is inconspicuous if stashed in a corner.
Main Features of a Tower Fan
Tower fans come with very impressive high-tech features.
Air Flow settings
Many companies provide a lot of settings to precisely adjust your wind and airflow. Those who like modern technology can opt for a digital screen or LED screen display. But if you are not a big fan of high-tech features, you can go for a model that has traditional button controls and everything in between.
Generally, there are 3 different modes – Normal, Natural, and Sleep. Entry-level oscillating fans usually have wind settings and on/off settings. Mid-level fans come with airflow control that you can adjust with a remote.
Timer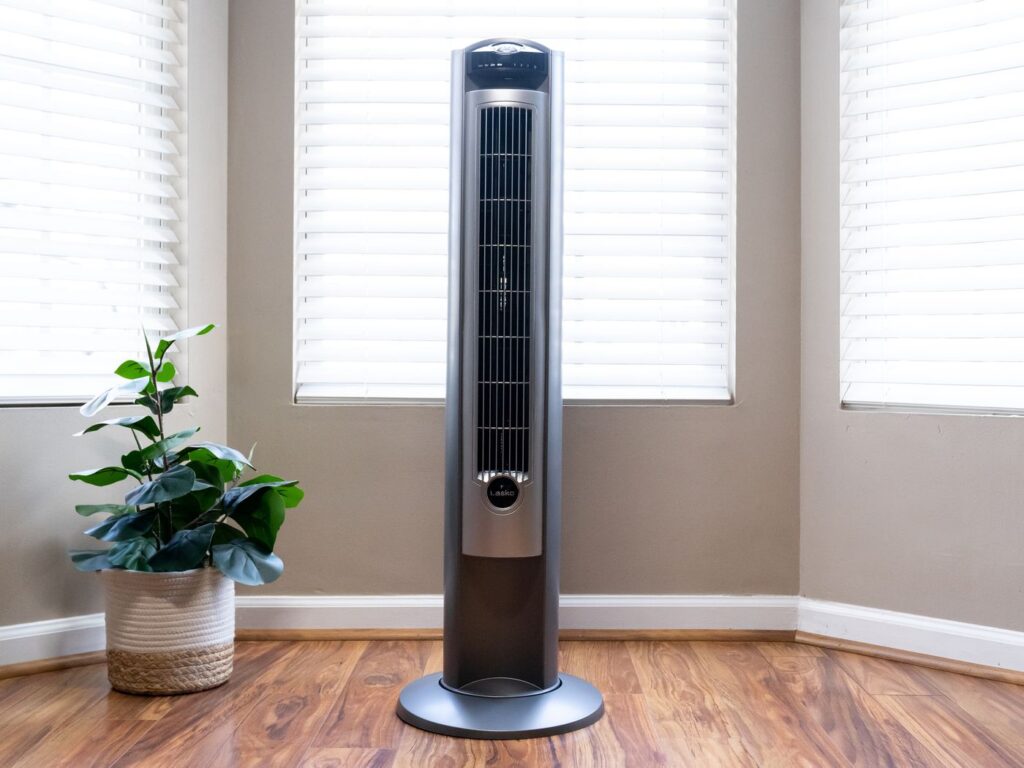 source: pinterest.com
It is a setting that turns off the device automatically after a specific time. This feature is good to save energy bills, particularly at night time. Timer settings help you set up a time after which you want to turn off your fan. In this way, you can become carefree, especially at night, and enjoy undisturbed sleep. Generally 8 to 12 hours maximum timer settings you can set in one go.
Remote Control
With this feature, you will have comfort and convenience. You can turn on and off the tower fan in the comfort of your bed. The remote control feature is also good for specially enabled people who can not move frequently without others' support. Some other things you can control with a remote are airflow and light settings.
Noise
Tower Fans are designed for use in smaller spaces so they are less powerful and quieter than other fans. Consumers nowadays demand Tower fans that make no noise. So most of the fans have this feature in it. It works quietly without disturbing the flow of air. Some advanced technology like Passive Noise Reduction is also available in some Tower Fans.
Oscillation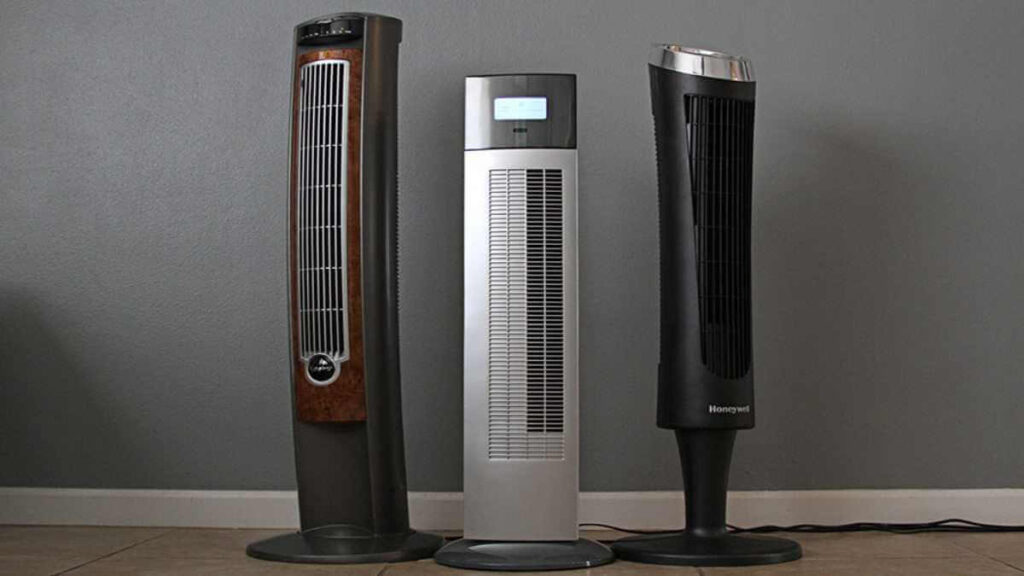 source: pinterest.com
Most of the companies who manufacture Tower Fans offer oscillation in their products. This will help consumers to get the airflow in all corners of the room. It enhances the utility of a tower fan as it allows air to distribute over a wide area.
Ionizers
This function of a tower fan keeps the air in your room fresh and clean. Filters inside the fans attract dust, pollen, and pet dander in your home and thus keep your home clean.
Warranty
The warranty feature is useful for the maintenance of the product. Generally, tower fans have a Standard 1 Year warranty up to 3 years of limited warranty. Some big brands also give 5 years of warranty.
Best Tower Fans for different categories
Lasko Wind Curve – Best Tower Fan For Small Rooms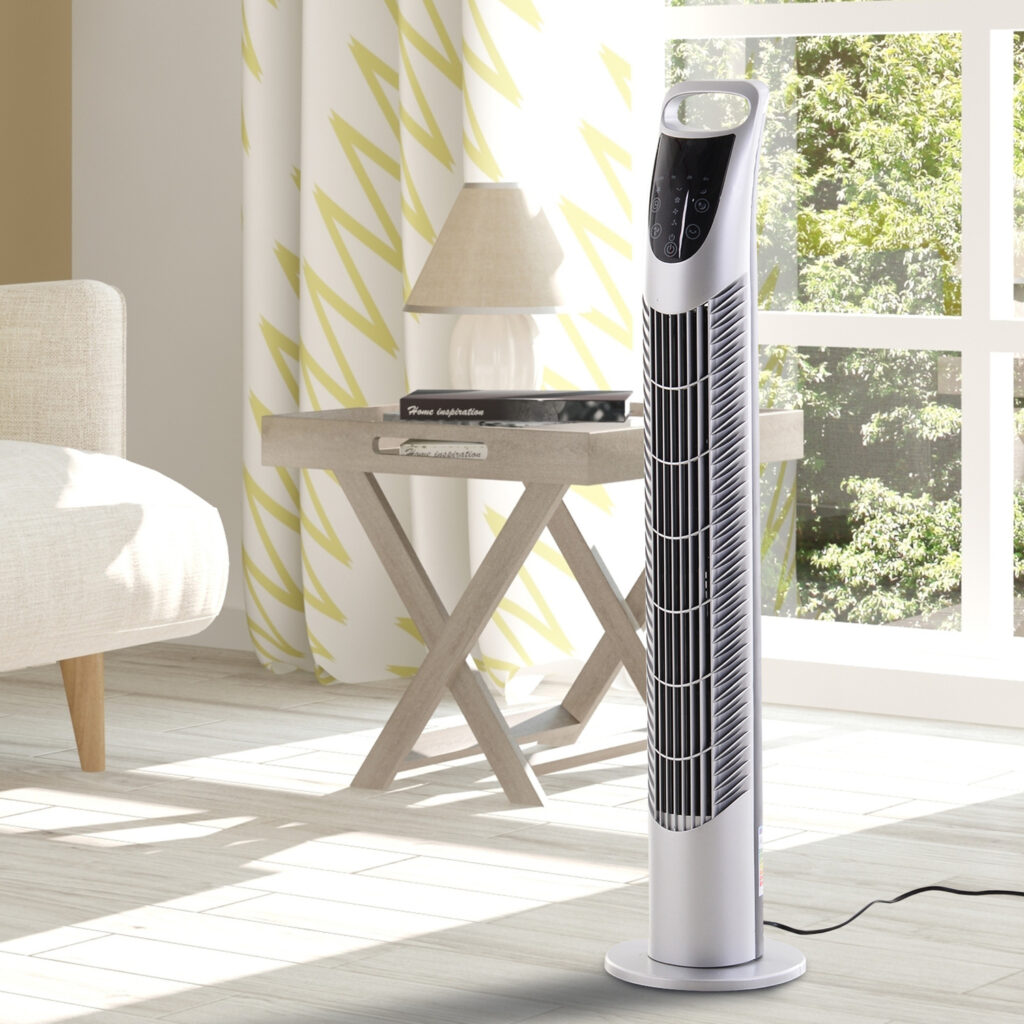 source: pinterest.com
This product has a maximum number of positive reviews. It performs best in smaller rooms. The finishing and design of the fan are very interesting. Silver paneling gives classy touch. It is an affordable and effective device. It weighs around 13 pounds and it is very much sturdy. Timer settings are available from 30 mins to 7.5 hours. In-built ionizers keep the air clean. Three variations in speed and remote control to keep beneath the handle. It will cost you around 78$.
Honeywell Quietset – Best Whole Room Tower Fan 
This product has a very useful feature of speed. It has 5 different types of speed and oscillation. Easy to assemble. It comes with remote control. Auto din light feature is there. After 15 minutes lights reduce by 50% and brightness reduces after 15 seconds. Auto shutoff timers for 1,2,4 and 8 hours are also available in this Quietset Tower Fan. It cost you around 110$.
Dyson Pure Cool – Best Tower Fan for Clean Air
The best quality of this fan is that it purifies the air and cools you down. In-built HEPA Filter to remove 99.97% of small particles. It comes with 0 to 70-degree oscillation. Easy to clean and replacement of filters also easy. The magnetized remote is a bonus part of this fan. This fan has 2 years of limited warranty. Costs you around 399$.
Ozeri Tower Fan – Best Tower Fan for Noise reduction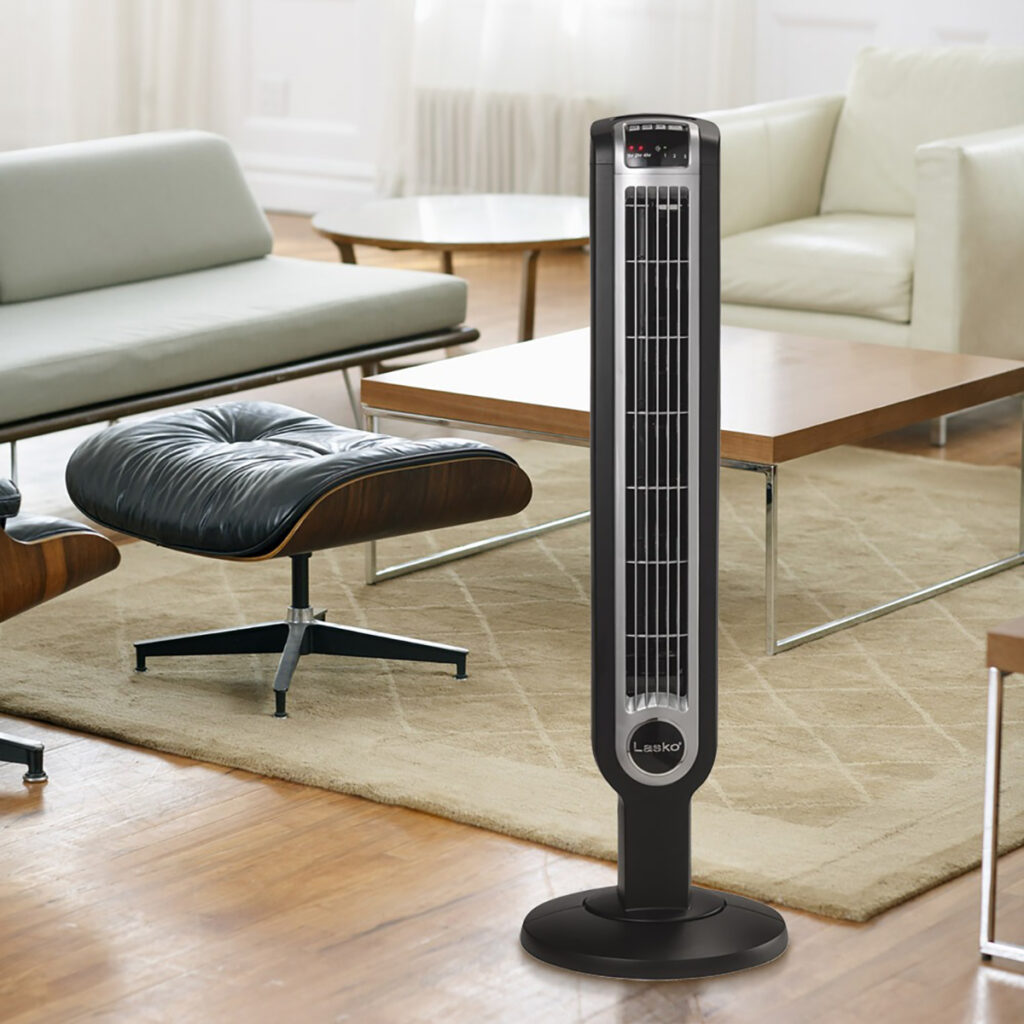 source: pinterest.com
This is a product that has a specialty in reducing noise while operating. Ozeri Tower Fan performs Ultra-quiet operations which has a noise of less than 50 dB. The design of the fan is very unique. Three independent fans are giving a stylish look. It has a wide range of speeds. You can operate up to 9 levels of cooling in it. Comes with a remote that is super convenient. It will cost you around 96$.Best for medium size rooms.Combination of digital decor and innovative design.
Vornado41-inch Tower Fan – Best Tower Fan with Remote.
One of the best Tower fans for cooling Medium to Large size rooms. It has a circulator instead of an oscillator that helps it to spread air at a wide angle across an entire room at once. It offers four types of speed. This fan has a generous five years warranty. It costs around 115$. It is a good recommendation for home and office use.
Holmes Oscillating Tower Fan – Most Affordable Tower Fan
The best thing about this fan is its dual-oscillating feature. Most tower fans have a 90-degree oscillation feature but in this product, you can stop the fan and change the reverse direction of it. Comes with a remote control that has the main functions as other fans have. It comes with a three-year limited warranty. Good choice for the small and mid-size rooms.Affordable and stylish product with a sleek design. It costs you 55$.
Conclusion
Tower Fan looks very fancy than other types of fans due to the enclosed structure. It is a great choice for medium to large rooms where floor space is limited. It adds to your home decor and also fulfills the need for cooling. They are more compact and stylish with many useful features. Tower fans are the most convenient appliance for cooling compared to pedestal fans or floor fans. Recommended for smaller to mid-sized rooms.