Decorating the walls in the right manner is an art that makes even the gloomiest of spaces feel happy and full of warmth. The empty walls in homes and offices represent endless possibilities for revamping the look and feel of the entire space. By choosing the right kind of wall decor, people can not only show off their unique taste and preference but also amp up the space to make it more trendy and appealing.
However, decorating the wall in the right manner does not necessarily involve investing in expensive or over-the-top decor items. The focus should be on using items that are affordable and easily available to refresh the space and make it more inviting. Read on to know more about some effective wall decor ideas that will make a space cozier without the need for a huge investment.   
Decorate With Family Photos
source: pinterest.com
Hanging family photos is one of the oldest ways of decorating walls cost-effectively. The pictures add a unique personal touch to the space and make it more comfortable and relaxing. The pictures create a beautiful collage of memories and reflect the love and happiness shared between the members of the family which can be quite comforting. They can be placed haphazardly or in a symmetrical pattern to create a gallery. The pictures can also be scattered on different walls along with other decor items to create a more harmonious and balanced look.
Style The Walls With Shelves
Wall shelves not only add a unique beauty to the space but also prove quite functional for placing various decor items. They make the space look more organized and clutter-free. From floating shelves to shelves attached to the walls, people can choose from a wide variety of these unique wall decor products to enhance the beauty and elegance of a space. The shelves can be used for placing books, plants, antiques, or even modern sculptures as per the preference of the homeowners.
Experiment With embroidered Wall Art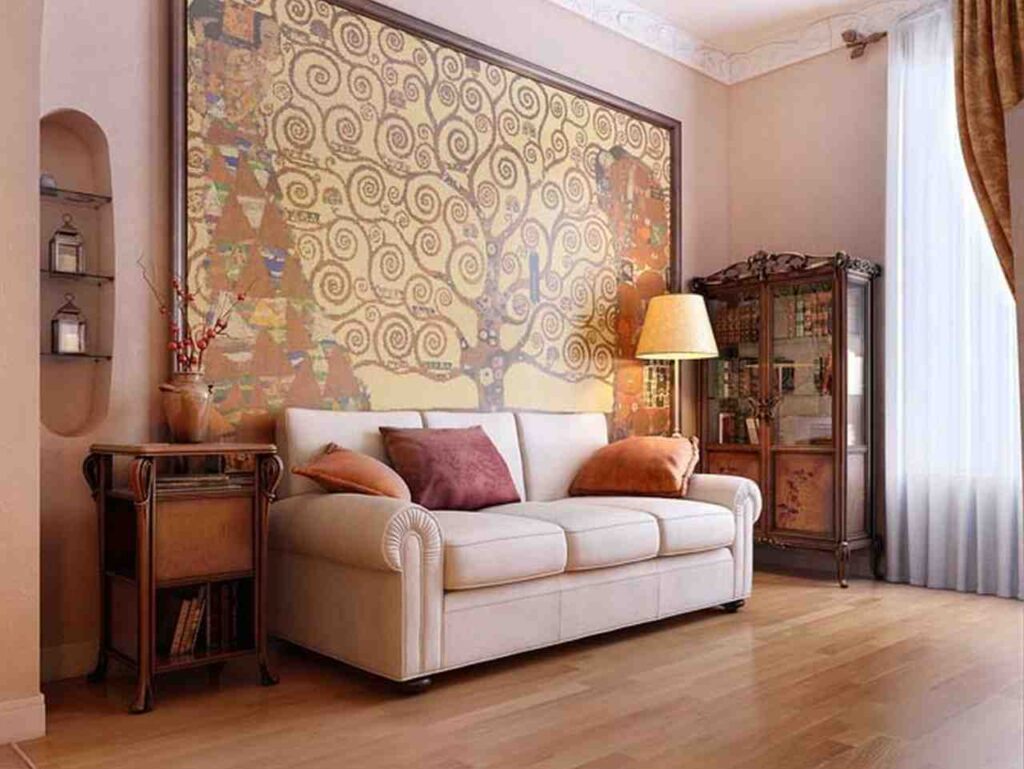 source: pinterest.com
In recent years using wall hangings featuring embroidered patterns and imagery has become a popular trend. These traditional decor products are often hand-crafted and reflect the great skill and craftsmanship of Indian artisans. These products are available in different sizes and designs to match the decor needs of different spaces. They can also be used in combination with other types of decor products to create a more contemporary look. Cover an entire wall with a big embroidered tapestry or hang a couple of smaller-sized framed wall hangings to get that perfect look.
Increase Brilliance And Color With Paintings
Paintings have been used as the preferred option for decorating the walls of homes and offices for ages. These traditional wall decor items are a perfect way to make any space look more colorful and vibrant. From the masterpieces created by renowned artists to the more contemporary abstract art, paintings can add a sense of graphic wonder and graphic interest to a space. Many times, people even choose to use an entire wall as the canvas and create beautiful and vibrant wall art that leaves the onlookers mesmerized and adds a unique personality to the space.
Invest In Decorative Mirrors
source: pinterest.com
Mirrors of different styles, shapes, and sizes have formed an integral part of interior decor for centuries. Mirrors prove extremely effective in creating the illusion of space and that is why they are used for decorating smaller spaces. Moreover, mirrors add a unique shine and brilliance to the space by maximizing the reflection of light. They thus are extremely effective in keeping a space looking fresh and vibrant making people feel relaxed and comfortable. People can choose to install a single big statement piece on the wall or use small mirrors in different styles on various walls to create the perfect look.
Try Installing Metal Sculptures
Metallic sculptures are gaining much popularity among people seeking contemporary decor products. These metallic sculptures are generally available in the form of figurines representing various historic and religious personalities and objects. The metallic sculptures in the form of Ganesha, female figurines, The Tree of Life, and other similar shapes are offered in the form of wall hangings to enhance the decor of a space. Stand-alone metal sculptures such as The Bust of Buddha or Nataraja Sculpture are also being used widely in office and home decor.
Add Greenery As Part Of The Wall Decor
source: pinterest.com
Hanging decorative potted plants or even artificial foliage on the walls can add a unique beauty and sense of calm to any space. Combing the greenery with warm lighting can go a long way in enhancing the charm and elegance of the interiors besides making them warm and welcoming. Such wall decor ideas make people feel closer to nature and this helps them to relax and unwind without venturing far from their homes. However, it is important to ensure that the greenery effect is not overdone as it may make a space look too dense and cluttered. 
Choose To Hang Plates And Plaques
Another common form of wall art that has been used for decorating the walls for a long time includes designer plates and plaques of appreciation. Designer plates are generally used to create a mesmerizing mosaic that instantly attracts the attention of the onlookers. These are mostly made of ceramic with beautiful designs and patterns inscribed in different colors on the face of the plates. Plaques, on the other hand, are often testimonials of the achievements of the residents of a home. They are a commemoration of the hard work and skills of the recipients and are displayed with great pride.
Can You Have Different Decor Styles In each Room?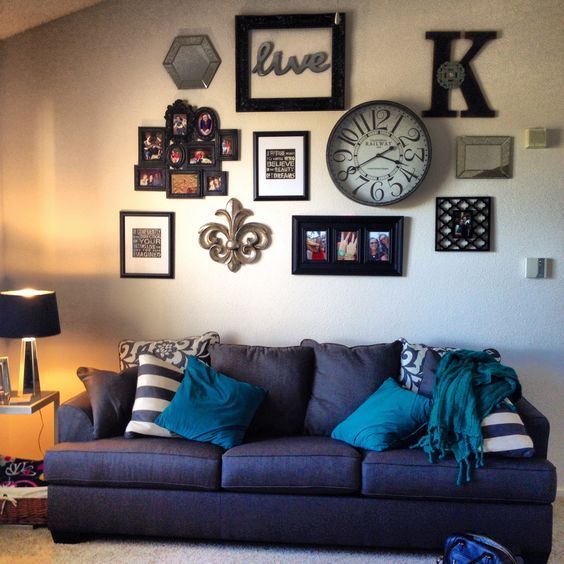 source: pinterest.com
each room of a home is different and hence it is only natural that its decor needs are different from other rooms. In addition to adding variety to the overall decor theme, it also adds a unique personality to each room. Having different decor styles provides the people using that room to reflect their exclusive tastes and preferences, which enhances their overall comfort and makes them feel comfortable. 
Wrapping Up
Wall decor helps in enhancing the appeal and elegance of space besides reflecting the unique personality and taste of the homeowners.