Teenage lad's room or husband's home office or man cave or an outright bachelor pad, some spaces need to give an outright masculine vibe to go with its male user's personality. Most people find it tough to design masculine spaces that do not look, well, boring. 
Think of it, it isn't easy to evoke a feeling of maleness that's stylish and confident without being too in the face. We understand this dilemma and have compiled below some useful tips to help you create a handsome masculine space. 
First, pick your preferred décor style.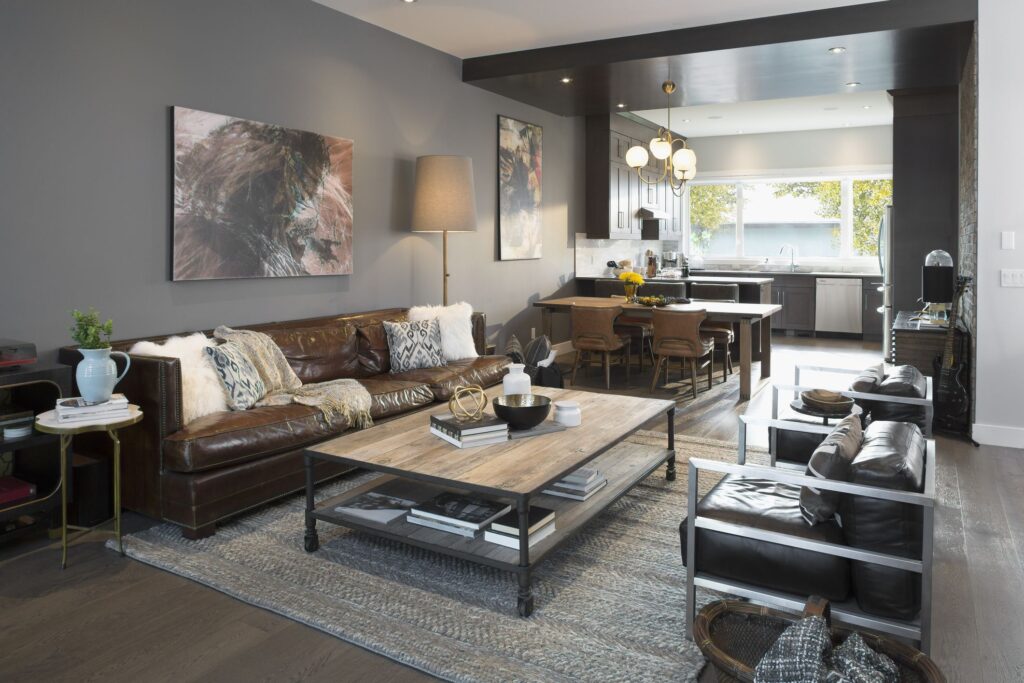 source: pinterest.com
 You need to choose a specific décor style to get started. Some styles are great at evoking the 'male' feel as they already incorporate several manly traits. Some examples are the Scandinavian style which has muted colors, clean lines, sheer custom drapes and shades, and a minimalist approach. Then there's the industrial chic style defined by hardwearing materials, stripped down look, and functionality. Similarly, the mid-century style has clean lines, geometric shapes, stark contrasts, and muted color palettes. You can also go for modern coastal style or, if adventurous, you can even mix two or more styles. You can also search the internet for more style inspiration. Once you have the style selected, move on to the next step. 
Next, write down the impression you wish to create.
Exercise your gray cells to pick out two-three key traits you wish this space to reflect. Some such examples could be athleticism and raw energy, artistic temperament and refinement, no-nonsense attitude and raw power, love of nature and outdoors, intelligence, and geekiness, etc. Think about how you can evoke these male vibes in the space you are designing. Here are some ideas to show you how to go about it. Ruggedness can be conveyed via open brickwork walls and concrete floors. Impression of raw power can be brought in using leather upholstery. The outdoorsy feel can be evoked by large artworks of seas, mountains or forests. Just as curves give a feminine vibe, angularity is a decidedly male attribute. You can use patterns like herringbone, stripes, checks, or chevron in your custom roman shades, curtains, cushions and upholstery to bring angular elements to the room for the unmistakable male signature.
Choose a color palette that feels masculine.
source: pinterest.com
Skip the pinks, the peaches, the lavenders, and the pearly off-whites. Male color palettes can be muted (taupe and pale gray) or bold (black, white, and charcoal gray).  Navy blue and gray is another great color scheme for a man's den. Once you have the basic palette recreated through walls, drapes, rugs, and upholstery, add accents using bolder colors like crimson red, turquoise, or emerald green. For example, deck a brown leather upholstered couch with turquoise and emerald green cushions, or jazz up white curtains with bold color blocking. Or pair a navy and gray pinstriped wallpaper with a red-dominated artwork. This simple trick will make your space look extra handsome.
Mix up materials and textures for contrast.
 Stark contrasts are great at adding a dashing masculine dimension to a room. You can create such contrasts in your space by mixing up materials and textures. Here are some examples to get you going.  Smoothness of polished wooden flooring with a distressed wooden wardrobe, open brickwork on a wall section with a large unframed mirror on the one facing it, glossy steel furniture with suede upholstery, or a vintage porcelain figurine placed next to a rock sample. Experiment with multiple contrasts, and keep the ones that look good to you.
Personalize the space.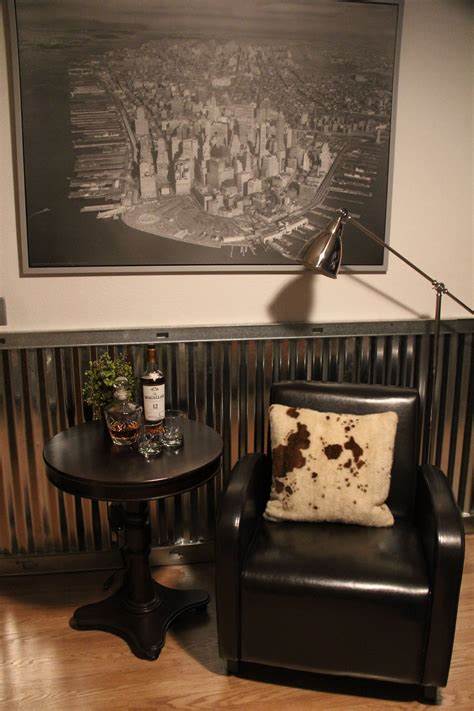 source: pinterest.com
As any good interior design must reflect its user's personality, think up innovative ways to personalize their space. One foolproof way to do so is by bringing in things that showcase the inhabitant's hobbies and likings. Many boys (and boys at heart) collect comics, action figures, car/ bike models, stamps, and books, etc. Install a shelf (or a suitable display stand) for their collections. Make these a key part of their room's décor.  Let the artwork on the wall too reflect their idols and ideals. If your man is tennis-mad, hang a collage of his favorite champs on the wall. A soccer fan's room could have custom printed cushions with famous jersey numbers. A boxing enthusiast could have a pair of boxing gloves on display. A basketball hoop could be repurposed as a coat/bag hook. Substitute curtain rods with skiing poles or hockey sticks. Thinking out of the box could get you big dividends here.
Add softening touches
.
Yeah, you read it right. Every man has a softer side to him. Their room should also have some element to reflect this trace of gentleness. Here are some suggestions on getting this right. If the couch is all steel and leather, let the lone corner table be wooden with curved legs. Place a curvaceous vase with lush blossoms on a sleek, glass-topped center table. Hang a large dreamcatcher decked with feathers above the bed. Remember to not overdo it. A hint or two is all you need.