Mid-century modern furniture is furnishings that are created in a style that was popular in the mid-20th century. Though the term was coined in the 1980s, the style has been around much longer than that. 
The style of furniture is very commonplace in homes and retailers, to the point where many don't realize what era the style is from. 
History
In the mid-20th century, when mid-century modern came to be, there was an influx of immigrants to America after World War II; some of these immigrants were German and Scandinavian designers, who got to work. Their work was organic and minimalistic, and this spoke to people. 
The style never became unpopular, which is why it has survived so long. Recently there has been a new growth in popularity, and the design is finding itself in many new homes.
Furniture Characteristics
source: pinterest.com
During the mid-20th century, wood was one of the main materials used in crafting furniture, but there was also the creating and growing popularity of other materials, ones that were synthetic.
Wood materials like teak, rosewood, and oak were the common types used.

Metal

Glass

Vinyl

Plastic
The materials were used in contrast to each other to create a unique look. Other characteristics of furniture styled in this design include:
Low seating

Plastic chairs

Solid wood pieces with matte finishes

Hairpin legs
Why Mid-Century Modern Furniture Is Always Stylish
There are many reasons why mid-century modern furniture never goes out of style.
Function
The furniture pieces with this design are made to be used. Many options include some form of storage space, whether it be in the form of spacious shelving, TV media units, or ottomans with storage space inside. They are functional pieces that have multiple uses within the home. 
Sustainability
source: pinterest.com
There has been a large shift in focus on sustainability and climate change, and mid-century modern furniture is very sustainable. Because it's built to last, furniture in this style can be passed down and sold and purchased second-hand. They have a small carbon footprint and can be easily repurposed and refinished to look brand new.
Design
Furniture with this style is designed with a variety of materials, not just solid wood. The materials and various designs of furniture from this era make them unique pieces. Molded together, the materials are shaped into furniture with tapered legs and clean lines. The design of mid-century modern furniture is made to be versatile, so it still remains popular because of its ability to blend in with different styles and color schemes.
Relatability – 
The mid-century modern style is especially popular with millennials. As this group grew up, this style of furnishings was common not only in their own homes but in the homes of their older relatives. It was also seen on TV in shows like Mad Men, so it has a degree of nostalgia for millennials. 
Incorporating Mid-Century Modern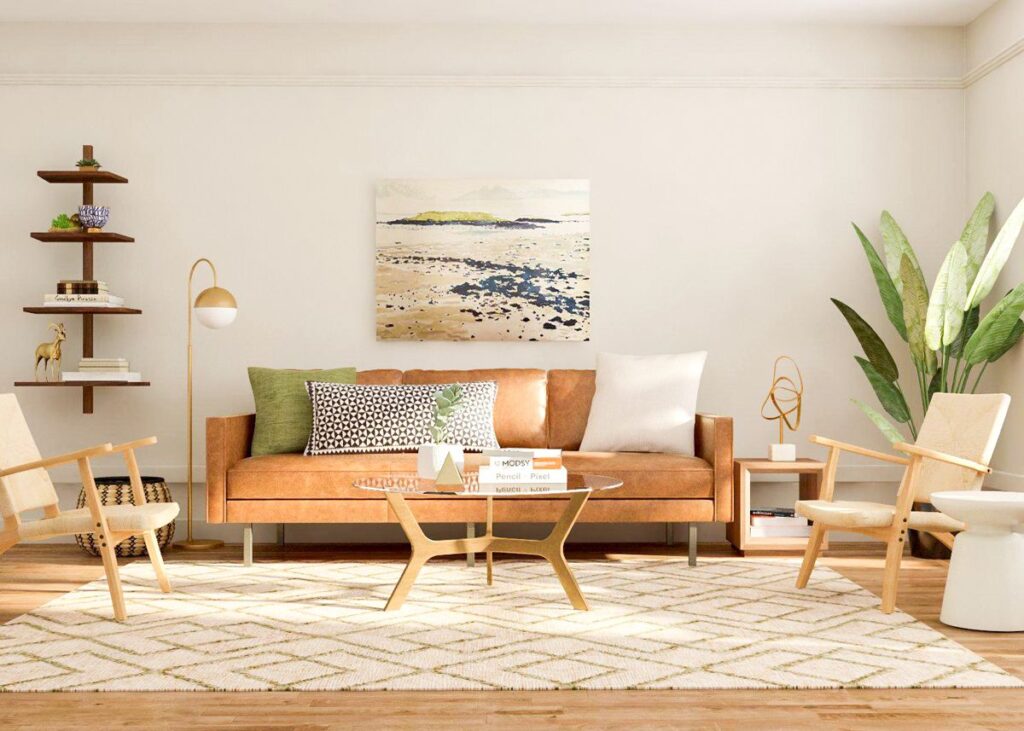 source: pinterest.com
There are different ways to include mid-century modern furniture in different rooms of your home.
Dining Room
The dining room is usually quite sizable and can fit larger pieces of mid-century decor, like dining tables and chairs. There are many different solid wood tables to choose from, including extendable ones, and they can be paired with sleek wooden chairs. For light, a dangling chandelier can give the room an elegant feel.
Kitchen
The kitchen is a fun place to incorporate mid-century modern furniture, though it can certainly be one of the most challenging. Try appliances with bright pops of color that contrast against the color scheme already in your kitchen, and add small vintage pieces to match the style.
Living Room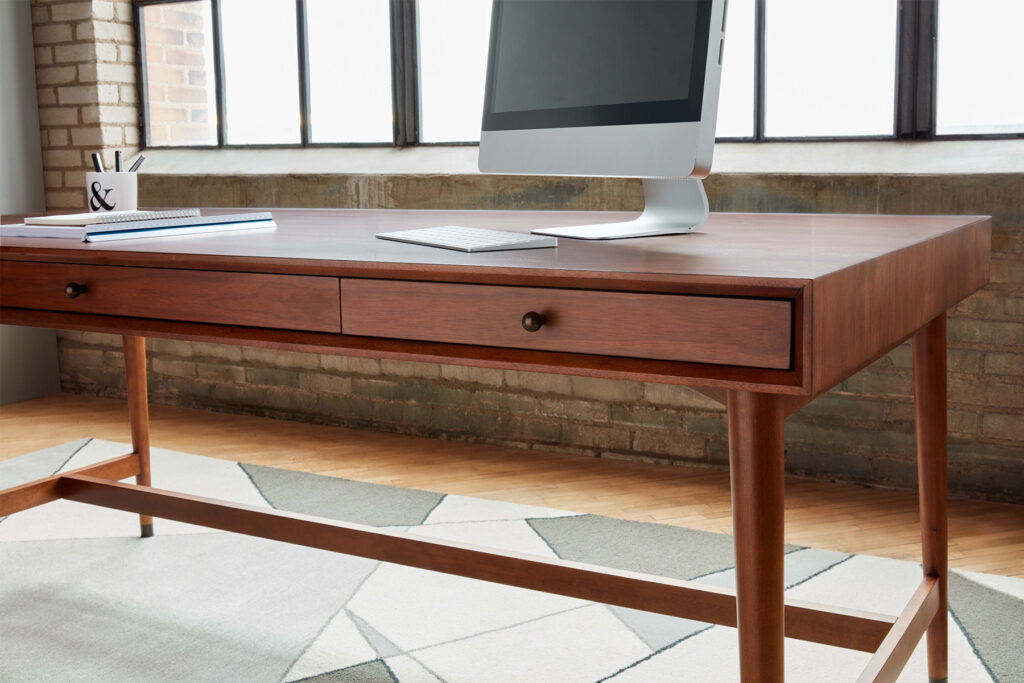 source: pinterest.com
Not only is the living room the largest space in the house, but it is one of the best places to use this style of furniture. You want to include furnishings that have similar aesthetics and match the color schemes around a statement piece, which can be as simple as a rug, a table, or a couch. Furniture from this era tended to have hairpin legs and sleek designs, so aim for that style when selecting a sofa or lounge chair.
Bedroom
In the bedroom, you'll have countless options for wooden bed frames and solid wood nightstands, and with these, you'll be able to put together a mid-century modern bedroom.
Bathroom
Out of all of the rooms in a home, the bathroom poses the biggest challenge for incorporating mid-century modern furniture. Opt for a mid-century modern school, which can be made of solid, handcrafted oakwood. You can also add in small, subtle decor and wooden cabinet drawers.
Because mid-century modern furniture is so versatile, it has a place in any home.