Granite is an organic rock that has been used for several years as a core material for making countertops for the kitchen or bathroom. It looks extremely beautiful and also captivates the attention of the others. Usually, people implement all their renovation ideas into spaces like the kitchen, living room, and bedroom but leave out the bathroom. 
One should always remember that bathrooms are equally important areas like the kitchen and other places. So, when planning to remodel the bathroom, one thing that will strike the homeowners is the type of material to use for countertops. Various types of materials can be used for making countertops like quartz, marble, etc. 
Learn more about bathroom countertop materials in this Caesarstone article.
However, here in this post, the main focus will be on granite bathroom countertops. So, let's learn more about them:
Seven ideas for granite bathroom countertop:
Vintage granite bathroom countertop: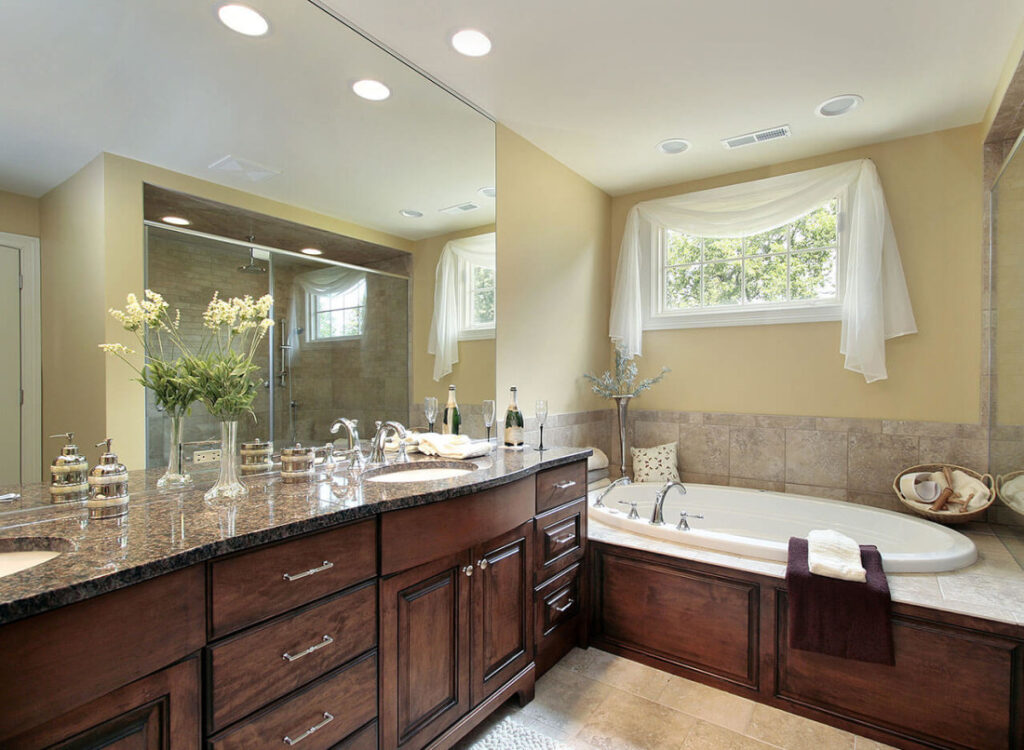 source: pinterest.com
Nothing looks better than the old vintage-looking bathroom. It gives the home an aesthetic look and makes it appear quite royal. Homeowners can use granite stone with hues of brown and red which look extremely pleasing. 
For the cupboard part of the bathroom, one can use red oak wood as it has a beautiful rough texture that fits well with the bathroom's overall look. Finally, add some vintage taps and lighting to complete the bathroom renovation.
Modern white granite bathroom:
source: hgtv.com
White looks extremely good when used in the interiors of a home. Be it in the kitchen or the bathroom, one can never go wrong with white. For bathroom countertops, it is the perfect colour that one can find. But instead of going for a white granite slab, homeowners can opt for a white one with a few hints of black on it.
For the cupboard, paint the wood with white colour. Make sure to have the drawer's handles in black colour to complement the dark hints on the countertop. One can also fill the bathroom with a mix of white and black accessories that will go perfectly with the countertop design. 
Farmhouse bathroom: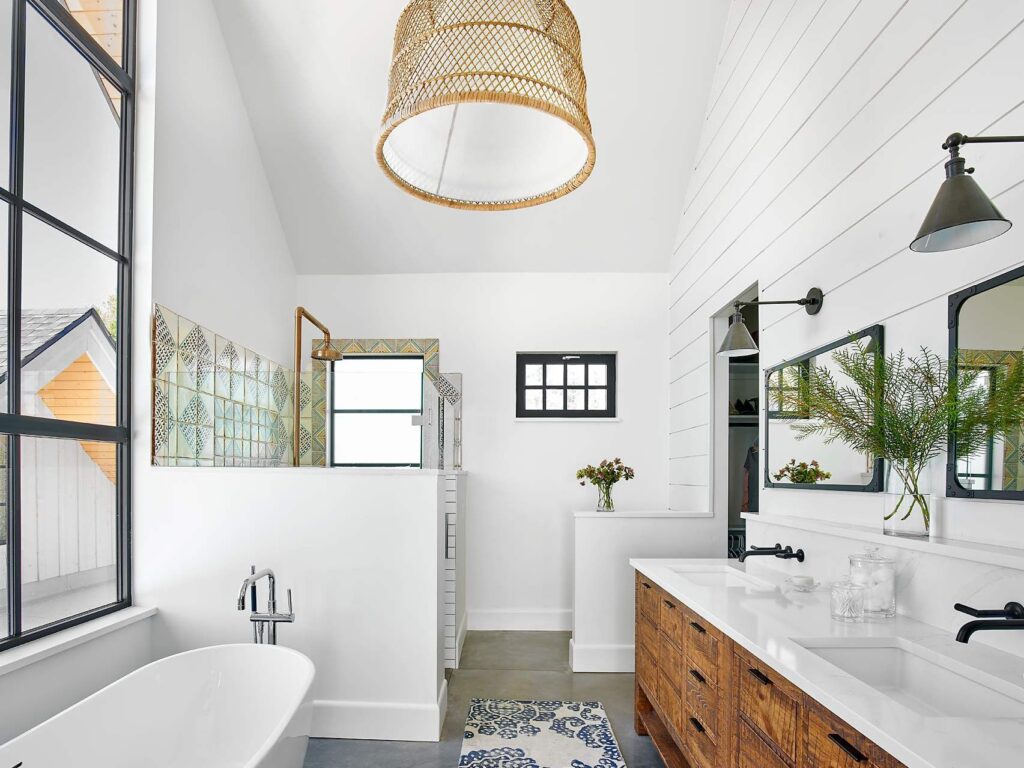 source: mydomaine.com
Tired of the modern granite bathroom countertops ideas, let's go a little less fancy and more country-like. One can use some fancy black and red mix-designed countertop on the bathroom vanity. It might look a bit outdated, but the overall look of this texture is amazing. 
Put in some beautiful taps that work well with the bathroom countertop texture. Put on some flowers and light some exotic-smelling candles to create a soothing environment while taking a bath.
All brown bathroom: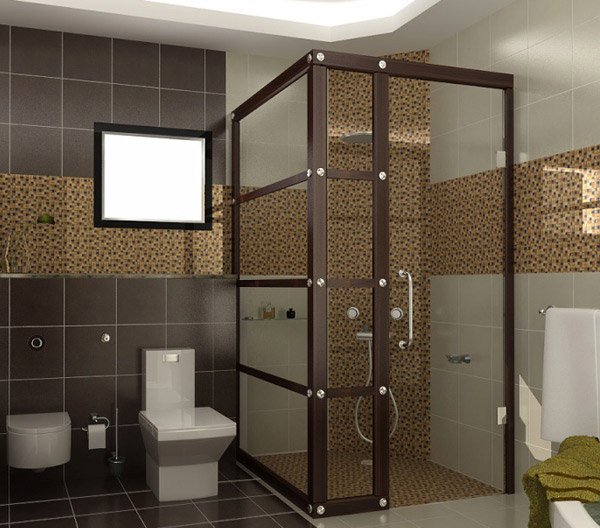 source: homedesignlover.com
Brown is the most underrated colour when it comes to bathroom interiors. People usually like to use white or black for their bathroom decor, but why not go with something a little different? Homeowners won't find many houses with brown bathroom granite countertops, so choosing this type of texture will ultimately set a house apart from others.
Homeowners can choose from a variety of brown-coloured granite countertops available in the market. Use a lighter tone than the countertop for the bathroom cupboard so that there is some common flow going on in the whole bathroom. 
Black countertop in a white bathroom: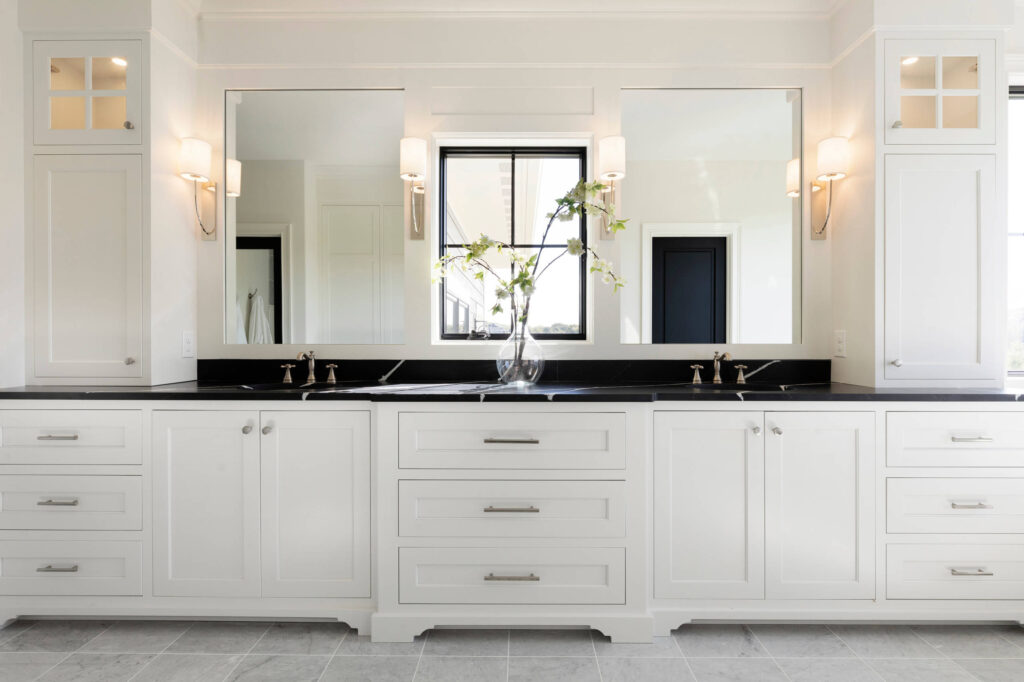 source: pinterest.com
For years, black and white have been preferred as the best combination. It looks amazing and gives a quite beautiful finish. One can have a black countertop attached with black coloured cupboards. Instead of using black tiles, homeowners can use white-coloured titles and also have other accessories in white colour. 
Minimalist bathroom:
Why go all over the bathroom with huge details? Why not keep it minimalistic? Having just a beautiful bathtub in the bathroom looks aesthetically appealing and makes the bathroom look a whole lot bigger than it is. One can also have a granite countertop that matches the bathtub. 
Have a shiny finish countertop to make the bathroom look lustrous. Put on a few accessories like small plants to make the bathroom look a bit more appealing. Have a few lamps that give out beautiful aesthetic lights. 
Floating countertop: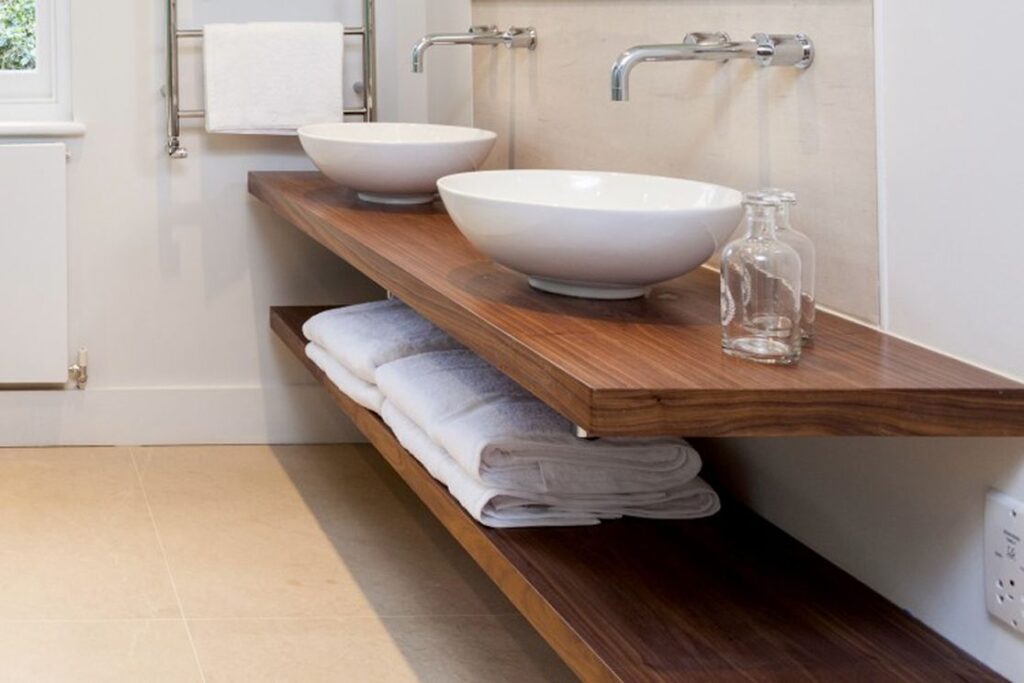 source: pinterest.com
Homeowners that want something truly luxurious have a floating countertop installed in the bathroom. Floating bathroom granite countertops look amazing — they provide spaces with quite a different look in comparison to basic types of countertops. 
In terms of colours, homeowners can try out grey granite countertops as this colour looks amazing. Add on some accessories made from jute or shells. 
Quartz vs. granite bathroom countertops: 
Apart from granite, there are various other options that one can choose for the countertops. One of them is quartz. It is quite a popular material for use on the bathroom countertop. 
But which one is better? Let's find out some of these differences:
Formation:
Quartz is an engineered stone made from 7% to 8% polymer and 92% to 93% natural quartz stone. In contrast, granite is a natural stone that is extracted. 
Availability in colors:

source: imperialvanities.com
Quartz is an artificial stone which means that it is available in various colors. As a result, homeowners can get a variety of options to match their theme. On the other hand, granite is a natural stone, so the availability of color in it is quite limited.
Maintenance:
One needs to do less work while maintaining a quartz countertop compared to granite. Granite is a natural stone that requires resealing to help lessen the damage. Whereas in quartz, one does not have to worry about anything. Quartz is a nonporous substance, so the chances of it getting damaged are few. 
Eco-friendly:
In the production phase, granite emits fewer fumes than quartz. So although both materials keep it quite minimal, granite still has the upper hand on it over quartz. 
Conclusion:
Granite is a perfect option for homeowners that prefer natural materials. It is beautiful and affordable. One can experiment with it by mixing and matching different colours around the granite bathroom countertops. 
There are many other options aside from granite that one can use for decorating the bathroom, like quartz. If a homeowner does not have a problem with the artificial stone, then quartz is something to try. It looks extremely stylish, and the fine finishing makes it an ultimate choice.