The dream of a house having a small pool in the backyard is on the wishlist of many people. Even, people with limited spaces wish to squeeze a small pool into their living space. Just you need to use your creativity for that. If you have a narrow and awkwardly shaped backyard and you are not able to decide on making a small pool inside the backyard, you have come to the right place. Here we will discuss small backyard pool ideas that will surely encourage you to start a DIY small backyard pool project for your home.
What Are Lap Pools?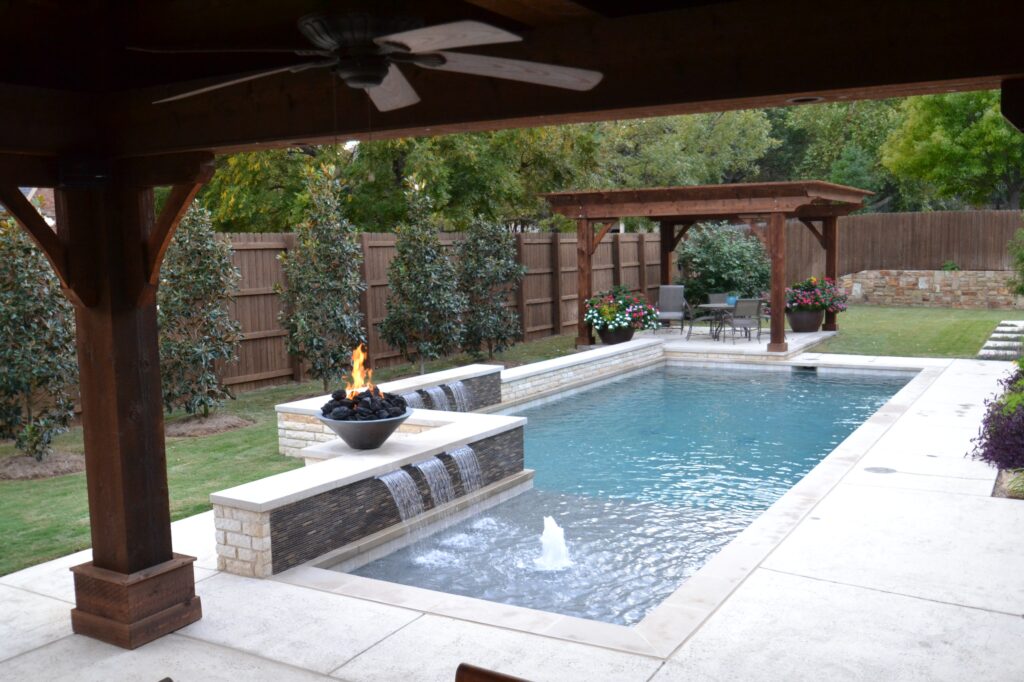 source: houzz.com
You should prefer customization in designing your small backyard pool. As there is no such rule regarding the shape and size of the pool, you can make it according to your needs. It is not true that pools must have a rectangular shape and they must have symmetrical designs. The best idea to add a swimming space in your backyard is to add a lap pool. It is a type of small backyard pool that is too short that it can accommodate a maximum of two persons in it. Lap pools surprisingly fit in tight places and yet serve the purpose of lounging and having fun.
Best Small Pool Designs
The pool is the place where we relax and refresh our minds and body. It requires a justified amount of space. It should be neither too big nor too small to enjoy. Generally, backyards have small pools or plunge pools. Whether you organize a pool party, entertain family members, or welcome guests on holiday, a small backyard pool is perfect for any of these activities. Let's dive into small pool ideas that rock your backyard.
Raised Pool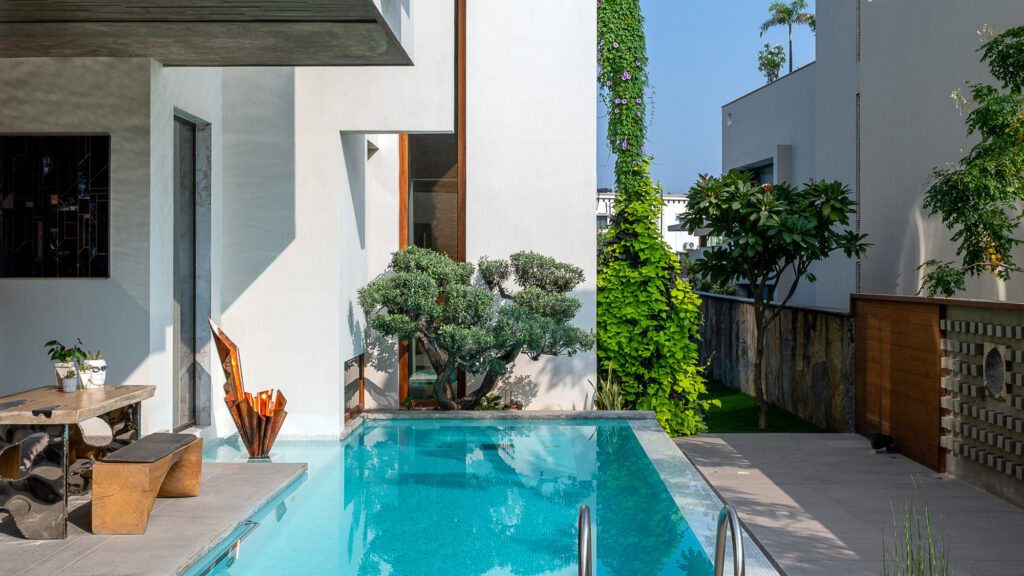 source: pinterest.com
Raised decking instantly gets the attention of the visitors. A raised pool gives an edge to the overall look of the backyard garden and allows plenty of space for loungers, day beds, and swing chairs. Go for the artificial lawn for the remaining floor area of the backyard. Tiles are preferred in most of the pools for their interior part. Moreover, add neutral colors like white paint to the exterior painted wall of the pool. Apart from that, it is safe for small children as well.
Right Up To Edges Pool
Go and attach the pool to the wall of your house in the backyard and make a right-up edge pool. Make this happen by using every unused corner of your backyard. You have to make the edges of the pool soft with the hanging plants. It will make your pool looks less small and boxy. The solid wall makes the harder to look at and gives an artificial vibe. Despite having hard wall boundaries, make it soft with plants and a light shade of wall paints.
Pool With Dark Tiles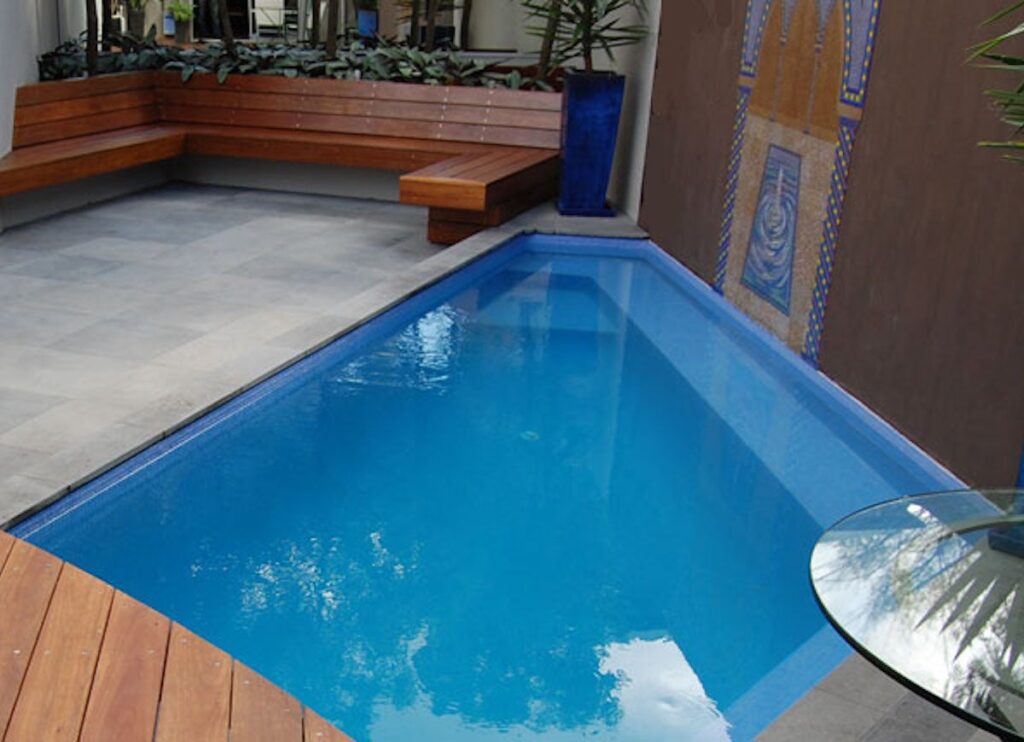 source: pinterest.com
Instead of having that boring blue tiles as the base of the pool, choose dramatic black tiles. You can make an illusionary effect of having a larger space. Dark color expands the space and makes it look bigger and deeper. This style of the pool looks glamorous, isn't it? To add more charm, have a sandstone patio or the pavement around the pool.
Water Feature Pool
Add drama to your backyard space by simply adding some water elements to your small backyard pool. Double up your pool as an artful water feature. Select a wall and add water pipelines or decorative pool accessories to create a flow of water. Make the water flow inside the pool with the help of that accessories. This will give you hotel vibes. The continuous flow of water will be relaxing for the loungers.
Circular Design Pool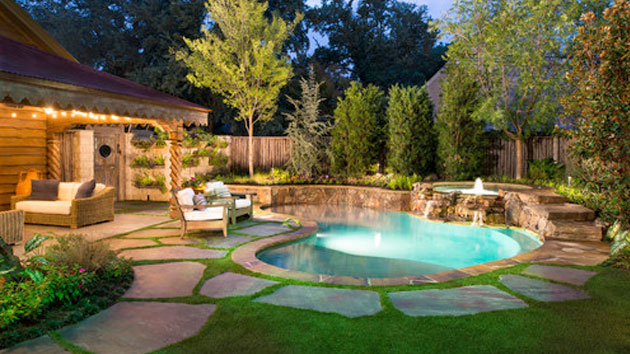 source: homedesignlover.com
Make a tranquil spot for a dip by choosing a circular design pool for the backyard. If you surround the pool with a stone exterior, it will give a classy look. It will make you think of a bathtub. The advantage of this pool is that everyone in the pool can face each other. As a result, communication becomes easier in this pool while lounging. A teeny round pool is the most popular pool design trend and it does not demand much space as well.
Pool With Pergola
Outdoor couch space with a pergola set up, adjacent to the pool, has no reason to say no to any pool party guy. Once you set up the pergola, you may become obsessed with it because it will create a damn look that no one will be ready to empty the space even after the party will over. This style needs extra space in your backyard with a DIY banquet setup. Don't forget to think over this style if you have some extra space in your yard.
Long And Narrow Pool
source: houzz.com
The most common yet evergreen design for any pool. It fits according to the space of your backyard space. The positioning of this pool also matters a lot. If you place the pool direct to the wall in contact with your house, it leaves plenty of room on one side for the loungers. The long narrow pool looks boring but it has more functionality. You can get more swimming space in this design compared to the other shapes and designs of the pools.
Conclusion
A small backyard pool is a place where we can enjoy most of the summer pool parties. It is not only useful for lounging but also helpful as a therapy. Attend most of the spa sessions in your small backyard pool and feel the rejuvenating effects of it. Don't keep surfing on google about small pool ideas and waste your time. You must have an idea about the detailing of the pool. Go with the local construction advice or Do It Yourself.
If you have a dream of a backyard pool and don't want to waste a ton of money, we share with you some cool pool ideas for small yards. Simply contact your interior designer and architect. Select one design from the above list that suits your space and go for it.