The ideal place to rejuvenate just after a hectic day is the Plunge Pool. These cozy pools have a compact design so they are good chilling spaces for backyards with limited space. We can use pools in an enhanced way with therapeutic elements. It can be anything like Physical Therapy, exercise on request such as cooling systems, or swim jets.
What are Plunge Pools?
source: pinterest.com
When it comes to pool parties, everyone has their fantasies. Some people like the stylish looks and design of the pool while others may consider it a comfortable space for leisure. There is no perfect definition or size of a Plunge Pool. It is suitable for Hotels, Villas, Cottages, or Residential Homes with less space. Interestingly, you can not swim in a Plunge Pool still it is called a "Pool".
Generally, the size of a Plunge Pool is around 8*8 to 8*16 feet. We can see Plunge Pools in many shapes and sizes. The most popular shapes are rectangular, L-shaped Pools, and curved pools. You can customize the size and shape of your plunge pool if you have very limited space. It is a more affordable option than a full-size pool. You have to consider the purpose of the pool before constructing it.
Amazing Ideas To Use Plunge Pools
Relaxation and recreation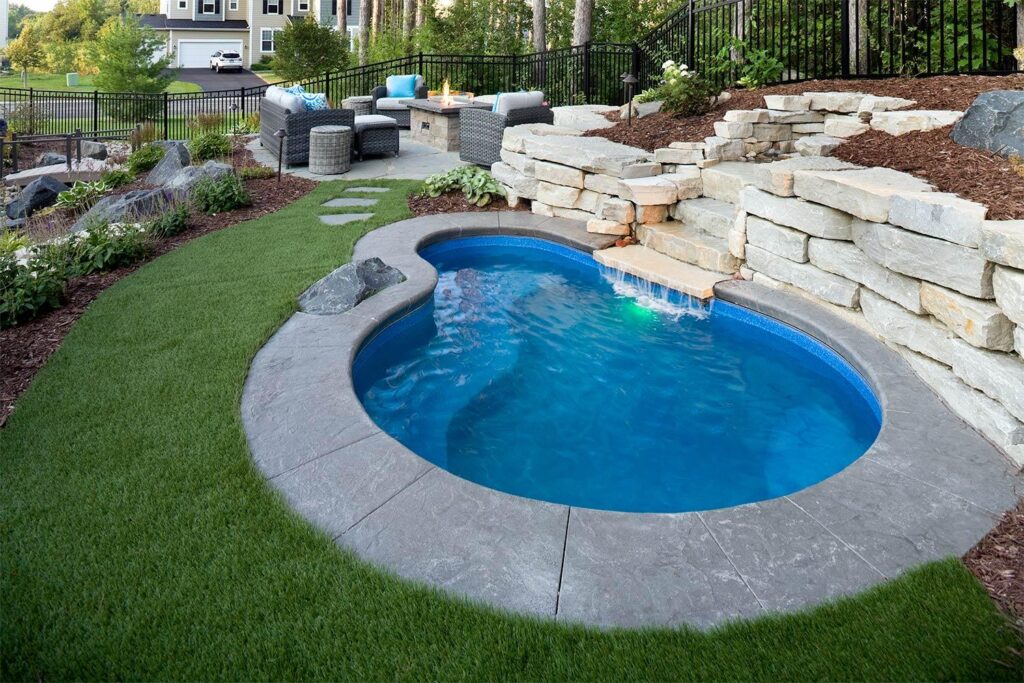 source: svddev.com
Water has a wonderful quality to cool our body and mind. You can enjoy a Pool Party with your friends using the Plunge Pool. Calming effects of water help us to destress and rejuvenate. Have some beverages with you along with some snacks. Enjoy conversations or music while relaxing in Plunge Pool. If you have kids around, You may have some recreational activities which will give them fun like Water Games, Dance, and Music.
 Exercise or workout
There are some interesting exercises you can do using Plunge Pools. Water Walking/Jogging is the best exercise to do. Take a few steps Forward and then Backwards. Ball Water aerobics is the other option. Pool Noodle Exercise and Arm Circles are also interesting workout exercises. In short, Plunge Pool is not only useful for relaxation purposes, You can use it for your Fitness Purpose as well.
Spools
The spool is a word that has a combination of two different words." Spa" and "Pool".Plunge Pools can provide therapeutic benefits in several ways. Directional Jets have been placed inside the plunge pools that create a strong directional current in the water against which you can swim or jog. These type of soothing bubbly effects of a pool gives the vibes of a swim spa.
 Benefits of having a Plunge Pool
Cost-Effective :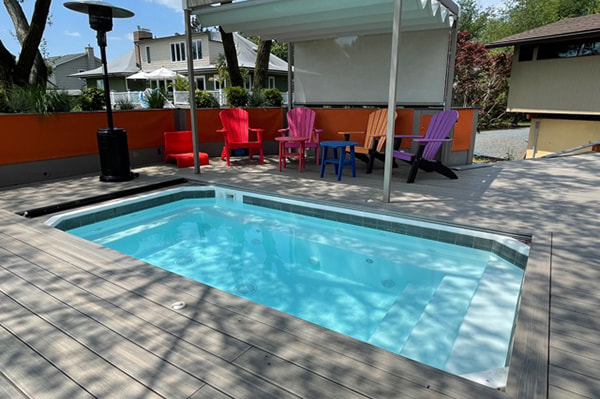 source: swimex.com
When we compare the size of a plunge pool with a regular pool, we find the plunge pool is smaller. It is very cost-effective to build a new Plunge Pool instead of having a new big size regular pool. You can decide which particular size suits to the space available in the backyard of your home. It will cost you under your budget and give the same utility as other pools do.
Therapeutic Effects :
Your senses get relaxation while swimming or lounging in a Plunge Pool. Sometimes you can use the heater to warm the water, especially in the winter season. It will soothe your body's nerves and act as hot water therapy.
Energy savings
As Plunge Pools are small in size, the cost of electricity is also less. The process to purify water, heating, cost of the directional jet, etc are the costs associated with Plunge Pool.
Easy to Maintain
Plunge Pools are small and easy to clean. Other aspects of maintenance like regular washing, repairs, paints, installation of any equipment, etc are very manageable.
Some Common Types of Plunge Pools
Above Ground Plunge Pools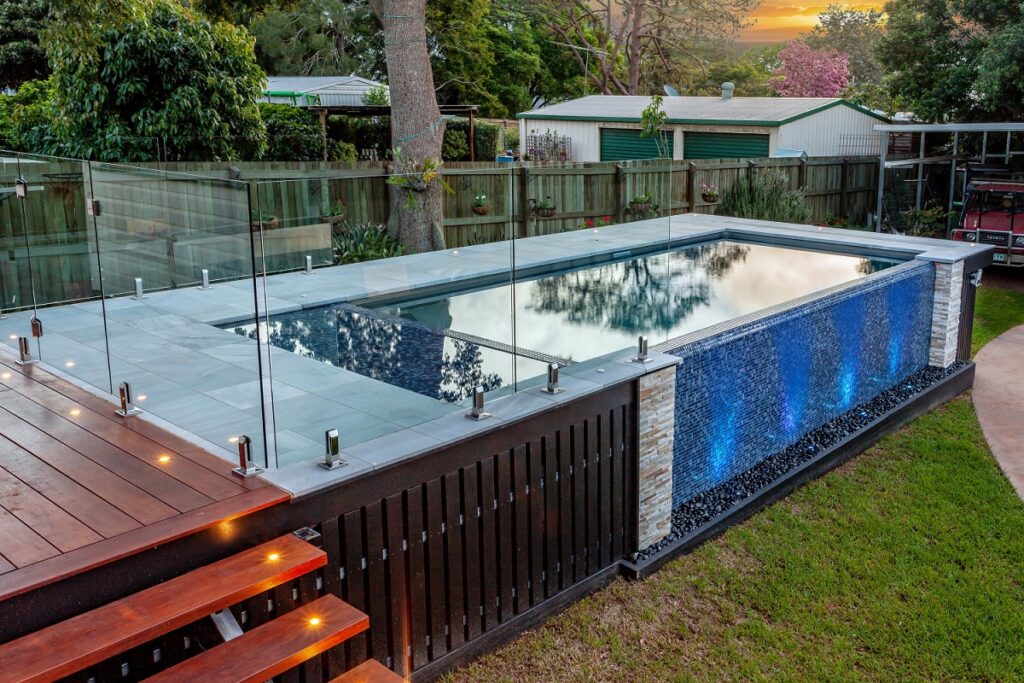 source: narellanpools.com.au
This is a raised pool that comes with three basic heights –  48 inches, 52 inches, and 54 inches. The Pool will hold more amount of water if we keep a heightened pool. The ideal depth of a plunge pool should be 56".One can go shoulder-deep in this depth of the pool. It is affordable and compact. Lots of Layout, shapes, and designs to choose from. Speedy installation and DIY options are available. You can have more safety with easy maintenance.
DIY Plunge Pools
A Homeowner can customize plunge pools according to the space available for them. This is a type of customized pool that you can construct by yourself. You just have to procure the required materials and assemble them. The location of the pool should be near to water availability. The system to drain the pool should also be in proximity. You should make it by yourself keeping in mind other utilities like pumps, filters, and pipes available at ease.
Small Plunge Pools
They are smaller in size compared to regular pools. Small Plunge Pools are perfect for party enjoyment and vacation leisure activities. Most smaller plunge pools measure 12'by24', 10' by15', or 10'by10'.They become the attraction point in your house property without spending a huge amount on construction. Specially designed for urban areas where small yards are the norm. Many times they refer to cocktail pools.
Cost and Maintenance of a Plunge Pool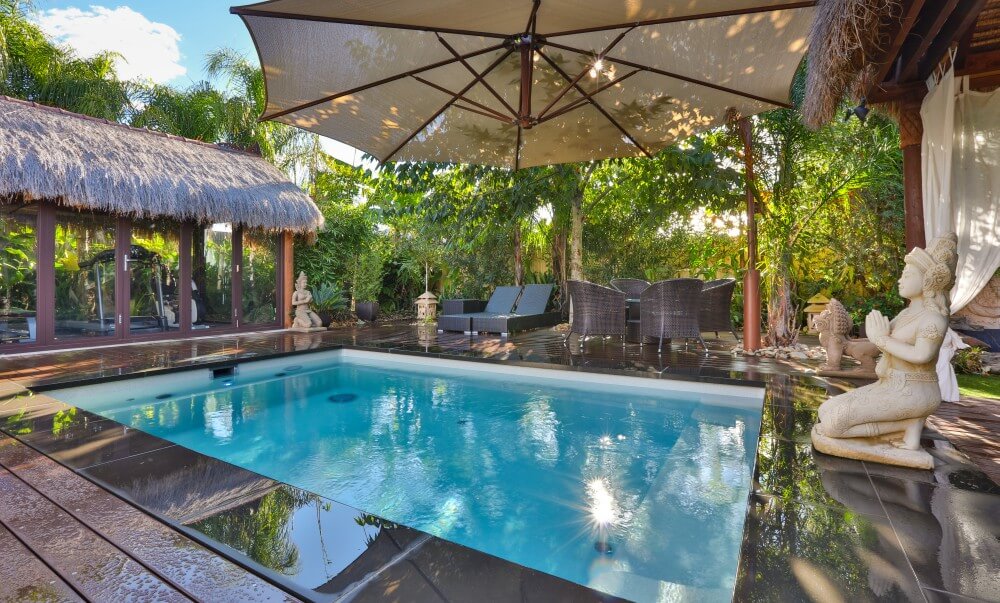 source: compassnewcastle.com.au
Depending on which area of a country you live in, the cost of establishing a Plunge Pool varies. Not only that but some basic features of a pool like size, design, and customization also decide the cost of a pool. If you wish, you can add some architectural designs and some fancy features to it but it will add the total cost significantly.
An average range of cost the homeowners are generally ready to pay is 10000$ to 25000$. This includes minimal landscaping, labor, and material. If you want a pool made of concrete, then you have to pay high costs ranging from 25000$ to 50000$. It's up to you which size of pool you want to make, which materials you want to use, and contractor for this work is needed or not?. All these factors decide the cost of establishing a Plunge Pool.
The maintenance Cost of the Pool is 300$ to 400$(annual) including chlorine cost and another chemical costs you need to balance the right chemical composition in the water of the pool. Filter Cartridges also need replacement every two to three years.
Filter pumps, heaters, etc are the accessories that you have to check every year and purchase or replace/repair if possible. These are included in maintenance costs. For sanitary issues, you must invest in a skimmer and telescoping pole. That will cost you around 50 to 100 dollars annually.
Conclusion
Plunge Pools are popular in Australia and many countries in Europe. This concept is raising a trend in the United States and other Western Countries. It is designed to keep "leisure" in mind. People who love aesthetic values will go for it as it is low cost with less maintenance required. A Perfect fit into a gorgeous landscaping and design background.
Plunge Pool is a good idea for a small in-house pool party. So seek local help and built it in the backyard of your house to enjoy throughout this Summer Vacation.