Children love to play with water. Especially, in summer you need some tools and toys to keep them engaged and active. Having a kiddie pool in your backyard is the best idea to enjoy sunny days with water features and beat the heat. However, choosing the right kind of kiddie pool is a daunting task. You have to keep in mind some features of the pool that matches the age of your kids. You must consider the size of the pool, water drainage facility, and warranty.
What are Kiddie Pools?
source: pinterest.com
A pool that is small in size and mostly inflatable is a kiddie pool. This pool is made from either plastic or hard plastic. The size of a kiddie is around three to five feet. According to the age group, kiddie pools have different features. Firstly, the size of a kiddie pool for toddlers is small. Larger pools are made for grown-up kids. Secondly, the material of a kiddie pool is mostly plastic or hard plastic.
Moreover, built water sprinkles, drainage pipes, toys, and accessories make them interesting. Various brands offer different facilities for kiddie pools. As it is inflatable most of the time, some brands provide blower with it.
Types of Kiddie Pools
Inflatable Kiddie Pools
A small inflatable pool made from mostly PVC plastic material is called an inflatable kiddie pool. It is made of soft plastic that you can inflate with an air blower. It is also called a plastic kiddie pool.
Hard Plastic Kiddie Pools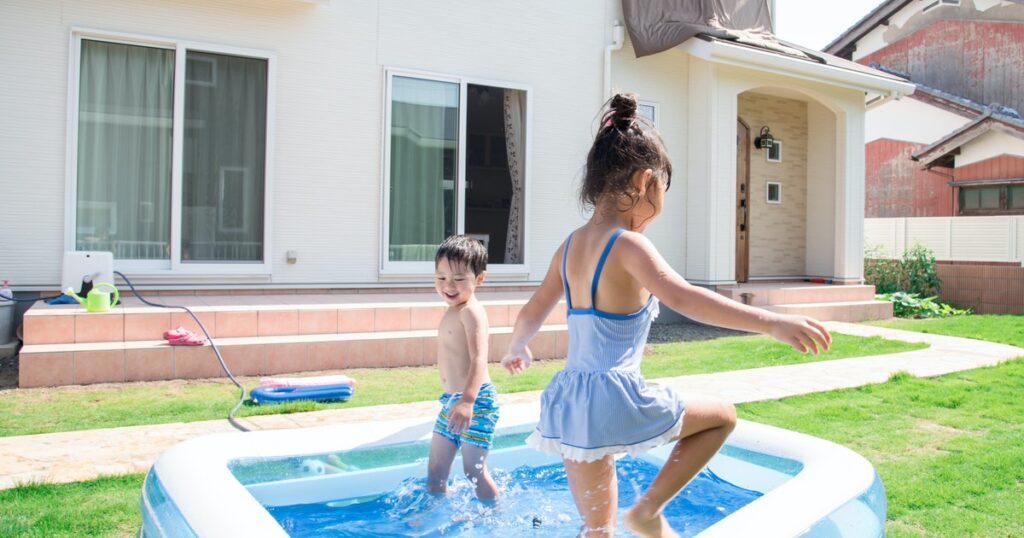 source: pinterest.com
This is also a small pool for kids. It is made of hard plastic. You do not have to inflate it. It is sturdy and long-lasting compared to inflatable kiddie pools. Just assemble it and enjoy it after filling water it. It has more storage space compared to and comes with hard metal linings.
Splash Mats :
It is a kiddie pool with a shallow pool area. It is made from inflatable plastic. They are inexpensive. Mostly, parents of small kids or toddlers prefer this type of splash pool.
Best Kiddie Pools For Every Backyard
There are a lot of things parents have to consider before purchasing a kiddie pool. Durability and maintenance are two important features. A kiddie pool is designed for kids. Therefore, it must have some fun extra elements like water accessories and sprinklers. Here we will discuss some of the latest kiddie pools and their features. They are easily available online.
Intex Rainbow Ring Kiddie Pool – Best Kiddie Pool Walmart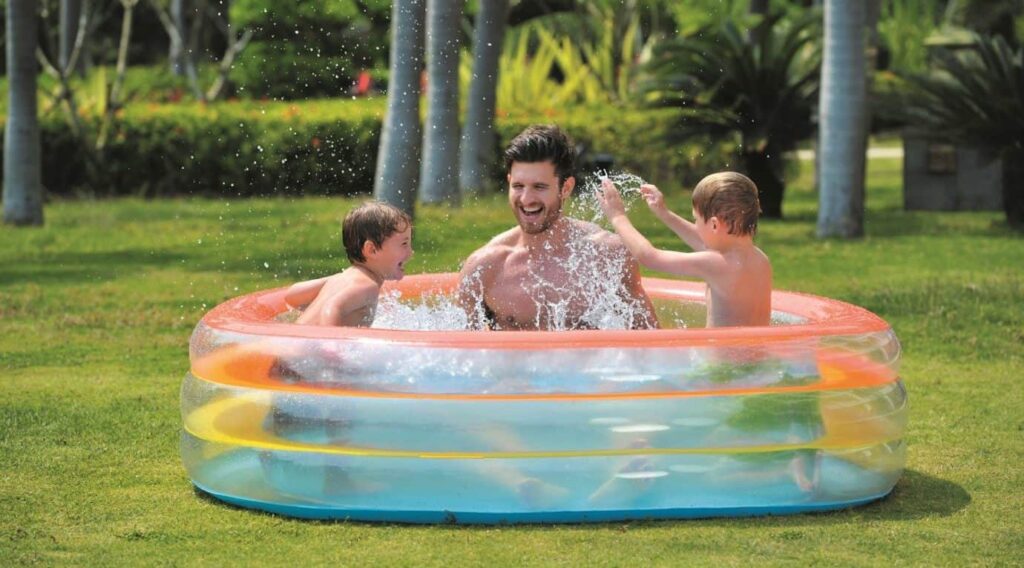 source: gadgetreview.com
It is an interesting inflatable kiddie pool by Intex. It has a water slide and a wading pool. Kids enjoy sliding for hours with fun. Apart from that, it has more fun accessories. This pool comes with a ring toss game and a ball roller game. It also has a water sprayer. All these features make it the most loved kiddie pool. Intex Rainbow Ring Inflatable Pool is large in size and easy to install. Additionally, it comes with fun features that keep the children engaged.
Kid's Summer Sunset Glow Design Pool by Intex – Best Budget Pool
This inflatable kiddie pool by Intex is the best-selling pool. It is affordable yet functional. Enjoy your sunny days with this pool. Easily inflatable and easy to fill the water. The size of pool is big enough to accommodate 3 to 4 kids at a time. Moreover, this pool comes with cushioning at the bottom. This feature protects the hard floor and rocks.
Intex Dinosaur Inflatable Pool – Best For Toddlers
This portable kiddie pool by Intex is inflatable. It comes with exciting features. Dinosaur Kiddie Pool by Intex is the best kiddie pool for toddlers. This pool will make your toddlers ready for the bigger pools. Additionally, it comes with a repair kit and drainage plug. The most interesting part of this pool is its design. Dinosaur face detailing is attractive. It is big enough for toddlers to sit and play freely. 
Costzon Inflatable Mighty Bounce Pool – Best Slide Plastic Kiddie Pool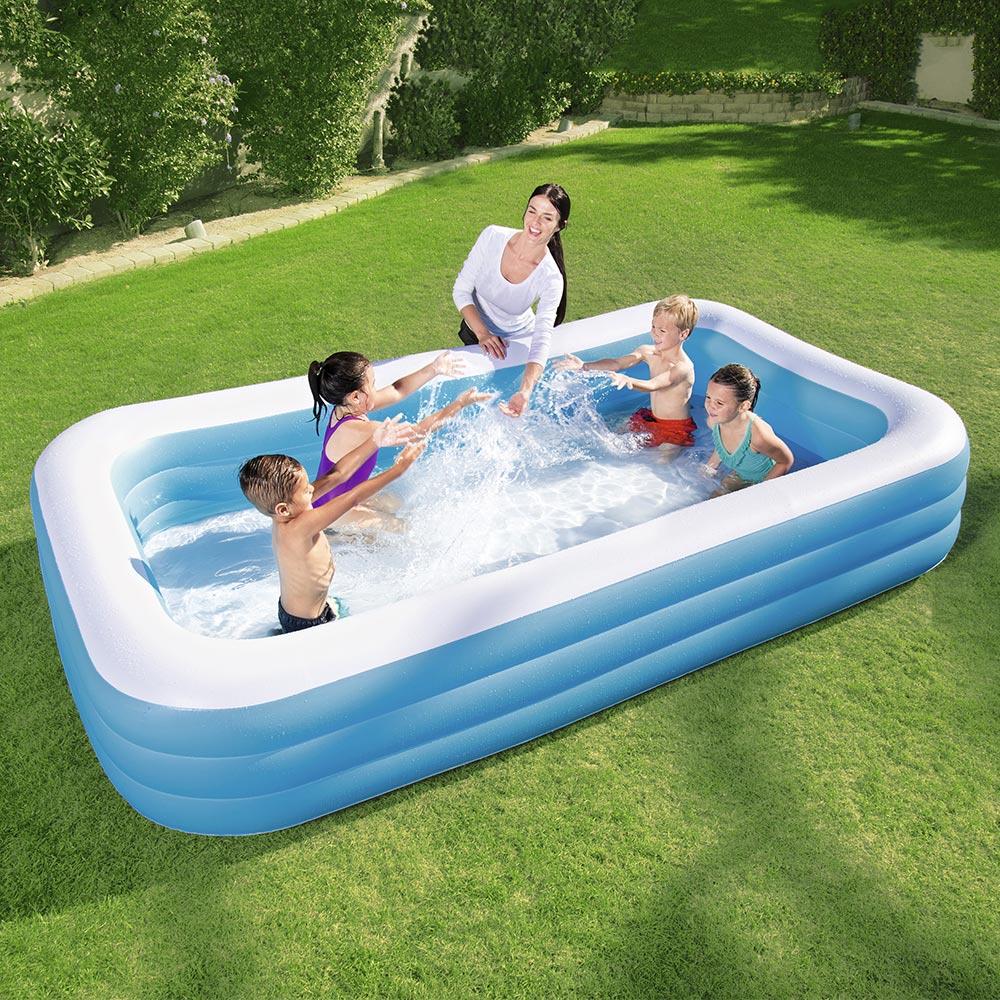 source: pinterest.com
If your kids are very active and playful, they will surely love this kiddie pool. Kids have to scale up its inflatable wall. After that, they will get to the top of the slide and fly down to the kiddie pool. It is interesting to complete a whole round of swimming, climbing, and sliding for kids. This pool is recommended for block parties. Moreover, it is puncture-resistant and sturdy.
Intex Metal Frame Pool – Best plastic swimming pool for Adults
This pool is bigger and recommended for grown-up kids. The size of the pool is 12 feet and thirty inches deep. The sides of the pool are made of laminated PVC. The best part of the pool is it comes with a ground fault circuit interrupter. It automatically shut the pump off if water gets into contact with an electric current. Metal frame pools are more sturdy and have low maintenance. Moreover, it comes in different sizes so choose the best fit size for your backyard.
Kahuna Mega Blast Pool & Slide Waterpark – Best Target Kiddie Pool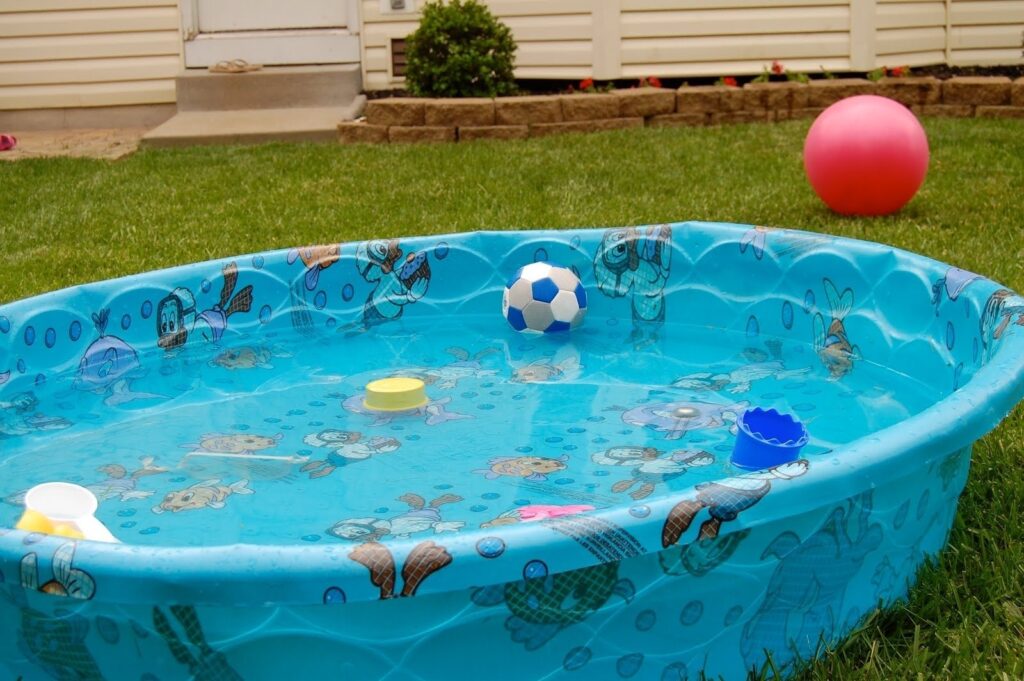 source: moneypit.com
If you have a large space and the budget is higher, select this kiddie pool for some extra fun. It is designed for grown-up kids. This pool is not only a kiddie pool but also a water park. Kids will enjoy slides and water blasters very much. Additionally, it has a climbing wall that keeps the kids engaged and active. The best option is to keep your kids busy for hours in a playful way. It is also a good option for outdoor celebrations like birthday parties.
Banzai Sprinkle & Splash Spray Mat-  Best for small kids
Very small kids are not ready to swim yet want to play with water, At that time Splash pools become handy. This kiddie pool from Banzai has an adorable design. Water-filled borders act as sprinklers. The pool holds enough water for your toddler to enjoy. Easily moveable and travel-friendly. This splash pool is best for kids to heat the beat and have fun with water elements.
Conclusion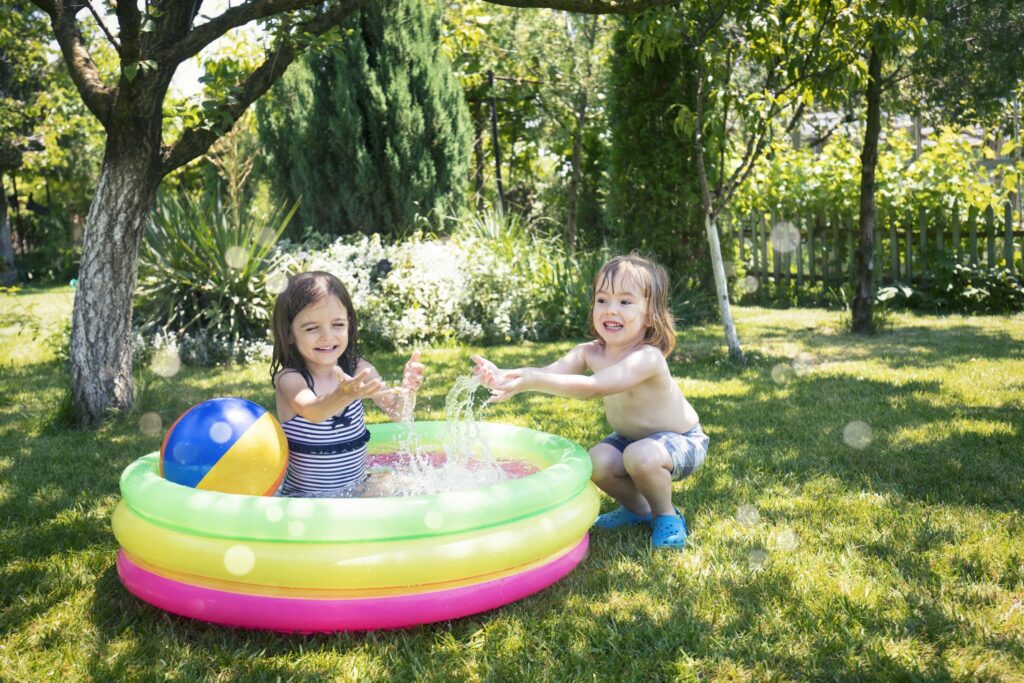 source: verywellfamily.com
Kiddie pools keep your kids entertained for hours. Pick up the best-suited kiddie pool from the above list and start having fun. Your kids will enjoy a kiddie pool if it has some extra features and accessories. Kiddie pools have many advantages like they are inexpensive. Moreover, they are easy to install and sturdy. They are readily available online and convenient to set up in your backyard. Enjoy the sunny days with your kids and have fun with kiddie pools!