Who can resist the excitement of decorating a kids' room? After all, it's here that you get to be a kid yourself! Here, you can pour your creative juices as generously as your love, but oh, it's here that you can also make the most of the mistakes! 
Did you know that wrong window treatments are partly to be blamed for children's difficulty to catch sleep? This article will enlighten you about the top factors and tips to consider when shopping for window treatments for kids' bedroom so that you don't lose sight of the functional aspect as you get engrossed in this kaleidoscopic adventure. 
Overall, fabric window treatments such as curtains or custom roman shades are highly advisable for kids' rooms because they offer such a wide array of textures, colors and patterns. Non-fabric treatments can look clinical, boring and out-of-place in a space that's meant to exude energy and vibrance. Furthermore, customized fabric window treatments will give you ample leverage over the desired length and width and the stitching style to meet your specific needs. 
Tips to consider while shopping window treatments for kids' room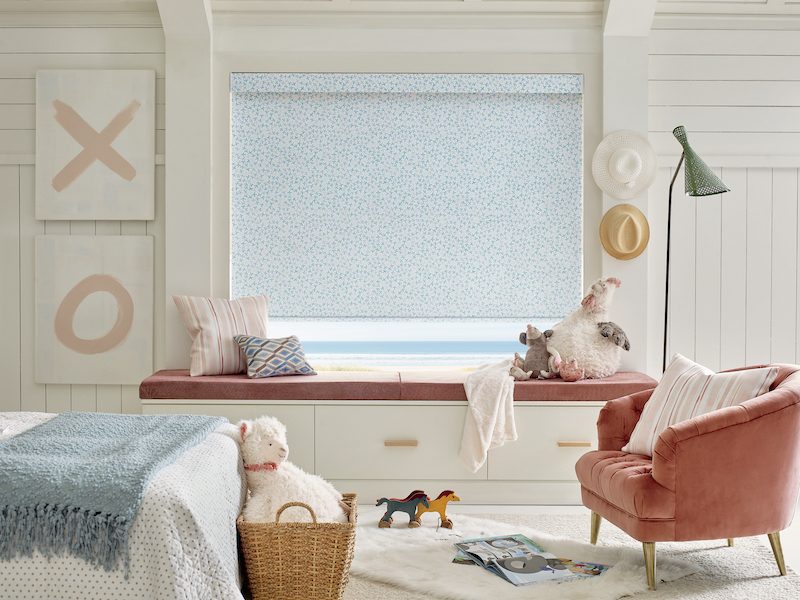 source: portlandwindowcoverings.com
Curtains are a frilly, sumptuously stitched window treatment while roman shades are comparatively minimalist coverings. Both have their own pros and cons and cater to specific genres of tastes and preferences. Let the following matters be in your consideration without fail, no matter what you choose:
Ensure safety with correct length window treatments 
Floor-length drapes can double up as swings for a naughty kid. Crawling toddlers can get entangled and suffocated in long puddled drapes. Both sill-length drapes and roman shades can save you many an anxious moment and from the uncomfortable job of correcting your kid time and again. Custom curtains let you have the desired length if standard sizes are too long. Roman shades are always sill-length, keeping you off the worry zone.
Mount hardware securely 
Tension rods save the hassle of screwing but are just not right for kids' rooms. A strong tug, if not a soft pull, will get the drape down, frightening the poor one. Always use hardware that can be tightly fastened to the wall. Screw the roman shades or blinds securely as per the instructions. 
Pick low-maintenance fabric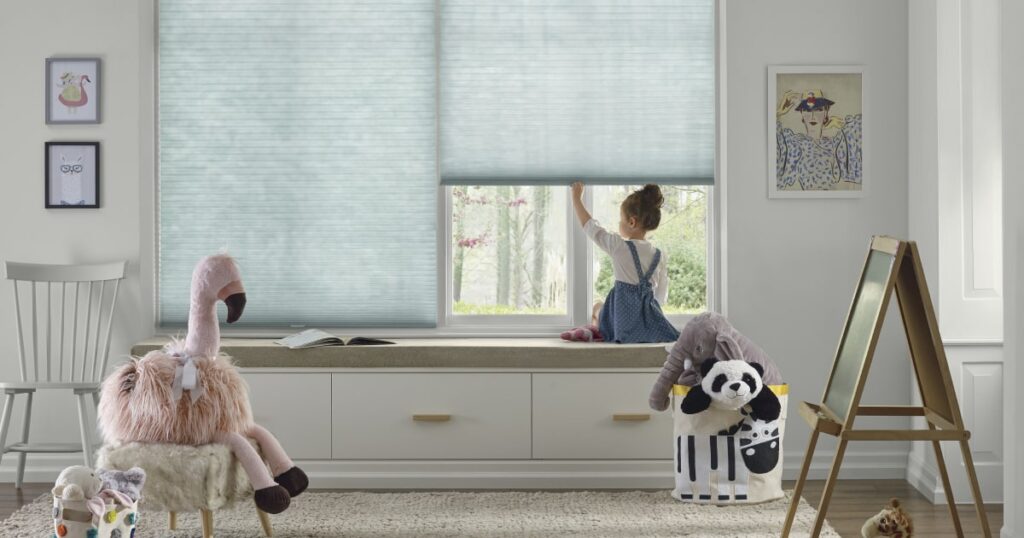 source: hunterdouglas.com
You know how often you need to get the kids' room cleaned. Make sure you choose sturdy materials that can withstand frequent wash-dry cycles without losing their charm. Cottons, linens or poly-blends are advisable for regular use. It is better to avoid delicate silks and velvets as they may not be able to endure the high maintenance. 
Create sleep-friendly ambiance 
If you have a hard time putting your child to sleep, we highly recommend custom curtains or shades with blackout lining behind them. They enable room darkening and cut off external sounds to a great extent. Draw the curtain or shade and, lo! It looks like night and the little one is drawn to sleep effortlessly. Blackout lining also provides extra insulation to the room, thus helping to make the winter warmer and the summer cooler.  
Ensure inaccessibility of pull cord 
Many parents opt for roman shades to avoid all the bickering about drapes being the new hide-and-seek nook, but forget that cords offer a naughty kiddie no less a scope for a game. So, shop roman shades or blinds that are cordless or those that come with chain locks so that you don't lose the profit of the wise deal.
Choose colors that inspire good mood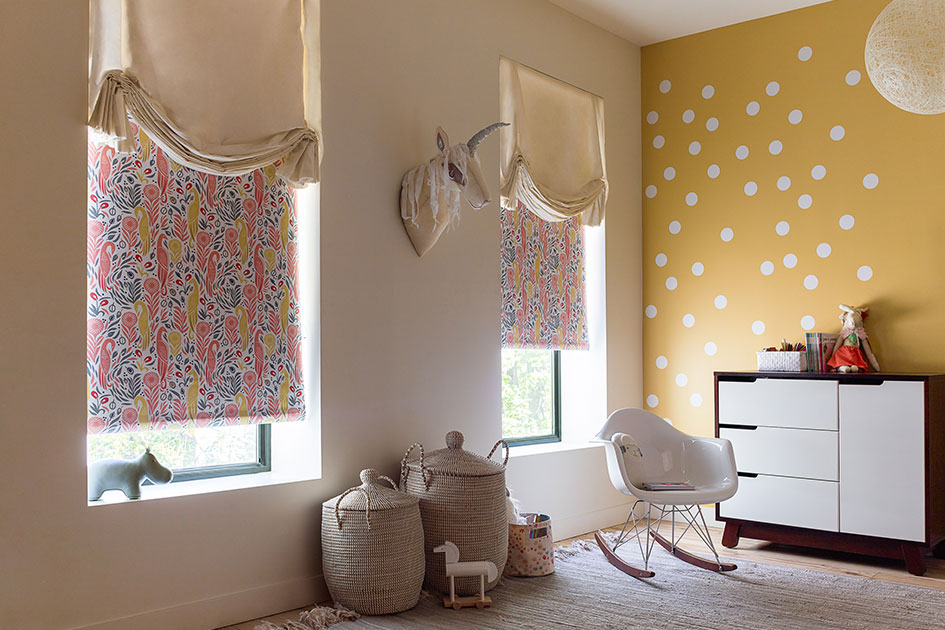 source: theshadestore.com
Colors have proven to have a great impact on children's moods and behavior. Some colors delight them, others make them anxious. When choosing drapes or shades for their room, let the color reflect their personality and aid to create the mood which you want to prevail in the room. 
Bring in patterns for visual interest
Designs serve to render contrast and attract attention thereby. Spunky patterns can inspire energy, playful patterns make for a light-hearted space, sharp-edged patterns lend a sense of security. Stripes, polkas, florals and thematic prints have been the popular choices for kids' room. Make sure that the pattern you choose blends with the overall design. Complementing patterns of different scales in at least two other elements of the room will help to tie up the space together. 
Show restraint in embellishments
source: hgtv.com
Overdoing the knickknacks is a common mistake in kids' rooms. Custom window treatments provide immense scope for personalization by adding trims on the panel's borders. Pom pom trims and tassels lend whimsy and playfulness to the space but loose fitted passementerie that can fall off on a playful tug can be an attractive find for a teething baby. Summing up your creative adventure in an elegant ribbon can avert an unpleasant episode.
Ensure total clearance off the window
Fresh air and ample light are necessary for the healthy growth of your child. If the windows in the kids' room are small or narrow, ensure that the window treatments clear off the frame totally when opened. Mount the shade well above the window and the drapery rod well beyond the window frame so that the window's capacity is not reduced by the stacking room of the shade/drape.
Finally…
Styling the window treatments right in the kids' room can go a long way to ensure that they remain energetic in their active hours and sleep sound during day-naps and nights. It can't be stressed enough that these matters are deeply connected to their overall growth and well-being. So, do the fun bit and let your little one have the coziest den in the world, but shop wise for the best results.