Introduction
Whether it's sitting outside with a mug of morning coffee or enjoying the sunshine after a long day at work.  Having a beautiful outdoor space can do miracles for your mental wellbeing, which is especially crucial right now.
The most popular balcony designs are those that can turn a small, boring room into an attractive location that maximizes the space available.
It's all about becoming creative and thinking out of the box when walls and railings sometimes stifle your balcony decoration ideas. Begin by thinking that you can make the most out of every available surface.
These creative balcony designs will help you build the ultimate outdoor getaway if your garden balcony is boring. Check out our stunning balcony decorating ideas if you need even more inspiration for your small outdoor space.
Set up an adjustable bar on the balcony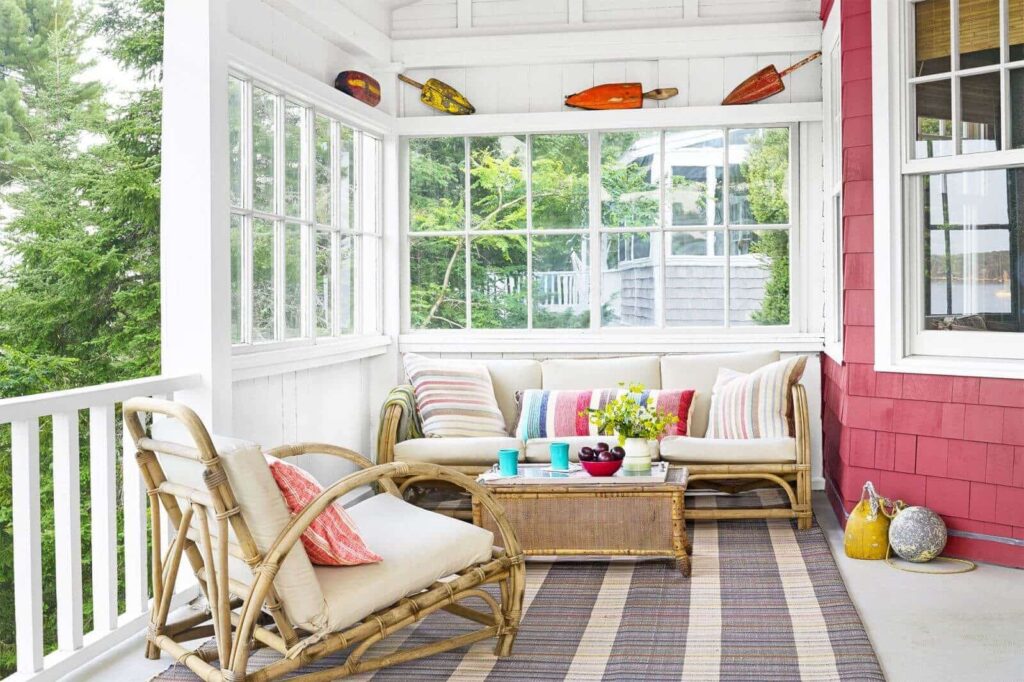 source: hearstapps.com
Set up a bar cart on your rooftop with all of the necessary for outdoor entertainment. Include a few accessories, including a potted plant or framed paintings, in addition to your usual cocktail-making supplies.
Use drinkware made of robust, shatter-resistant substances like melamine, polycarbonate, or stainless steel in case you are worried about your dishes breaking. Choose a cart with wheels that you can simply roll back inside when done with partying.
Make up an outdoor kitchen space
source: hgtv.com
The desire for alfresco dining has seen the growth of pizza ovens. Also, built-in outdoor kitchen designs are becoming a must-have garden component. However, just because you're short on space doesn't imply you have to miss out.
Choose a creative kitchen station that is flexible, tiny, and affordable for your balcony decoration ideas so that you enjoy the outdoor area with your family and friends.
Make sure to include all of the necessary items, such as bowls, plates, ceramic espresso cups, as well as pizza ovens.
Add some privacy to your outdoor balcony
source: hearstapps.com
If your balcony backs up to neighboring buildings or faces the street, complete isolation will be tough to accomplish. But there are a few simple techniques to create a more private environment.
To shield your balcony, place tall plant pots along the railing or drape a row of plants with hanging branches. Another simple alternative that filters bright light and sights from curious neighbors is to use outdoor curtains.
Save space with vertical planting
If you're low on space on the floor, consider going upward and learning how to decorate your balcony in less space. If you're a keen gardener with a screened porch, vertical planting systems are a terrific way to make the most of your terrace, and they may also be used to conceal ugly walls.
Fabric hanging planters made out of a succession of separate slanted pouches, as well as plastics plant pot solutions, are also available for purchase.
It also has a cost-effective self-watering drainage system, with one pot flowing into the one below while yet leaving enough for storage.
Choose furniture that coordinates with size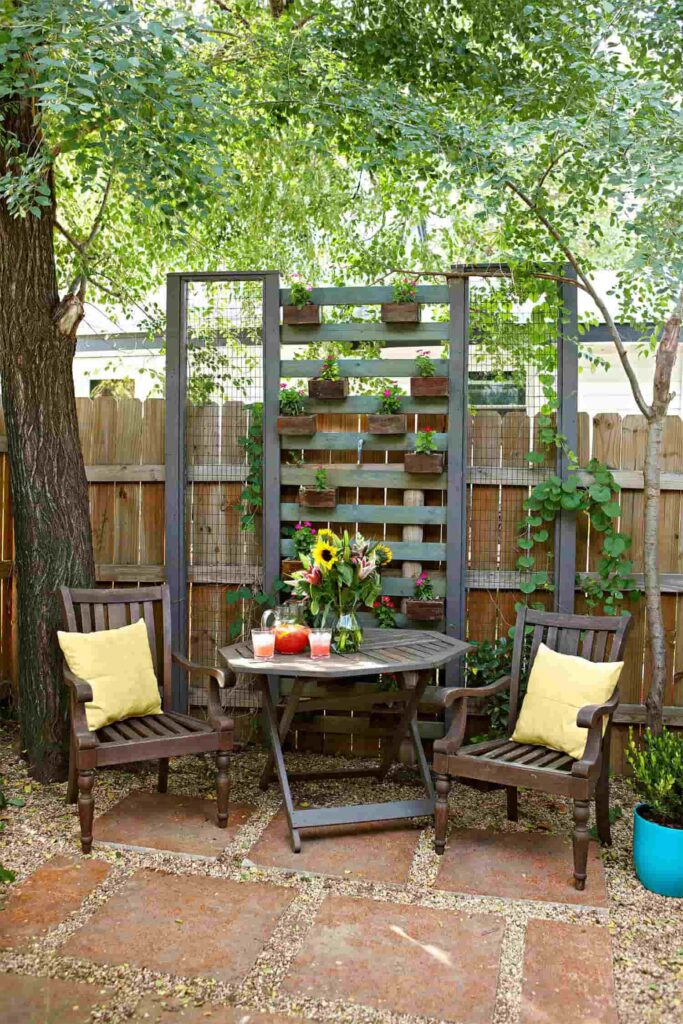 source: meredithcorp.io
Decorate your patio with pieces that are proportional to its size. Trying to cram a bunch of bulky furniture onto a little balcony decoration ideas is a recipe for disaster.
Consider armless recliners, bistro desks, and small side tables instead, which have elegant, low-profile shapes. Another important factor to consider when designing a balcony is sturdiness.
Look for furniture and accessories made of weather-resistant materials such as aluminum, magnesium alloys, resin wicker, polyethylene, or mahogany.
Make it a miniature organic garden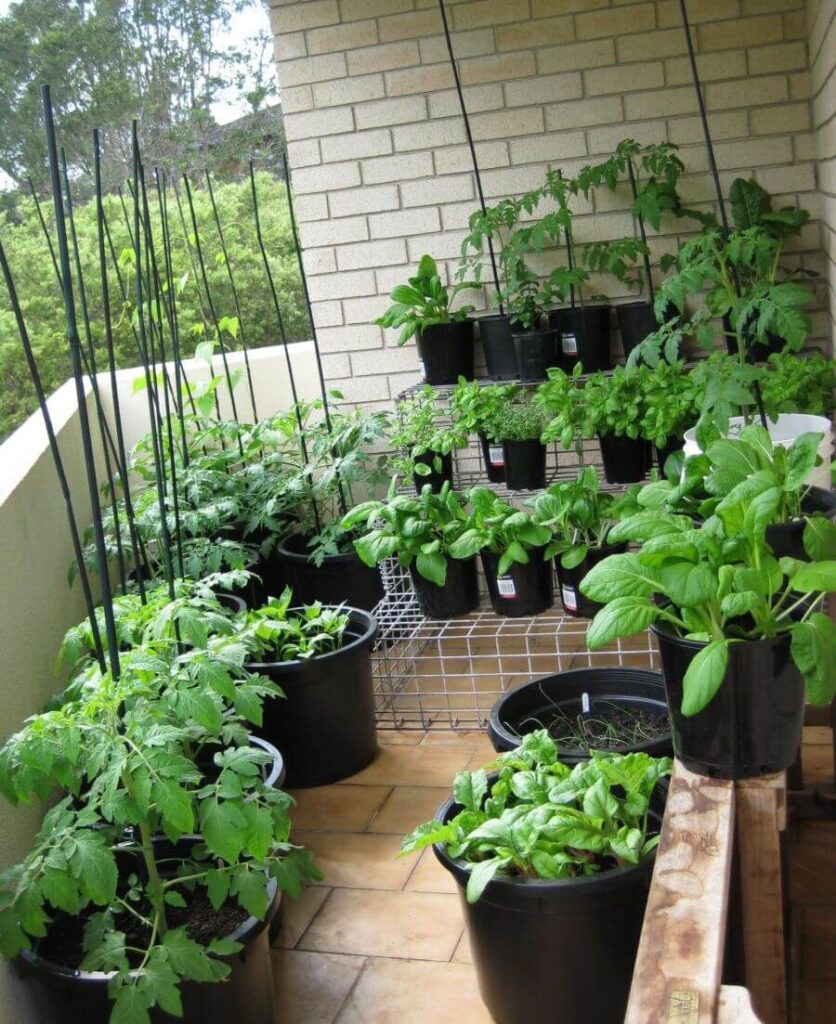 source: pinterest.com
Consider your balcony as if it were a miniature garden, and purchase various-shaped planters and containers to add diversity and interest throughout the year in your outdoor balcony. 
Adding plenty of vegetation to your balcony decorating ideas can also help to screen it from passers-by, giving you a more private outside spot to enjoy.
Pots and containers aren't just for plants; they can also be used to grow vegetables like tomatoes or a little organic farm.
Differentiate between the zones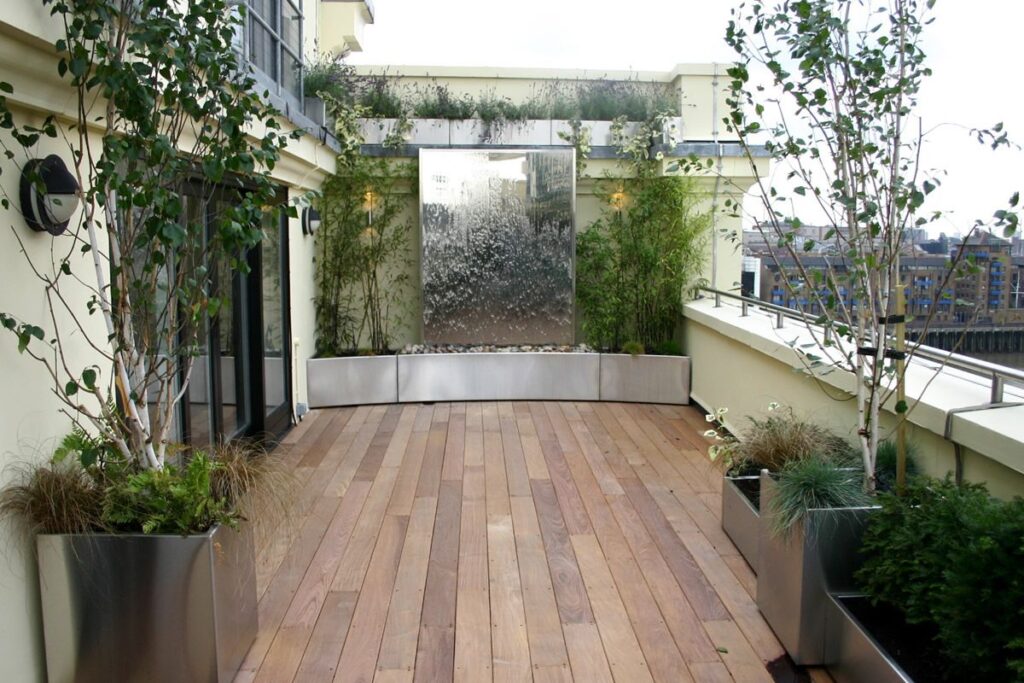 source: pinterest.com
If you have a huge balcony or perhaps a rooftop patio, divide it into zones for different types of activities—for example, separate spaces for entertaining, dining, and sitting with a book.
This outdoor patio features a comfy lounging area and a pleasant chat area centered around with a fire table. On chilly evenings, a standalone patio heater preserves the balcony warm.
Monochrome tones will make the outdoor space beautiful
In a tiny space, simple garden color schemes may work wonderfully. Also, you can't go wrong with basic monochrome for a timeless aesthetic. Combine neutral flooring with complementing accessories to create a stylish space that will never go out of style.
Porcelain floor tiles are a fantastic way to dress up your outdoor space. They're long-lasting, non-slip, and simple to keep clean, and they may quickly add a splash of color or pattern.
Select a design that complements your personal taste. For example, vintage flower motifs provide movement and a hint of traditional elegance. And, mono geometrics add a sharper and more urban feel that pairs well with greenery and cool metallics.
Add a color pop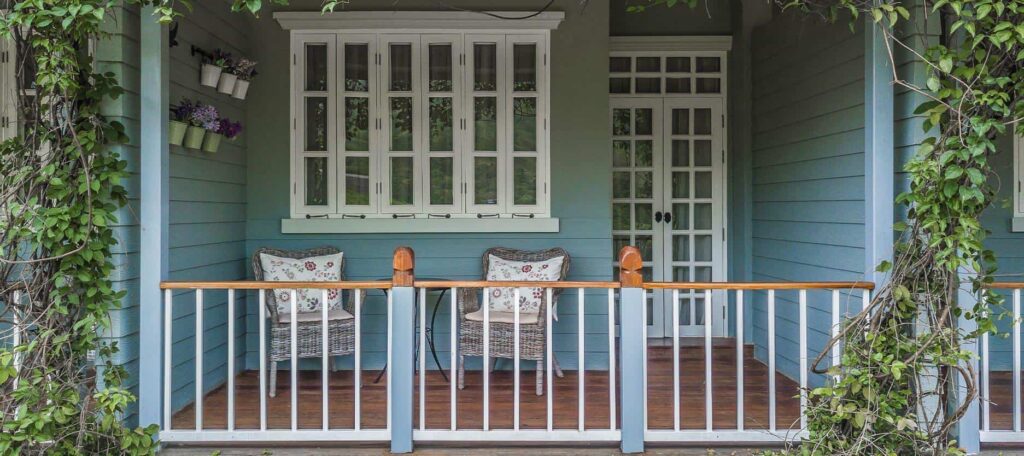 source: nerolac.com
Make the most of your restricted wall space by adding a splash of color. 
While a plain color wall might reflect light or create a unique atmosphere, a minimalist structure in your favorite hues will instantly personalize your balcony decorating ideas.
Three vertical bars of brilliant color infuse life into this little area, while the sleek steel bistro set strikes a modern note.
Accessorize it well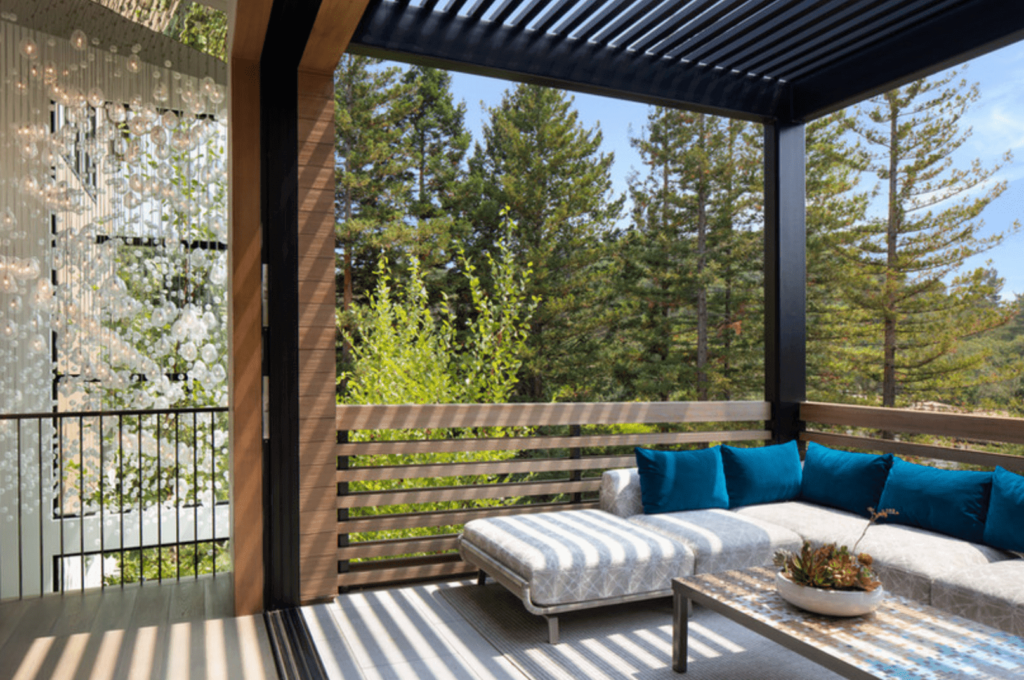 source: mydomaine.com
If you don't have time to maintain flower pots, a patterned or colored rug, and bright furnishings will instantly add flare. 
As the background to your scheme, select dramatic geometric shapes in monochromatic shades that will go with a variety of colors.
Then, for a daytime look, add holiday-inspired furnishings in tropical hues that are sure to brighten your day every moment you walk out onto your balcony.
Conclusion
After reading this article, I guess your question of "how to decorate your balcony" is solved. So, are you ready to make your boring outdoor space with our creative balcony decoration ideas? Don't wait much, let's get started.