Fall Season has started and you don't want to come out of your bed. Your blankets hug you so tight that you have decided to spend the whole day under the warm blanket. Chilling out in your bed you notice that your bed needs to be redesigned as it is uncomfortable to sit and relax. You might have thought of having a headboard in your bed. What will be your next thought if you want to design a beautiful headboard for your bedroom?
Well, you will instantly find Pinterest-worthy headboard design ideas and start looking for the best that suits your bed. Is that going to work for you? The design of your bed, size, location of the bed in the room, the material of the bed, and most importantly the features of the wall on which you want to fix your headboard bed are the important factors before choosing the perfect design for your headboard.
Designing A Headboard For a Bed Will Be Beneficial In Many Ways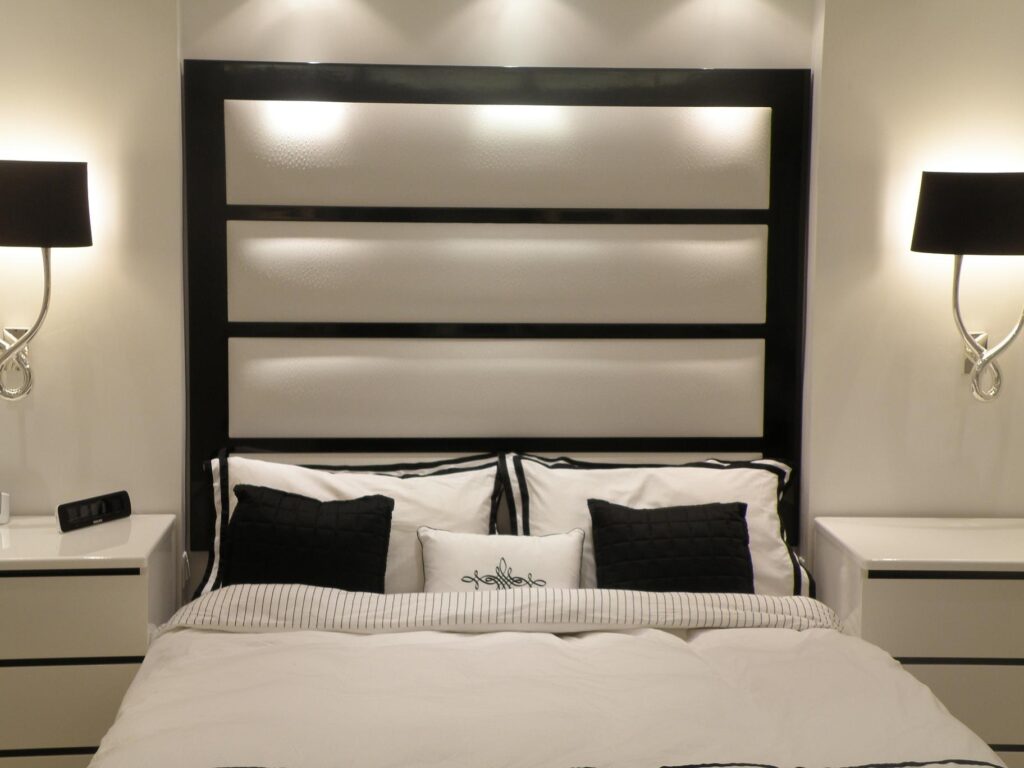 source: pinterest.com
It will help to prevent wear and tear on the wall. You are considerably more prone to smudge the wall if you frequently lie with your head close to the wall. By using a headboard as protection, you can keep your wall spotless.
Get a Comfortable Sitting Position On the Bed with the help of a beautiful headboard. Do you work late at night on laptops? Or like to have breakfast in bed?; in both cases, a headboard will give extra support to your back to help you sit comfortably.
The headboard for the bed

will also keep you away from direct contact with the wall that changes its temperature according to the weather. In winter your bedroom gets too cold so a headboard helps you provide insulation and stops you from shivering. Also keeps the bed cool during summer.
Headboard Design Ideas That Will Steal Your Heart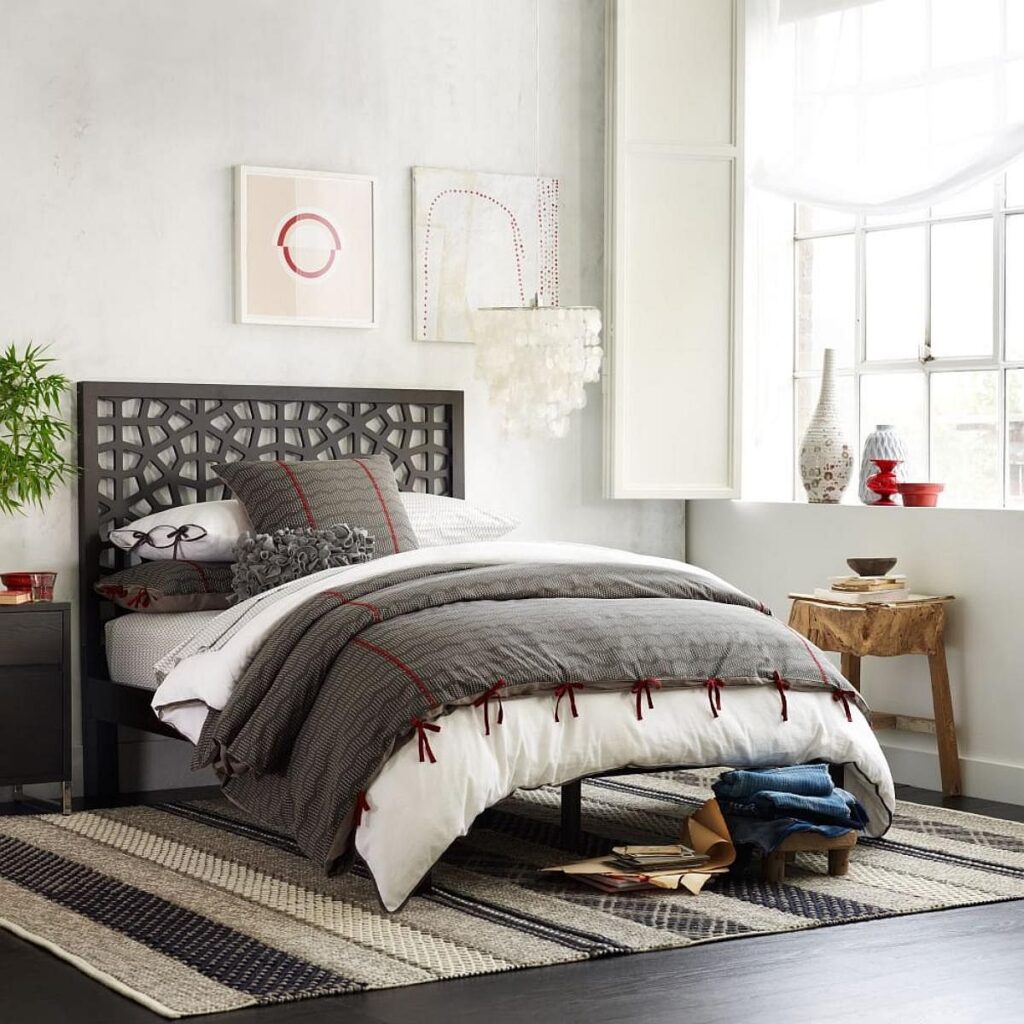 source: pinterest.com
The headboard for the bed is the center of the attraction of your room. It should be cozy as well as royal in look. You will not believe but the design of your headboard can change your mood instantly. So always choose a design that uplifts your mood and we are here to help you with some amazing headboard design ideas;
Luxurious Headboard With Velvet Upholstery
You can add comfort with style using this headboard design. Velvet is an opulent fabric that improves the aesthetic of the bedroom and adds a sense of elegance, refinement, and sophistication that few other materials can match. 
Due to its smooth texture, you can enjoy comfortable back support. To make a strong statement, utilize rich, vivid colors like green, crimson, or blue. Use brass or gold accented wall sconces as decor to complete the design.
Wall-Mounted Style Headboard
Your bedroom will look elegant with a wall-mounted modern headboard. Since it is merely installed on the wall, you don't need to be concerned about floor space. This style of contemporary headboard is constructed using struts that work with any kind of bed.
source: pinterest.com
Ready-to-use wall-mounted panels are available online. You can also customize it according to your bed size and choice. 
Antique Carved Design Headboard For Bed
This headboard's intricate plant motifs give it a hint of ethnicity and possibly even a bohemian chic feel. You can alter this style to fit contemporary tastes even if it has a distinct individuality. To match the contemporary decor, paint the headboard white for a somewhat more contemporary style.
This style suits with some bright shade colors. For example wooden color or white color suited best in it. The handcrafted wooden beautiful headboard will give an antique vibe for sure when you enter the bedroom. 
Canopy Style Headboard
Take this style as a wooden illusion canopy if you prefer to go over the top. The headboard becomes the focal point of the bedroom since it appears to have no boundaries and extends from the floor to the wall and ceiling space. 
Upgrade your cushion covers to match this headboard. You can opt for cushions with latticework that will add a chic style and complement the overall decor of the bedroom. 
Wall-To-Wall Headboard
source: pinterest.com
This is similar to a floating headboard but here the length of the board will attract you. A wall-to-wall headboard runs across the breadth of the wall. Moreover, you can use different options to make this beautiful headboard.
There are many ways to design a wall-to-wall headboard for the bed. Firstly you can make a wooden headboard and make a shelf across the breadth of the wall. Secondly, you can use the materials like glass, leather, or velvet to make the headboard.
Minimalist Style Headboard
Simple, sleek headboards are popular in contemporary bedrooms because they are simple to maintain and always in style. This extraordinarily tall board, which is made of smooth dark wood, serves as a massive backdrop for the space. For your bedroom, a simple and low-maintenance option.
Final Lookout
Headboards are the focal point of your bed and create an attractive backdrop, whether they are minimalist or lavishly carved. If taken properly, they can become a crucial component of your bedroom's decor without taking up too much valuable space.
Headboards are necessary not only for comfort but also for aesthetic value. It is an investment that can increase the curb appeal of your house property as well as the overall interior decoration of the bedroom. A list of headboard design ideas will help you to upgrade your bedroom and make it more comfy and chic.