For some time, we have been fighting with COVID-19, and it's considered testing time for everybody. And if any virus causes such a huge global pandemic, staying healthy and virus-free is also difficult to achieve. But disinfecting ourselves, our surroundings, and especially the kitchen where we prepare food is essential. It's the only way to keep your family members safe from any bacteria or virus.
But sometimes, cleaning countertops after every meal preparation can result in faded countertops over a period. Therefore, it is suggested to invest in quality quartz countertops. Caesarstone is among the most reputed manufacturers of high-quality Quartz, which requires less maintenance and easily gets cleaned or disinfected. But you must have given a thought – how Quartz is made and how to sanitize quartz countertops in the kitchen and bathrooms. Below, we have shared a detailed guide to maintain your Quartz and sanitize them quite easily.
Why Quartz and how it is manufactured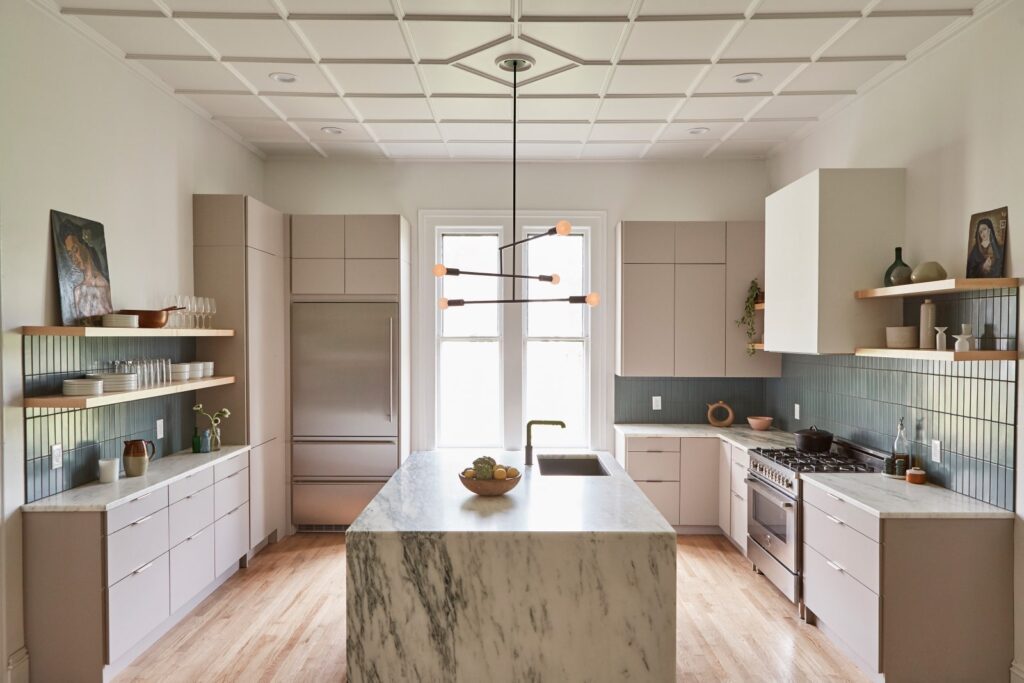 source: architecturaldigest.com
Before we discuss how to sanitize quartz countertops, let us first understand how it's manufactured and why you should choose them. Quartz is a man-made stone manufactured with a mix of natural Quartz and high-quality resins, which provides continuity in the design. Typically Quartz contains different amounts of Quartz, and its 10% material is made out of crushed marble or granite along with industrial waste – recycled glass or ceramic. And to hold the material together, manufacturers use binders like – resin.
Quartz is known for great resistance to bacteria buildup, stains, mold, water, and more, making it suitable countertop material for the kitchen and bathroom slabs. Moreover, its non-porous surface has a smooth finish, which helps prevent any dirt or liquid from seeping into the countertop. Even microorganisms such as – viruses or bacterias will only stay on the surface, easily disinfected. Quartz-engineered Quartz also has a more impactful look than granite and is available in a wide range of designs and colors to match your kitchen theme.
Sanitizing procedure for Quartz Countertops
source: rskmarbleandgranite.com
The kitchen is the one room that is constantly busy with guests and holds only a few daily necessities. Unfortunately, even countertops are home to mails, car keys, handbags, along with a good amount of wear and tear, which can harbor germs and bacteria quite quickly. Therefore, keeping it disinfected should be your priority. So, read below to get some tips on how to sanitize countertops.
●
Prepare countertops
First, you will be required to empty your countertop and replace your essentials in another place for the time being. Which will help avoid infusing your meal with a disinfecting solution.
●
Remove any buildup
The next step is to clean any remaining buildup from the countertop. Be it a leftover meal, splashes of sauce, milk, or other material, use a dry rag and smoothly sweep it into the sink or dustbin. It will not only clean the countertop but prevent that buildup from entering any cracks if you have. And prevent getting your countertop scratched while cleaning as well.
●
Material required for disinfecting
After getting the basic cleaning done, you will be required to follow materials and tools to disinfect your countertop.
Isopropyl alcohol (rubbing alcohol) with water

Antibacterial dish soap with water

Dishwashing liquid with a degreaser

Multi-purpose or glass surface cleaner 
●
Procedure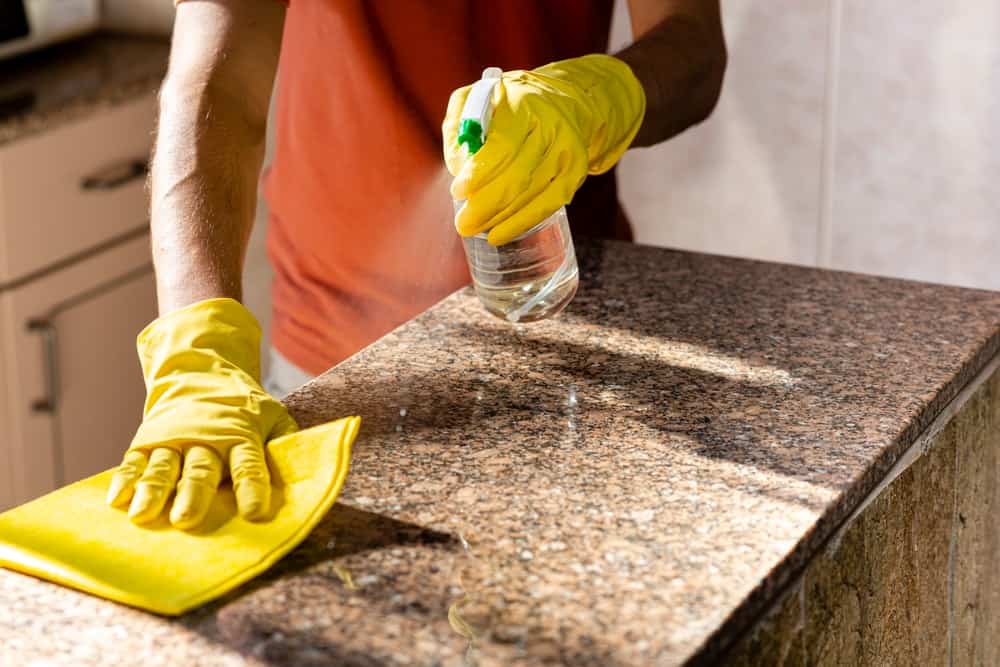 source: homestratosphere.com
You can easily clean and disinfect your quartz countertop with the liquids above. All you have to do is gather the required tools – non-abrasive sponge, spray bottle, warm water, paper towel, microfiber cloth, etc. Mix two parts of any liquid with 1 part of water and spray an adequate amount on the countertop. While spraying, make sure your kitchen is well-ventilated, and food is away from the kitchen. Let the liquid sit for 1-2 minutes and sweep the countertop carefully by lightly rubbing it.
●
Wait until it gets dried
Immediately after sanitizing your countertop, avoid using the kitchen and keep all windows attached to the kitchen to remain open for a while. Since the liquid is solely for disinfecting purposes, it's inappropriate for your meal or food.
Benefits of quartz countertop
Now that you have understood how to sanitize quartz countertops without damaging the outer surface and how they are manufactured. Read further to know a handful of benefits of a Quartz countertop in your kitchen.
Enhance your kitchen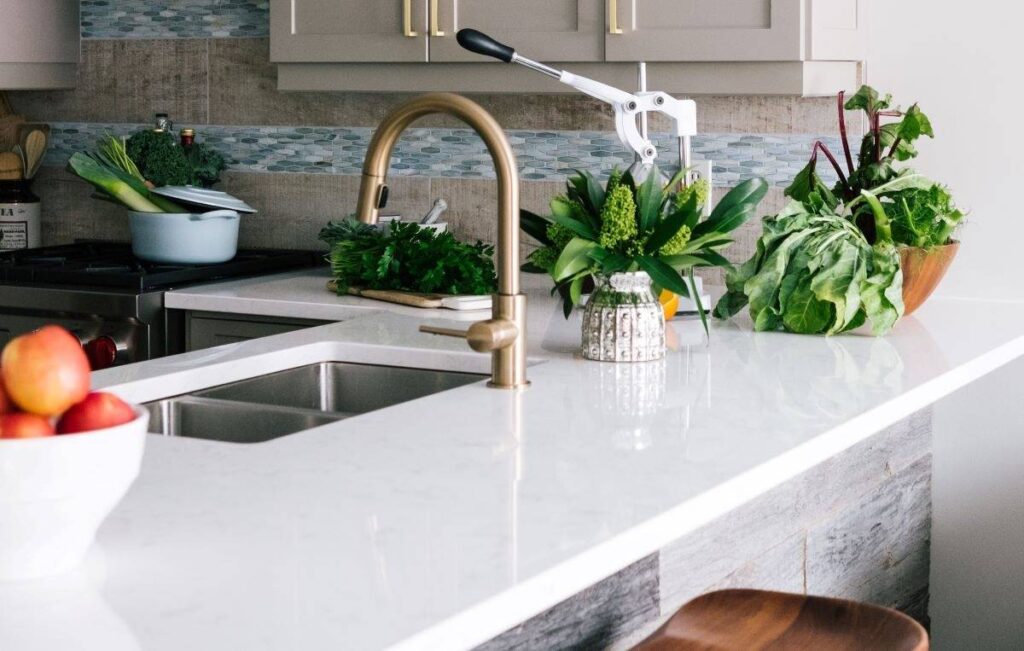 source: manmadediy.com
Whether it's a kitchen or your business space, a countertop is one thing that enhances your space even more. So, it should be according to the theme and strong enough to bear heavy weights if required. Quartz gives you a sleek outer look and comes in different colors and patterns to go with your theme. Moreover, there are various options available with various materials used to affect the appearance, not only traditional Quartz. 
Provides durability
When you are investing in your kitchen, it's not all about looks but durability. A perfect countertop like Quartz is beautiful but strong at the same time. It offers resistance to cracks, non-porous – so it won't cause patches and prevent liquid or any dirt from seeping in. Quartz is also scratch-resistant, which can only be scratched by diamond, topaz, or sapphire.
Antibacterial material
In times of COVID – 19, it's necessary for our kitchen to be antibacterial or cleaned easily without any hustle. Thankfully, the material used in the Quartz countertop is well tested, antibacterial, and provides enough smooth finish to clean or disinfect the countertop easily. Quartz also provides resistance to microorganisms, bacteria buildup, mold, which help keep your countertop safe for kids and older people. 
Solid surface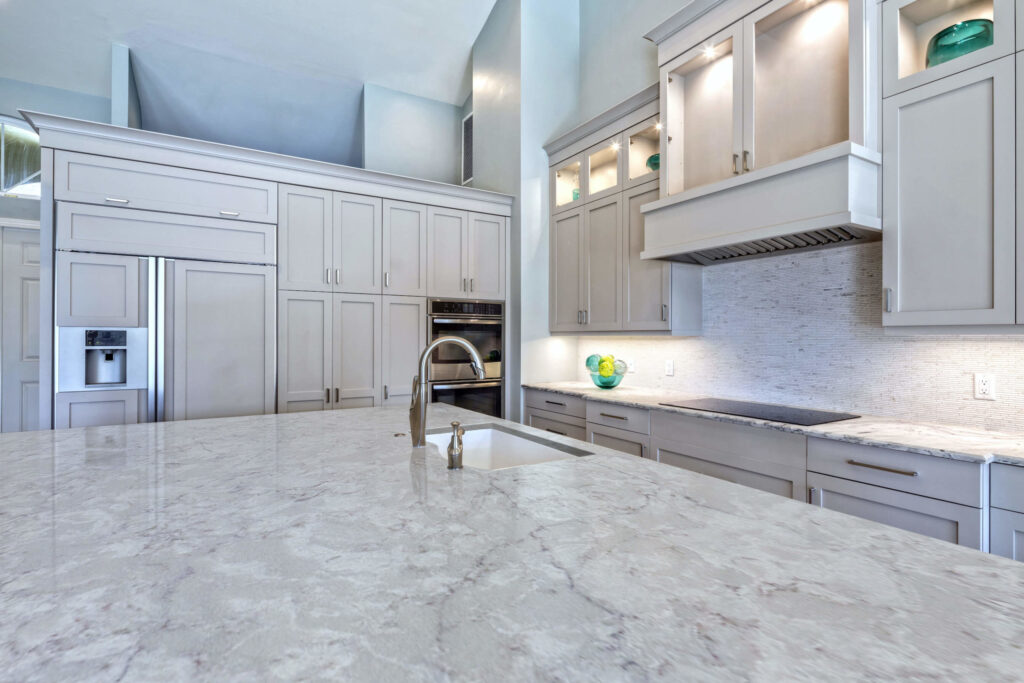 source: onslowstoneworks.com
Quartz is manufactured with 33% inorganic binding resins and 66% organic minerals, making it a solid countertop, providing an extraordinary amount of finish on the surface, which is easy to clean and maintain daily.
Conclusion
Hopefully, our article was informative and guided you regarding Quartz – how it's made, why you should choose its benefits, and lastly, how to sanitize kitchen counters made of quartz, etc. Before investing your hard-earned money in any stone, we recommend you to consider the guide given above and try including high-quality pieces of Quartz in your kitchen.