With rising temperatures, increasing sunshine, and the return of migrating birds, you may feel excited to get out and start planting your spring garden. Before rushing out to buy plants or seeds, learn what steps you need to take to prepare your yard for a beautiful garden all year. Some planning and prep work goes a long way and makes gardening easier and more enjoyable.
Before You Plant
source: thespruce.com
While it might be tempting to buy flowers and plant them immediately, you need to clean your outdoor areas and prepare your garden beds first. Use a rake, trimmer, and other garden equipment to give your landscaping a spring clean. 
Remove leaves and dead plant debris from your yard and flower beds and trim your existing plants. You'll also need to prepare your soil for planting by raking it and getting rid of any old roots or stones. You may also want to mix an all-purpose fertilizer into your soil before planting, to boost your plants' growth. This is also a good time to apply a pre-emergent weed preventer to stop weeds from stealing vital nutrients from your plants. The other method is to use mulch to suppress weed growth. 
Choosing Spring Plants for Your Garden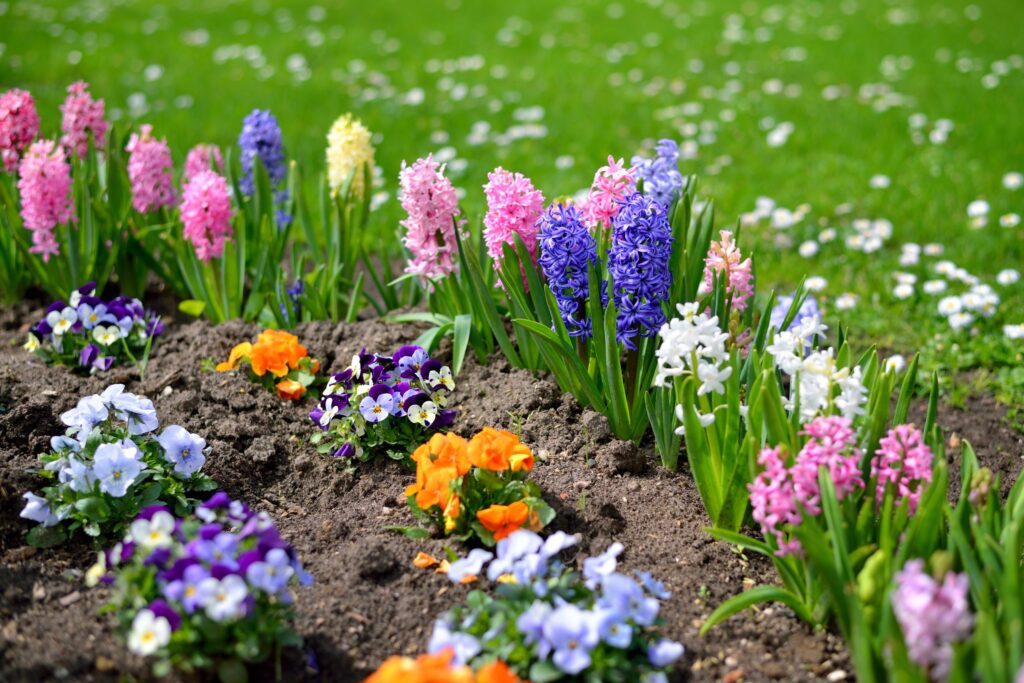 source: bakerlime.com
To create a lush, colorful spring garden, choose plants that work for your growing zone. You can browse for plants that grow well in your zone at your local nursery or through an online seed and plant store. The options below will keep your flower beds and vegetable gardens looking welcoming and cheerful throughout the season. Top spring flowers and vegetables include:
Corsican Hellebore
This is an ideal plant for a shady area with light green flowers and dark foliage. It grows in zones 6 through 8, blooming in the early spring. Reaching a maximum height of 1 to 2 feet, hellebore thrives in moist soil that drains well.
Honey Bush
This flowering evergreen is native to South Africa, and it blooms in zones 7b to 12. Towering up to 12 feet tall, the honey bush will make a dramatic centerpiece for your spring garden. It flourishes areas with full sun or partial shade, and it has silvery foliage and spiky burgundy flowers. When the foliage is rubbed, it releases a smell similar to peanut butter.
Fireglow Euphorbia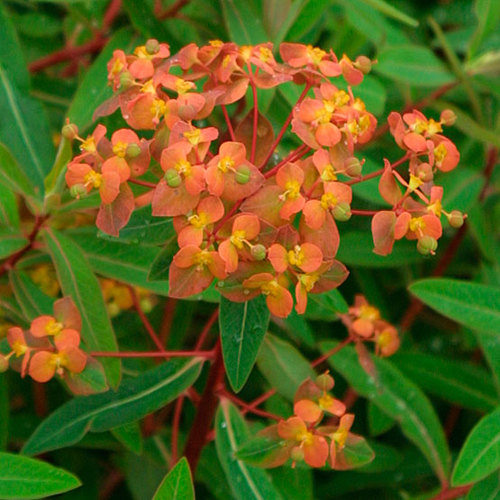 source: pinterest.com
Ideal for cooler parts of the country, this euphorbia flourishes in zones 4 through 9. It grows 1 to 3 feet wide and has bright orange flowers. Since euphorbia requires little care, it's perfect if you're a new gardener or have a busy spring season that doesn't allow much time for tending to your plants. You'll see its blooms in the late spring. Make sure to plant in well-drained, dry to medium soil to promote growth. 
Radishes
Radishes make a peppery topping for your salads, and they're relatively easy to grow. For optimal results, plant radish seeds two to four weeks before your area's last frost so the soil can be easily worked. 
Broccoli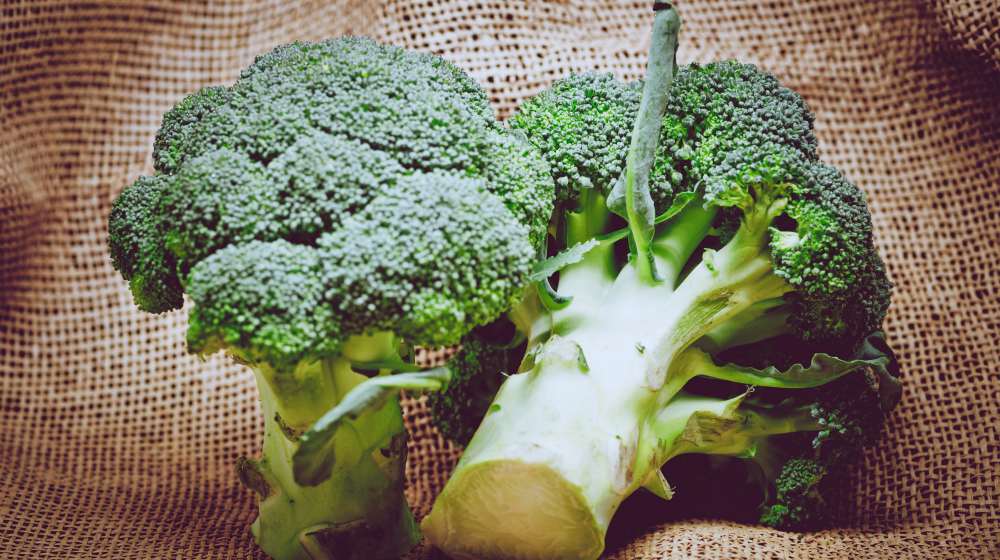 source: gardenseason.com
Delicious with pasta or as a side dish, broccoli is suited to the cooler weather of early spring. You can choose to sow broccoli seeds in the soil outside, or you may want to start the seeds inside and transfer them outside approximately two weeks before the last frost in your region. 
Swiss Chard
Cool spring weather enhances the flavor of this gorgeous vegetable, and it will tolerate the cold temperatures that are common in March and April. However, chard cannot handle frost, so make sure to cover it or bring it inside if you have an overnight frost. Swiss chard can stand in for lettuce in a salad with a taste similar to spinach, and it's a hearty addition to soups and stews. 
Create a landscape map once you have an idea of the plants you'd like to grow. Determine how large each plant will grow and the spacing you'll need between plants. This information helps you decide where to place your plants in your garden and how many you'll need to buy. 
Protecting Your Plants
Springtime can mean big swings in temperatures during the week. Young plants have more delicate stems and leaves, making them more susceptible to frost. You'll want to stay aware of overnight low temperatures and have a way to cover your plants if your area has a frost warning. You may also need to protect your plants from being eaten by animals in the springtime. Small fencing or cages placed around the plants can help deter rabbits and other animals from eating the new plants in your garden.
Decorating Your Garden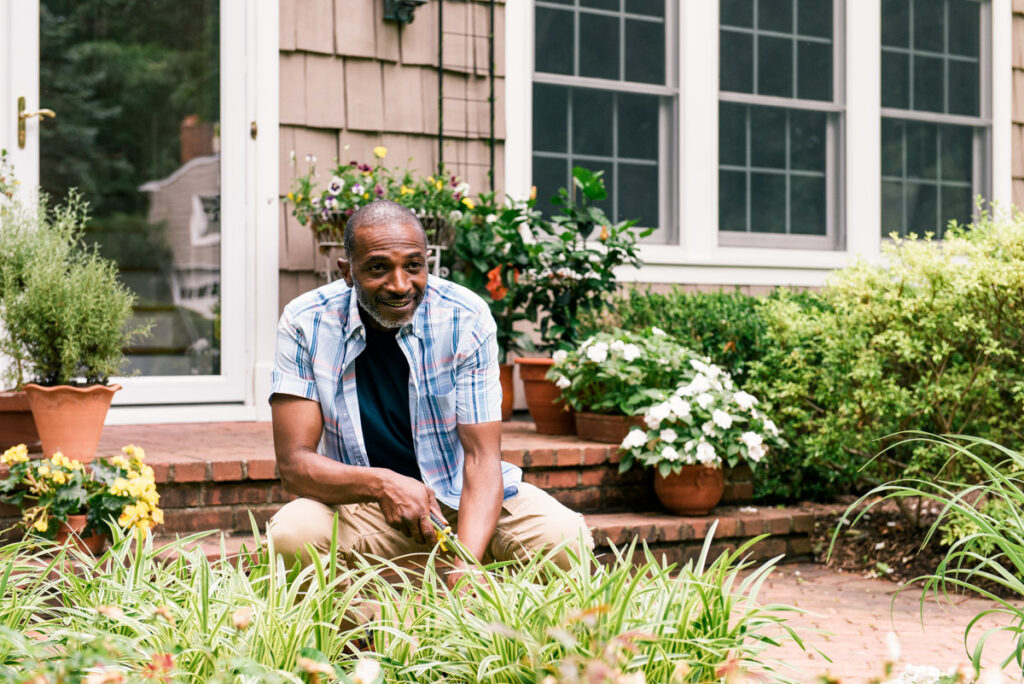 source: tid.zillowstatic.com
Make your spring garden an inviting, relaxing retreat by including some colorful decorations that showcase your style. You may want to include some of these items: 
Statues

Stepping stones

Pots 

Wind twisters 
Wind twisters bring a whimsical charm to your garden oasis as they blow and spin in the breeze. Opt for wind twisters in butterfly, bee, flower, or watering can shapes for seasonal flair or choose twisters with homes, balloons, or words for year-round appeal. When you shop for these products, select rust- and weather-resistant items.  
Spruce Up Other Outdoor Spaces
To make the most of your garden clean and repair your existing outdoor spaces, power washing your deck or patio will easily clean off dirt and debris. You may want to sand, stain, or paint your deck if it needs a refresh. Replace any boards that are cracked or are rotting. If you have a concrete patio, check for cracks and damage. Any imperfections can be fixed using a concrete mixer, mortar, and other concrete accessories. A little work making your outdoor spaces shine in the spring allows you to sit back and relax during the rest of the year. 
Start Planting
source: pinterest.com
Gardening can be a therapeutic practice that allows you to get outdoors and connect with nature. After you prepare your landscaping, select plants, and make a planting map, it's time to start planting. Having the right lawn and garden quality tools is vital for faster planting. 
Once your planting is complete, all that's left is to sit back and enjoy your hard work. Remember to water, fertilize, and trim your plants throughout the growing season so you can enjoy a bountiful harvest and beautiful blooms.