Living in a small space has some pros to enjoy and also has some disadvantages. While we consider many benefits of living in a cozy place like easy to clean and maintain, there are problems of having storage space shortage too. Living in a little nest may sometimes cause you frustration. You need a minimalistic approach to handle storage-related issues. You need to invest in smart organizers for storage in small spaces.
Apart from that, you need to optimize every nook and corner of your house to utilize the storage space. Thanks to different types of organizers available in the markets, they can easily solve these storage problems. You may gain some insights from Pinterest about how to organize a small place or storage ideas for small spaces etc. Here The Architecture Designs share some fantastic small space storage ideas for urban homes.
1. Invest In Small Closet Organisers
source: pinterest.com
Planning is the most important step in small closet organizing. Before taking the plunge, analyze the total space available in the closet. Secondly, define your daily needs items first and put them in the front to avoid mess. A small closet needs a thoughtful process of organizing. Moreover, you need some small closet organizers to keep everything in a proper place. Some sort of hangers, hooks, rods and DIY shelves is the organizers in the list of essentials.
2. Design A Small Walk-in Closet
You must design a small walk-in closet using different organizers if you have no space for a standard wardrobe. All you need is hanging space, a full-length mirror, some DIY shelves, hooks, and drawers. A small walk-in closet needs suitable small closet organizers. You can have an amazon basics closet storage organizer which comes with fabric bins and organizers. Also, invest in space-saving hangers. Additionally, you can opt for hanging closet organizers.
3. Invest In Good Quality Space Saving Hangers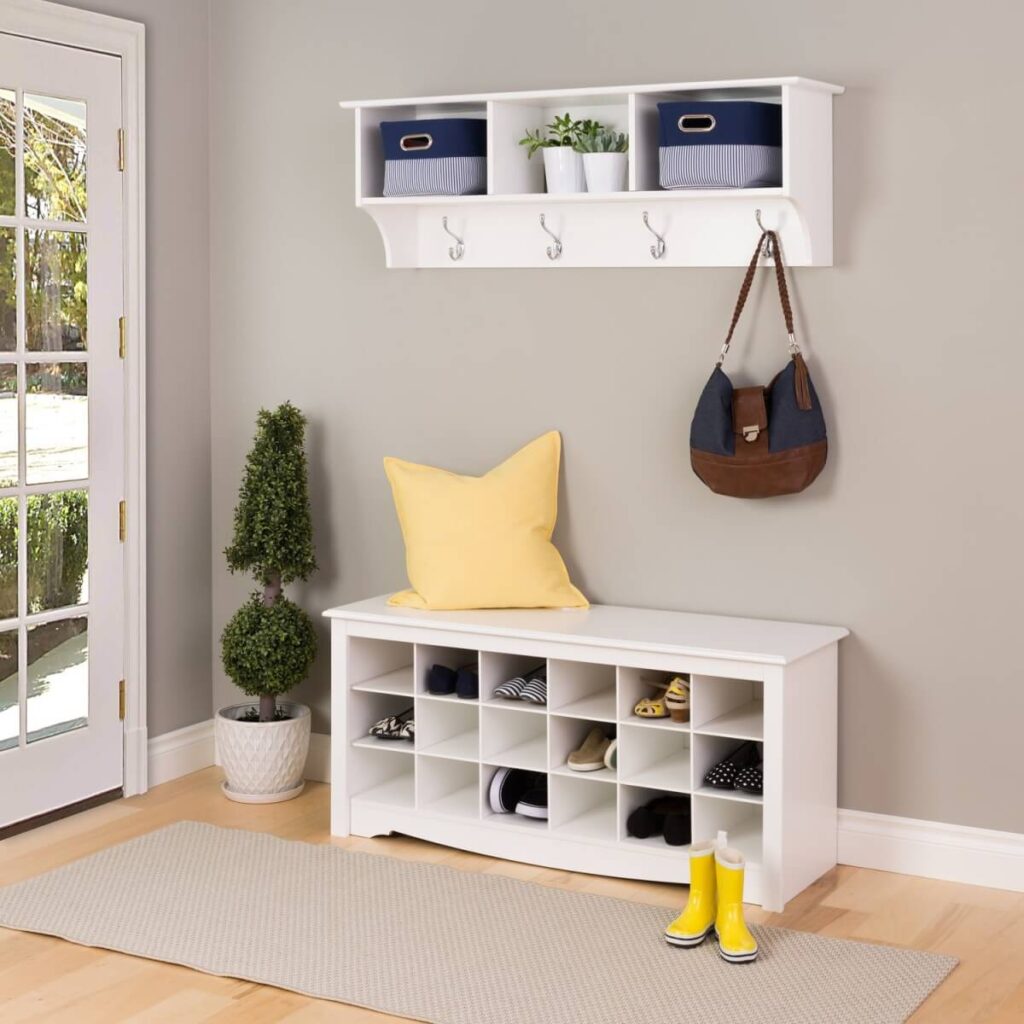 source: pinterest.com
These types of adjustable hangers save more space in the closet. When you use it vertically, it keeps the clothes neatly separated and wrinkle-free. Every hanger has holes to keep things separate and this also functions as natural ventilation. Generally, these hangers can hold 7 to 9 pieces of clothing. You can hang scarves, belts, and other accessories and clothes that create most of the mess in a closet.
4. Use Stackable Plastic Storage Baskets 
Storage baskets are multifunctional. You can store lightweight items like shoes, clothes, files, and toys in them. Best suited for living room, kitchen, and bathroom. The best part of these stackable organizers is that we can use vertical space. When you google storage ideas for small spaces, these organizers cum storage baskets are top in the list. They are the most popular and functional small closet organizers.
5. Compartment Divided Drawers For Jewellery and Make-up Storage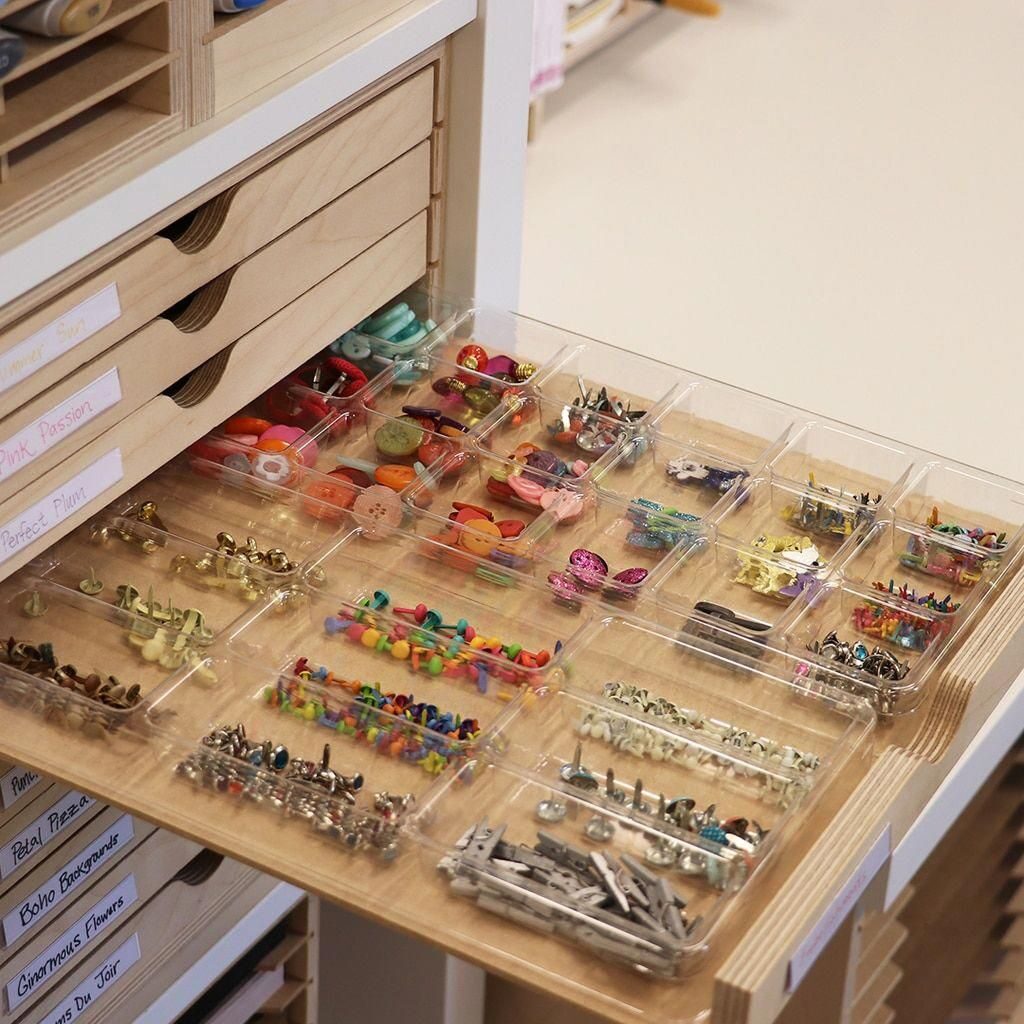 source: pinterest.com
There are accessories in the closet that need a proper place. For example Jewellery and make-up stuff. These are small items and are difficult to find once you misplace them. So give a dedicated place to them by using compartment divided drawers. It is a common drawer divider to put your small stuff in place. In a small walk-in closet, these drawer dividers are a must. By organizing all of your necessities in these plastic storage organizer bins, you can limit the clutter in your closet and wardrobe.
6. Make Shelves Behind The Door.
We always neglect the space that can be utilized as storage like behind-the-door space. It is a space that is overlooked many times. One of the best solutions to utilize this space is to make hollow shelves for putting lightweight items. For example, you can use this space in your laundry room behind the pantry door organizer to place daily need items for laundry like detergent soaps, liquid bottles, brushes, etc.
7. Install A Shelf And Clothes Rod In A Small Walk-In Closet
source: pinterest.com
Closet rod brackets are the most popular among teens who live in the hostel for study purposes. These type of tools work wonders for storage in small spaces as it saves your hours of ironing and organizing. Worries of having wrinkled clothes have gone through due to these rods. You can hang your shirts and jackets instantly after drying them in the washing machine. Additionally, you will have extra storage space on the upper shelf to place some extra stuff. 
8. Install Vertical Peg-Board Roll-out  In The Kitchen
When we think about small kitchen storage ideas, roll-out drawers are the most common idea to put small but essential stuff in the kitchen. Similarly, peg-boards are the tools that also help you to find the best small kitchen organization ideas.  Utilize this pegboard with magnetic containers to store spices or other kitchen items. The best way to utilize it is to hang ladles with the help of hooks.
9. Over The Door Shelves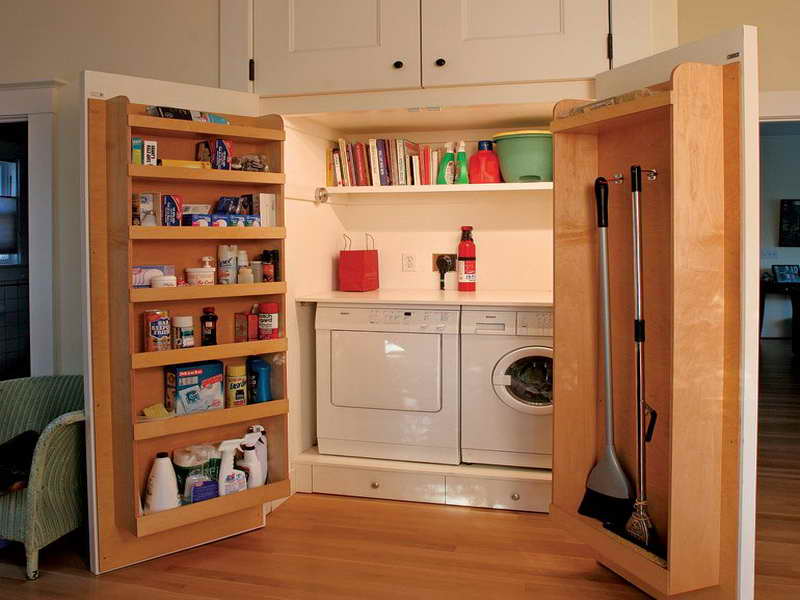 source: pinterest.com
Build an over-the-door bookshelf or display shelf. You can show your knick-knacks, books, and showpieces there. Moreover, you can use these shelves as valence for drapes and blinds. Just you need to make a box that serves as a center of each shelf that is taller and deeper. In hostel rooms, where you will have to wisely think about storage for small spaces, these over-the-door shelves will work as a solution.
10. Rollout Drawers At Ankle Level
Create a creative flat storage place for serving trays, cutting boards, and baking pans using unused toe kick chambers. These are the most neglected spaces in the kitchen and the bedroom. You can make these shelves under your wardrobe or kitchen pantry. These will be the best ideas for storage solutions for small places, especially in the kitchen area.
11. Install Expandable Cabinets And Drawers In Corner Shelves In Kitchen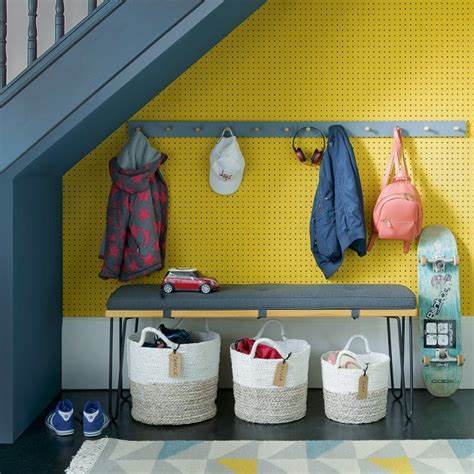 source: pinterest.com
Without making any other changes, expanding or pulling out shelves are a simple method to increase the amount of corner space in your kitchen. This is a straightforward undertaking, and you can often get a top-notch pullout shelf addition for a reasonable price. Very useful for small kitchen organizations that have L shape or U shape designs. Heavy pots and pans will find a permanent place in that drawers or you can put kitchen appliances in them.
12. Utilise Doorway Shelving Wherever Possible In The Bedroom
Doorway space is often underestimated while thinking about small bedroom storage ideas. A highly inventive way to clear the area is to install a cool entryway with built-in bookcases just inside the doorway and closed storage cabinets above it. Another Cool small bedroom storage and room divider idea are to have a doorway open storage unit with regular and glass shelves, with built-in lights.
Final Thoughts
There are a lot of creative and original solutions to organizational problems. Just a little creativity and a willingness to use your DIY abilities are required. There are several storage solutions for compact areas, including furniture with multiple uses and repurposing unused space. You don't have to let confined spaces prevent you from creating the level of organization in your home that you envision. 
When decorating or organizing your belongings, you must use creativity because your space is limited. Utilize your space with small space organizers. This post will assist you in coming up with a small-space storage solution.