Introduction
Entryways are a great location to start creating a welcoming atmosphere in your house. It's the first place you see when you step into the home, whether that's a large foyer or a tiny room inside the front entrance. A well-designed entryway keeps you organized on your way in and out while also making a significant first impact on visitors.
Setting up an entrance that you enjoy returning to is a beautiful thing to focus on right away.
Continue reading for more ideas on how to make beautiful first impressions with your home's most excellent entryway décor recommendations. In no time, you'll be ready to make the most out of this place, no matter how big or small it is!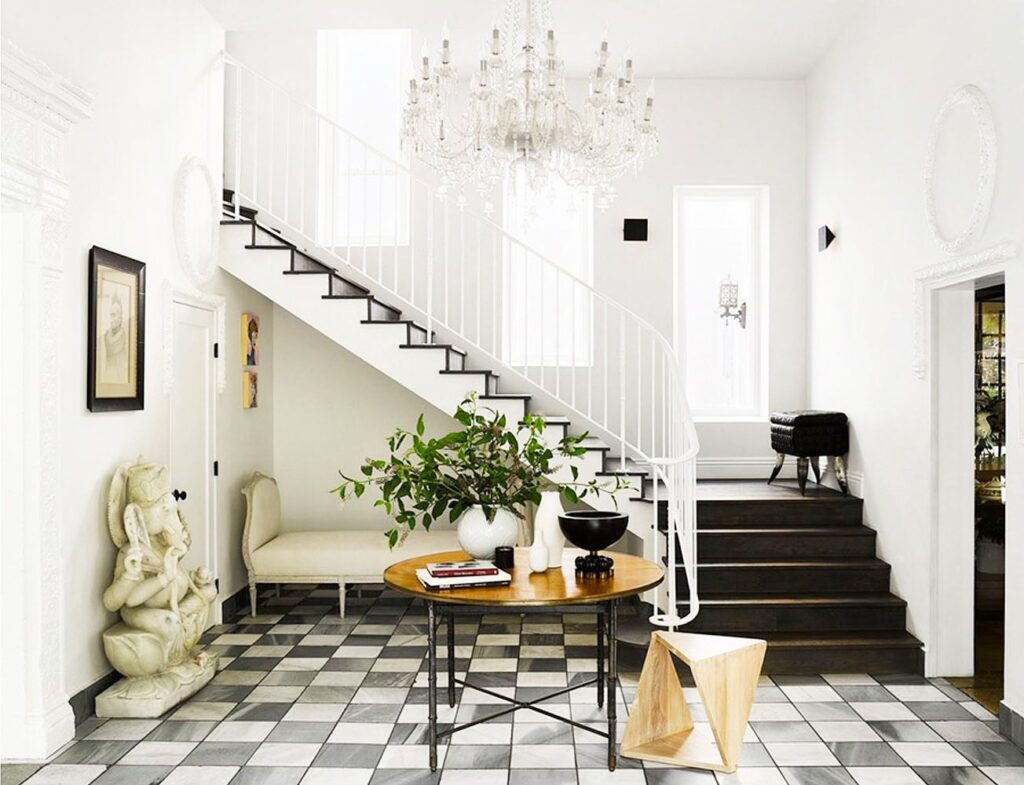 source: hearstapps.com
 Installing a sofa, a chair, or even some benches or ottomans can all be used to add seating space to your entryway. Many of you may take the foyer seating space quite seriously. So, this is a great way to add a comfy seating arrangement. 
A comfortable cushioned seat with plenty of pillows tempts you to stay a little longer at the doorway. A stylish shelf with cabriole legs offers a flat area for keys and change.
Mirrors are meant for the entryway!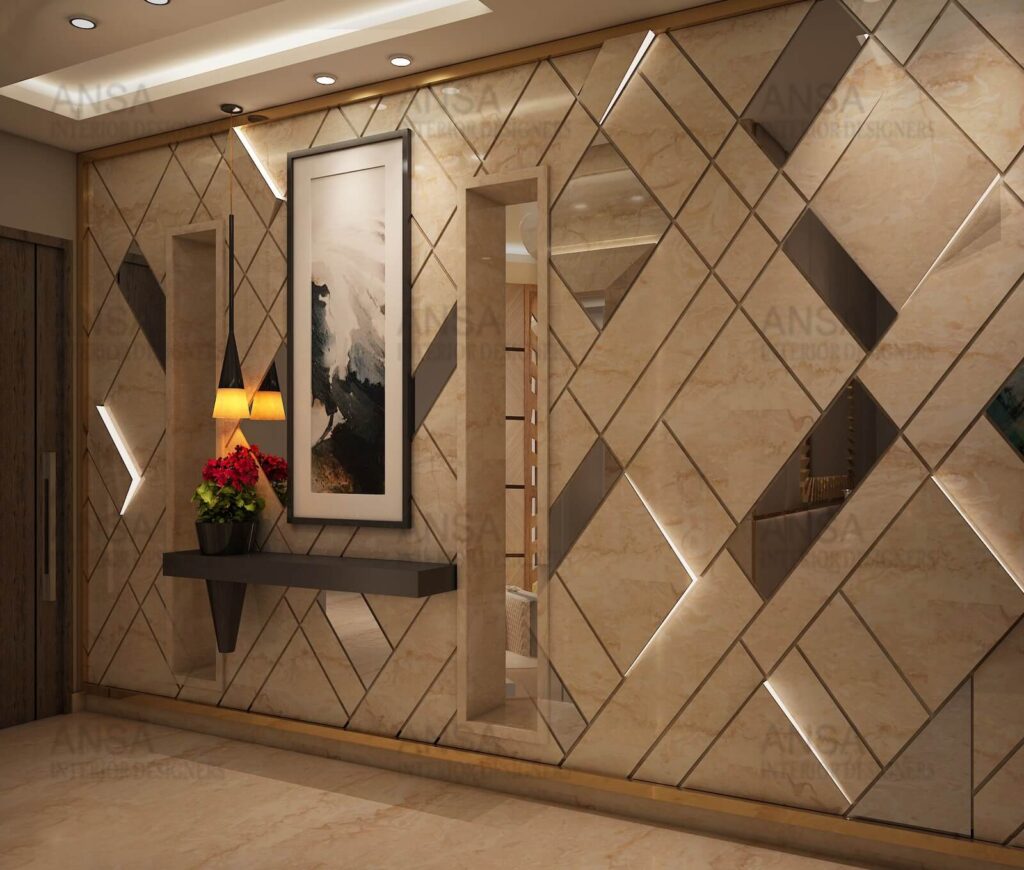 source: medium.com
It is perhaps one of the most straightforward suggestions on our list. A tiny entryway can be dressed up with carefully placed mirrors to give its own décor. In the entrance, mirrors are frequently employed. Install many oval, circular, or round mirrors, or just one enormous mirror with a gilt frame, if you want to be bold.
Mirrors are decorated not only for adornment but they even enhance the place appropriately. So if you're lucky enough to come across a striking mirror, go for it; simply decorate with lantern pendants or an artful chandelier.
Note – Employing mirrors in furniture lying around there is also an excellent way to adorn your doorway and make it look more aesthetic. Make sure the table compliments the mirror pretty well.
Basket – A stylish yet pocket-friendly alternative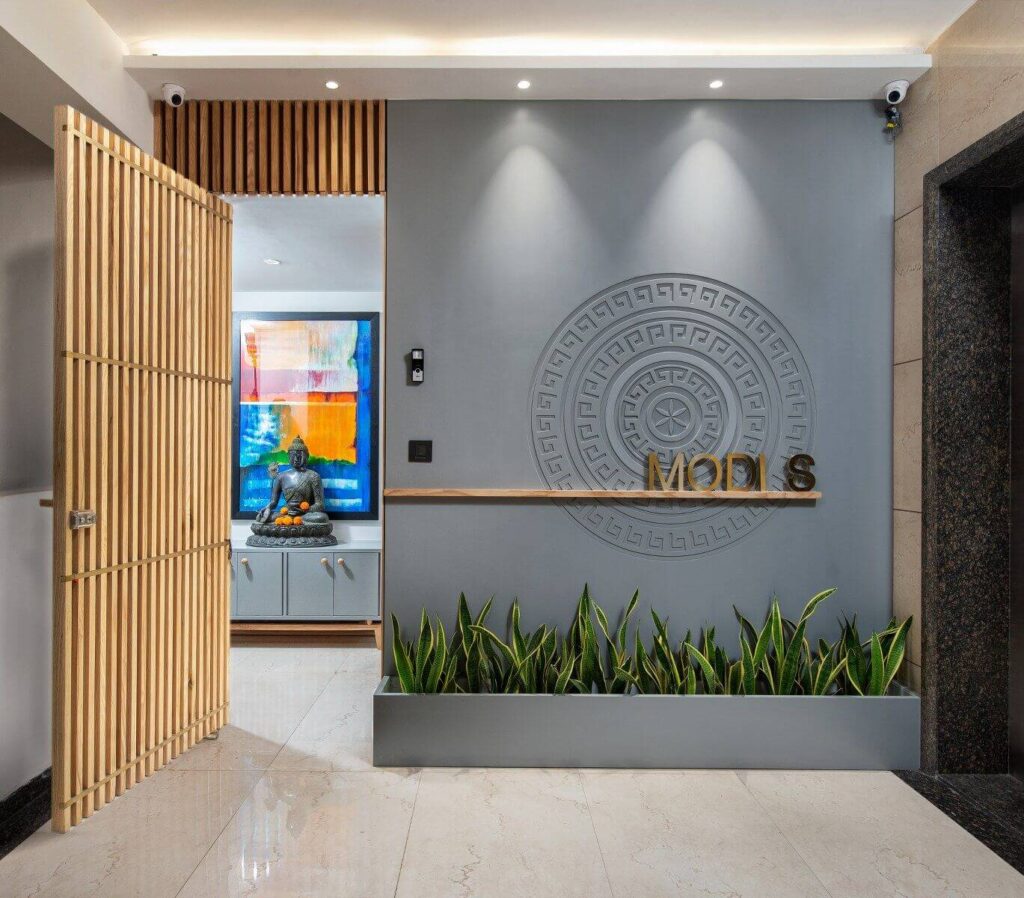 source: pinterest.com
Baskets are indeed the easy way to go if you don't have a tremendous amount of space to deal with or don't need to spend a lot of money on a storage component. They're practical, inexpensive, and fashionable! In addition, there are so many different ways to style baskets.
Simply pick your favorite basket or baskets and hide them underneath a console or couch to use this option. Alternatively, simply arrange a few of them along the wall! Baskets are a great way to store shoes, coats, and backpacks in a family with kids, so we adore this alternative.
Regardless of whether or not you have children, baskets are a terrific method to stay organized. One for shoes, another for reusable shopping bags and purses, and even for other outdoor things.
Opt for rugs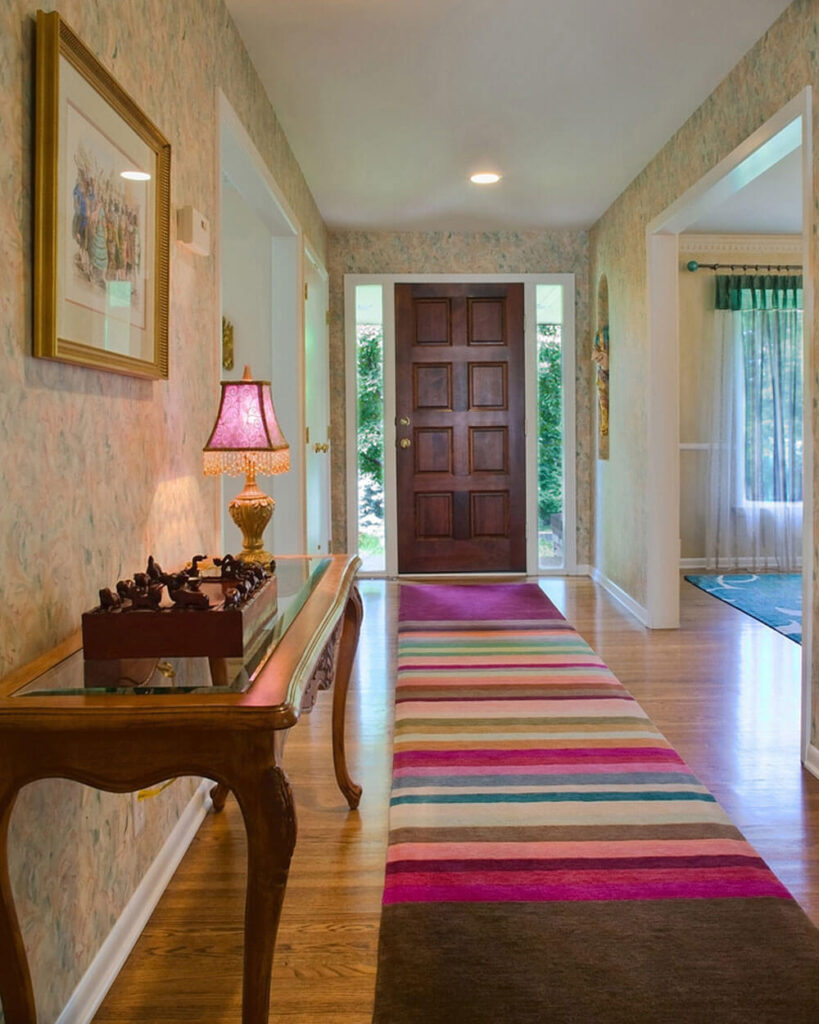 source: impressiveinteriordesign.com
Your doorway serves as a portal to the rest of the home. It's your one and only opportunity to make a lasting impression. Is there a simple and inexpensive way to accomplish this? By including an area rug.
The area rug in your foyer should be dependent on the size of the space and the adjacent furniture. Pick a carpet that matches your entrance and home's decor. Please ensure it complements the rest of the room and your unique style.
Secret tip – A popular variant or bright color will catch the eye and become the focal point, whereas a neutral, solid hue would blend in.
The rug you purchase should be stain-resistant and easy to maintain. Choose a carpet with relatively short hair for simple cleaning.
Art pieces are a fantastic way to get started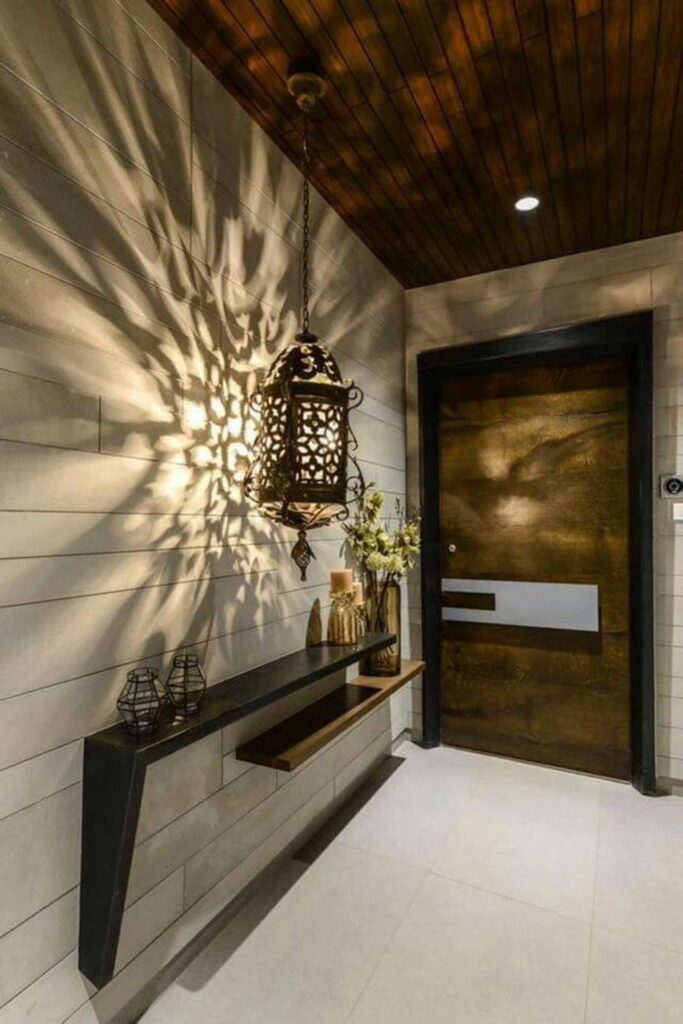 source: pinterest.com
The first thing everybody notices when they walk into your house is the wall directly across the door. So, let the wall speak for itself!
You can decorate it with a single large piece of outstanding wall art or many pieces. Take inspiration from the photos on the internet and add a potted plant, a carpet, and perhaps even a funky-looking table to complete the appearance of the entrance.
Pictures and wallpapers are always a terrific way to add a chic feel to your wall, and you can get lovely wall art items from your local market or even online.
So what are you waiting for? Decorate your foyer with stunning art right away!
Incorporate some functionality
A few creative yet practical details may make a significant difference in the way your entrance looks. For example, storage for mail, trays for basics like cards and wallet, and hangers to hold your luggage or jacket will help you manage your storage and your lifestyle!
Also, a primary bench seat with shoe cubbies, a spacious shelf, and coat hangers can make a significant difference. When you come through the door, having a place to put your shoes and outerwear prevents them from being strewn around the home.
Consider the items you acquire on your way out of the door and construct an entrance to assist you in remembering to take these essentials with you. It will guarantee that you are always ready to tackle the day.
The bottom line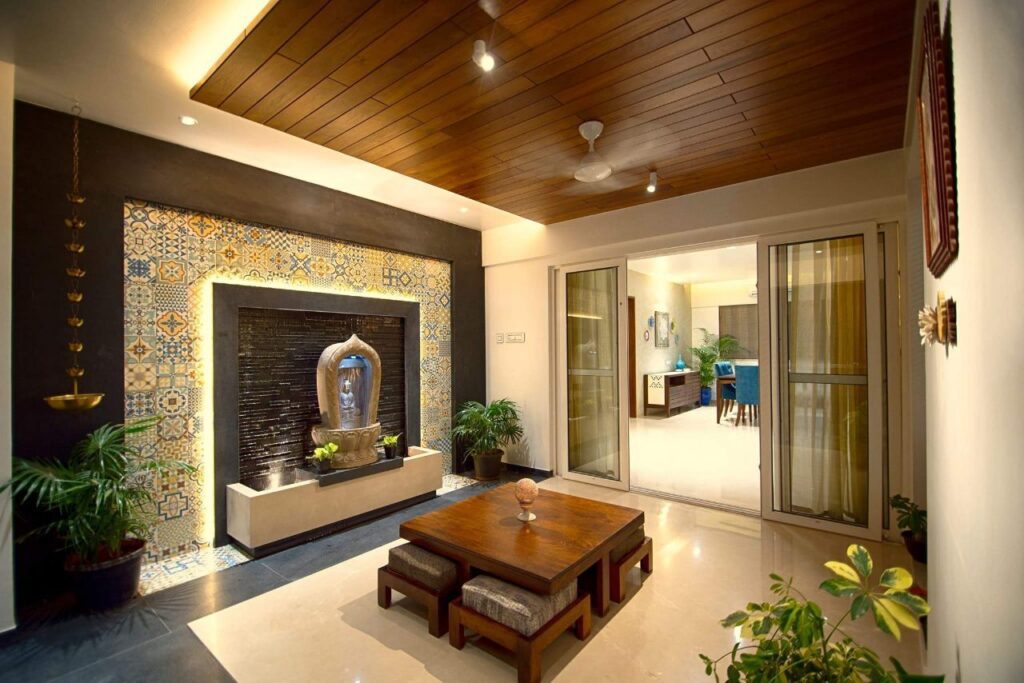 source: pinterest.com
We recommend that you start paying more attention to your home entrance décor, even though many owners don't. Wall decorations and even exquisite artwork don't have to be expensive. Simple, low-cost items combined with a bit of imagination can work miracles.
If your front entrance leads to a large foyer or a small apartment entrance, keep in mind that this is the first thing you and your visitors see. That's your debut impact, and they say you only get one chance to make a good one. But, most significantly, it's the first thing you see when you return home from a long day's work.
We hope that by incorporating some of these ideas and photos into your entryway design, you will be able to create one that is truly unique to you. Do let us know in the comments below which one you liked the most!