Getting up a ladder to place Christmas lights around the outside of my house isn't something I enjoy doing. I'm terrified of heights. But that doesn't mean I'm skipping out on the twinkly lights that the month is famous for. So I carry the lights and place them throughout the home without relying on the ladder.  Check out these brilliant indoor-outdoor Christmas lighting ideas if you want to add a little dazzle to your space.
Indoor Lighting Ideas For Christmas 2021
Lighting Xmas Tree On Wall: Don't Have a Tree!
source: pinterest.com
Why not throw a Christmas tree with string lights on the wall? This is a fantastic method to save space in a tiny apartment or hostel room where a Christmas tree would be impractical. Create the shape with sticky hooks, add some felt star decorations to spice it up, and use twinkling lights to bring some warm Christmas vibe to your space.
Merry Christmas Marquee Board: Need Simple But Chic!
Is there not to adore the gentle flame of candles and Christmas lighting? Isn't it wonderful to create a festive Christmas marquee for the wall? All you need to do is build a wooden backboard, buy chipboard letters and color them sparkly gold, make holes for the led lighting to go through from the back, then tape the string lights in place from behind! I had no clue it could be that simple. This is definitely going on my Christmas DIY ideas list!
Led Christmas Card Showcase: Back To Nostalgic!
source: meredithcorp.io
Don't we all still appreciate the personal touch that Christmas cards evoke? I enjoy showing Christmas cards, but I have to confess that my snowy Christmas cardholder is no longer up to the task. I can't even see the backs of the cards! This glowing card showcase is just spectacular. Recycle an old frame, thread lights through it, and hang the cards with pins. Not only do you get to view lovely Christmas landscapes and family photos, but the glittering lights put you in the festive feels.
DIY Christmas Garland: Why Not!
Would you like to refresh your indoor Christmas lighting decor with a new garland? Mini lights and burlap are all you need! Yes, it's that easy. Wrap colorful burlap strips around the wire. Whoa! With a lighting burlap garland, you can use it to cover the mantel, tree, or door wreath. This is a really simple project that your kids can help you to set up!
DIY Blinking Bottles: Drinking Too Much!
source: cnn.com
Here's a clever method to reuse wine bottles. Decorate glass bottles with art, stencils, or stickers, and then add a string of tiny colored lights to give the bottle a wonderful festive glow. This bottle does not require proof of age! A grouping of them on a shelf would bring a lot of shine and charm to your Christmas home decor.
Fairy Lights On Wall: Last Minute Christmas Decor! 
Don't have time to decorate after a long day? Don't worry, this last-minute Christmas decoration will greet your guests with a dazzling light display as they enter your entryway or especially to brighten up a college hostel room! At this time of year, nothing is more appealing than the sparkling of lights. And why not dedicate a whole wall to lighting?
Hanging Christmas lights in your space is a cheap and easy method to quickly make it seem sophisticated and appealing. As an extra bonus, you might display some amusing old black and white pictures that are guaranteed to elicit merry memories. A fantastic discussion starter.
Outdoor Lighting Ideas For Christmas 2021
Ho Ho Ho: Is Santa There!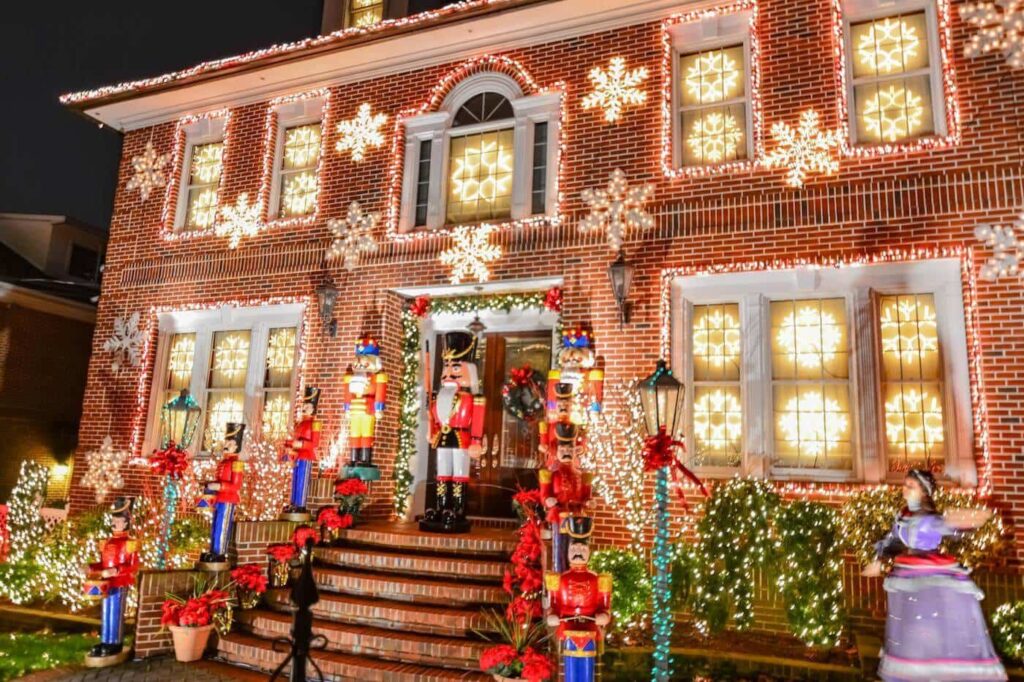 source: thedailymeal.com
With a combo of fairy lights and light-up figurines, create a welcome scene near your front door. The window and garden zones are accentuated with soft white lights, while Santa and his reindeer are the major attraction in the front yard. You can get a similar effect by using inflatable figures that light up at night!
Glam Bulbs on the ground: Why You Should Only Glam!
Oversized decorations formed from globe shades, food storage containers, and string lights will add a fun glow to your yard. For added aesthetic appeal, group them in odd numbers and use extension cables that complement your landscaping.
Timer Light: Blink On Right Time!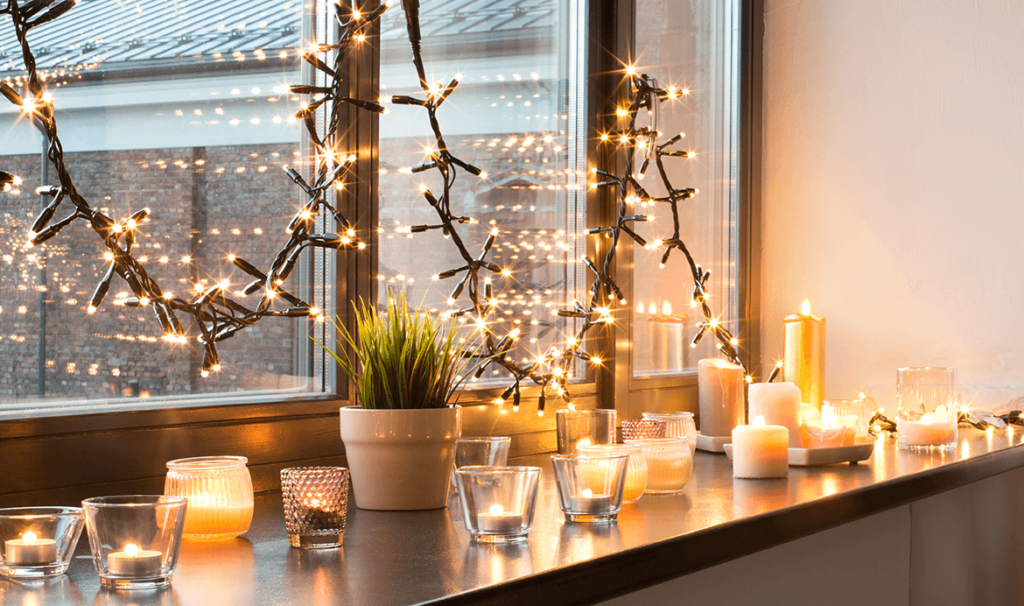 source: bergerpaints.com
Consider using a timer to activate your outdoor Christmas lighting for a low-maintenance manner. A plug-in on/off unit that can withstand up to 1500 watts is one of the most trending light decors. Despite the variety of designs offered, the majority of alternatives simply plug into an external outlet. To keep the exterior securely lighted and properly timed, an average size home will require between two and four components.
Twinkling Branches: It's Dress-up Time For Trees!
While it may appear that putting twinkling lights on small and medium-sized trees is straightforward, it requires more expertise than one might believe. Because most trees shed their leaves in the cold, determining where to drape the lights for a balanced effect becomes considerably more challenging. Ensure a unified stopping point across each of the trees to provide harmony to the external decor. Although some trees are much taller than others, when covered with twinkling lights at roughly the same height, they look dynamically balanced. Don't hang on branches!
Merry MailBox: Don't Forget Me!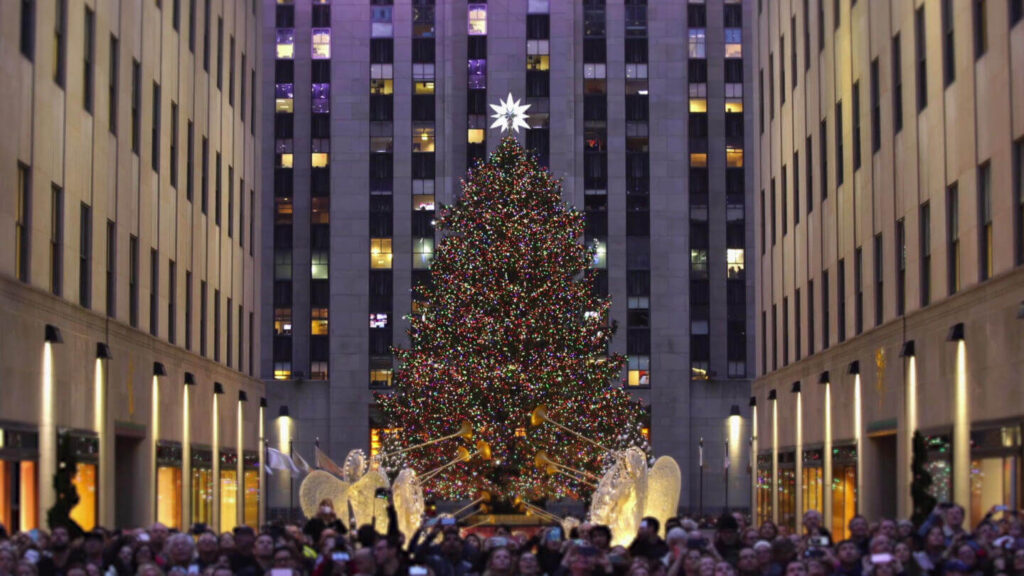 source: pinterest.com
Don't allow your porch to be the limiting factor when it comes to Christmas decorations. Attract passageway attention with a festive, lighted swag on your mailbox or signpost. Lush Christmas foliage mixed with fairy lights will amaze neighbors out on an evening stroll while also serving as an entrance for your Christmas decor.
Antique Accessories: Old Is Gold!
Wrap aged architectural antiques with lights to provide rustic charm to your lawn. The dichotomy between the vintage sled's faded, organic surface and the brightness of colorful lights creates a discussion piece that truly stands out.
Take A Note
Any of these suggestions can assist you in creating that warm, inviting environment that will make your house seem like home this Christmas. These easy, budget-friendly outdoor & indoor Christmas lighting ideas will beautify your house and offer an inviting environment for your guests. Take precautions, don't fall!