Many people want their homes to look beautiful; one way they can achieve this is by having a stunning landscape to make a great first impression and boost their home's curb appeal. By staying up to date on the latest landscaping trends, you can ensure that your home remains as stylish as ever. Whether you're looking to overhaul your yard or make a few minor changes, remember that your exact landscape will depend on your unique tastes and preferences. Ready to update your home's landscape or gain some inspiration? Keep reading for a closer look at some of the top landscaping trends for 2022.
Making Upgrades With Pets in Mind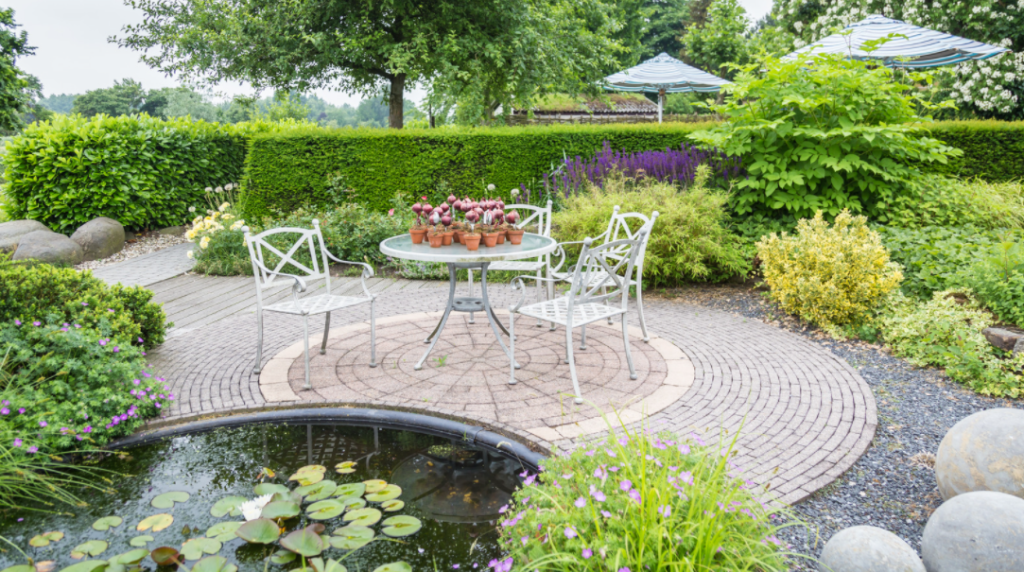 source: pinterest.com
The past few years have seen an increase in time spent with pets at home and an increase in pet adoptions. If you're a pet owner or planning on becoming one soon, your furry friend can impact your landscaping. From digging holes to using the restroom, it's essential to consider your pet's needs when planning your landscape. One popular trend for 2022 is making upgrades with pets in mind, such as installing artificial turf instead of natural grass. Doing so ensures your pet can enjoy the outdoors without damaging your beautiful yard.
Another pet-friendly landscaping upgrade is to create a designated bathroom area with easy-to-clean artificial turf or paving stones. Doing this will prevent your pet from doing their business on your well-manicured lawn and make cleanup a breeze.
Creating Designated Outdoor Entertaining Spaces
source: pinterest.com
With more people spending time at home, outdoor entertaining has become increasingly popular. To accommodate this trend, many homeowners designate specific outdoor spaces for entertaining their guests. These spaces might include:
An 

outdoor living room

with comfortable furniture and a built-in firepit

A deck with a dining area and space for a grill

A patio with a pergola or umbrella for shade

A pool area with lounge chairs and umbrellas
If you love entertaining guests, consider creating a designated outdoor space in your landscape. Doing so will allow you to take full advantage of your yard and make hosting parties and other events a breeze.
Using Minimalist Landscaping Techniques
Another popular landscaping trend for 2022 is minimalism. This approach uses a limited number of design elements to create a clean and chic look.
Consider sticking to just a few native plants to reduce water usage and ease maintenance responsibilities. Use clean lines and simple materials such as concrete, stone, or gravel. Vertical gardens can maximize space and enhance smaller lawns.
While minimalist landscaping might sound like a lot of work, the results are worth it. By streamlining your design, you can create a modern landscape that's easy to maintain.
Taking Eco-Friendly Approaches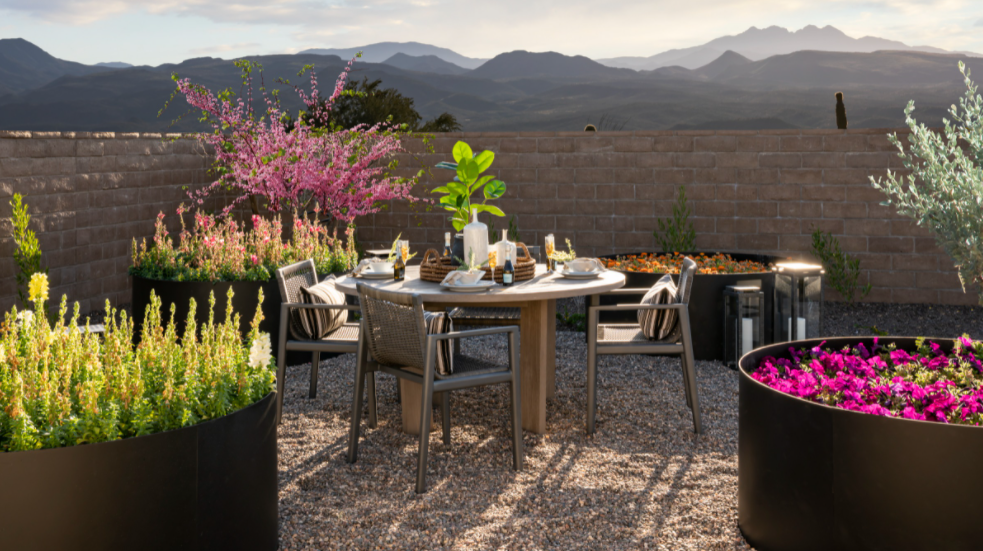 source: pinterest.com
Many homeowners are adopting eco-friendly approaches as we become more aware of the need to protect our environment. Install a rainwater harvesting system to collect and reuse water. Add drought-tolerant plants that don't require as much water or maintenance. Use sustainable materials such as bamboo, recycled plastic, or cork for decking, fencing, and other landscape features. Finally, outdoor solar lights can help save money on your energy bill while keeping your yard well-lit.
Another significant focus on landscaping in 2022 is keeping wildlife in mind. Homeowners are creating gardens with loose designs to invite animals to enjoy the greenery. By adding water features, bird feeders, fruit trees, and sheltering shrubs, you can create a landscape that's not only beautiful but also eco- and wildlife-friendly.
As you can see, plenty of eco-friendly landscaping options are available if you want to reduce your carbon footprint. By taking small steps, you can help protect the environment and create a beautiful landscape to enjoy for years to come.
Xeriscaping
If you live in an area with limited water resources, you might want to consider xeriscaping. This type of landscaping uses drought-tolerant plants that don't require much water or maintenance. Xeriscaping can save you time and money while still allowing you to create a beautiful landscape.
Some common xeriscape plants include cacti, succulents, rock roses, and sagebrush. These plants are often native to arid regions and require little water to thrive. When selecting plants for your xeriscape, choose species appropriate for your area and climate.
Installing Water Features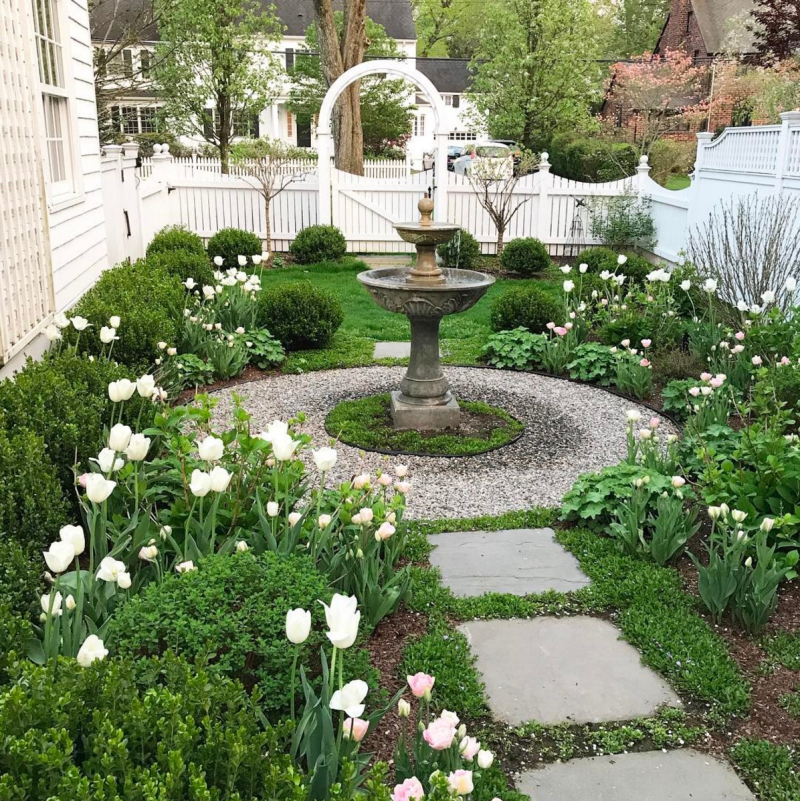 source: pinterest.com
Water features can add interest and beauty to any landscape. They also provide a great way to relax and unwind after a long day. There are many types of water features to choose from, so you're sure to find one that fits your style and budget. Some popular water features include fountains, ponds, and waterfalls.
Consider installing a self-contained fountain if you're looking for a low-maintenance water feature. These fountains are easy to set up and don't require any plumbing. Another excellent option is a solar-powered water feature, which uses the sun's energy to operate, so they're also eco-friendly.
Ponds are a great way to add a natural look to your landscape. They can attract wildlife or provide a nice place to relax.
If you're looking for a larger water feature, you might want to install a waterfall. Waterfalls can be built into ponds or created using stand-alone barrels or rocks.
Start Planning Your Landscape Today
It is never too early to start planning your landscape upgrades. Considering the top landscaping trends of 2022 can help you create an outdoor living space perfect for you and your pets. Using minimalist techniques and eco-friendly approaches, you can create a beautiful and functional yard that will add value to your home. And don't forget about adding water features – they are always a popular addition! Start planning your landscape today and ensure it is ready for the next big trend.