Everyone nowadays is switching to new technology and new updates for decorating their homes and to make their home a smart home. But slowly and gradually we are losing our grip on what nature gave us to decorate our home. Decorating your home with natural elements is in trend, it will not just make your home elegant and decorative but it will also add a natural environment effect inside your home which will continuously make you feel refreshed and better. Moreover one can bring a drastic transformation using those natural elements.
source: lazyloft.com
Home decor with natural elements sounds like out of the trend, but it is not so, I guarantee that if one uses the tips below to decor their home with natural elements, then you would say that is the best way of interior decoration. Moreover you can achieve an elegant, stylish and fashionable interior look too. All you need to do is just place a natural element precisely that it comes out with an utmost outcome which is required by the owner.
Here, in The Architecture Designs, we have best 17 tips on which one can rely on to transform their home with the things given by nature.
Dining with herbs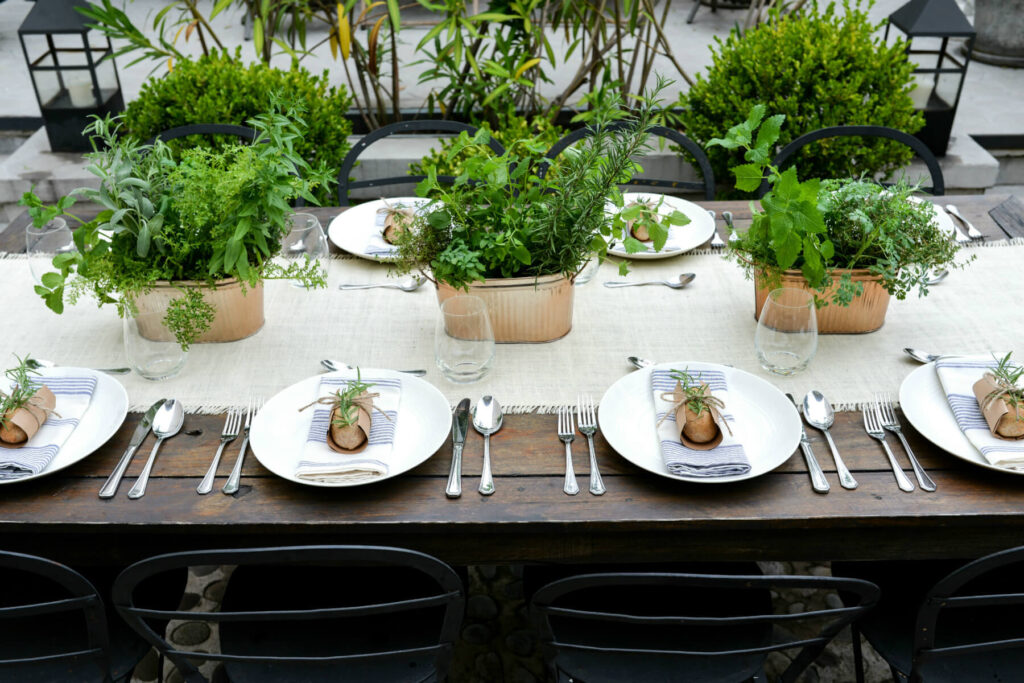 source: blacktwine.co
Dining with herbs sounds funny, but it is really a good idea for achieving home decoration and a fresh environment while you are having your dinner or lunch. How to make a dining table including herbs? Cut a section from the middle of your dining table, place extra furniture down in the bottom, it must be wide enough that it can contain the soil weight in enough proportion to fix herbs in it. Now adjust some herbs in the section, it will make your meal look unique and composed and will provide a refreshing environment also. You'll enjoy having your meal with herbs.
Cotton tufts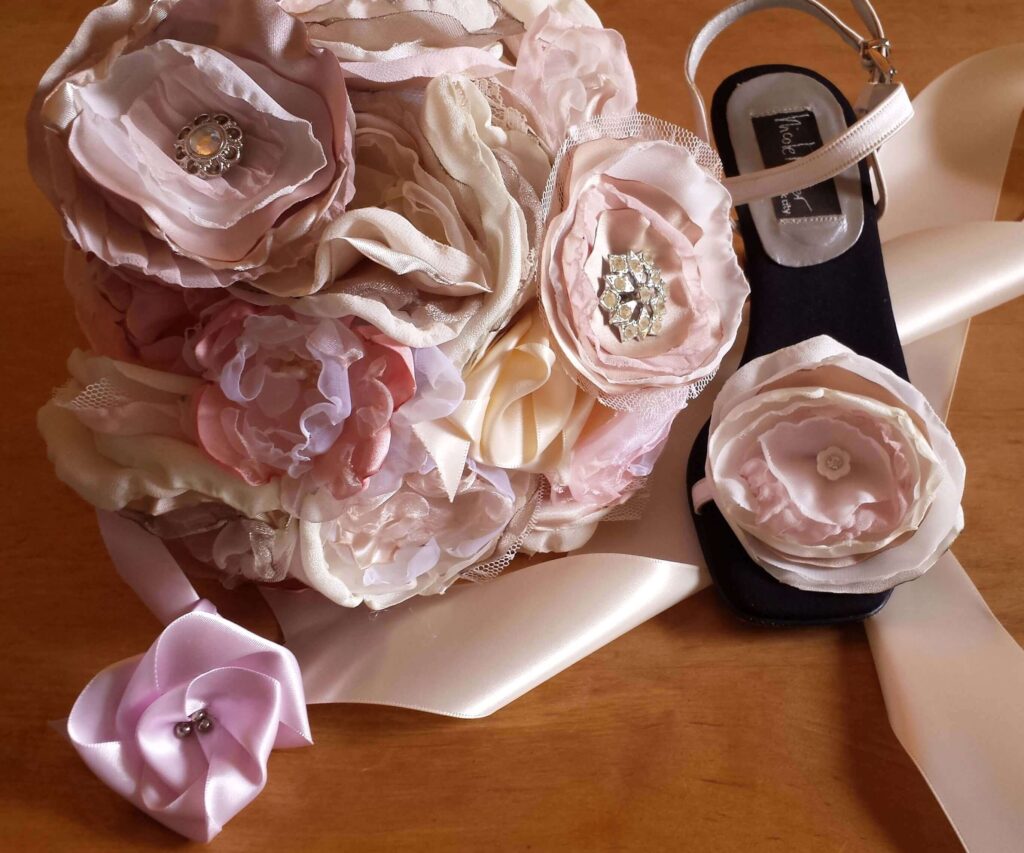 source: instructables.com
Thinking of putting flowers as a home interior decoration, let me tell you this idea will not work at all as flowers will start decaying from the time you brought them, after a few days they will get totally dried and have to be replaced with new ones, thus keeping real natural flowers as a decoration is costly. Here is where cotton tufts come in. Just bring some cotton tufts branches from your surrounding and place them in a vase it will make your home appear idiosyncratic. As cotton tufts do not decay for a long period they are durable and economical, furthermore it's off white color adds on the elegance to your home with mix matching with any of the color done on the wall.
Tree trunk as a stool
source: abeautifulmess.com
Tree trunk is used for various purposes of decorating and furnishing work. One of the best decorating styles is to put a tree trunk as a stool in your living room or dressing room, or you can use it as a side stool besides your bed, couch, or sofa. Just take a tree trunk, shape it in a cylindrical form, after shaping polish it well enough and paint it as you want. Your trunk is now ready to decorate your house with its extreme facility. You can even make it as a hollow cylindrical stool so that whenever required you can even store something inside it.
A twisted branch
source: zillow.com
Looking for wall decoration from natural things. Let's think about a twisted branch, which can be used for many purposes, don't you think so! Hang it, and adjust it vertically or horizontally on the wall, so that it looks eye-catching. You can fit LED to it just which will give a flame to your wall. Similarly, we can hang some frames and our creativity cups on them. Moreover, we can use the drawings or frames made by us who are lying on the floor or anywhere, just to hang it on the twisted branch and there you go for a decorative wall by a twisted branch.
Seashells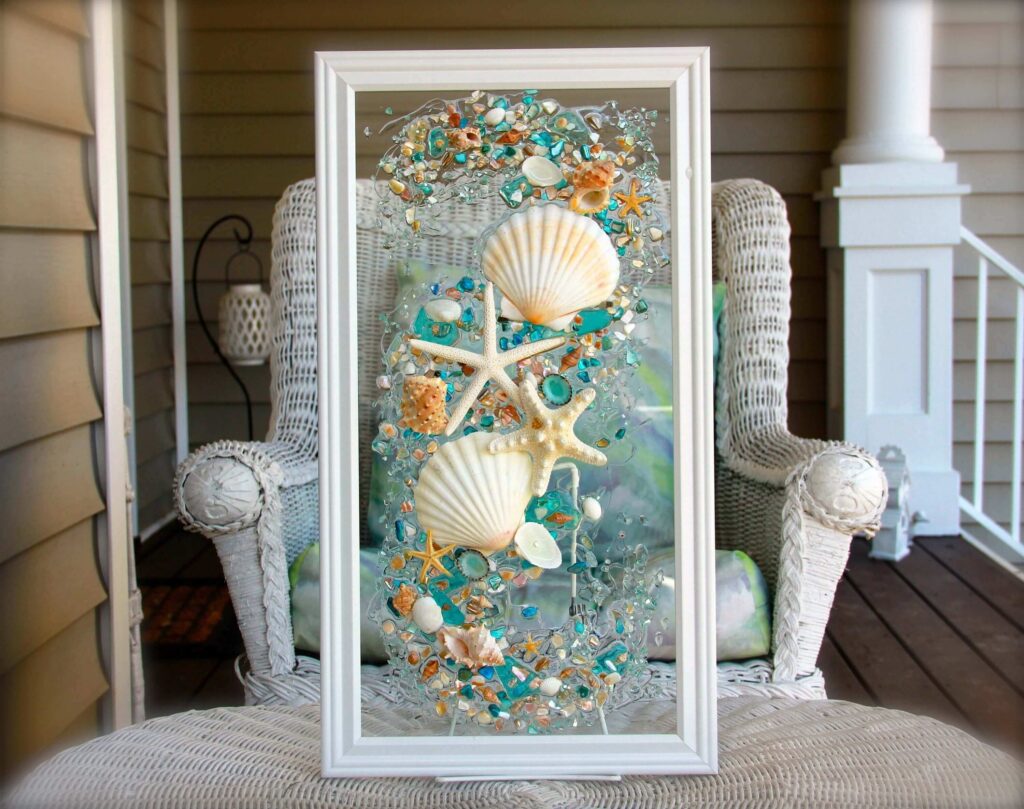 source: pinterest.com
We all knew that seashells are most often seen at beach sides. Thus one can use seashells to decorate their home by giving appearance like you are lending on the beach side. To come up with a mind blowing for using seashells as a decoration, you need to paint your walls with oceanic blue color and then start arranging seashells as per your requirement. For adding an extra glance you can even go with drawing aquatic life images on walls. We can even shape them in different ways to make it more elegant and decorative. If you love swimming in water then you must try this seashell revolution in your house.
Agate stones
Stones have been used for thousands of years for constructing work and decorating work too. But, do you know about agate stones? It is a common rock formation consisting of chalcedony and quartz, consisting of wide varieties of color. The outer appearance of this tone is way much attractive and lustrous, thus using it in a wind chime is a unique idea; it will add a natural appeal to your wind chime along with a fashionable and stylish look. You can even make your own designs on those agate stones. One can even stick them on their walls to create a design or something like that.
Potted plants
source: pinterest.com
If there is a room in your house which is looking and it has very little foot traffic, here is where potted plants come in. Potted plants will add a brighter and lively one appearance in that room. All you need to do is just buy some well potted plants and adjust it in a proper manner in the interior of your house. Then just see the magic, the place looking dull will turn into a brighter and elegant place.
Pine cones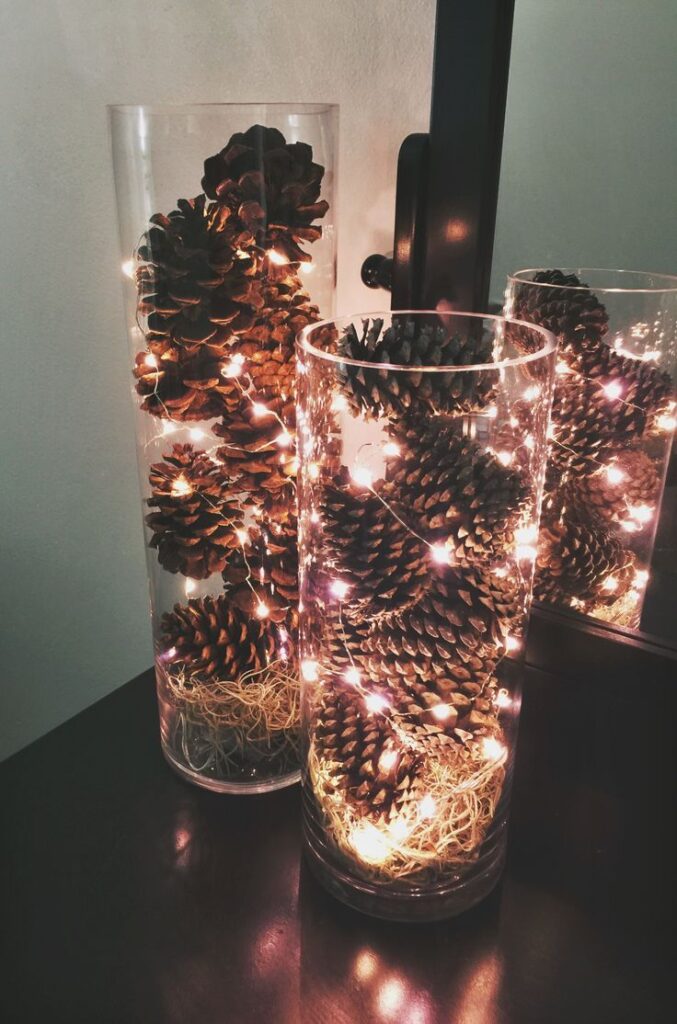 source: pinterest.com
Combination of pine cones with a candle is a best idea for decorating for a candle light dinner at home. Moreover you can take a glass bottle, put a candle in it and use pine cones to add some style and a beautiful look to it. Thus, when the candle will glow on at that time the light will refract from those pine cones, as an outcome you can see a natural environment consisting of natural colors has been created inside the room. One can say that pine cones are incredible decorating elements.
Stone poufs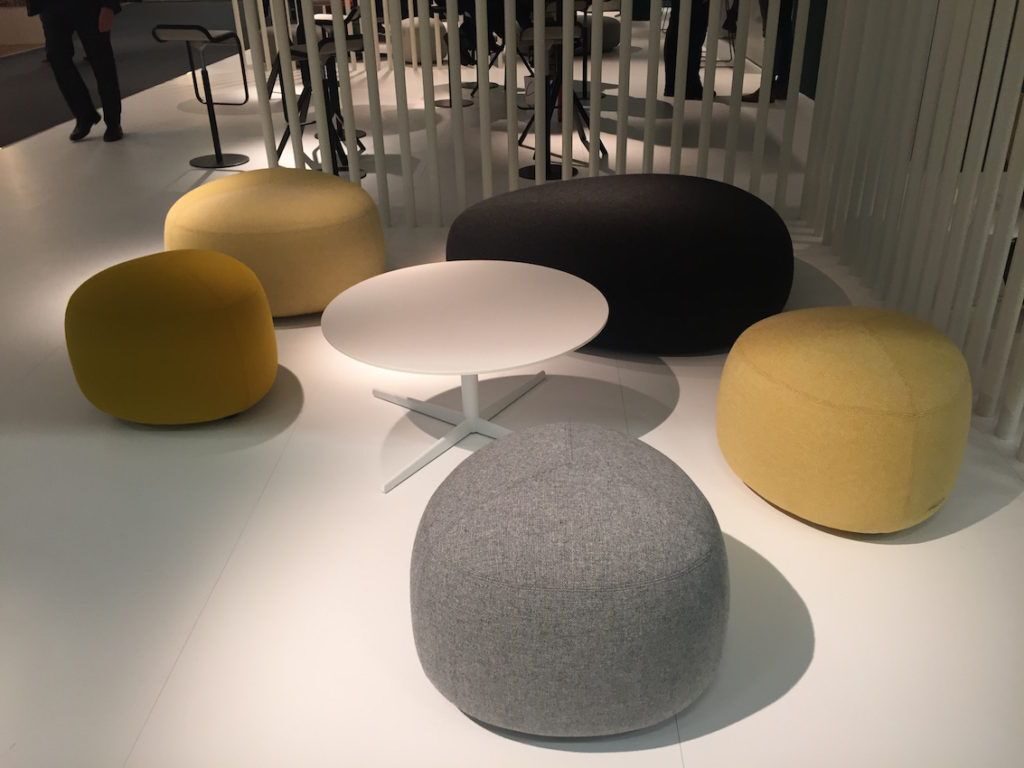 source: pinterest.com
Have you ever thought about using stone poufs in your living area? Maybe it is something creative and you are listening to it for the first time. But let me clarify that stone poufs are much larger in size that one or two persons can sit together on just one pouf. You would be using chairs or plastic poufs to sit and relax in the living room, but if you use stone poufs instead then it will not only make your home decorative it will also add a natural appeal to your home, furthermore one would like to sit on such natural things.
Dry leaves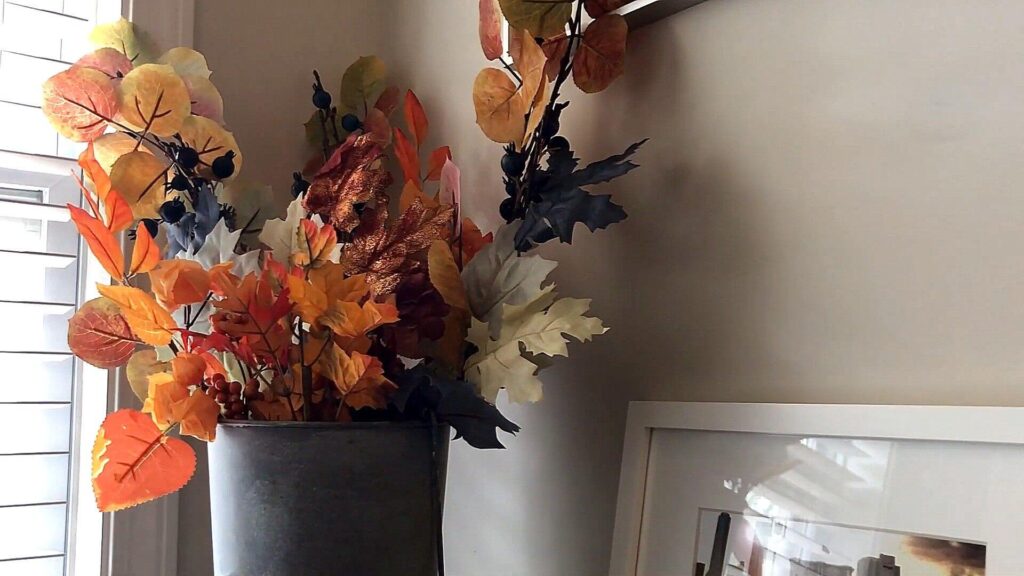 source: pinterest.com
Dry leaves are easily available in nature mostly in the autumn. During the period of autumn many trees lose their old leaves and give birth to new energized leaves. Just go out and collect some dried leaves. You can even get them in various designs, pick one you like the most. After done with the collection go home and start sticking them on your walls, you can even make a chain out of it by connecting with threads and can hang it on your lamps or wherever you need them.
Indoor water body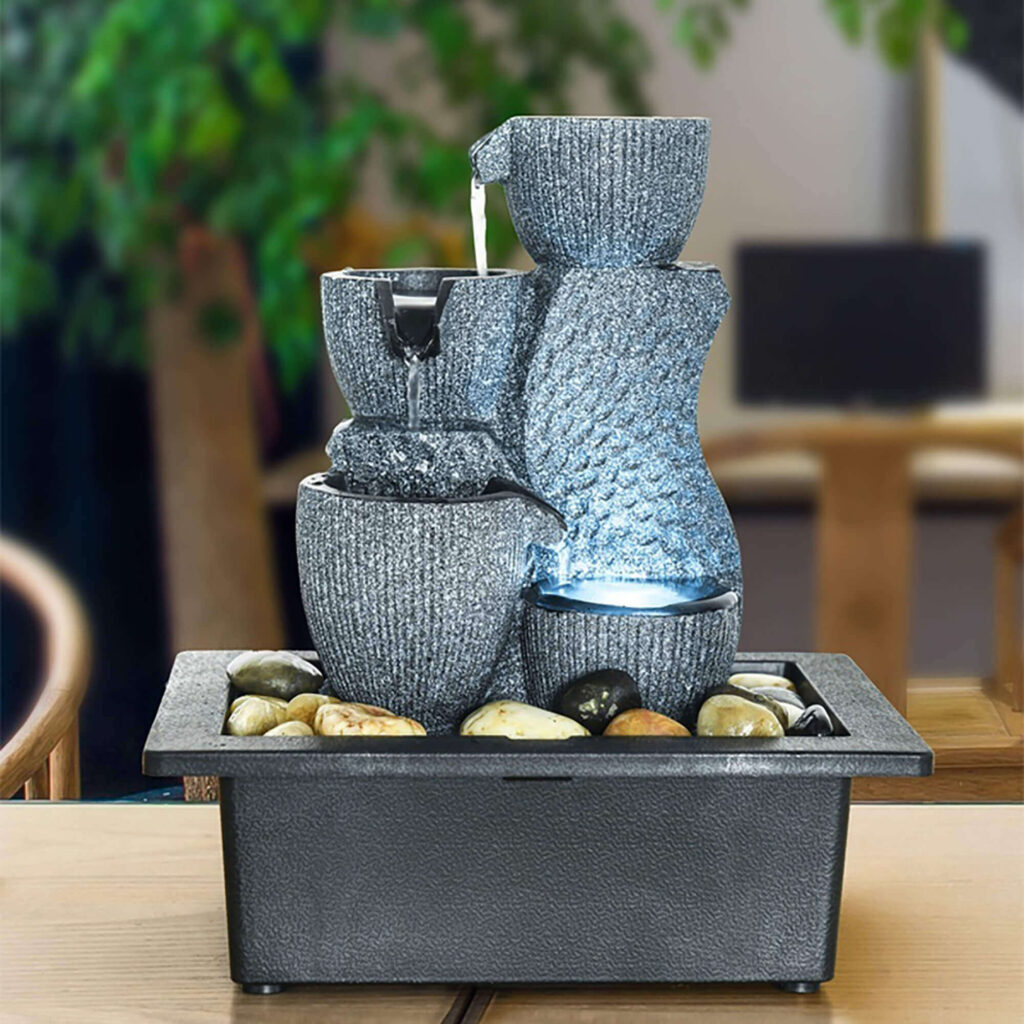 source: walmartimages.com
Making our home decorative through water is a difficult task to do; but it would give a pleasant feeling to your mind, which provides your body a sensation of relaxation. Constructing an indoor water body is a very unique idea, thus it is way costly that everyone could not afford it. Once you are done with the construction of an indoor water body you can fit LED lights to make it fashionable and elegant. It would also provide a cool and refreshing environment for you.
Terrarium
A terrarium is a sealable glass box in which inside there is soil and plants, it can be opened for maintain the plants inside. If in your home there are many dull areas then you must keep one of the terrarium over there to remove the dullness of that area and to make it brighter and elegant. Moreover you can keep it besides your sleeping bed, thus whenever you will wake up and have a look on that terrarium you will feel natural and good.
Fresh flowers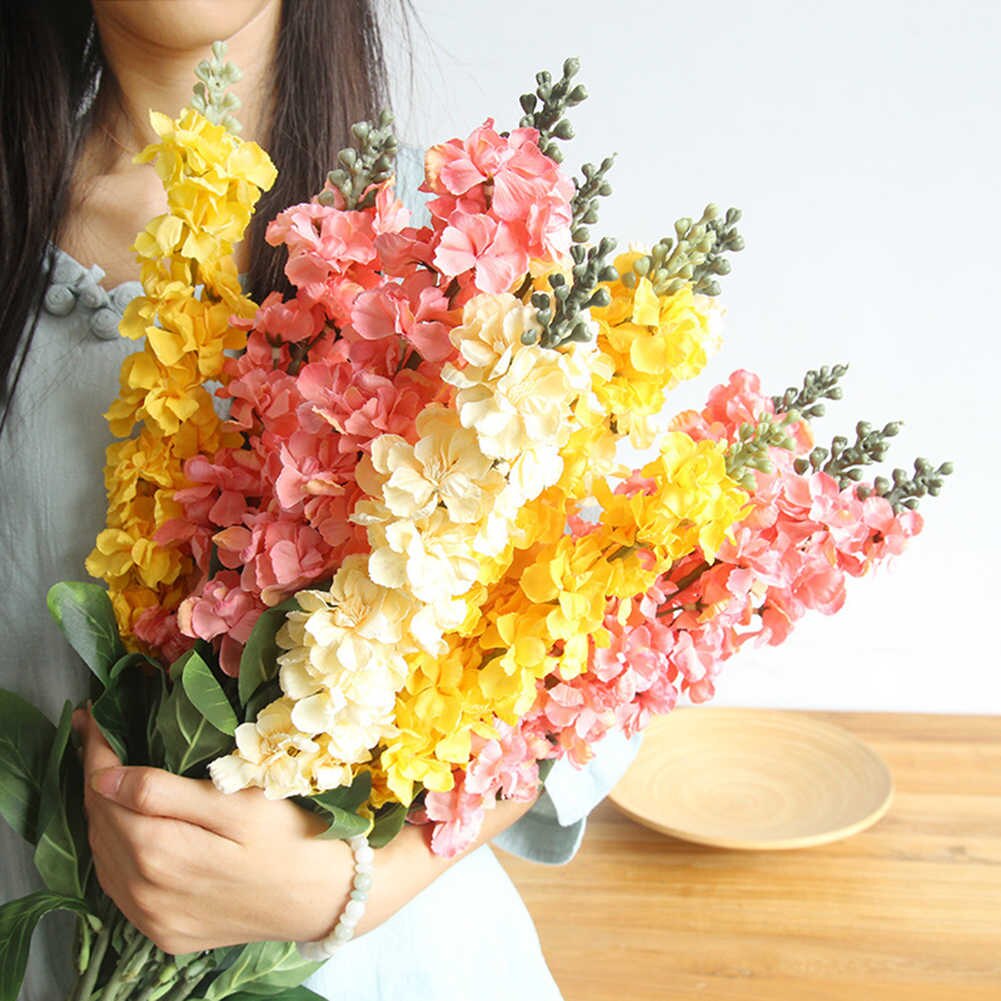 source: aliexpress.com
As we all know fresh flowers won't remain fresh for a long time thus they need to be managed time – to – time, which will waste your precious time and money. No matter if it is one of the best ideas for the decoration purposes, you must use fresh flowers at the time of occasions as it will lift up  the spirits in the house with their natural smell and appearance. You can put them anywhere they will mix and match with the environment comfortably. Do remember that fresh flowers won't be fresh for a long time; if you keep it in mind then you are doing well with your decorating elements.
A planter – cum – table
You would think that a planter – cum – table is a bad idea keeping the prospect of decoration in mind. But you are totally wrong this time, because a planter – cum –table is nowadays in trend, thus, it is one – of – a – kind focal point in your living space. Placing it in your living room will not only make your interior fashionable and stylish, it will add a good taste of nature in your living environment. Furthermore, it looks classy and is one of the most affordable elements for you.
Real grass carpet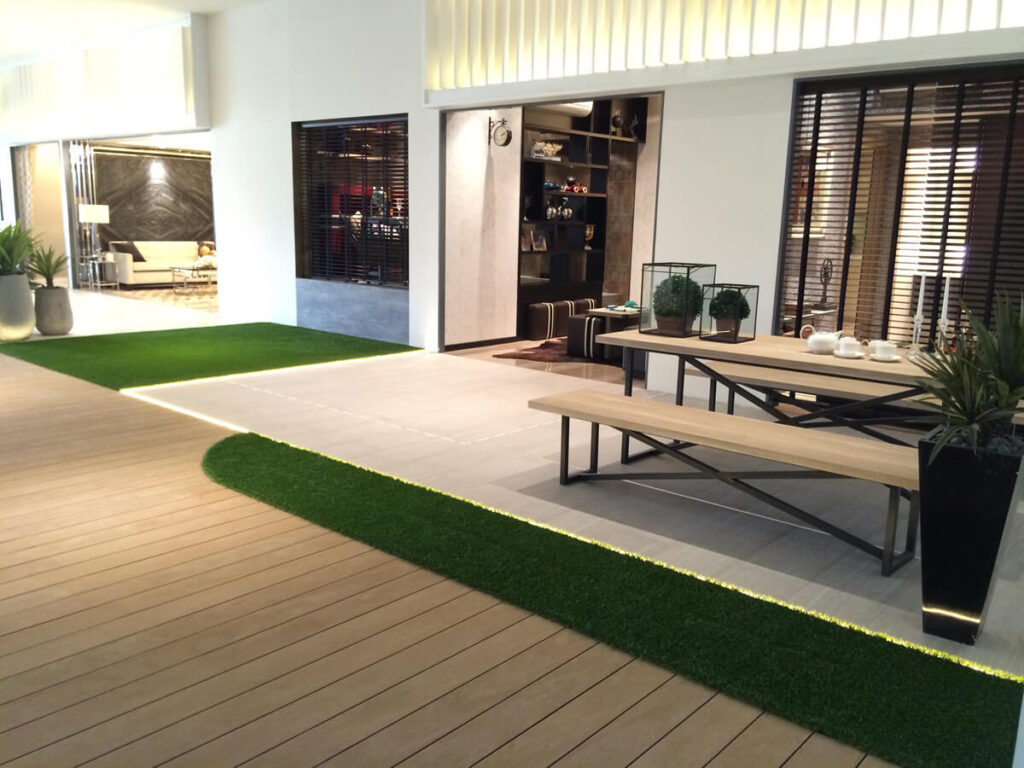 source: royalgrass.com
Feeling bored to go for a walk in the nearby garden! Why to go? When you could build it in your home itself. Yes you have heard it right! Rush on and build up a real grass carpet in your home interior. You don't have to spend much on it, all you need to do is just bring a carpet spread soil uniformly on it and put some seeds on it. After that, sprinkle some water daily on all the stuff you build up, continue this activity for a few days and you'll get a real grass carpet in your room. It will be a good attraction in your house increasing the credibility of the elegance and living environment. Moreover you don't have to visit any other garden you can have a walk on that carpet.
Vertical garden
Vertical garden is something out of the box. The question arises here is, how can one build up a vertical garden?  For building a vertical garden you need to make a carpet of real grass and then stick it to the wall, or you can even make a place for it by crushing some walls and just implant your material of the garden in that. Vertical garden in front of your bed will provide a sensation of relief to your eyes while you are about to sleep. A vertical garden in your room will also refresh the environment by making the air cool, pleasant and fresh.
Wicker furniture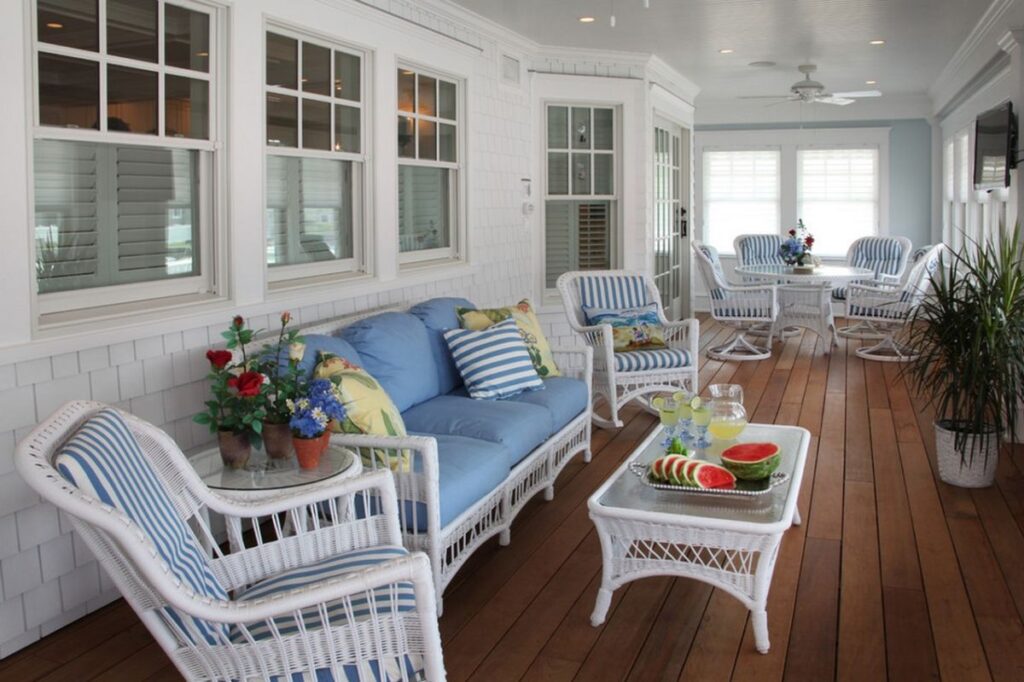 source: homedit.com
The most important element for decoration of your home and to bring transformation by using natural things is wicker furniture. Why wicker furniture? Casual furniture will not provide a perfect platform to enhance and transform your home with natural things while wicker furniture will help you in providing the best platform for your natural things.
Transform your home using the above 17 tips and add an elegant, natural and stylish look. In this modern era where the forest cover is decreasing everyday and pollution is increasing everyone would like to give sometime in the natural environment, thus using those elements you can create a homemade natural environment along with the aspect of home improvement.