One of the ways you can spice up your living room design is hanging various beautiful pieces of wall art.  It could be a painting, a framed picture, or even a sculpture. Each of the art comes in different shapes, sizes and textures. It can be tricky deciding how to hang them on the walls.
Well, the good news is that you don't have to spend thousands of dollars and hire an interior designer to get some excellent wall decorating ideas. Here The Architecture Designs explore five ideas that will help you create a beautiful home with minimal effort:
Choose quality Canvas prints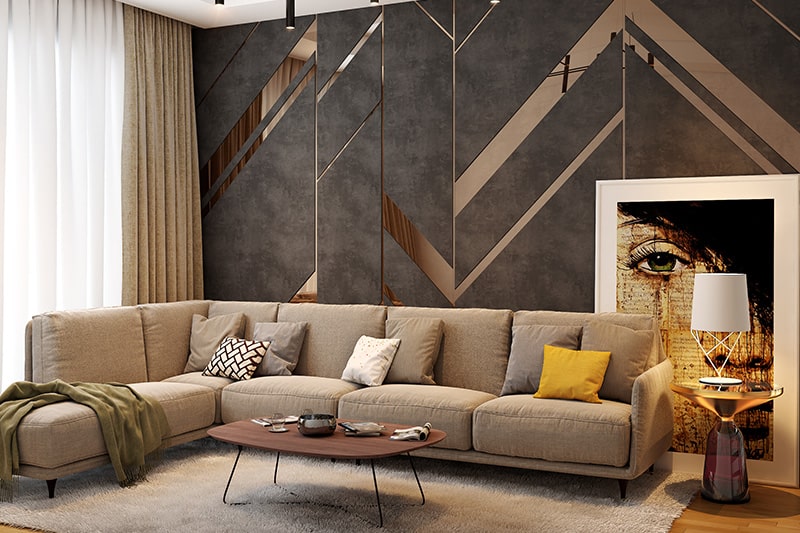 source: designcafe.com
Quality canvas prints are one of the best wall art ideas for your living room. They can be personalized to ensure they suit your room's design. Whether you want to display family portraits or other designs like quotes and tourist destinations, canvas prints can perfectly improve the appearance of your living space.  
Moreover, hanging canvas prints on your wall means avoiding glare issues associated with photo frames and mirrors. If you're on a tight budget, canvas prints can be the best design choice because they're light on the pocket. 
Thankfully, Quality canvas prints are easy to find at any local store. Do not just source from any store; you should go for one with a good reputation and years of experience printing such designs. For the best quality prints, you can custom order personalised canvas prints in the UK and have it delivered on time.
If possible, order an oversized print. Such a Canvas will always capture the attention of your visitors and set the right tone. However, the size of your images will always depend on your wall spacing. You cannot print a vast picture only for it to block doors or windows.
Create a wall gallery
A wall gallery is another way of displaying your collection of pictures. It's suitable for any space, particularly the living room. Whatever the designs are, a wall gallery can add style, sophistication, and an eclectic character to your living space. Even with a low budget, they can become a strong focal point of the room, turning your wall into something extraordinary.  
If you plan to create a wall gallery in your living room, begin by looking for the items you want to add to the wall. For example, you can create a gallery using family pictures or your favorite wall art. You can check the selection of unique and stylish wall art and other designs from reputable providers online. Searching online is the most convenient way to find the best ones for your wall gallery.
Once you have the perfect items for your wall, it's time to tackle the steps in creating an aesthetically appealing wall gallery for your living room. You should start by creating a frame around each image. The frames come in all kinds of materials and colours. If you want something classic, you can opt for wood while if you prefer a modern look, you can choose glass. Whatever material you decide to use, make sure it complements the rest of your décor.
We also recommend that you extend your gallery to the ceiling. This extension will create an illusion of your large living room, even if it is small. However, please do not overdo it because it may end up looking cluttered.
Hang mirrors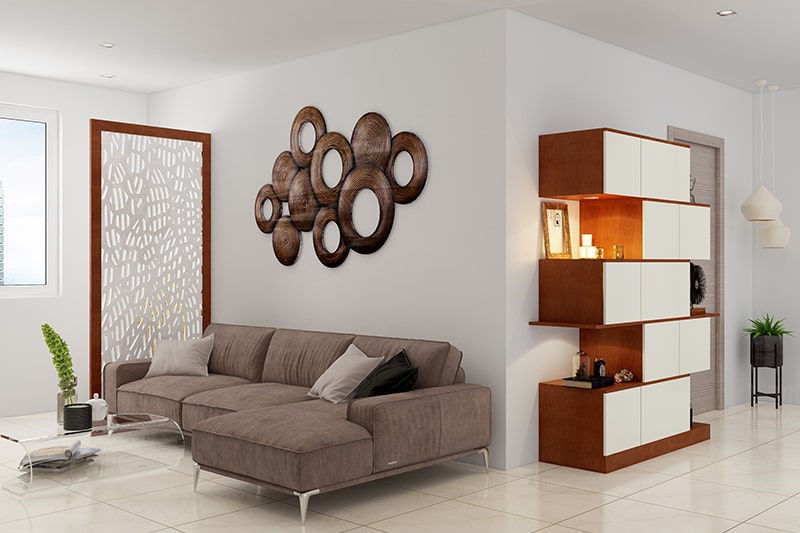 source: designcafe.com
Mirrors are often used for grooming needs, but they can serve a practical purpose in your living room. They can reflect light and give your space a bright feel. Mirrors can be hung vertically or horizontally. Horizontal ones are usually more popular since they reflect the most light. 
You can also choose to display smaller pieces. However, please do not overdo it. Having mirrors all around your living room can make it seem too crowded. It can also make your mirror-shy visitors uncomfortable.
Use wall stickers
Wall stickers are very versatile. They can be used to add a personal touch to your home without investing much money. Wall stickers are available in a wide range of styles and patterns. You can choose between geometric shapes, abstracts, floral, nature-inspired, animals, and so on.
You can also mix and match wall stickers with other types of wall decorations. For example, you can put a sticker on top of a mirror or a painting. Remember to avoid stickers with the same colour scheme as your wall. Otherwise, how will people notice them if they have the same colour as your living room paint?
Add a statement piece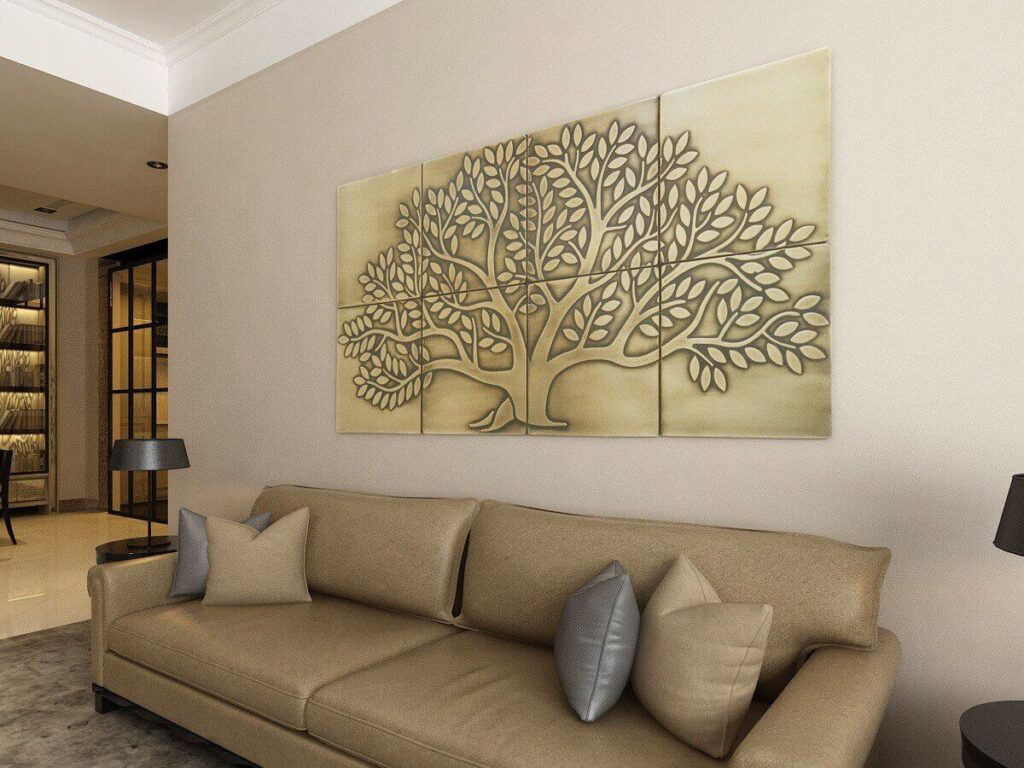 source: homebnc.com
The final step in making your living room look amazing is adding a statement piece. A statement piece is anything that stands out and catches the eye. It can be fabric, large-scale art, mural painting, wooden shelves, etc.
You can also combine two or more statements into one. For instance, you can place a vase next to a painting. Or you can hang a sculpture next to a mirror; the options here are endless. 
Conclusion
They say the living room reflects the family that lives in the house. That is why it is so important to choose what decor and wall art you have in the room very carefully. However, it can be challenging, especially if you don't have much experience in interior design. However, with the above five ideas and inspirations, transforming your living room into a beautiful space will be a piece of cake.