After buying a home, your next hurdle is furnishing it. Finding your personal style and decorating individual rooms can be difficult- especially if it's your first home. There are around 14 home décor categories, with everything from modern to shabby chic. Knowing which category matches your personality best can make finding furniture for your home much easier. Today we'll go through some of the most common home styles so you can find the one for you. 
Modern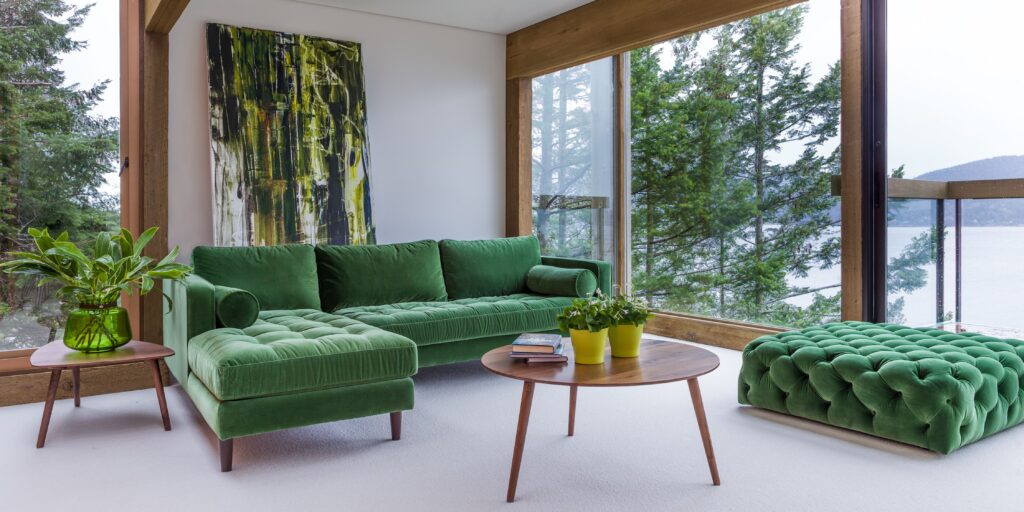 source: pinterest.com
Truly modern aesthetics focus on clean, crisp lines and simple colour palettes with monochromes featuring heavily. 
You will see an increased use of metals and glass and you might notice a lack of accessories and clutter.  
These kinds of homes are described as sleek and rely on an abundance of natural light, making the space feel open and airy. 
Contemporary 
Many use contemporary and modern interchangeably as the two are fairly similar. 
However, the most distinguishing difference is the inclusion of non-modern elements. Contemporary homes are more fluid and can use elements from other home décor styles. 
They also feature clean lines and simplistic colour palettes, but showcase key pieces, particularly if these have an interesting texture, for example, an antique wooden sideboard.
They retain the minimalist nature seen in modern homes and enjoy that show-home feel. 
Minimalist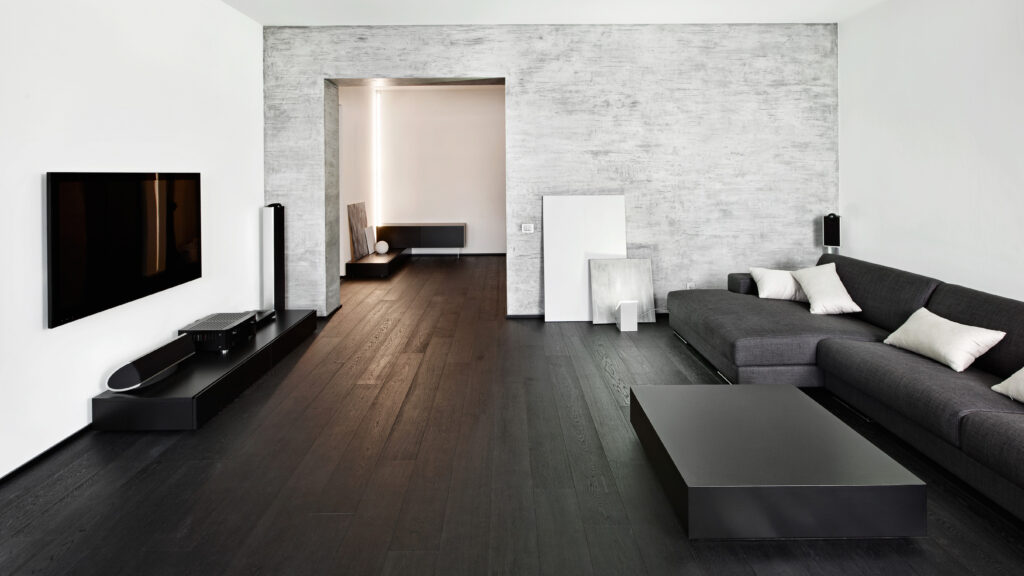 source: pinterest.com
This is where it gets confusing, as 'minimalist' is used to describe both a main category and subcategory. 
In previous décor styles, minimalist is a subcategory used to describe the lack of clutter. 
Minimalism here refers to homes built on neutral colour palettes, utilising colours such as beige, taupe, grey, cream, brown, black, and white, for example. 
These homes steer clear of excessive or flamboyant items, for example, bright accessories and very deep sofas and showcase furniture that is simple and streamlined, with a focus on functionality instead of personality. 
Industrial 
Industrial is a term most commonly used to describe the type of building, for example, a converted warehouse or urban loft. However, it can also be used to describe the furniture style found inside spaces. 
Industrial décor includes using recycled or reclaimed wood and metals, for example, shelving units made from old scaffolding planks, or light fittings made from old car parts. 
They accessorise with abstract art or photography on a neutral colour scheme that allows the materials used in the room to sing. 
Mid-Century Modern
source: pinterest.com
This style is a throwback to the 1950s and 60s that starts to bring in more personality and colour. 
The ideas of minimalism remain when using accessories and furniture continues to focus on functionality, but an important aspect of the Mid-Century Modern is the idea of bringing the outside in. 
This blurring of the inside and outside is achieved with masses of natural light, plants and through the use of wooden, shaped furniture. Such items include the classic egg chair, which mimics shapes found in nature. 
Pops of colour, usually in earthy tones (browns and greens), jewel tones (sapphire, mustard, emerald, and mauve) or citrus tones (yellows, oranges) against neutral colour palettes are found throughout, which contrast with the natural elements of the room. 
Scandinavian 
Scandinavian is another very popular style that utilises the idea of minimalism and functionality. 
It includes all-white colour palettes and unfilled, clutter-free rooms to make them feel spacious. 
Natural elements, such as wooden furniture remain important and homeowners should try to maximise natural light in rooms for that true Scandi feel. 
Colour however is also present, occurring in small, intense bursts, for example on art or singular, standout furniture pieces, helping to give the home personality. 
Traditional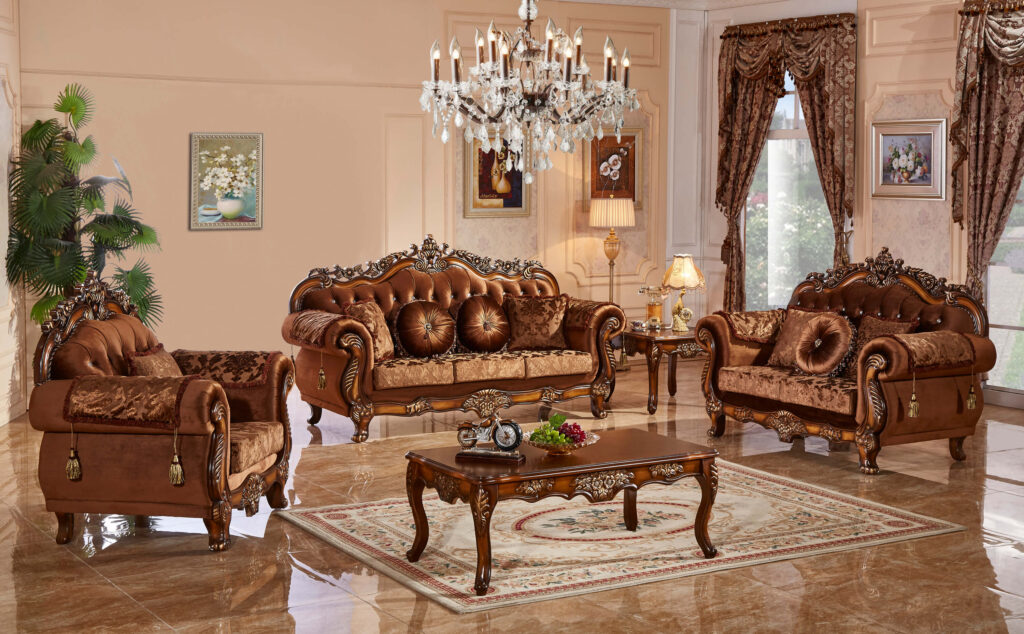 source: pinterest.com
Traditional design is based on classic details, sumptuous furnishings and textiles, as well as a maximalist outlook on accessories and trinkets 
In this décor style, there are elements of a more is more attitude. 
Everything is elaborate and features ornate details, including carvings, embroidery, tassels, and metallic details such as studs. 
Wooden furniture, particularly dark furniture is very common in this style and the rich colours found in the wooden furniture are carried throughout, both in other furnishings and in décor. 
These homes also focus on a variety of layered textures and textiles, giving a real cosy, homely feel. 
Transitional 
Transitional style is popular because it is the general middle ground between traditional and more modern design. This also makes it very achievable for homeowners new to furniture shopping. 
It begins with neutral colour palettes, greys and beiges etc, with the sumptuous details found in traditional homes, for example, layered throws, plump cushions, etc. 
It contrasts these classic, cosy details with modern materials including steel, glass, and chrome to give a modern edge. 
French Country
Typical French country style features warm and soft tones of red, yellow, and gold throughout. 
These are partnered with natural materials, such as stone and wood, used in ornamental furniture. This may look like carved wooden chairs or ornate table legs. 
Linens and upholstery tend to be in warm colours in good-quality, heavy fabrics and are used alongside decorative crockery and trinkets to fill the room with personality. 
The room continues to be influenced by bringing the outside in and this can be achieved with natural textiles and plants. 
Bohemian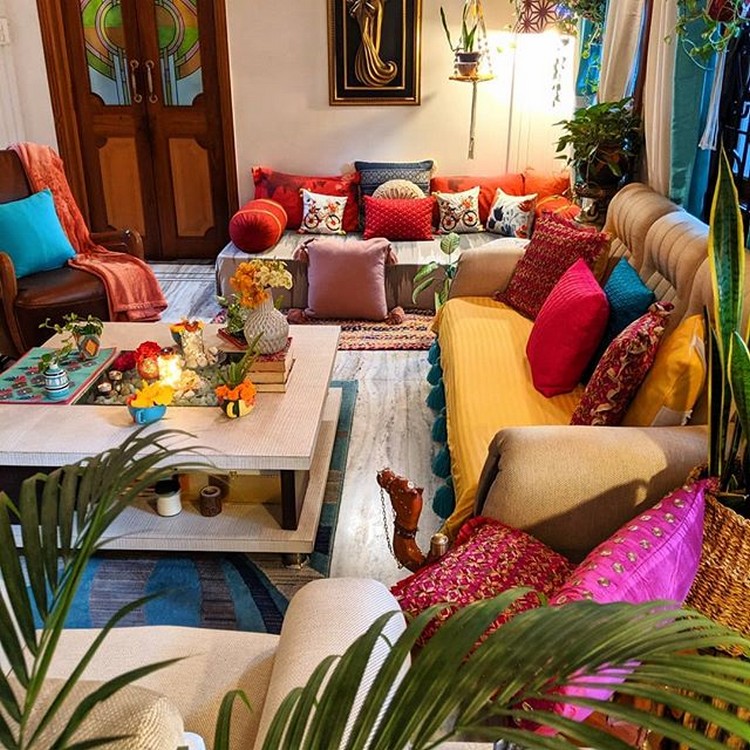 source: pinterest.com
As you would expect, the bohemian style is carefree and follows few rules. 
This style is perfect for homeowners who love going to second-hand or vintage shops to search for treasures, as pre-loved and vintage items are used throughout. 
There are usually globally inspired textiles and rugs, with comfortable, fuss-free seating options, and personal collectables are displayed openly to make the rooms very personal. 
The Bohemian is a  general mix of styles- truly anything goes!
Rustic 
Rustic décor styles connect us to nature, so natural elements and textures feature heavily. 
In rustic homes, you will often find unfinished materials, for example, raw wood and unpolished stone alongside natural textures including rattan furniture. Homeowners often extend this natural feel by bringing in plants and flooding rooms with natural light. 
Colour palettes tend to remain fairly neutral and more modern items (made with glass or metals) can be used alongside the traditional as long as it remains in keeping with the general colour palette. 
However, some bright colours will traditionally be brought in using accessories and furniture items. 
Shabby Chic
Overlapping closely with the rustic style, shabby chic is often seen as the more feminine version of rustic décor. 
It will likely feature white and cream colour palettes throughout and use distressed-style furniture. This is most commonly with painted wood that appears imperfect. 
Accessories tend to have a vintage feel and are often highly decorative or ornate. 
Hollywood Glam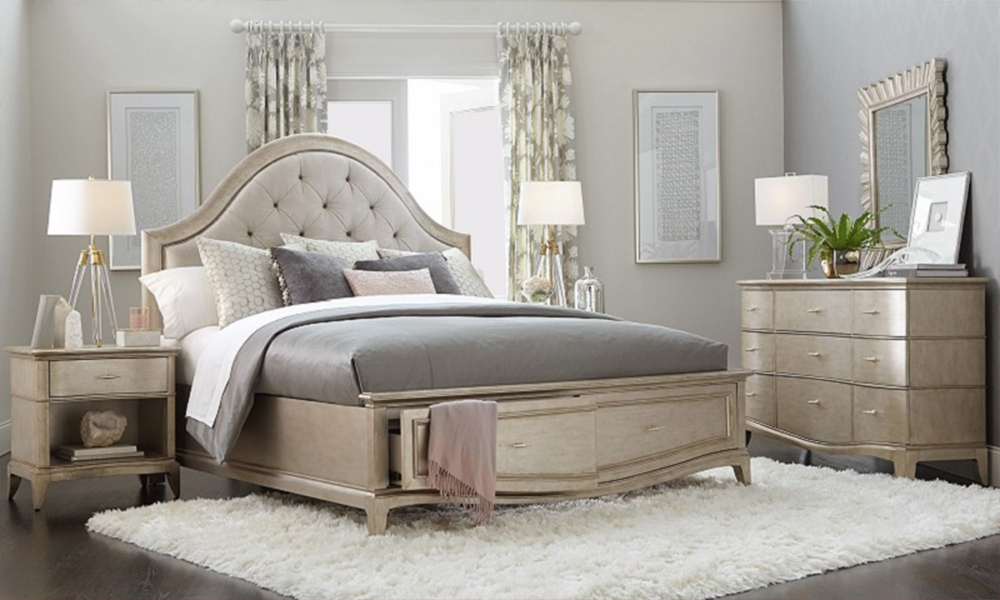 source: pinterest.com
Also called Hollywood Regency, this style is luxurious, over-the-top, and opulent. 
More is definitely more here! 
Common themes include high-contrast, bold patterns throughout, the use of metallic finishes and vibrant colours. Monochromes and jewel tones are very popular and can work well together. 
There will be rich, layered textures and textiles and a maximalist approach to ornaments and personal items. 
Coastal style
Also known as the Hamptons style, this décor conjures the feel of the seaside. 
The intention is to create a relaxed and comfortable space. 
The beachy feel is created with the use of white and other neutral colour palettes, often paired with blues and greens. 
You will see increased use of bare or painted woods, striped patterns, and white plush sofas, which are a cornerstone piece of this style. 
You can also indulge in cute nautical-themed accessories, including anchor motifs on upholstery, or fish-shaped handles on cabinets, for example. 
Transform your home with a new style today.
So now you know what kind of furniture style fits your taste best, it's time to get shopping.
Are you more shabby chic than Scandinavian? Or perhaps you swoon for the crisp lines of modern décor? 
Knowing which style suits you will help you describe it to others and make shopping for your new home much easier and quicker! 
Or, if you are really pushed for time, look for furniture companies that can fill your home with complete furniture packs– a real-time-saver that will fill your home with superb quality furniture that fits your aesthetic perfectly. 
However you fill your space, fill it with furniture that makes it a home.