Remember all these beds from Hollywood movies with dozens of pillows lying on them and arranged by size and color. Many people are confused by such a number and wonder how many that really should be.
To get to the truth, you should consider all the options.
What Do Psychology and Eastern Philosophy Advice?
source: houzz.com
According to the Buddhist philosophy of Feng Shui, all things in the room should be in tune with each other. It's about throw pillows, too. They should combine sizes and colors, as well as shapes and shades. The number of the pillow doesn't matter in Feng Shui.
But psychologists have a different opinion. They can't tell you an exact number that makes you happy. To tell the truth, It doesn't matter how many pillows you put on your bed. The most important thing is that their number must be even. Psychologists' explanation is the following: An odd number of pillows can provoke an argument between you and your partner. 
Psychologists also make some other hypotheses.
If you sleep alone, then there may be one pillow in your bed. It will be enough for sleeping. But if we talk about additional comfort and habits, then you can place a second pillow on the bed. The first one will be a head support. The second pillow should be softer and longer.

A married couple will need at least two pillows for sleep. But they can add two more pillows and lay them over the bedspread when the bed is made. The first pillows will be hidden under the blanket and bedspread, while the other two will serve as decor. You can also use them as additional support for the back, for example, while reading in the bed.

If there are small children in the family, you should prepare small cushions from natural materials for them. 
Keep in mind these simple rules while determining the number of pillows for your bedroom.
8 Safe Choices to Decorate the Bed with Throw Pillows
source: ballarddesigns.com
Pillows can serve also as a stylistic decoration. Designers often use textile products to highlight the style of the bedroom interior or make it more expressive. In this case, the number and arrangement of pillows will be much more important than their shape. 
Corner to Corner
This option creates much controversy: Some consider this way too prim and strict, the others think it's ostentatious, like in a furniture store. We believe sensible use of rigour is appropriate, especially in classic interiors. Decorative pillows of bright colors and contrasting patterns offered by All About Vibe will help you to scale back the formality. 
Three Comrades
source: drivenbydecor.com
Three pillows in a row are a great option for any bedroom style. They look contained and original. To make this composition catchy, choose textiles in the same style. The safe choice is if your pillows combine with other interior elements, for example, carpet or curtains.
In a Straight Line
This way of arrangement is close to the European pragmatic nature: No fluffy decorative pillows of bizarre shapes and color. If you are not ready to spend time arranging pillows corner to corner, we recommend putting them horizontally. And don't forget about some decorative elements!
Full Set
Do you want your bedroom to look like a picture in the magazine? A great way is to buy a full set of designer pillows. As a rule, it includes several pairs of decorative cushions of different sizes (you can also add some ordinary ones to this set) and a long bolster pillow. This composition looks very beautiful and reminds of palaces from Arab fairy tales or the princess's quarters.
At an Exponential Rate
source: zomasleep.com
One of the most popular and simple ways to decorate a bed is to arrange pillows on its side, from the largest to the smallest ones. This option is appropriate for classic bedrooms, as it highlights the interior forms. If you want to scale back the formality, choose custom shaped pillows for the foreground.
Without Prejudice
Who said pillows should lie flat and symmetrically on the bed? If you don't like primness, but like experimenting, just create a little pillow chaos on your bed. Bright colors, mismatched patterns, and pillows left in disorder can also be beautiful and cozy.
Decorating the Bedhead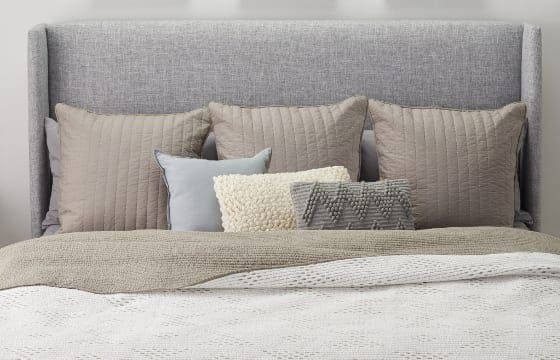 source: ostkcdn.com
Does your bed have a 'boring' bedhead design that doesn't settle in the interior? Disguise it with decorative pillows. To realize this idea, choose cushions combining with the whole interior of the room by color and texture. It's good if the arrangement will include several alternating similar pillow pairs.
In Chessboard Order
For this way, six pillows of the same shade are enough. The arrangement is the following: at the bedhead — three of the lightest ones, in the middle — two pillows of darker color, in the center — one pillow of the heaviest shade.