Introduction 
Your front porch serves as an extension of your home, providing visitors with a first look at what's to come. So when we say it's as vital as the rest of your house, we're not kidding. That's why we've compiled a list of 15 of the most practical little front porch designs to get you started.
This porch design decoration and architecture ideas will not only improve the visual value of a home but will also help you establish a comfy place to enjoy your favorite beverage in the morning. And you can accomplish all this without breaking the bank.
A little front porch may be beautiful and inviting while also protecting you from the weather conditions.
So, with a little ingenuity and work, let's turn your small front porch ideas into a gorgeous retreat. With these amazing front porch decorating ideas, you can make the most of your limited space. Let's get started!
Use every square area of your porch design
source: thespruce.com
You shouldn't let a lack of space prevent you from constructing a welcoming front porch lounge area. You probably have enough area for a comfortable chat corner, even if you only have a few extra feet beside the door. 
Select low-profile, inexpensive furniture that you can simply move when needed and utilize dual-purpose elements like stools that can serve as a side table and additional seating. It will make the porch look both useful and attractive.
Make use of a concrete slab
In front of the house, build a porch idea out of a basic concrete slab. You could also frame their sitting space by constructing a concrete barrier in front of it. The archway creates the illusion of a separate space from the home's main entrance. This concept works nicely on brickwork, stone, or stucco homes. 
On the house with siding, it might not work as well. Also, make absolutely sure that the landscaping doesn't become too high above the porch's floor. Low-growing vegetation is required for low porches; else, the area may appear overcrowded.
Make the seating comfortable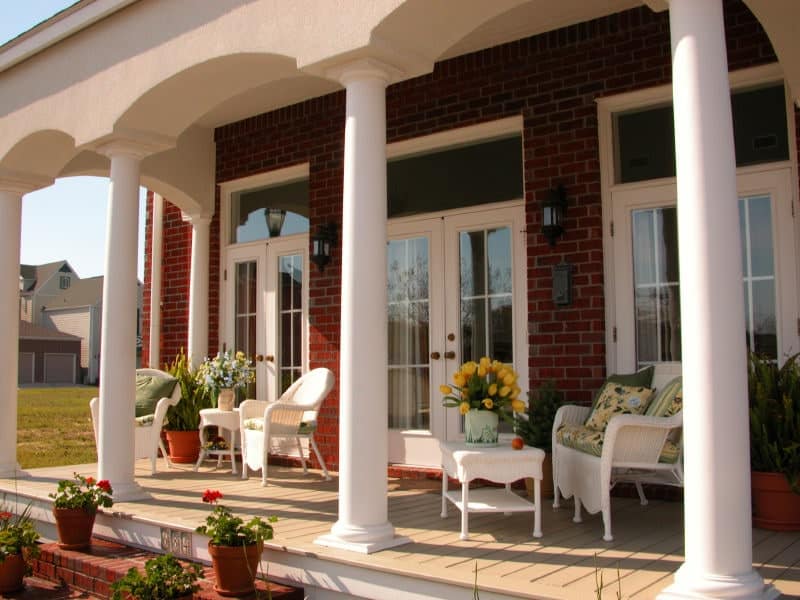 source: homestratosphere.com
Most homeowners like to have rocking chairs on their modest porches and patios because of their comfort and aesthetic appeal. They're also enjoyable and soothing, and they require little cushioning. 
Most significantly, they are resistant to the elements. You can complement the style with a bench in the same color as the rockers. This setup will provide a nice seating space, similar to a little outdoor living room!
Pillars are (somewhat) necessary
There are some elements you may add that will not offer any utility but will make it more appealing visually.
The porch's roof can be supported without the use of pillars. Their sole purpose is to enhance the appearance of the entrance door. Adding a few of wooden pillars to your front porch will add appeal for a very minimal cost.
If you do this, make sure the color of your pillars is purposeful. Take note of how the pillars complement the doorframe's color. It is similar to putting multiple border frames around a photograph to make it stand out. In addition, it has the effect of giving the focus point more depth.
Be a little creative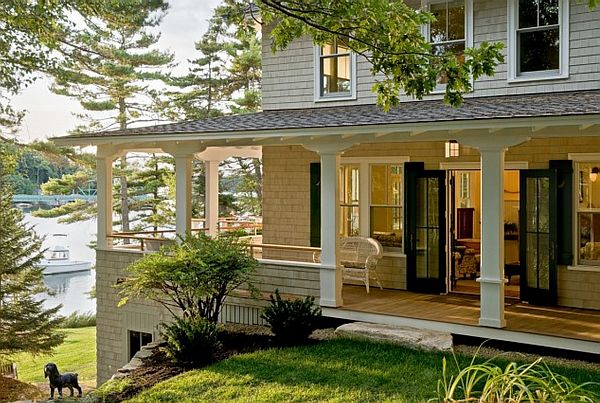 source: homedit.com
You may let your inner artist out with the correct modest front porch ideas. For example, you can transform a weathered, rustic table into an outdoor seat or a platform to display your trinkets. 
Candles, bouquets of flowers, planters, and pillows are all things we adore. They show off your vivid personality as well as your home decor. So now is the time to let your imagination go wild and embellish your small front porch ideas like a pro.
Make it beautiful as well as practicable
Because you have a smaller front porch, any furniture you choose must be stylish, inviting, and useful. Use a mirror or artwork to disguise an ugly wall and visually enlarge the room. 
A little table can provide both charm and a useful place for drinks and plates during eating. To establish closeness and to obscure any unattractive views, use soft window curtains. 
So, with some fantastic furniture and ornamental items, the ultimate aim is to make the porch completely functional and gorgeous at the same time.
Make the path to it even more interesting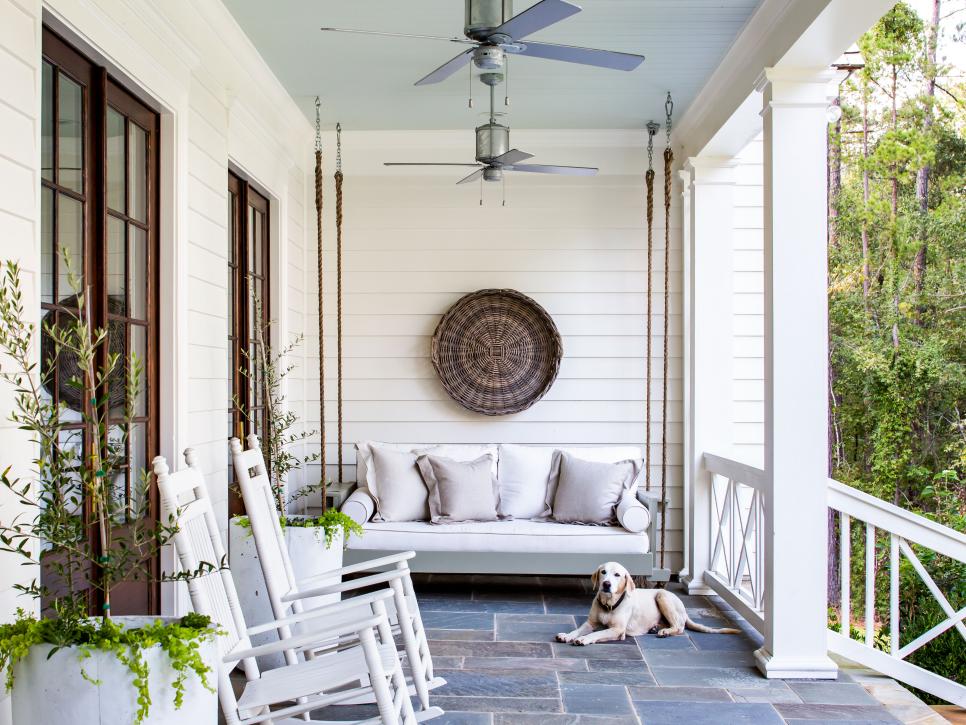 source: hgtv.com
The huge trim piece joining the two pillars stands out on this porch, with a little seating space and railing. The rectangle that this creates surrounds the front porch, giving it a more deliberate feel. 
The goal is to make your porch a focal point rather than an afterthought on the way to the front door. The porch's depression also helps to separate the sitting area from the entrance. 
You may get the same effect by erecting visual barriers to separate the walkway from the rest of the porch. These "walls" can be created by placing a flower container or leveling your furnishings.
Relax more on a small front porch ideas
Sometimes all you need now is a porch swing to create a peaceful haven. Simply relax with a good book and a hot cup of coffee and enjoy your holiday together. And, if your porch overlooks a vast expanse of wilderness, you can spend the entire day admiring Mother Nature.
We appreciate how the porch steps to transition to a stone paver walkway, which adds to the home's overall design.
Pergola porch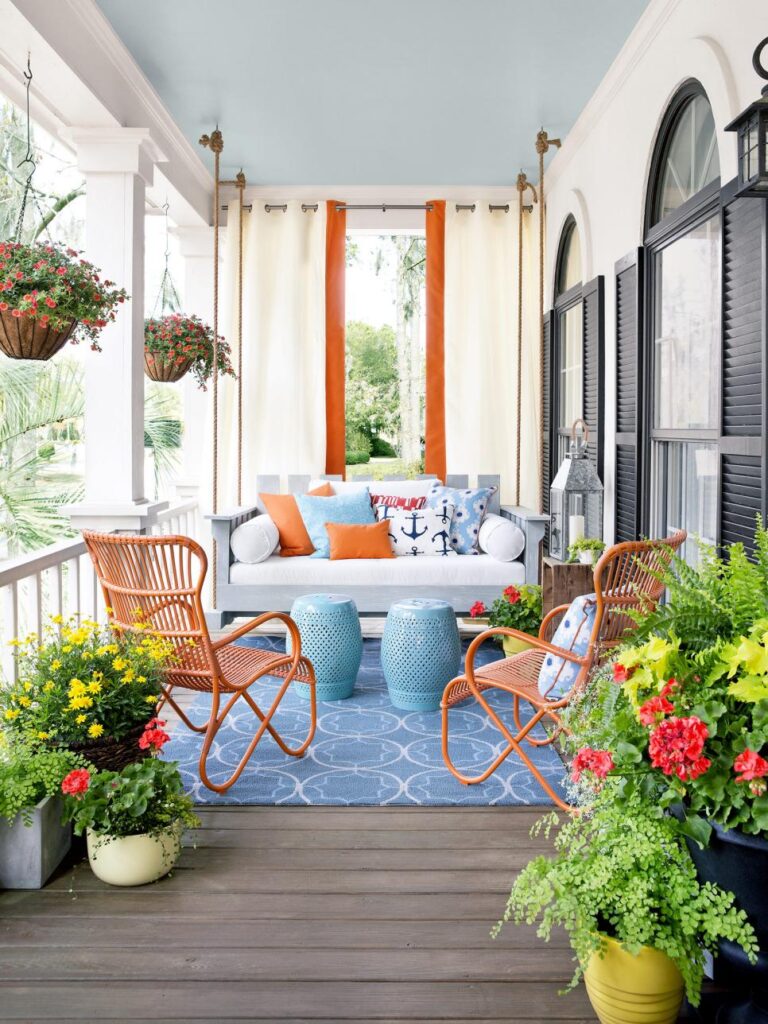 source: bocadolobo.com
A pergola roof will add a touch of class to your porch. You couldn't do much more with such restricted space than painting the door your preferred color and installing a light on it.
However, they constructed a separate roofing structure rather than expanding their roof. 
Instead of constructing a whole roof, they fashioned it to resemble a pergola. You could either leave it open to let the sunshine in or close it and even use the slats to hang baskets or other decorative things.
The pillars are located on the ground level. It all adds to the visual appeal of this porch.
Wildflowers porch 
Even if you only have a small porch front ideas patch of green to call your own, you may use it to create a lovely and welcome entranceway.
With only a comfortable chair, you may dress up the modest porch draped in wildflowers. You can plant blossoms as long as you have a couple of additional feet of soil around the porch. Let me remind you that starting with seeds rather than seedlings can save you a lot of money.
Tiny porch design idea 
A small front porch idea, for example, is ideal for demonstrating the point. If you have room for a chair, you can also fit a swing in there.
This modest porch is lovely, and it's usually fairly affordable. With a little rope and a lot of determination, you can even make your own swing.
But after you have the swing (and the crocheted blanket to match), you won't need much else. So a console table with flowers would be the perfect addition to the theme. 
Landscaping is with adding!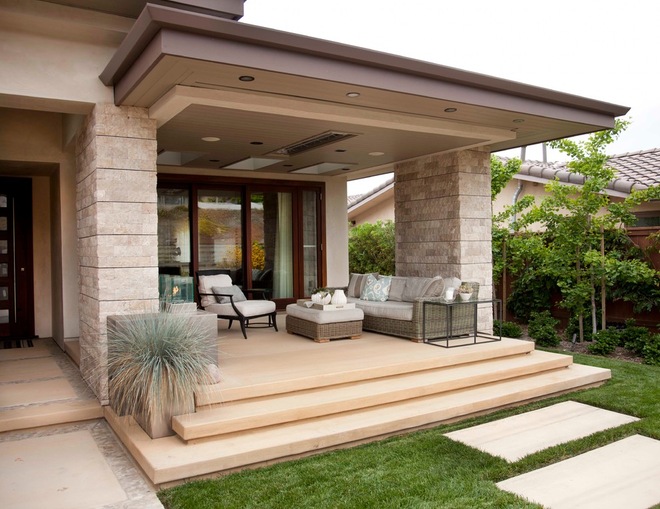 source: mydecorative.com
The wooden entrance and the wood ceiling overhanging will enhance the porch design. The garden furniture, potted plants, and gardening to the side of the porch are all finishing touches. 
Consider the layout of your porch idea and how your flowerbed can adhere to that shape if you have room to expand a flower bed around it. 
Shorter flowers should encircle the steps and base of the porch, while taller bushes work well against it. If you have a tall porch, the planting in front of it can rise as high as the porch's floor.
Give it a visually dramatic appeal
You know what? The elaborate wrought iron furniture gives the outdoor living area or porch design a visually stunning appeal. It also offers the porch idea a wonderful sense of spaciousness and comfort when coupled with a cathedral-style steel entrance and stone walls. 
You can display your favorite vintage artifacts on your front porch. After all, they'll be the first thing your visitors notice when they come to see you.
Color co-ordinate well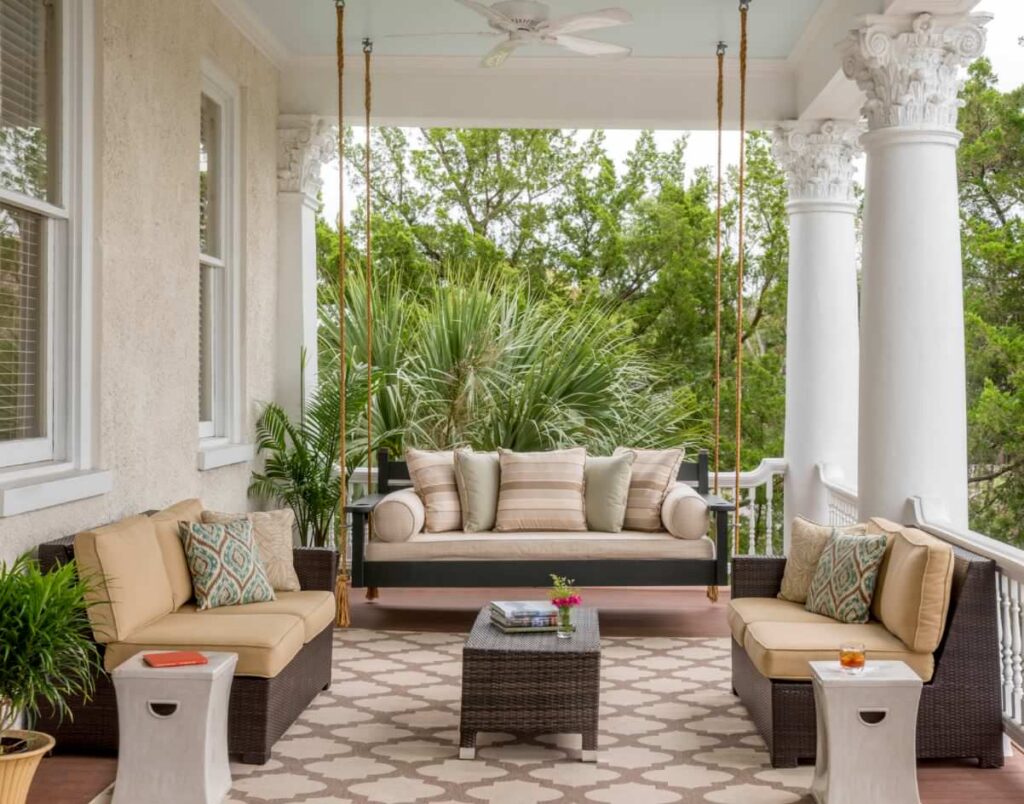 source: pinterest.com
Whatever the case may be, you must adorn the porch. No matter how big or little your porch idea is. Just make sure the color you choose goes well with the rest of the porch.   
Consider what colors you may use to make your front porch shine out in all places. Pretend you're painting an interior room. On the porch, you should be as deliberate and imaginative as possible. 
One of the most common mistakes is failing to paint or carpet the porch floor. Just make sure to pick an external paint or floor covering that can withstand a lot of foot activity.
Let cushions do the magic
Here's something you can make from the ground up on a limited budget that will appear like you actually spent four figures.
The secret is, to begin with, the cushion. If you pause for a moment to let your imagination run wild, you can come up with a fantastic porch design idea for less money and time.
Choose one or two neutral colors and one contrasting color (or color from the cushion fabric) before heading to the flea market to discover objects that will fit on your porch.
Wrapping up!
Here is a roundup of 15 beautiful yet attractive porch ideas you should know about! Nothing says "welcome" to visitors like a well-design front porch idea. But, when it comes to decorating or creating your little porch, make absolutely sure it pulls the attention without looking too cluttered.
Your front porch ideas and front door should blend in with the rest of your home and landscaping. You can get a wonderful blend of outdoor harmony with the correct little front porch concept.