Gearing up
The beauty of our residences are essential to us, and all the spaces like our kitchens, bedrooms, and bathrooms contribute significantly to the overall design of the home. Everything in the bedroom, living room, and bathroom plays a vital role in adorning the place. In the case of the bathroom, the sink is one such thing that multiplies its beauty. 
When it comes to changing up your bathroom decor, the sink is among the most crucial focus pieces. So it stands to reason that you might wish to mix things up. However, you might be surprised to learn that this option isn't as simple as you believe.
Bathroom sinks are essential, and we can't pass a day without using them. Without the bathroom sink, rinsing our faces, cleaning our teeth, and wiping our hands would've been problematic.
Ten different types of bathroom sinks
Wall-mounted sink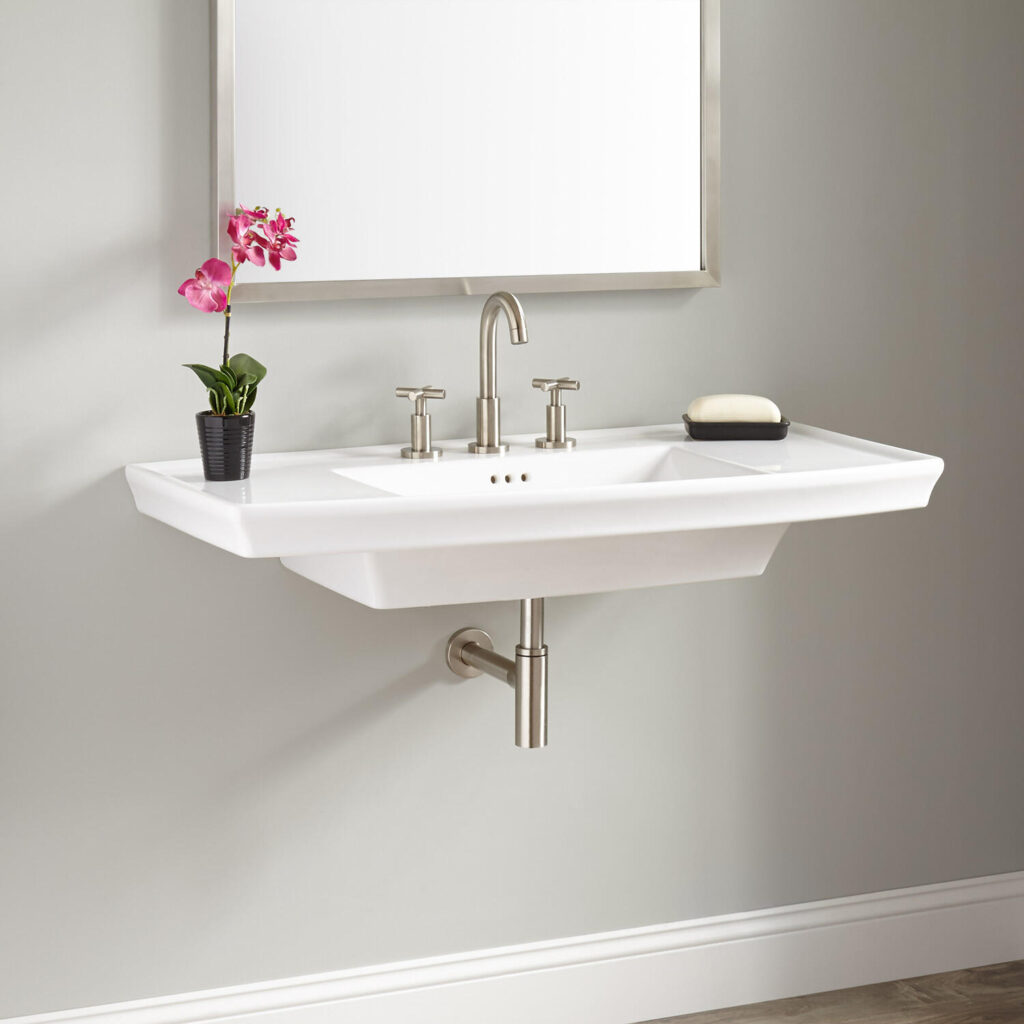 source: signaturehardware.com.imgeng.in
The very first thing people notice about bathroom sinks is that they come in a variety of styles. Therefore, before choosing, it is critical to understand the distinctions between them to select the best one for your area.
Wall-mounted bathroom sinks were formerly thought to be solely an industrial option. Nevertheless, they have risen in popularity for individual dwellings in recent times.
As the name implies, such sinks are mounted directly to the wall rather than being put on a countertop. As a result, it generally exposes the plumbing, giving it an industrialized or even antique feel. These sinks are often in square or rectangle shapes; however, circular and corner sink alternatives are available.
This kind of sink is popular in small bathrooms as it creates a sense of more area. In addition, it is one of the less expensive sink kinds to install.
Drop-in sinks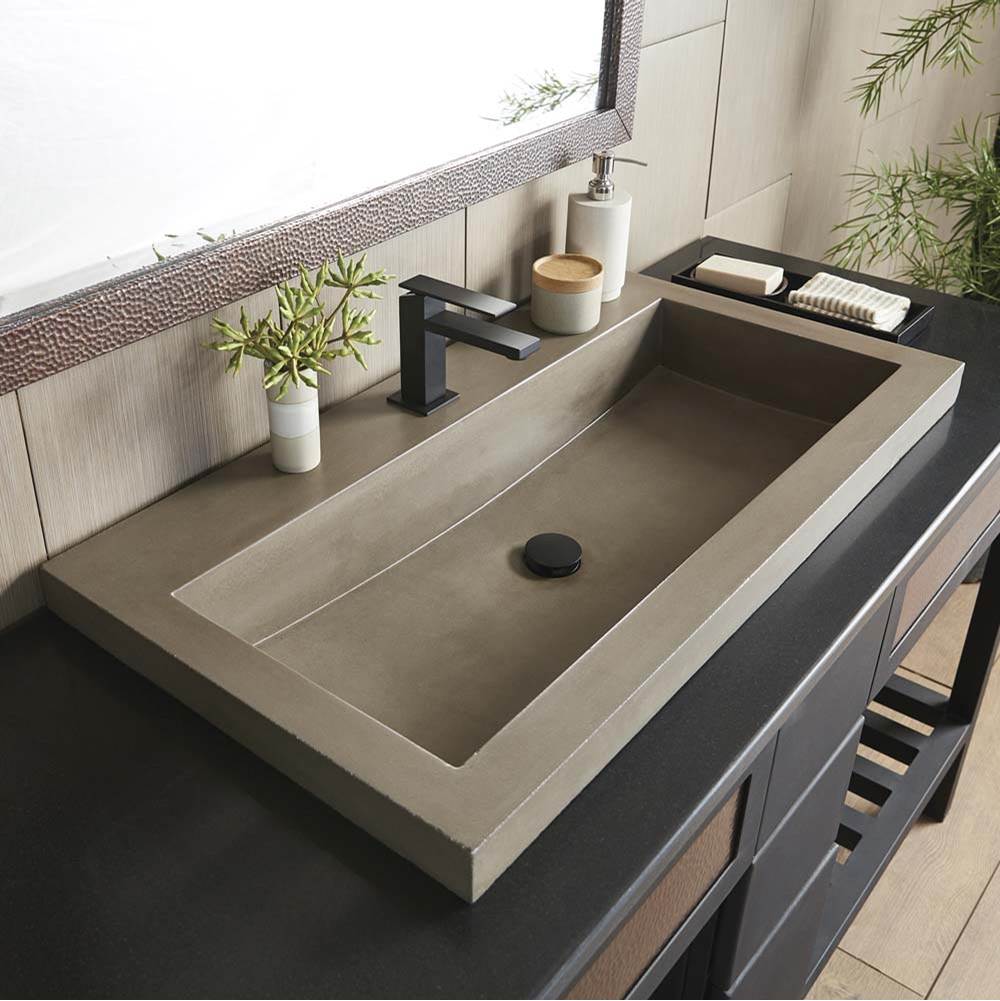 source: showroom.gwsupply.com
Drop-in sinks are self-rimming sinks because they have an additional lip that helps them stay in place over the countertop. Drop-in sinks are simple to add to a preexisting vanity. You are not required to make any significant changes to your initial design.
Drop-in sinks are popular in current bathroom designs since they are quite fashionable, which is not surprising. They also come in various sizes and materials, making it even easier to match with a contemporary vanity while maintaining its design.
It is created in a more classic style, with the basin in the middle of a conventional ground.
Double bowl sink
Multi-taskers enjoy having numerous things happening at once. So it's only logical that their kitchen sinks be incredibly beneficial and serve several functions.
It's no surprise this double bowl sink is ideal for these kinds of individuals. These sinks contain two basins, one for rinsing and another for cleaning and drainage.
Considering their utility, they are a popular option even in a kitchen, which doesn't have a separate dishwashing space. 
Corner sink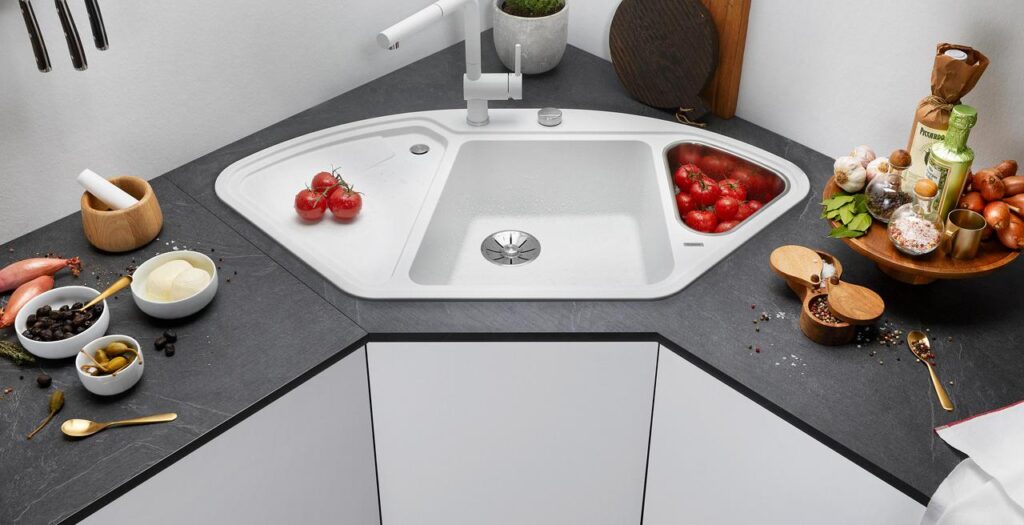 source: blanco.com
A corner basin is comparable to a wall-mounted basin, except it is meant for a bathroom's Corner! Because corners are rarely used in bathrooms, this is an excellent method to save space.
Corner basins seem to be the most space-saving bathroom sinks. They fit neatly in the corners of your bathroom and do not require any countertop space. In addition, they are primarily wall-mounted, with only a handful constructed and placed on a pedestal.
As opposed to typical wall-mounted sinks attached to plain walls, Corner sinks exclusively fit into bathroom edges. In addition, they often come in modest sizes, making them ideal for small bathroom users who want to remain trendy.
Console sink
The console basin is a mixture of the wall-mounted and pedestal bathroom sinks. Two or four legs support the sink. The limbs for ground stability are often composed of metal; however, they can also be constructed of ceramics or porcelain.
There is no cupboard behind the sink in these sink styles, and the pipework is visible. They are frequently used in contemporary washroom decor.
A bar between both legs is used to hang towels, and it is a standard feature in various console sinks. While they lack common counter space, the sink is typically big enough to provide for the area on either side of the tap controls. The faucets must be made of the same material as the sink for extra flair and elegance.
Under the mounted sink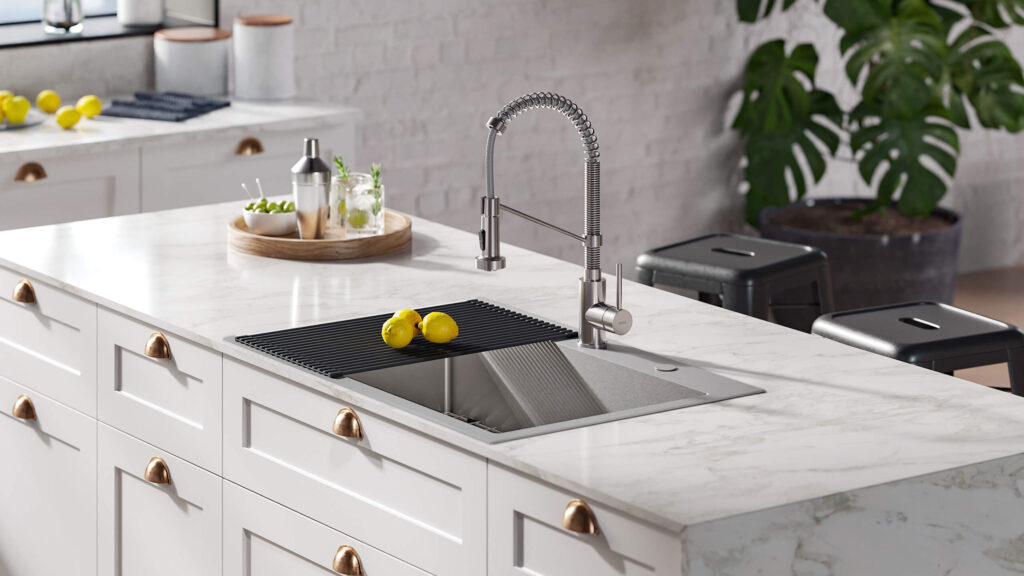 source: kraususa.com
An under-mount washbasin is put beneath your tabletop, where the counter's edge overlaps the lip of the sink's body typically. It results in a really easy-to-clean countertop and a smooth overall appearance. However, sinks that are drilled up into the countertop framework require a bit more complicated assembly than drains which can be put into a hole.
The undermount porcelain sink is a stylish and cost-saving choice for any bathroom. It saves extra space and is simple to install. All fittings and components for the under-mount bathroom sink are shielded
Placing this bathroom basin on polymer-bonded or tile counters is extremely difficult; other countertop materials such as synthetic laminate, quartzite, or stone tops are preferable.
Pedestal sink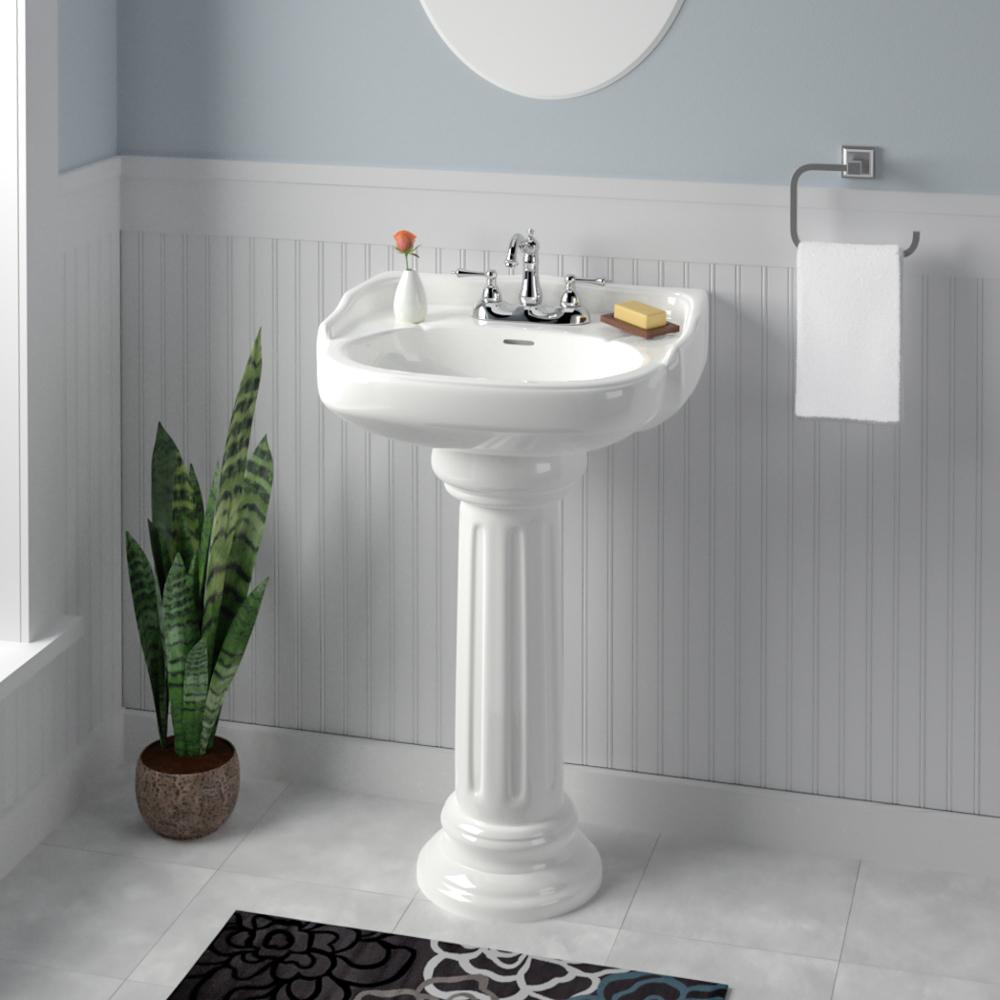 source: shopify.com
As the name suggests, the pedestal sink is dependent on the pillar-like structure. Another unusual choice is pedestal sinks. They have attached to the ground as well as the wall. A single leg or pedestal supports the section from the floor to the sink.
Unlike wall-mounted bathroom sinks, pedestal basins have plumbing connections and pipes covered by the pedestal, provide floor support, and do not require wall attachment.
Bathroom sinks on pedestals don't provide you with a lot of storage capacity in your bathroom. However, this bathroom sink is of outstanding design, adding additional elegance to your bathroom and being the perfect match for large-sized bathrooms.
Trough sinks
Trough sinks have a long history of being used by farmers to provide water to their animals. They're now found in both public and private restrooms.
Sinks with a trough are frequently connected with European design. These are massive sinks that can substitute for double basins if you prefer something else. 
Its depth and width make installing two faucets simpler, and it works well in restrooms that can accommodate two or even more people at the same time. Trough sinks can be wall-mounted or drop-in, but the length and width are what matters. 
Trough sinks used to be made of stone or timber, but now they're made of various materials that make them more fashionable and easier to manage.
Vessel sinks
source: thespruce.com
Vessel sinks stand neatly above your countertop, high enough for you to clean your teeth or wash your face without stooping over. Vanities in the form of a deep bowl positioned on a counter are known as vessel sinks. It necessitates the usage of pop-up drains as one of the current bathroom sink kinds.
Vessel sinks are pretty popular, and they're a terrific way to obtain a high-end look without a high-end price tag.
This sink includes faucets that must be mounted on the wall, with the connections and cables either concealed or exposed inside your vanity tabletop. It doesn't matter whether the fittings are hidden or exposed; they're still elegant, and they're available in a variety of materials for even better aesthetics.
Countertop basin
The implementation of above-counter bathroom sinks is a concept that is becoming extremely prevalent.
The countertop washbasin is a lovely addition to any bathroom. This basin will function as a classy accent to your bathroom when storage is not a concern. These are great for catching water droplets and are simple to install.
This construction type combines the advantages of a standard sink with additional durability. When it comes to maintenance, these sinks have a disadvantage. Cleaning the intersection between the countertop and the sink basin can be tricky.
It's a WRAP!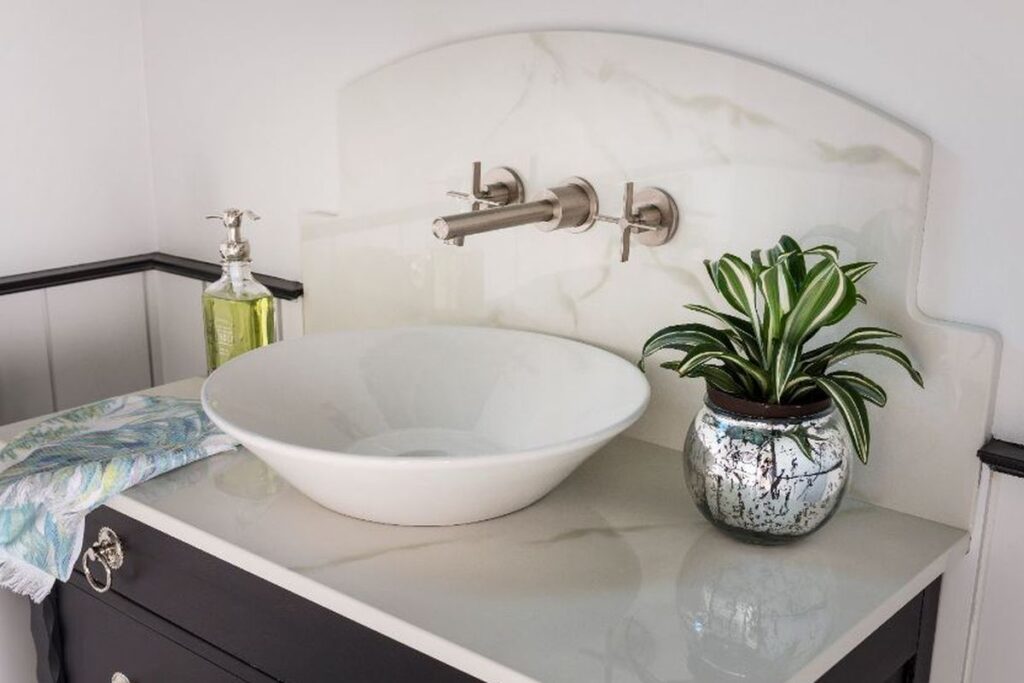 source: thisoldhouse.com
The decor of your bathroom goes a long way to making bath time enjoyable and calming. Choosing a bathroom sink can be a challenging chore at times, but taking into account the cost, bathroom area, and the style of other bathroom fixtures will make it much more manageable.
The majority of bathroom sink varieties are simple to install. 
Because the kind of bathroom sink you select can enhance or detract from the overall aesthetics of your bathroom, you should exercise extreme caution when choosing your ultimate decision. Whatever option you choose, be sure it's a long-lasting bathroom sink that'll last for years and is simple to clean.