Introduction 
Getting food and supplies out of the kitchen may be a pain, particularly when you discover midway through a meal that you've missed an essential ingredient. Consider installing your own outdoor kitchen if cooking outside with all of the essentials at your fingertips is your notion of home bliss.
The price of constructing an outdoor kitchen is determined by the materials and appliances you select.
Outdoor products should be made to withstand the elements, so consider durability when purchasing them. If you want to invest in an outdoor kitchen, you can improvise using readily available and affordable materials.
Check out the below 8 unique outdoor kitchen ideas and also about things you should consider before installing an outdoor kitchen. 
Things to keep in mind before designing an outdoor kitchen!
Distance & space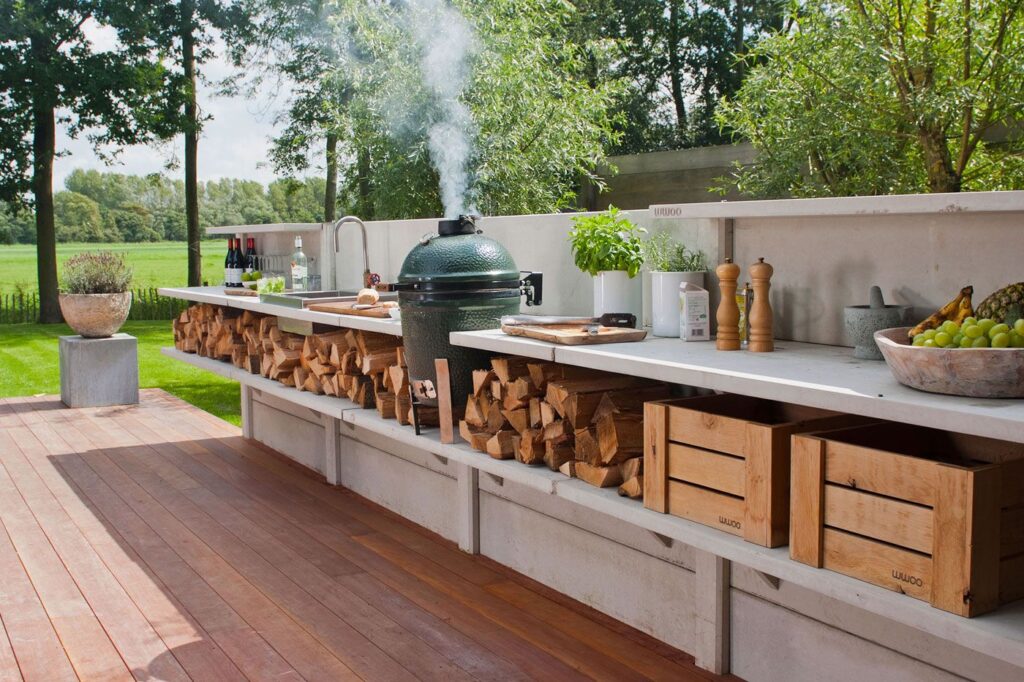 source: hearstapps.com
An outdoor kitchen island does not require a lot of room; it only needs to be practical for cooking, entertaining, and lounging. The distance of your outdoor kitchen to your indoor kitchen is something to think about while designing your outdoor kitchen. 
The closer this kitchen is to your inner kitchen, the less you'll have to walk for sauces, tools, tableware, and meals. Additionally, having a connected, covered outdoor bbq kitchen allows you to use this new meal preparation and serving area for more extended periods of time.
Choose the suitable types of equipment. 
The equipment in your kitchen will be a substantial investment in terms of usefulness. In this case, quality trumps quantity. So, first and foremost, consider whether you genuinely require all of them. If that's the case, go ahead and acquire it. If not, don't just preserve it for the sake of keeping it! Make sure you pick something you'll actually use, that it works properly and that it's built to withstand the elements.
Lightning is important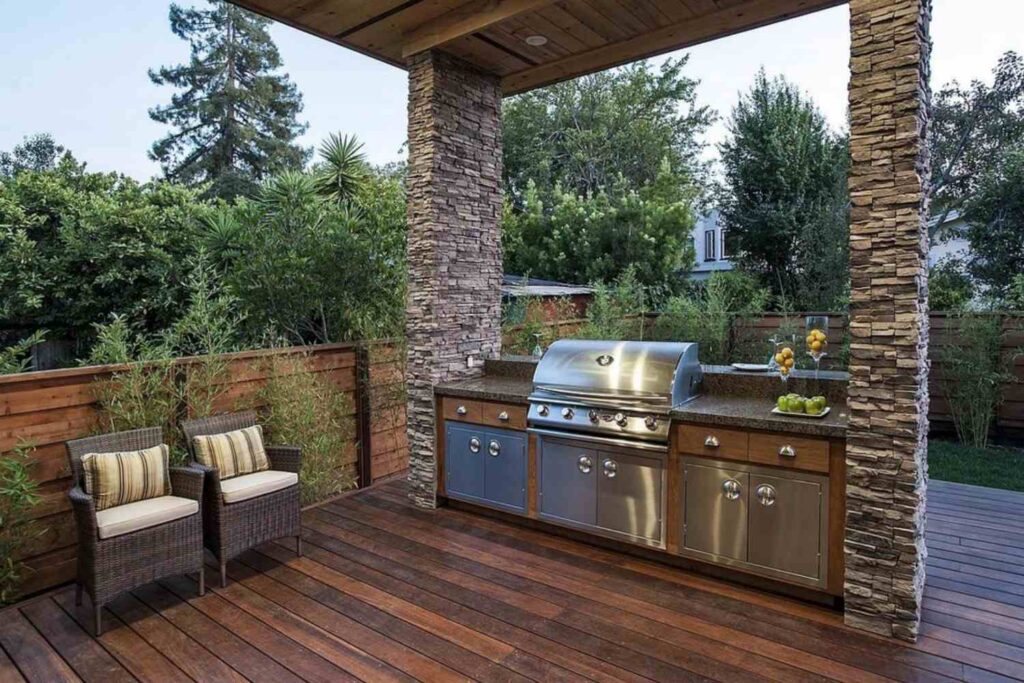 source: thespruce.com
Your outdoor space's lighting is equally as vital as your indoor space's. Of course, the ambiance is important, but safety should always come first when it comes to illumination around an outdoor kitchen. 
Make spaces where cooking and other primary activities will take place brighter. Paths should be well-lit, and brightness in lounge and dining rooms should also be adaptable.
Decide the end goal. 
It's critical, as usual, to consider what this area's principal function will be. Are you an aspiring chef? Then concentrate on the appliances, materials, and arrangement of the kitchen.
Do you intend to host dinner parties? Will there be a pool nearby? Will it only be a place to lay, dine, and unwind? Once you've figured this out, you can decide on your must-haves for each location, as well as which part of your outdoor bbq kitchen to concentrate on.
Co-ordination with the outdoor area 
You'll need your open kitchen and living space to blend in with the rest of your backyard. However, you wouldn't want it to appear isolated from the rest of your home's outdoor space. 
So think about where you'll put the grill, fridge, tables, chairs, bar, plants, decorative things, and anything else you'll have around nowadays. Keep in mind that your backyard kitchen and living space are still considered part of your property. 
So, just as you would arrange the inside of a room to match its surroundings, you should do the same with your outdoor kitchen area.
Five outdoor kitchen ideas that you must keep in mind! 
DIY outdoor kitchen 
source: hgtv.com
Marble, ceramic, or stone can all be used in DIY outdoor kitchen ideas. These rock varieties may appeal to some of you because of their exquisite and sleek appearance. 
The materials used in this sample give it a trendy and clean appearance. The distinction between the tabletop, the kitchen stand, and the backsplash is easily discernible. 
You could save money since you can modify the amount of ceramics or rocks based on the space in your kitchen because it is pretty tiny. In addition, stove, microwaves, sink, and other utensil storage are all available in the kitchen.
Wooden board kitchen 
It is a lovely kitchen idea from the category of wooden boards. The overall kitchen is made up of the wooden board type, which is thinner and more diversified. The kitchen's wooden planks serve as both a pedestal and a countertop.
All of the planks in this kitchen look like a coffee bar, typical in commercial coffee shops. The hardwood table that stands opposite the coffee bar table should not be overlooked. A stainless steel cooking tool rounds off the wooden outdoor kitchen island.
Use the gray wood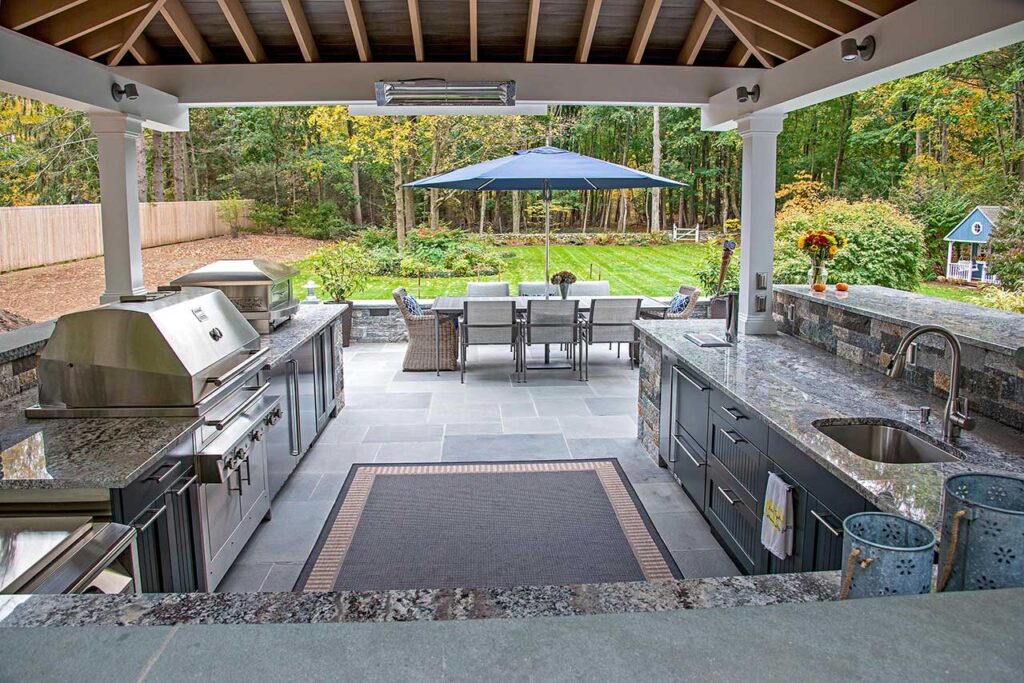 source: pinterest.com
This kitchen has a farmhouse vibe, thanks to the grey wood. We recommend keeping the decorations to a bare minimum for this type of outdoor kitchen, with a couple of outdoor kitchens built into the rock wall. 
You'll be able to put some of your favorite accessories in a few different places due to this. On either side of typical barn door style outdoor kitchen cabinets, open shelving offers visual appeal and equilibrium without being crowded. A charming tin roof completes the look at the top.
White white everywhere! 
Outdoor kitchen cabinets are yet another minimalist style, adding visual appeal while also providing ample space for all of your outdoor equipment. A vibrant cherry deck is complemented with a neutral whitewash that doesn't obscure the view beyond. It's ideal for stockpiling wood for the smoker, and there's also an outside sink.
How about growing an edible garden?
When you include homegrown veggies and herbs in your meals, cooking outside becomes quite enjoyable. Plant an edible garden near your open-air kitchen, or use pots to grow your favorite herbs on the walls. 
Whether you're jazzing up some food with fresh thyme or adding a few mints leaves to a cocktail, the greenery not only makes the cooking session healthier but also makes the environment appear more attractive.
Mediatetern kitchen is also something different!
source: pinterest.com
In a matter of seconds, an outdoor kitchen island with a stone pizza oven converts your ordinary backyard into the Mediterranean kitchen. Don't limit yourself to one sort of food; create an entire outside layout by employing a U-shaped design to divide your kitchen into hot and cold zones. 
You can install equipment like an ice maker, fridge, sink, barbecue, and pizza oven if you have more counter space.
Portable and straightforward outdoor kitchen idea
It is the simplest tip of all. Simply buy a one-layer piece of plywood to put cooking utensils, fresh veggies, and herbs on. Then, use a clear box or small containers to collect everything and store it carefully.
Put the burner or other cooking equipment on top of the material table. Fill the next area on the cooking utensil with ingredients to be added later. The kitchen model with the wooden wall or backsplash will look intriguing enough in the room.
The wooden wall can be used to hold other cooking utensils or plants, and the basic design allows it to be moved to different sites.
DIY outdoor bbq kitchen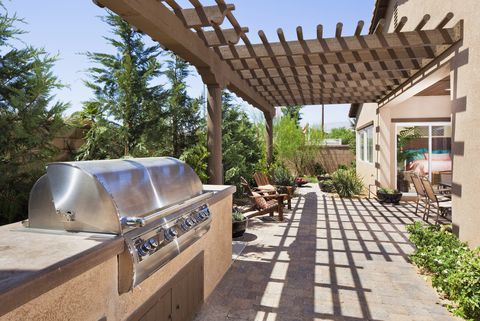 source: hearstapps.com
Have you got any leftover red bricks from your house construction? Do not dump them outright soon. You can utilize them as the primary component for your outdoor bbq kitchen and still keep your budget in mind. You can establish an outdoor kitchen in a reasonable amount of available space.
Half of the wall is made up of red bricks, which can also be used as a kitchen backsplash. The pillars of the outdoor kitchen island are made of the same brickwork. On top of the thin table, you can place ready-to-eat meals.
Choose a countertop made of marble or ceramic. Then, to take up the kitchen equipment, finish it off with a concrete platform.
Wrapping up! 
So, here is the best outdoor kitchen ideas that you should definitely know about. We have also started some of the crucial things to consider before setting up an outdoor kitchen. 
We hope this blog will help you design your dreamy yet functional outdoor kitchen. Also, don't forget to let us know about the idea you liked the most!