The concept of the indoor/outdoor living space has really taken off in recent years. Homeowners want more ways in which they can enjoy their outside space whilst still retaining the comfort of their indoor space. 
With the right planning and a few clever design concepts, the humble garden can be transformed into the type of outdoor space that you will want to relax and unwind in, grow vegetables in, entertain in and even work from home in when the weather allows. 
Architects are increasingly being asked for designs that offer people better and more functional ways that they can use their outdoor spaces in the same ways that they use their indoor ones. Here we look at just a few suggestions that can really help you to achieve this balance between indoor/outdoor space and make your garden the functional, yet stunning, space you want it to be. 
Make it functional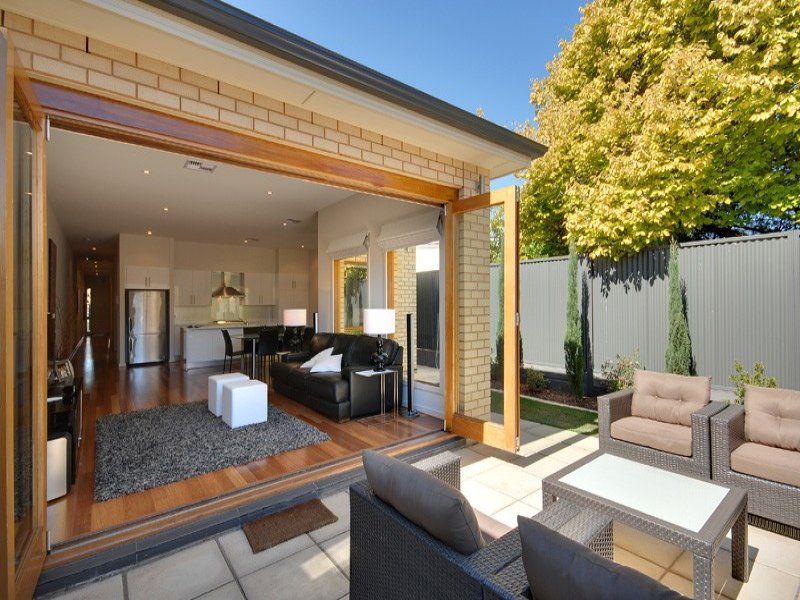 source: pinterest.com
If you want your indoor/outdoor space to be useful then you need to make sure that it is functional. To give value to the area you need to define its purpose. This can be done relatively easily with a few key pieces of garden furniture. The metal bistro sets by Lazy Susan for example can help you to clearly define a seating area that will help to create an outdoor dining area in a smaller garden. If you have plenty of space then take a look around because 2 seater garden furniture comes in a range of different designs and you will want to look for something that will continue the look of the inside of your home in the garden. 
Extend your kitchen space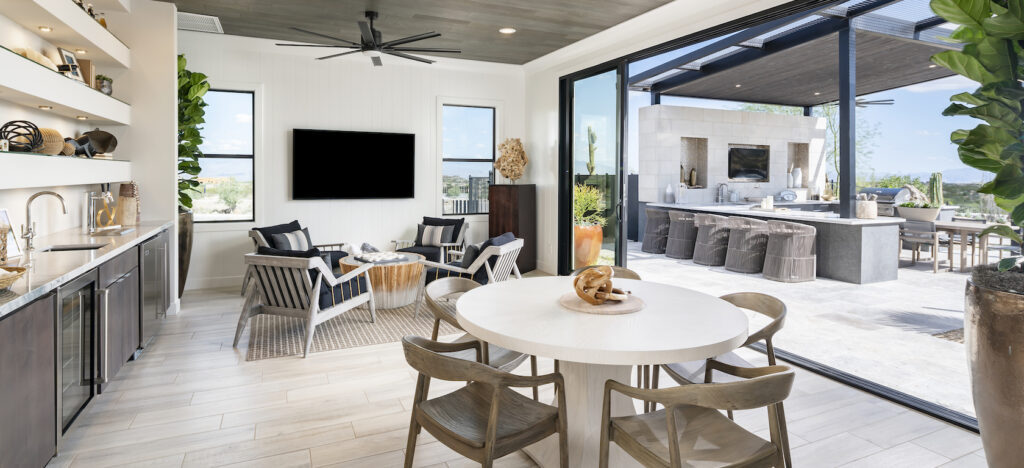 source: tollbrothers.com
If you want to really embrace this new space, then seating alone is not enough. For eating outside you should consider cooking outdoors as well, at least some of the time. There are some incredible grills that you can buy nowadays for your outside space that will really transform how you eat in your garden. This isn't, however, the only way that you can extend your kitchen into your garden. If you really don't want to cook outdoors, then there are other things that you can do to combine these two spaces. 
Creative folding or sliding doors on your existing kitchen that lead onto your patio are a great way to create a combined space that is free flowing and allows you to perfectly combine both indoors and outdoors at the same time. 
Define the space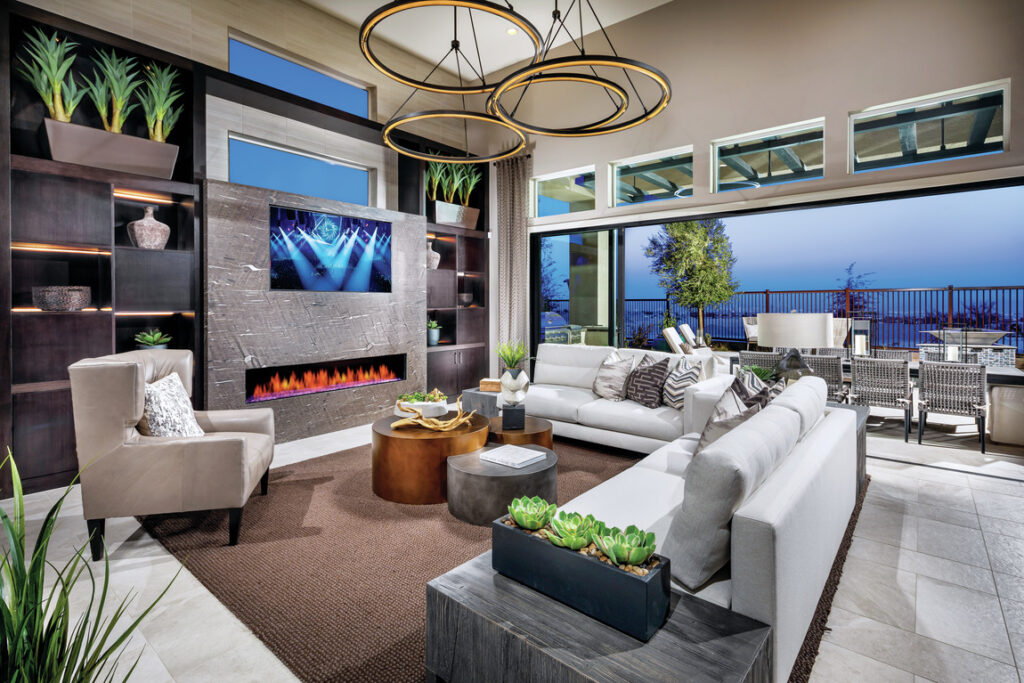 source: tollbrothers.com
You do not have to limit how you use this indoor/outdoor space. It can certainly have more than one function so don't be limited by your first idea. For many people, the main use of this type of space is to create an indoor/outdoor kitchen and dining area but with the right seating it can become a lot more. 
If your home benefits from a substantial sized patio then you may want to consider adding other seating areas as well. You could even add a bar area. What you do with the space will depend entirely on your lifestyle and the amount of room that you have. 
Make it seamless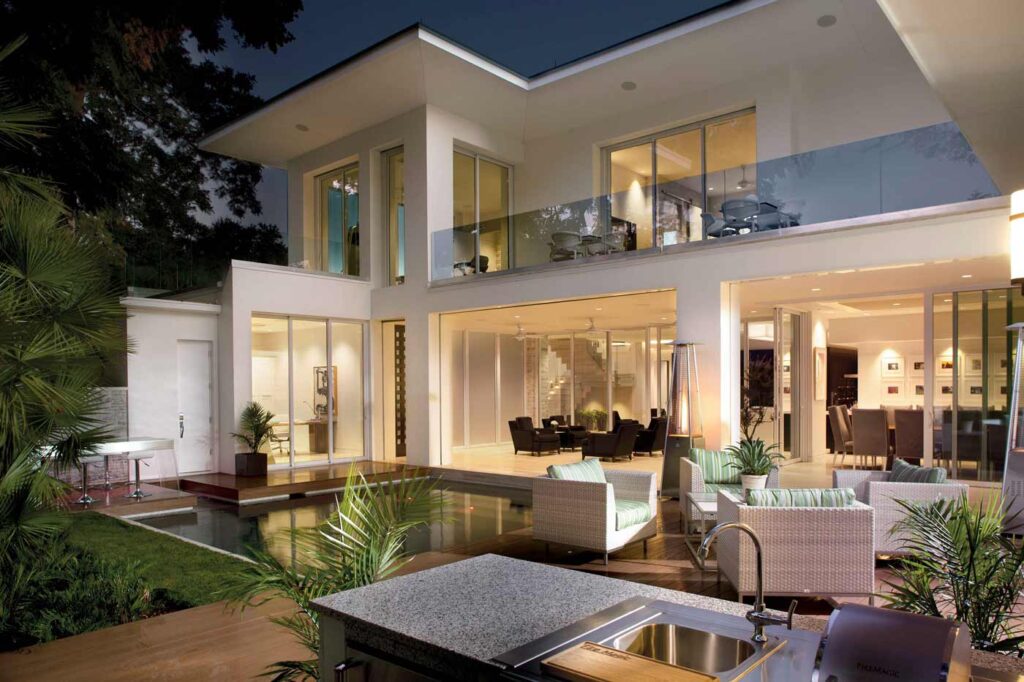 source: philkeandesigns.com
From a design point of view bringing the two spaces together can be a very effective way of making the ideal indoor/outdoor space. This can be achieved quite easily by carrying them or colours of your indoor room into the outside space. Think wooden furniture indoors and out, the same colour scheme in the cushions you use for your chairs and the accessories that you use. These may seem like small ideas, but they can have a huge impact.