The bathroom is a room that sometimes gets overlooked when it comes to design. Yet, it has such an important role to play. It is the space we use for hygiene, for playtime with the kids, for a moment of relaxation and escapism after a long day of work. It has a lot to offer, and yet it sometimes gets fobbed off as 'the clean room' and after a quick application of some plain tiles and a lick of mould-resistant paint, it's left alone. 
What you may have never considered is that your bathroom can have a starring role in your home's decor. It can be bold, beautiful, escapist, and even exceptional in the way that it is presented. Bathrooms, when it comes to their decor, do have something to say! 
If you would like to shine the spotlight on your bathroom this year and give it a redecoration and uplift that finally gives it the style and substance it deserves, check out these incredible bathroom trends to consider in 2022: 
Japandi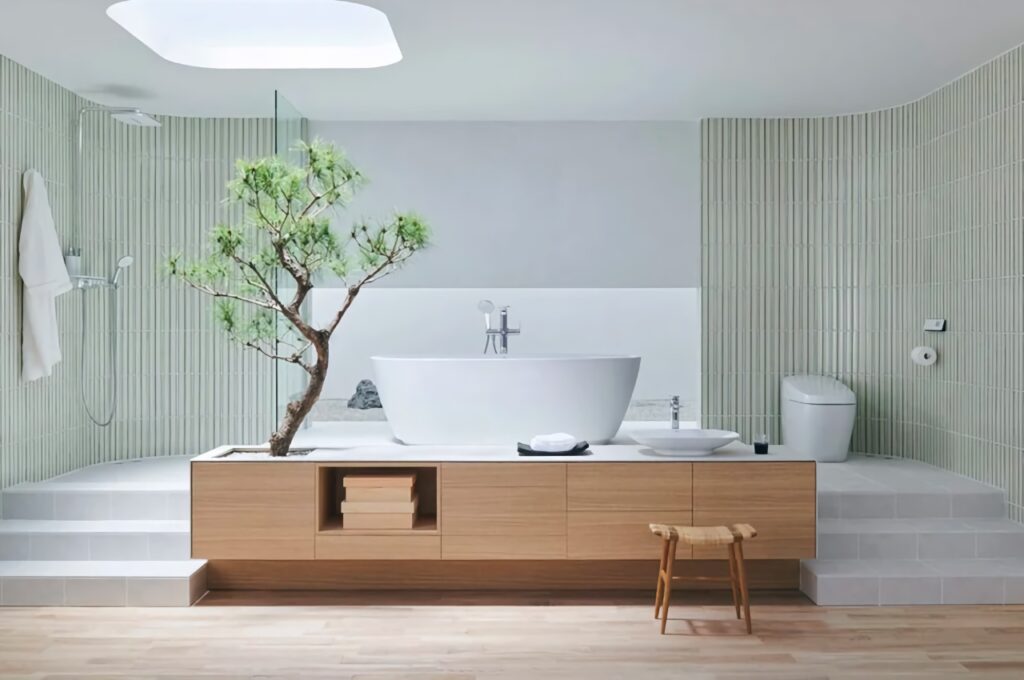 source: yankodesign.com
If you have never heard of Japandi before, don't worry, it is quite a new word in the interior design world, but it is taking off. It mixes together Scandinavian minimalism and Japanese design style Wabi-Sabi. It's perfectly suited to a bathroom space because it is neutral and muted, whilst also bringing in the fresh, relaxing elements of nature that work so well in a bathroom space. To get Japandi right in your bathroom follow these rules: 
Clean, crisp lines

No clutter (time to chuck everything in cheap self-storage at

Storing.com

!)

Natural materials like paper, cotton, wood and metal

Neutral tones like oatmeal, sand and grey

A splash of colour with pastels like pink, green or blue

Functional everything
Greens & Blues
Green and blue used to be trendy in a bathroom in the 70's. An avocado bathroom suite or, dull blues and dried up starfish ornaments echoing a dusty seaside chalet in Blackpool. 
It was all a little cold and uninspiring, which is why we haven't really seen those colours in bathrooms, until this year. Now, rich tidal pools, sea foams and teal are bringing beauty to the bathroom in all kinds of ways. Seaweed green tiling, pastel green towels, rich blue floor tiles – there's a blue or a green for everyone. Paired with woods, whites and plants you have the perfect colours for a bathroom suite if neutrals are too blah for your style. 
Wallpaper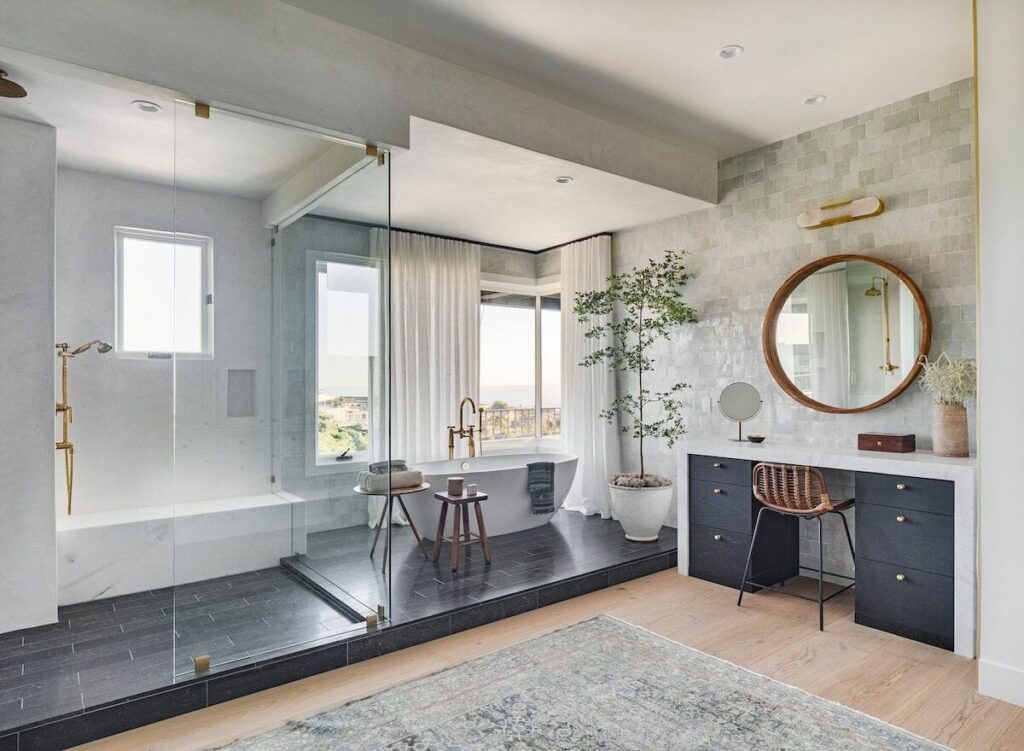 source: decorilla.com
Yes…really. Wallpaper is back in the bathroom! Is it a little impractical? Sure! However, it is a little bit of fun and could be an excellent choice in particular for a downstairs toilet, for example, where lots of shower steam could cause peeling issues. 
Fluting
Fluting of the shower screen or windows is a design trend that has an Art Deco feel to it, working well with very modern bathrooms that already embrace the geographic features of bathroom styles 'of the moment'. It's an easy upgrade, too, especially if you're due a new screen anyway. 
Woods 
We see a lot of ceramics in very practical bathrooms, but woods are a huge feature of modern bathroom trends in 2022. They soften up the look, bring in that natural feel we are all obsessed with at the moment, and provide a neutral base for more interesting patterns and colours you can add with accessories. The key is to match your wood. You can mismatch wood in some rooms, but the bathroom isn't often a great place to try shabby chic out. 
Posh Showerheads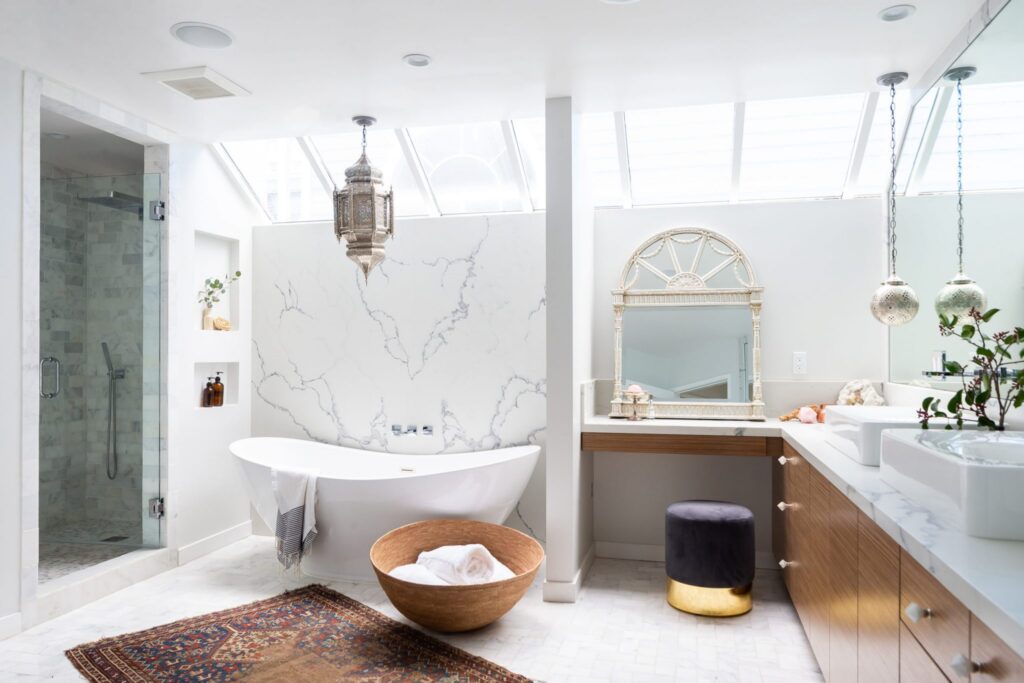 source: foyr.com
Posh shower heads that are large and fixed (either to the shower or to the ceiling) are incredibly popular, bringing you a spa-like feel to your shower routine. They very much fall into the spa obsession seen in bathroom design this year…
Spa Vibes
Which we will get onto next! Spa everything is occurring in bathroom design because we are all stressed. We all need an escape, a moment of self-care and a bit of room to breathe away from day to day life. Spa baths, posh showerheads (as we mentioned above), full wet rooms, plunge pools and even saunas have all been seen in 2022 bathroom designs. On a budget, you can do the same thing but with aromatherapy steamers, candles, fluffy bath towels and plants. 
Smart Bathrooms
Smart bathrooms are part of the overall desire for smart homes in 2022. This includes things like; shower speakers, futuristic toilets, smart showers, gravity free baths, bathroom TV's, smart bathroom mats & mirrors, and even safety devices that detect if you have had a slip or fall in the bathroom. 
Colourful Ceramics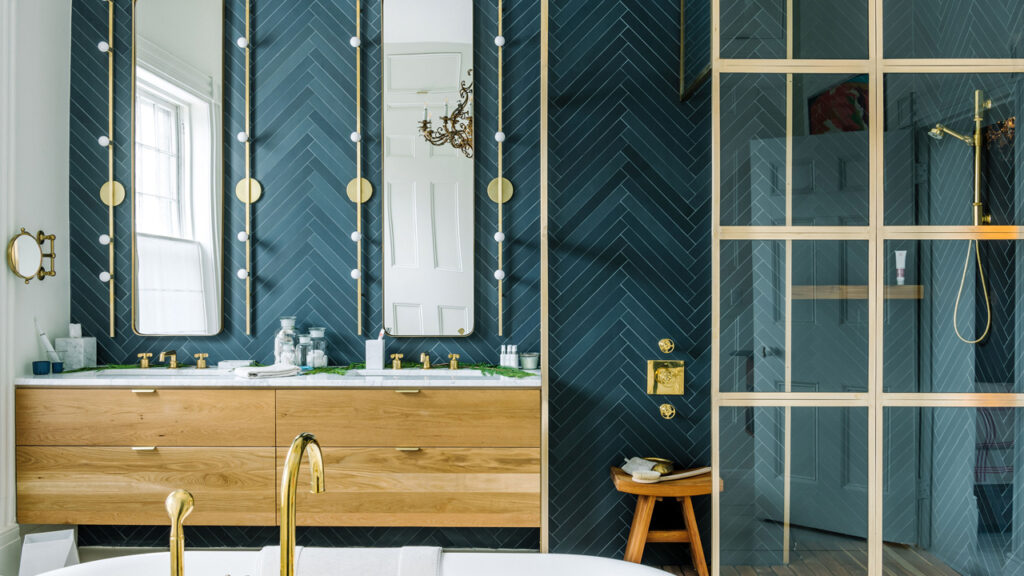 source: pinterest.com
If you do choose to include ceramics in your bathroom such as the sink or the bath, you can now choose a range of colourful ceramics that add a cool, unique feature to the overall look. If you imagine how those retro refrigerators standout in a kitchen, you can see how a similarly colourful unexpected bathroom feature could make an impact if it is say pink, or blue. They still work best with neutrals, though, so they can stand out and don't accidentally look out of place or messy overall. 
Statement Stones
Statement stones like marble are set to become a huge, if not opulent trend for bathrooms in 2022. Entire marble suites are a great idea if you want a long-lasting bathroom renovation that impresses. Just be sure to consider safety, as marble and other stone can be very slippy and extra precautions need to be made to ensure the marble is practical as well as look beautiful. 
Plants
The houseplant trend isn't going anywhere and if there was ever a natural home for a plant, it is in the warm, moist air of the bathroom. Just be sure to declutter the space into your cheap self-storage unit, and ensure it is fully clean and decorated before you start your indoor jungle, just to avoid the potential for post-apocalyptic vibes. 
How Will Your Bathroom Stand Out In 2022?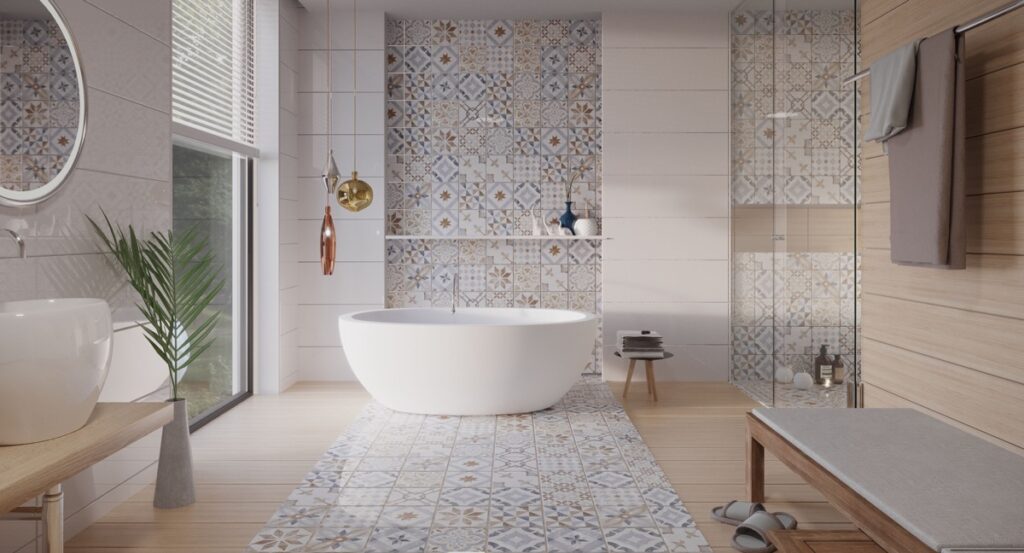 source: pinterest.com
If you would love your bathroom to truly standout in 2022, why not try one of the trends of the year to give it a fantastic renovation?
If you do need somewhere to store your things whilst you renovate this important room, consider cheap self-storage. Self-storage in London from Storing can help keep your accessories and other items dust-free and safe whilst you create the bathroom of your dreams at home.