Summer is the season to enjoy pool parties and barbeque parties. It is not only limited to these two parties. You can enjoy the summer vibes with a lot more experiments in food and its decoration. Here we will discuss how to stock up on the best summer tableware items. It should be lightweight and easy to carry for outdoor parties. Some classic pieces of melamine and acrylic material will enhance the overall beauty of the summer table. However, you have to take care when choosing your cutlery and crockery for summer, get some ideas at The Architecture Designs.
Consider reusable tableware alternatives as you walk outside to enjoy an outdoor dinner party, a picnic with your significant other, or a weekend in the wilderness. Make sure your dinnerware is both lightweight enough to transport to your outdoor bar and around the patio and durable enough to not break if you drop it on the deck or rocky sidewalk. Steel crockery and melamine sets are perfect for summer.
An Outdoor Dinnerware Set By Williams Sonoma. – For Perfect Farm House Look
Williams Sonoma's rustic outdoor melamine dinnerware collection is a great choice for the farmhouse style because it is sturdy and has an antique appearance. Additionally, it is available in a wide range of hues, so you may choose to keep it neutral or add a vibrant burst of color. Plates, bowls, and other serveware are available individually as well as in groups of four.
Reusable Plates By Red Cherries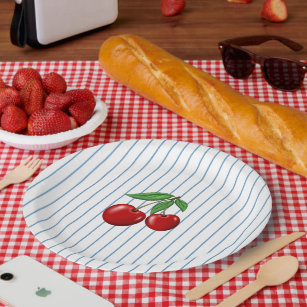 source: pinterest.com
This vibrant four-pack of plates features cherries, which scream "summertime" and are ideal for your upcoming outdoor celebration. Even the most clumsy of guests won't be able to shatter these plates, which you will appreciate. Both kids and adults will love the amusing pattern. Collect these types of plates and sets to make a beautiful summer kitchen crockery items set.
WDF Silver Plate Set – For Large Scale Party
If you are planning a party for more than 30 to 40 people, then this silver plate set by WDF is perfect for you. It is 100 percent food-grade plastic plates. Moreover, it is a BPA-free product. These silver plastic plates and plastic cutlery are sturdy, long-lasting, and heavy-duty and are guaranteed not to scratch or shatter easily. This silver plastic flatware mimics the appearance of genuine silver. The wedding plates are complemented by lovely silver rims. giving every occasion a beautiful, contemporary touch.
Crate and Barrel Indigo Placemat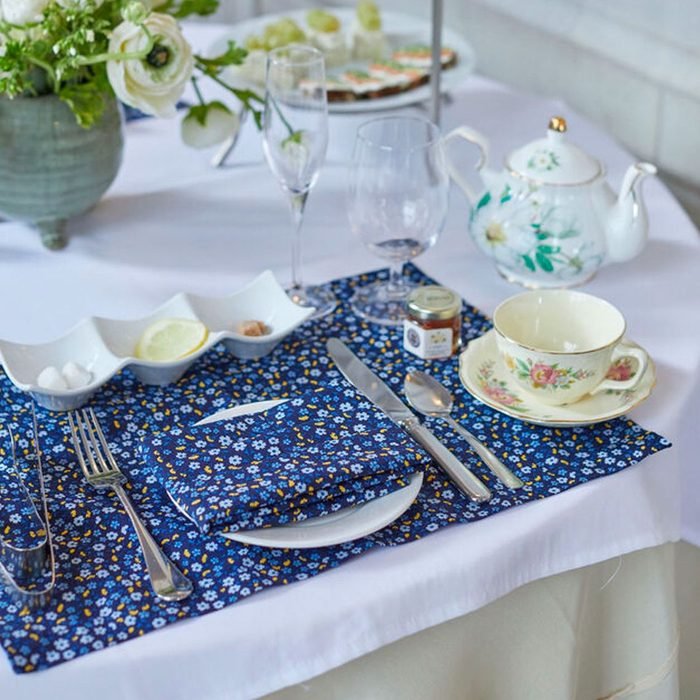 source: pinterest.com
You are mindful that excellent placemats can truly enhance a tablescape whether you are dining indoors or outdoors. These are terrific for summer, but you could wear them all year round if you wanted to. The blue and white color combination is also a terrific place to start because it goes beautifully with your classic eggshell dinnerware, but you can also add red accessories for the Fourth of July.
Threshold ™  4 Coaster Pack
This 4-Pack Cork Coaster Set from ThresholdTM will guard your tables against beverage stains. Your entertainment table will look great and perform well with this practical set of four coasters. Each piece has a square shape that is rounded, and it is decorated with appealing fruit and leaf patterns. The coasters' thickness guards against water stains and spills from cups and glasses on your surface. Furthermore, they can be easily maintained by spot cleaning.
Streamline Drink Dispenser By West Elm
Making sangria, lemonade, and other festive summertime beverages to enjoy outside on the patio is what summer is all about. Investing in a large drink dispenser will make serving a crowd much simpler. It is available in small and large sizes. You can purchase a foundation made of natural wood, black metal, or white ceramic.
Williams Sonoma Sicily Salad Plates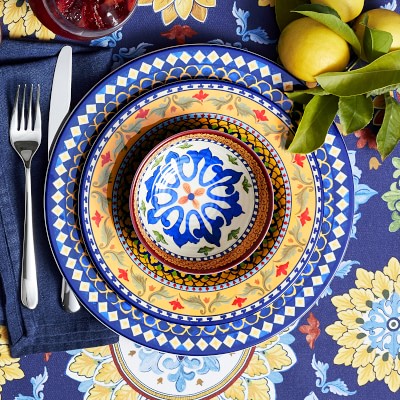 source: pinterest.com
Kitchen crockery items are incomplete without salad plates. These gorgeous salad plates will add color to your meal. These plates are a true piece of art, featuring intricate motifs in hues of yellow and blue. It's a gorgeous way to add a classic touch to your room. The summer season has a variety of fruits to enjoy as a salad. Mouth-watering vegetable salad and starters are good to go with these plates.
Round Serving Tray By Rifle Paper Co.
For the many potlucks, you intend to host this season, a sizable serving tray is ideal. With desserts piling up, this one will look lovely. Always go for a round shape or rectangular shape platter. It becomes easy to serve in these types of platters as they contain enough amount of items. We become hassle-free from frequent serving sessions as it can serve the entire room in one go.
Libbey County Drinking Jars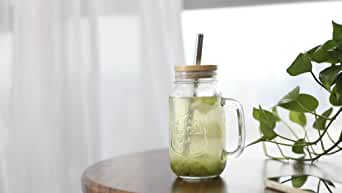 source: pinterest.com
Mason jars are versatile crockery items. Basic drinking glasses are a necessity that is never adequate. While versatile, mason jars refer to summer. They will be a hit if you serve them at your next backyard barbecue. Libbey County Fair Glass Jars have no lead. They are strong, and dishwasher safe for quick, simple cleanup. A classic set of jars with handles and embossed details. Ideal for informal parties, BBQ drinks, and everyday drinkware.
Threshold Melamine Dip Bowls
Bowls are a must in melamine crockery items. You need these adorable Threshold Melamine Lancashire Mini Dip Bowls if your preferable serving method is to spread delicious dips. They're ideal for a variety of dishes, including tapenade, hummus, salsa, and guacamole. Additionally, a lot of different serveware pairs well with these beige bowls.
Steel Crockery
source: tradekeyindia.com
ReaNea 40-piece Silverware Stainless Steel Set is a good option to collect in your steel crockery. Spoons and forks are much needed to enjoy salads and fruits in summer. Neither starters nor main course finishes without a spoon and forks. Steel is the best option to invest in crockery and cutlery. Easy to wash and maintain. Steel crockery is a one-time investment that you can store for years and you can forward these antique cutlery pieces to the next generation without wear or damage.
Final Thoughts
The summer offers an opportunity to experiment with bolder colors and patterns. Do not allow anything to stop you from expressing yourself at your summer table. Include some unique tableware as well as décor that makes you feel good, unleashes your inner chef and enhances your recipes. We swear it improves meal flavor. 
Summer is the ideal season to step outside and breathe in the fresh air from your garden. You can also use your terrace, or balcony, and enjoy that vacation feeling from the comfort of your own home. This summer, the big décor trends are coming to a table near you. We hope these tableware items inspire you to throw a big summer party in your backyard!