Countertops are the heroes of the kitchen providing a smooth workplace for the cutting, chopping or simply displaying your beautiful appliances and kitchen gadgets. So it only makes sense that they be beautiful, eye-catching, durable and sturdy. But all these qualities come at a cost (No surprise here!). Luckily, you don't have to break your bank to get an amazing countertop since there are a number of cheaper countertops available in the market. 
One such example is Corian countertops which have become really famous over the past few years. The reason for their popularity? Many! If you're curious to find those out, read on: 
Manufacturing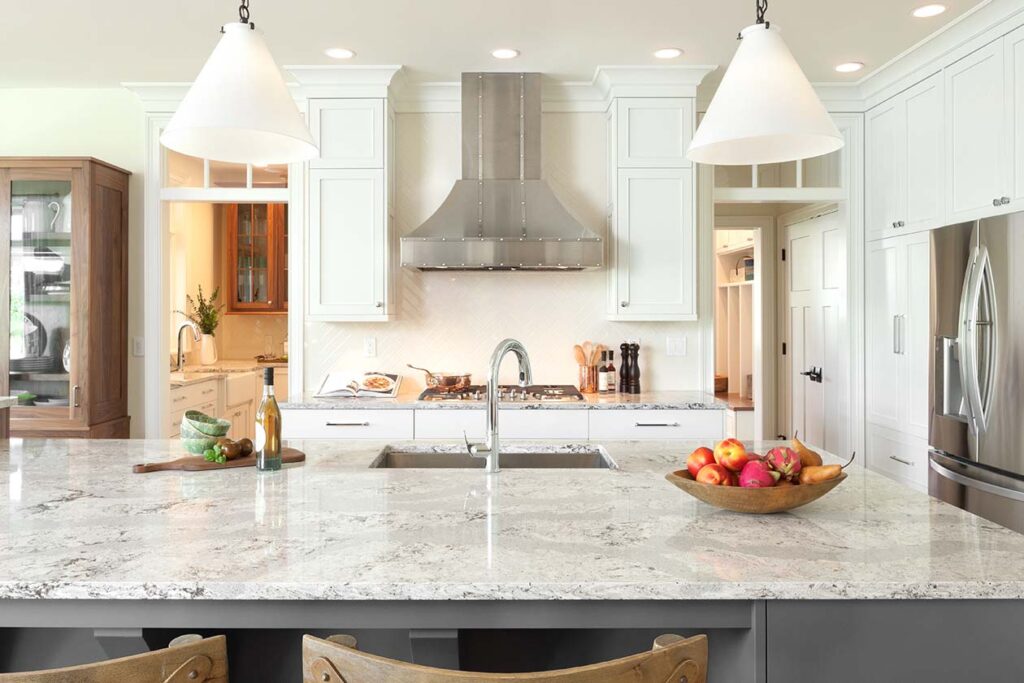 source: andersonhomeswi.com
Corian is a solid surface countertop which is manufactured by the quartz dust. The dust is melted into a fluid and then poured into a mold where it turns into a countertop. One of the reasons for its increasing popularity is exactly this: that this is considered to be a quartz subset which is cheaper and versatile. But that doesn't decrease Quartz's original finish, durability, beauty and hence, the market demand. You can read this useful chart about the difference between corian vs quartz while we move on to read more about Corian countertops. 
Appearance
Since these are made from Quartz dust, Corian countertops have an appearance similar to some forms of natural stone. But because the countertops are engineered, therefore, they appear more smooth and have a variety of patterns and colors available.
Corian countertops are available in many colors and tones but most of them are fairly solid colored without shade variations and dramatic linings. For some customers, it can be exactly what they need but for others, it might not work out. But overall, they're considered among the trendy countertop designs!
Resistivity Against Heat Or Water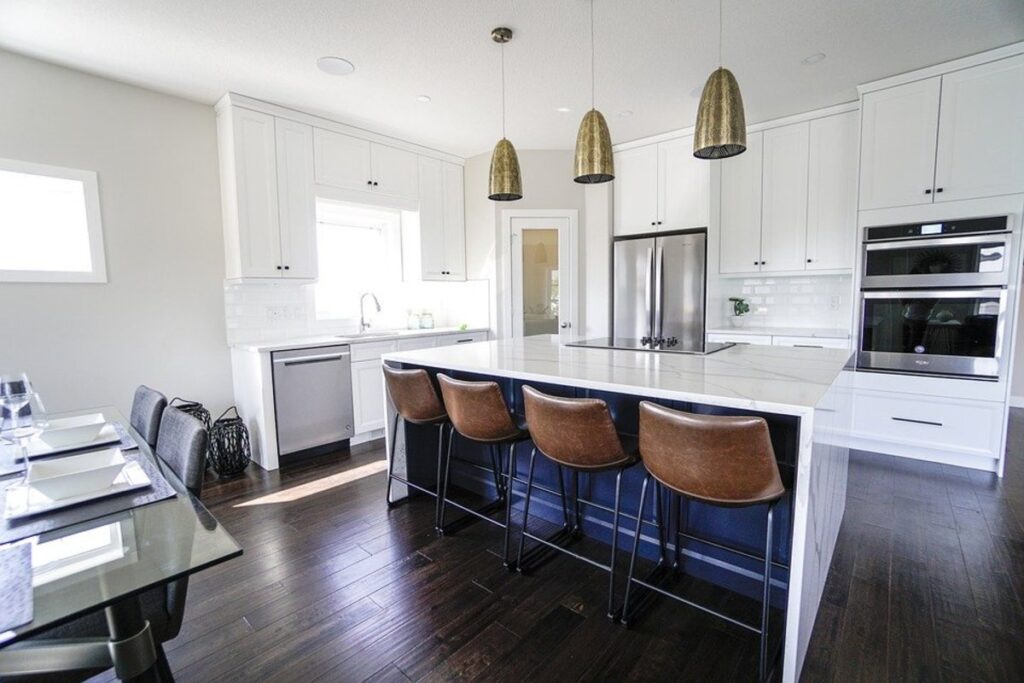 Here comes an important factor to consider in your decision of installing countertops in your kitchens. Because if the countertops are not sensitive to heat, then what's the point? Unfortunately,  Corian countertops lack in this area and are not very heat-resistant. They can resist temperatures up to 200-210 degrees Fahrenheit before sustaining damage. It can be scorched by hot utensils. But on the other hand, they are quite good at countering moisture. 
Cleaning
As mentioned earlier, Corian countertops are moisture resistant which means that they can withstand spills but that doesn't mean you keep them soaked all the time! They are formed by joining closures with special glues that melt the material together to form invisible joints so if they're exposed to water all the time, that glue might start to come off. 
The surfaces of these countertops are easy to clean. They can be cleaned with common detergent solutions and soapy water, but staining agents are needed to be wiped up immediately. 
Durability And Maintenance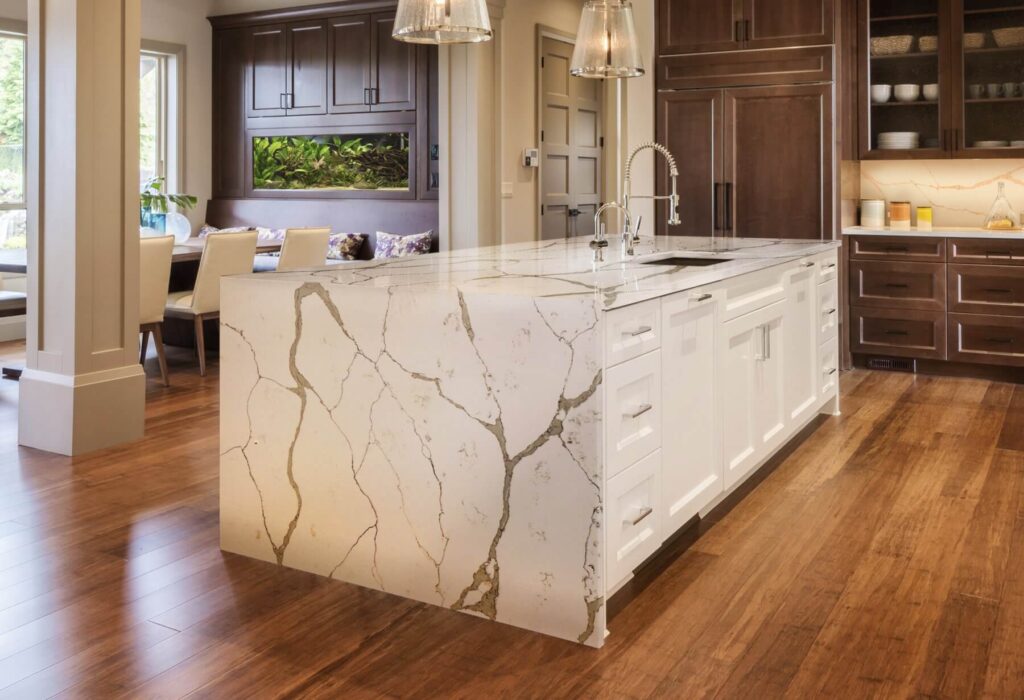 source: corianquartz.com
Let's talk about durability. Since these countertops are a subset of Quartz, they should be durable, right? Right! Corian countertops are usually soft (unlike Quartz which is brittle) and hence, are difficult to crack. They do get minor scratches from time to time but which countertop material doesn't? 
One other thing about Corian countertops is that they can get discolorations from time to time but the good thing is that those discolorations are easy to clean out and don't necessarily require sealing the countertop. All in all, Corian is a durable and easily maintainable countertop material. 
Installation
Cprian countertops are relatively lightweight as compared to other natural stone countertops and so, these are easy to install. So if you're DIYing your kitchen then Corian countertop might just be your best bet! But be careful during the installation! 
Cost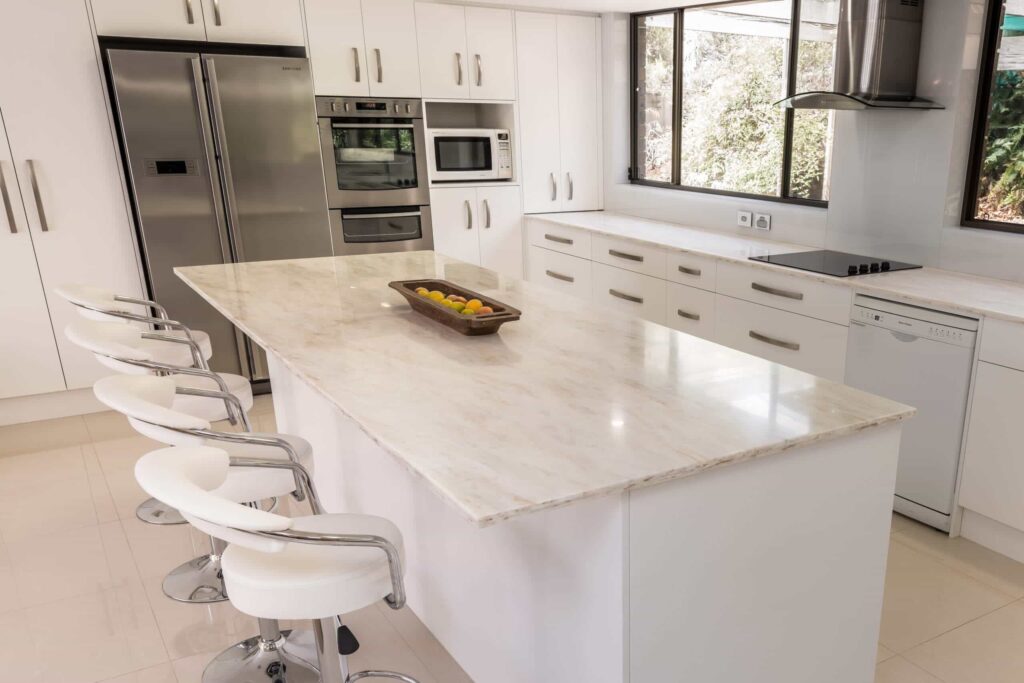 source: houzz.com
The cost of Corian countertops centers about $60 per square foot, installed. But it can cost as much as $120 per square foot when the installation is complex or when special colors, tones, or patterns are selected.
Lifespan
Corian Countertops are generally warranted for 10 years; but in practice, they can easily last 30 years or more.
These are the facts that should be kept in mind before going for installing countertops for your place. 
Selecting a countertop for your place is totally up to your personal choice. But it will surely help you to decide what kind of material and durability you prefer to enhance your pleasant sites. Whether you want to keep it subtle or colorful, choose wisely and make your living place more refreshing and aesthetically pleasing.