Introduction 
In contrast to men's office design concepts, women's office ideas and designs are significantly different. They are distinguished by walls painted in delicate and feminine tones, but pastel colors are also common.
All of the decor is usually identified by color, and it is frequently employed in soft furniture designs that are exclusive to women. It is not difficult to decorate a feminine workplace.
You may put together some office furniture in any design you choose, and all you have to do is add some feminine colours and furnishings.
So, if you're looking for some fantastic feminine office design ideas, go no further than our blog! We've compiled a list of the top 10 feminine office design ideas for you!
Classy female executive office decor idea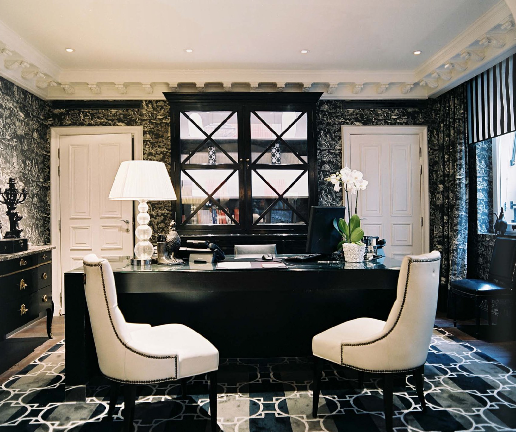 source: pinterest.com
For this women's home office design concept, three things come to mind: elegant, contemporary, and spectacular! The perfect female executive office decor idea has to be this! 
This has been furnished to perfectly, from the lovely desk and carpet to the fashionable accessories and storage, while still delivering some professionalism vibes with the motivational quotation frames and even a full checklist board. 
This office would be ideal for any work-at-home woman entrepreneur.
Color-coordination works really well! 
Color coordination of your desk, cabinets, furnishings, bins, planners, and office supplies is one approach to cement your home office's theme.
This enhances the overall appearance of your office and draws attention to the color scheme you've chosen. When everything is color-coordinated, you won't have to hide your belongings as much. Everything appears to be in its proper place!
If you're having trouble following a color-coordinated plan because your items aren't all the same color, don't panic; you can still create a color theme.
And you can do so by concealing your goods in containers. Make your containers match in color! It's not only a great way to organize your office space, but it also helps you achieve your overall design goals.
Bring in the beauty of nature!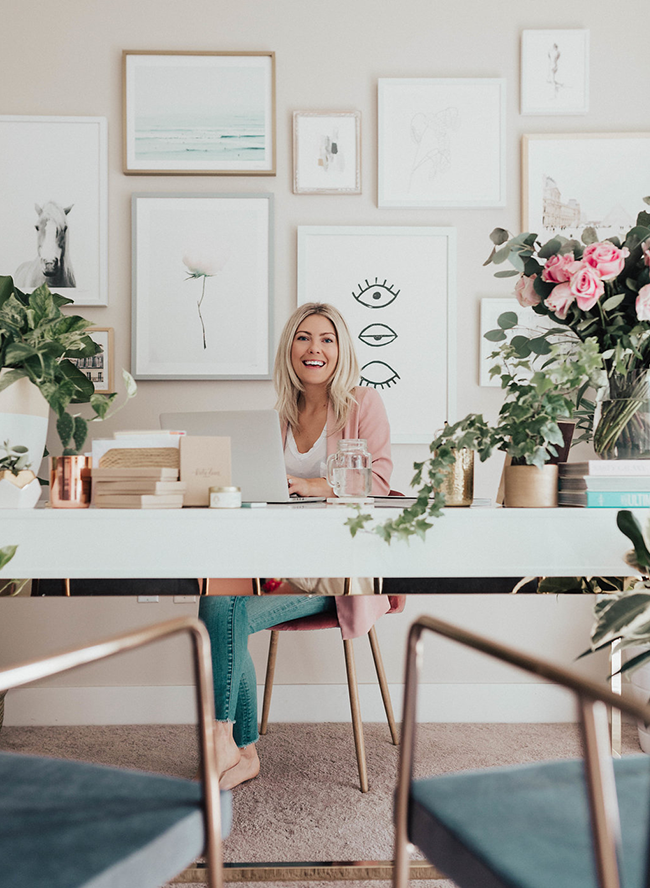 source: pinterest.com
Bring Beauty Of nature into your home workplace to create a peaceful environment. Potted houseplants or floral arrangements can be used to decorate your office. To see a list of possible possibilities, go here.
To save room, I won't place a potted plant on my desk. And if yours can fit one, there's nothing stopping you!
Plants help to improve the quality of the air you inhale. They also provide the room a relaxing impression. When your eyes are fatigued, simply glance about you at the greenery. You will instantly feel better.
It is not only decorative, but it also creates a calming atmosphere in the room. And when we're working, we absolutely need that vibe!
Farmhouse style bench office idea
The appropriate and efficient office area for a dedicated parent or female professional who stays at home is this recycled farmhouse-style bench.
The décor is contemporary and friendly, with ample space for two people to work. This home work desk can quickly become the room's central focus. It can also be used as a dining room table, making it one the favorite compact space home office options.
You can also add some vintage frames, plants, and quotes to give it a nostalgic feel.
Incorporate a poster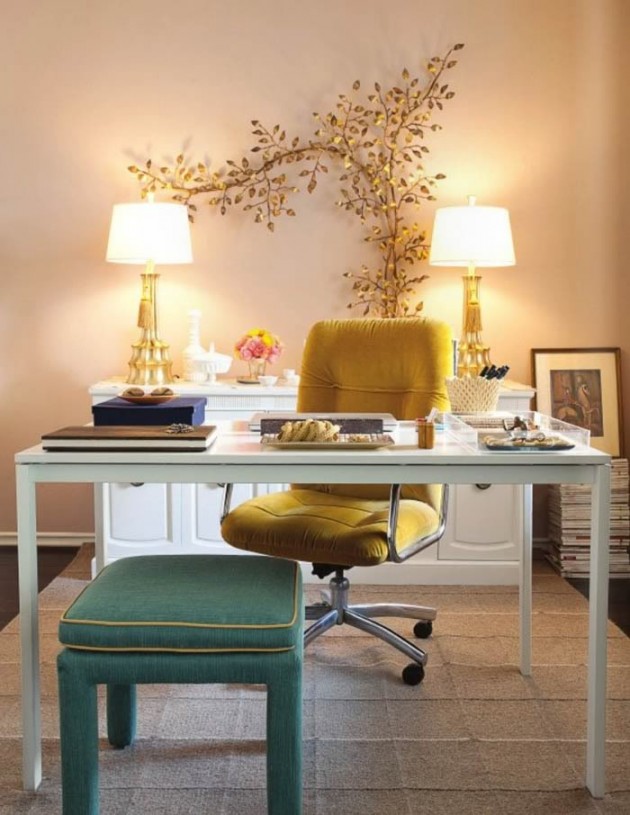 source: hgtv.com
The majority of offices have eye-catching wall art created by regional artisans. These hand-painted works of art contribute to a company's stunning aesthetics. It also aids in the promotion of the local artists community.
So, if you want to arrange the female exective home office decor idea, you'll need some feminine-style posters to complete the appearance.
However, before purchasing such wall art, one must exercise caution in the choosing process. As a result, before hiring an artist, have a look at how he or she interprets your art.
You can also try to make it more enjoyable and interactive.
Bedroom home office design idea 
If you don't have enough space in your home for an office, consider setting up a desk in your bedroom.
This fantastic work space is only a few steps away from the bedroom and blends in nicely with the bedroom's color scheme and furniture. You may further add to the design by combining traditional items with the fantastic abstract item at the desk to build a beautiful delicate contemporary style.
It's one of my favorite aspects about this place because nothing truly matches. The color scheme is a little chaotic, and the furniture design is eclectic, but it all fits. Selecting parts that function in a non-contrived manner is a true test of better design.
Black & white always goes along!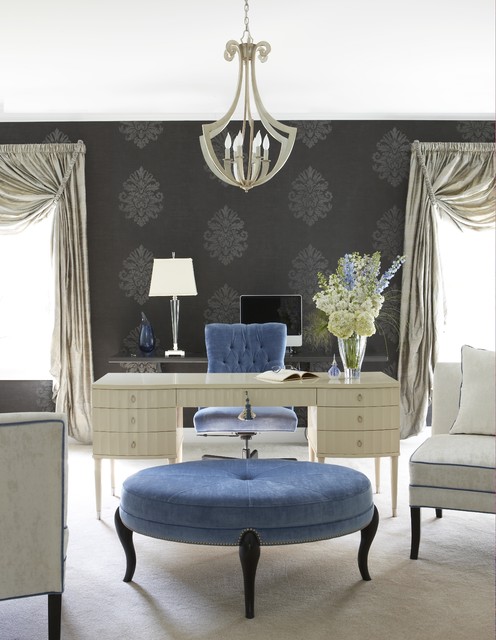 source: pinterest.com
Make a statement with black and white glitz. Since they are quirky and fun, I've always thought black and white interiors appear as somewhat feminine. This desk space is definitely contemporary with feminine charm, thanks to a modest touch of pink flowers.
This white and black aesthetic gives your whole home office decor for classy women excetive home office – a hint of professionalism and elegance.
Along with flowers, a book shelf and some photos of your loved ones will help you stay motivated at all times.
Add some paper flowers for the decor! 
If you don't have regular supply of fresh flowers, paper flowers is usually the tight alternative in here. 
You can create some amazing paper flowers which adds to the overall home office look and make it look creative yet elegant at the same time. 
You can create different design, sizes, shapes as per your preferences. And don't forgot to create paper flowers from bright colors, it will give dazzling look to your home office decor. 
This is literally great home office decor idea, yo get a chance to decorate your home while also saving a hell lot of money. 
Corner small office idea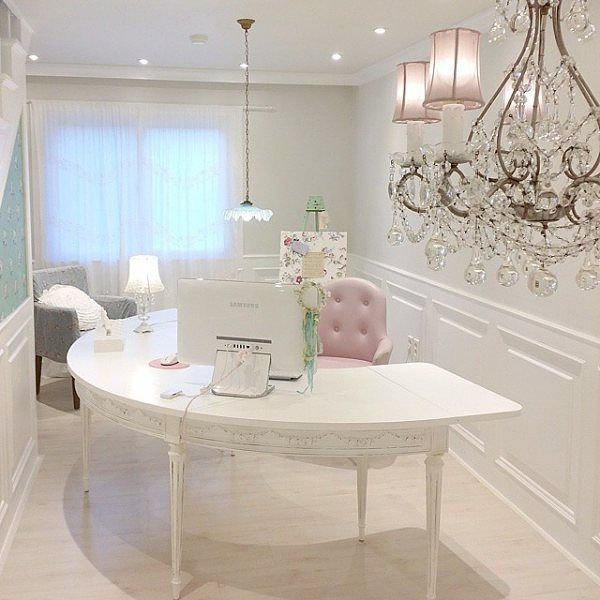 source: pinterest.com
If you live in a small apartment with limited room, the sleek corner setup is brilliant, and it's the ideal home office solution for small areas.
The white furnishings, window, and enough lighting contribute to the overall design, giving the space a big feel in such a little space.
Also, include some shelves and containers to provide more storage. This is the most effective technique to maximize your workplace space without obstructing the remaining space.
To finish off this female executive office decor idea, add a motivational message or some images.
Add a touch of feminine rug 
Sometimes all you need is a carpet or rug to transform your home office into a welcoming space. Choose a carpet that is smooth and comfy to walk on.
When you're tired, remove your slippers and gently massage your legs on it. It can be incredibly relaxing while also improving the appearance of your home office.
Rugs and carpets are available in a variety of sizes and colors. You can choose the best one based on the size of your space and other factors. Don't be concerned if your budget is limited. It is not necessary to fill the entire room. Get something that will fit under your desk but isn't too big.
Elegant and Functional Office Desks
The centerpiece of any home office is the desk. When it comes to female executive office decor, choosing the right desk is essential. Opt for desks that combine elegance with functionality. A sleek and well-designed desk can enhance the overall aesthetic of the space while providing a practical workspace.
Consider a desk with clean lines and a minimalist design for a modern and professional look. Look for desks with storage options like drawers and shelves to keep your workspace organized and clutter-free. You can find office desks in various materials such as wood, metal, or glass, allowing you to choose one that matches your preferred style.
Wrapping up!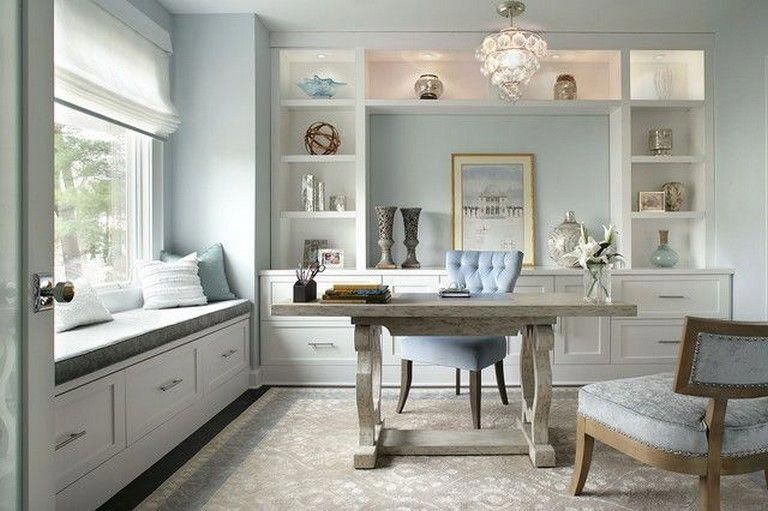 source: pinterest.com
So there you have it: ten of the best home office décor ideas for female bosses.
Everything within your home office can be decorated, as you may have noticed.
From the type of furniture you choose to the colours of your belongings, everything may work together to create a feminine home office.
There are some things that you may require that are beyond your financial means. But trust me when I tell that for every pricey item, there is a cheaper option that you can buy or make yourself. All you have to do is be a little imaginative – think outside the box!
You'll see additional home office décor ideas as you open up your eyes to alternatives, as if they're flowing into your thoughts. You could even draw them and let your creativity go wild.
Mix up your way to a feminine home office that reflects your personality!