If you are like many homeowners, the outside space in your home can be a great place to relax and have fun as you enjoy the sun and the beautiful outdoor breeze. It's also perfect for a range of activities, from barbeques to get-togethers, weekend parties, and all. But when the cold season comes knocking, it might seem impossible to enjoy your beautiful backyard or even your patio.
Well, this shouldn't be the case. With a few modifications and additions, you can actually extend your fun enjoyable moments to the fall and even the winter months. Below are five ways to get more from your outdoor space in the winter months. 
1. Add an Outdoor Fireplace for Warmth and Light
source: pinterest.com
An outdoor fireplace can be the center of any kind of outdoor party or gathering. It can as well serve as the perfect focal point for your yard or patio. Most importantly, a fireplace can be a great way to add comfort and light outdoors during cold and dark days in the winter months when you want to spend some time with friends or family outside.
If you don't have one already, you might want to consider building one. If you know how to build an outdoor fireplace from scratch, you're good to go. You might, however, have to consult a contractor or remodeler about having one professionally installed on your yard or patio.
2. Invest In an Outdoor Heater 
We need not reiterate how chilly it can get during the winter months. An outdoor heater can be a great way to add some extra heat to the outdoor space in the winter. If you want to go the extra mile to create the right ambiance for your party or home outdoor activities, you might want to consider investing in a heater.
Especially in your outdoor living area or patio, adding a heating unit can help maintain the temperatures at comfortable levels so you and your guests don't end up freezing.
3. Invest in Outdoor Lighting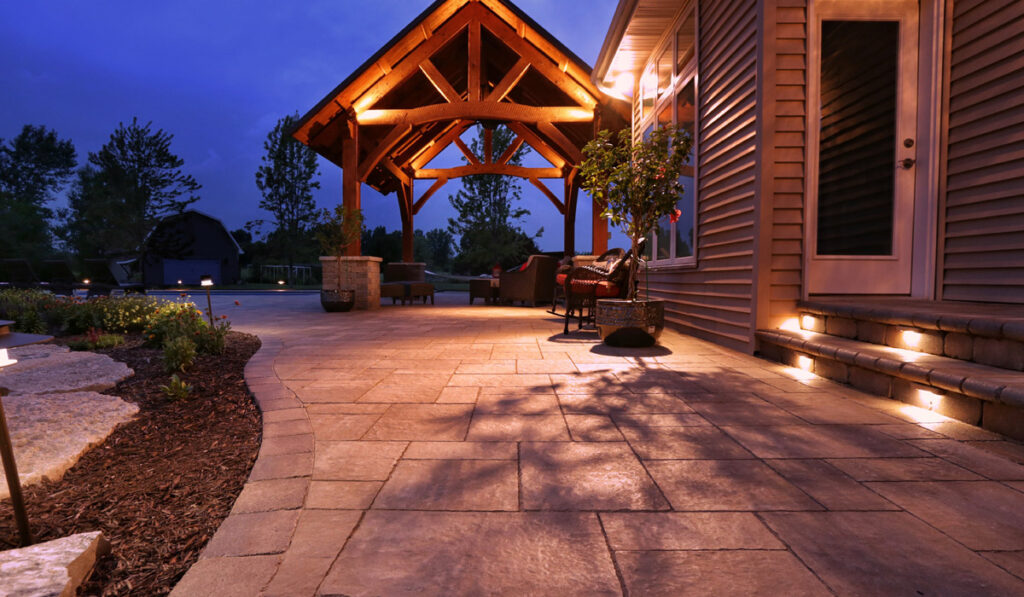 source: pinterest.com
Lighting up your outdoor space can be an excellent way to make it look inviting. It can also provide the perfect ambiance for a romantic winter date, an evening stroll, or a family dinner. To add some excitement and functionality, you can have different kinds of outdoor lighting fixtures installed, from LED bulbs to patio string lights, path markers, and spotlights.
4. Weatherproof and Cozy up Your Outdoor Furniture 
When the weather outside is frightful, your outdoor furniture doesn't have to be. A little bit of weatherproofing and cozying up can extend the life of your patio furniture and make it more comfortable to use in the colder months. Below are some tips to help you do this.
Cover it up

: Use a tarp or furniture cover to protect your furniture from snow, ice, and wind. This will help to prevent damage and keep your furniture clean. Covering your furniture when not in use can help you enjoy them for outdoor use for many winters to come in the future.

Add some warmth

. If you're going to be using your furniture in the winter, make sure to add some extra warmth with blankets, pillows, and cushions. This will make it more comfortable to sit or lounge on and can even help to prevent frostbite.

Bring it inside

. If possible, move your furniture and accessories like pillows inside when it snows or rains. Especially if there's no roof covering your furniture, this will protect it from the worst of the weather and can help it last longer.
5. Consider Investing In a Hot Tub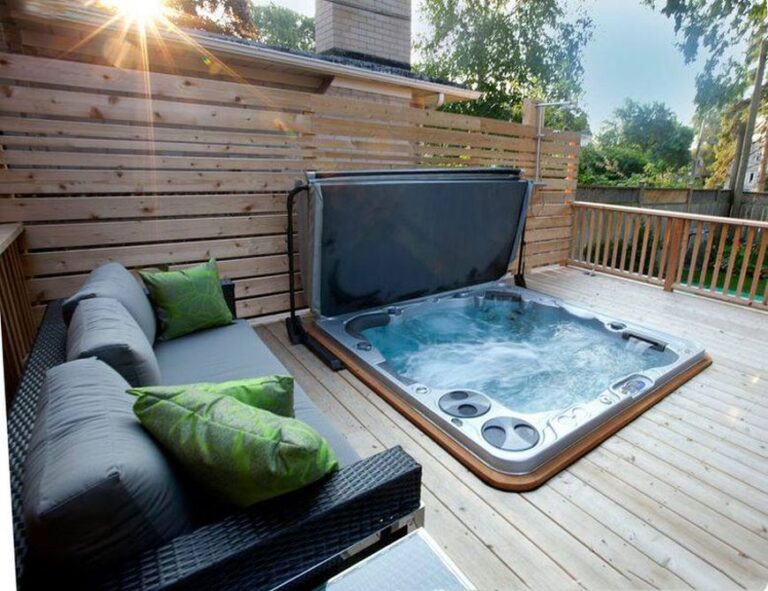 source: pinterest.com
Now, this one might seem a little farfetched to some, but if you're a bit of an outdoorsy type of person, consider getting a hot tub for your patio or lawn. After all, a hot tub is great for relaxation and chilling after a day of outdoor activities. It's also a great way to enjoy yourself or have a good time with friends outside without worrying much about the harsh temperatures of the chilly months.
There are a few things to keep in mind when choosing a hot tub. For instance, you will want to consider factors such as size, features, and price. Once you have found the perfect hot tub, you can enjoy many hours of relaxation and fun despite the season.
Spending time outdoors is super fun and relaxing. But the enjoyment doesn't have to stop as soon as winter comes. The above are just a few ways through which you can make the most out of your outdoor space throughout winter.