For all businesses, having high-quality flooring is crucial.
Regardless of the type of business you have and the sector or industry you're in, good quality flooring can enhance the look of your premises. When well-maintained, your floors can create a positive impression on your customers, clients and guests.
Good-quality flooring can also improve productivity and morale as your employees will be happy and proud to work in a pleasant-looking workplace.
High-quality floors also ensure safety in your premises. A good flooring system can reduce the risks of accidents, particularly slips, trips and falls.
The right coating can protect your floor against bacteria, stains, spills, scratches and other damages, further cutting down the potential hazards in your workplace.
Investing in professional floor grinding services is a great start in ensuring you have a safe, appealing flooring system.
Here, we give you a detailed overview of concrete floor grinding and polishing and the benefits these offer to businesses.
What Is Concrete Grinding?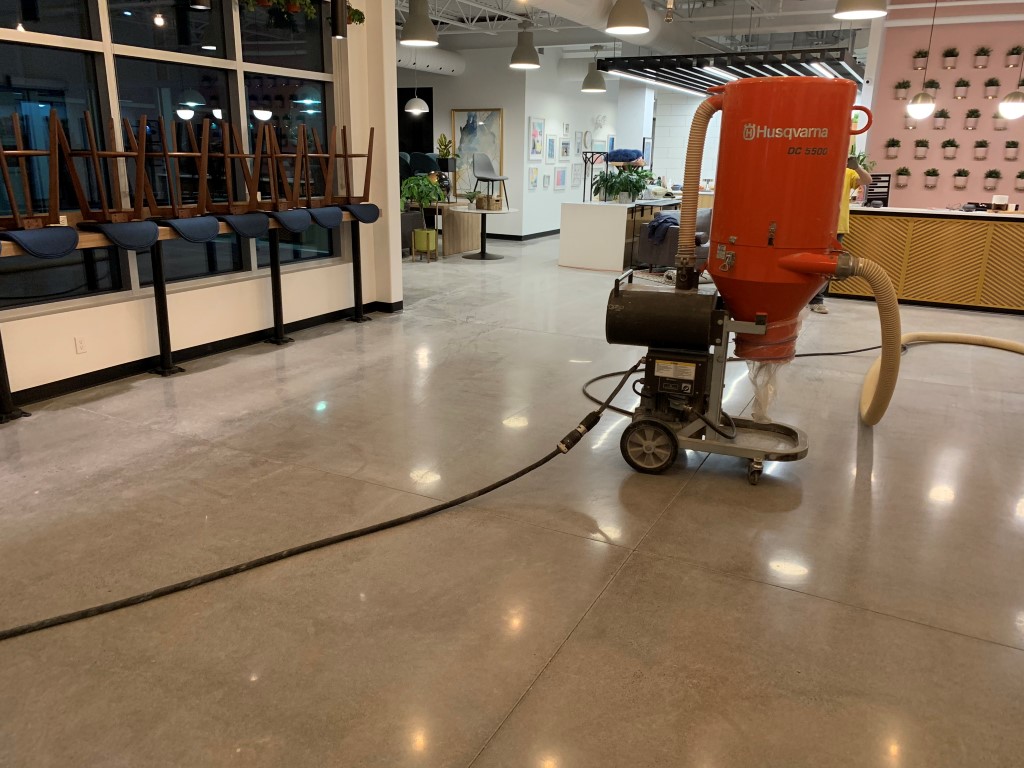 source: pinterest.com
Concrete grinding refers to the process of using abrasive machines and tools to smoothen rough concrete surfaces.
The entire process usually involves three steps. These are:
Preparation
This stage covers different processes, which depend on whether the project involves an existing or new concrete slab.
An existing concrete surface needs to be cleaned and cleared of any topping or sealer. The workers will then replace it with a new topping aggregate, which may contain decorative elements you want to see on the floor.
If you want to install marble or granite tiles, the new topping aggregate should be able to accommodate these.
A new surface typically involves less work and costs, since the concrete mixing and pouring processes can already include some of the first steps in polishing, such as adding the decorative finish.
Grinding
source: pinterest.com
Once the topping has hardened, workers use a grinding machine to smoothen the surface.
The grinder equipment technician increases the fineness of the grit until the required smoothness on the concrete surface is achieved.  
Grinding can be done either dry or wet, with the latter gaining more popularity since it helps eliminate dust and is, therefore, considered a safer method.
Sealing
During the grinding process, the worker will apply a sealing solution to fill cracks, holes and other flaws that may have appeared during grinding.
A densifier and hardener solution, a chemical product that helps protect surfaces from liquid, is also added to the concrete slab to solidify and strengthen it before it is polished. This solution also has non-abrasive qualities, thereby protecting the floor from scratches.
Concrete grinding is necessary if you want new tiles or floorboards installed on your floor. An uneven surface can lead to bumps, lumps and other flooring issues that can cause your space to be unsafe and unsightly.
This process is also highly recommended if the concrete floor has splashes or remnants of paint that can't be removed, even with extensive washing and cleaning.
Lastly, concrete grinding is your best option if you want a smoother, glossy-looking floor.
What Is Concrete Polishing?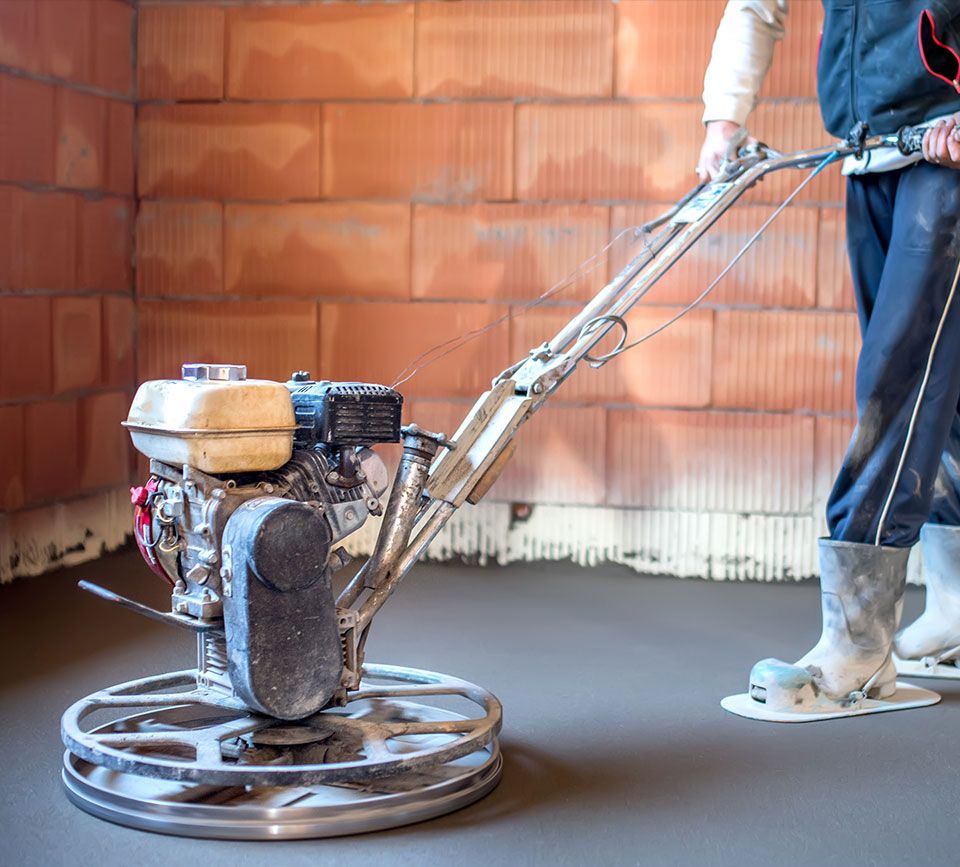 source: pinterest.com
As the term implies, concrete polishing pertains to the process of polishing the concrete surface. This is done to give the floor an attractive, shiny quality without the need for an extra coating over the surface.
A grinding machine is also used for polishing the concrete slab. However, the technician utilizes increasing levels of resin pads as they go through the process until they get the desired level of gloss.  
In general, the levels of shine or finishing that can be obtained from concrete floor polishing ranges from soft matte or level 1 to high gloss or level 4.
You can choose the right level of shine suitable to your premises by considering the type of commercial building you have. If you own a brick-and-mortar clothing store, restaurant or café, you may want a high gloss finish for its aesthetic appeal and the extra lighting effect the floor can provide to your premises.
However, if you own a warehouse or storage facility, you can opt for soft matte since a high level of shine is unnecessary for these places.
What Are the Benefits of Grinding and Polishing Concrete Floors?
Below are the specific benefits of investing in concrete floor grinding and polishing services:
Increased durability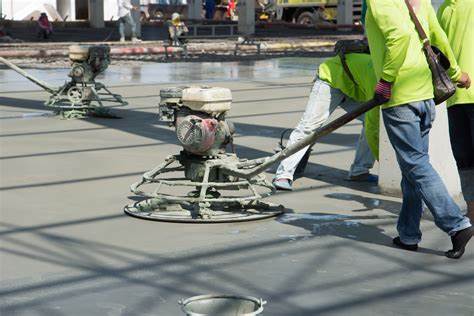 source: pinterest.com
Grinding and polishing concrete flooring boosts its durability, allowing you to have floors that can withstand wear and tear longer.
Treated concrete floors hold up well in high-traffic areas since they do not chip, stain, or discolor easily.
For these reasons, polished floors are recommended for warehouses, car dealership and rental showrooms and other industrial and commercial spaces where heavy machines are displayed or used and frequently moved around.
Cost efficiency
Polished concrete floors boast a high-end look, yet they are more affordable than other flooring options, such as carpets and tiles.
When done correctly, concrete grinding and polishing create an attractive surface that resembles marble, stone and other more expensive flooring materials. However, the cost of concrete per square foot is considerably lower.
Additionally, this flooring option is low maintenance, allowing you to save money on cleaning and other products.
Minimal maintenance
Since polished concrete floors have a glossy, smoother surface and resist scratches, they require less maintenance. You can keep them clean with occasional sweeping, vacuuming and mopping to remove dirt, dust and debris.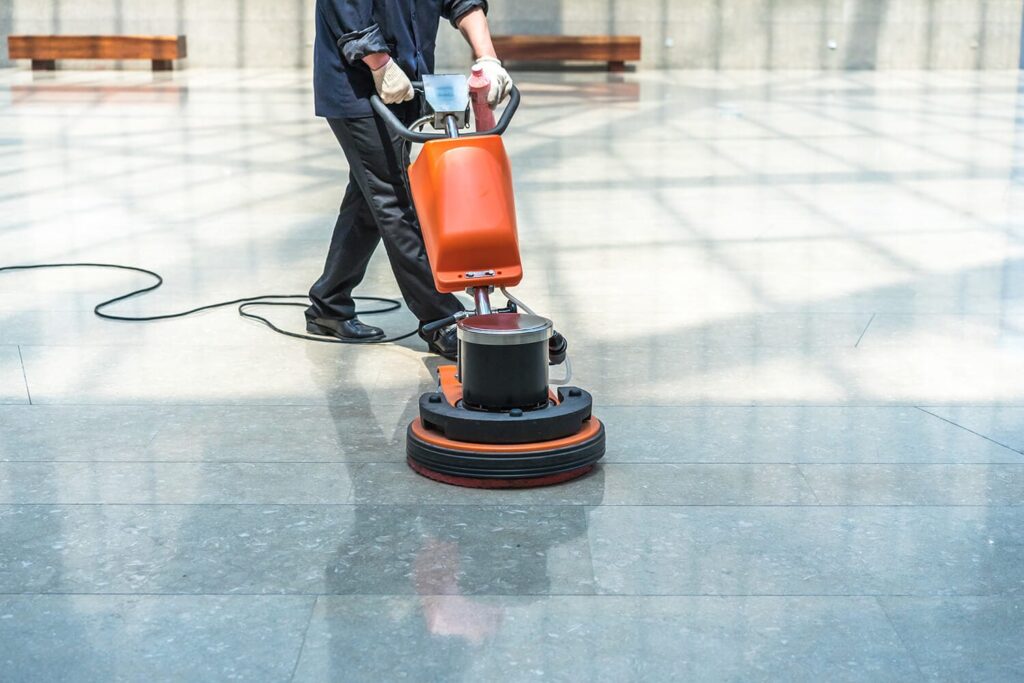 source: pinterest.com
If you have a heavily frequented space, you may need to have your flooring refinished every five or ten years to restore its shine and appeal. However, this process is relatively quick and calls for little downtime.
Eco friendliness
This flooring system is environmentally friendly in various ways.
First, grinding and polishing concrete produces low amounts of waste. And since concrete is low-maintenance, you don't have to use different cleaning machines and products to clean it frequently, making it a truly sustainable option.
Additionally, polished floors can help you save money on your electric bills since they can reflect light better, enhancing the illumination in your business premises.
Better-looking floors
Concrete grinding and polishing bring out the innate beauty of concrete. If you want gray flooring, you can have one that is truly eye-catching and appealing when you invest in this service.
Additionally, you can choose from various shades and designs when you opt for polished concrete floors.
You can also opt for an epoxy coating or concrete stain to give your floors a customized and stylish look that can last for years.
When you want a better-looking space for your business, give a thought to improving your floor first. Investing in concrete grinding and polishing services is an excellent solution you should consider. Visit Policrete if you'd like to know more about polished concrete.