The old town of Scottsdale, Arizona, is the true definition of an alive city. Its intriguing historic art galleries, favorite haunts, excellent wineries, and modern craft breweries are beacons for anyone to visit and wander in their wares. 
The town is steeped in cowboy history, and over the years, it has become a trendy destination for tourists and travelers looking for adventure and fun. Scottsdale Waterfront, the leading and most significant attraction in the area, offer visitors a breathtaking experience and sceneries. 
For those planning to visit or relocate to Scottsdale, this is the best chance to learn a few things about the Scottsdale Waterfront.
History of Scottsdale Waterfront
source: travelmag.com
Scottsdale holds at least 241,000 people who live, work, and play here. It is a stylish and sophisticated town located in the heart of Downtown Scottsdale at Camelback Road. Scottsdale Waterfront was once a 1.1 million square foot project for mixed-use. 
Today it is the most distinctive destination to visit and experience more than the city offers. Planned and completed in 2005, Scottsdale Waterfront offers urban living at its finest. The new buyers looking to have a taste of this breathtaking area can find its downtown location the best. 
The area is also the home to the Fiesta Bowl headquarters and museum. Throughout the year, Scottsdale Waterfront has been a significant host of numerous events, including the famous Thunderbird Artists Fine Art & Wine Festivals. 
Scottsdale Waterfront holds some of the best contemplative public art collections, including commemorative statues. 
The waterfalls, beautiful sculptures, and the Horseshoe Falls monument offer an intriguing scene where those visiting the area can take respite in the cooling mist coming from the river rock.
Arizona Canal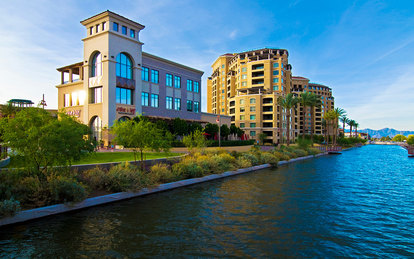 source: smithgroup.com
The Arizona canal was built in the late 1880s, which led to the founding of several communities in the area. For those who enjoy cycling and jogging, it offers a great natural attraction and the stretch of the waterway. It also offers irrigation for the neighboring communities.
The Arizona Canal spans an estimated five miles, and it is about 80 feet in width. Its depth is 24 feet with a water level of 16.5 feet. Taking early morning walks in the area offers excellent peace of mind that any visitor can significantly attest to. 
The Arizona Canal begins at Granite Reef Diversion Dam, the Northwest of Mesa. It then flows west across the Salt River Pima-Maricopa Indian Community. From there, it moves to downtown Scottsdale. Phoenix's Arcadia and Sunny slope surroundings. 
From there to Glendale and Peoria before it finally ends at New River near the Arrowhead Towne Center.
Notable Restaurants in Scottsdale Waterfront
Scottsdale offers more to visitors than just beautiful attractions. There are excellent real estate ideas for shoppers of all demographics. In addition, Scottsdale is home to numerous restaurants, from dining to cafes. 
For visitors longing for wine tasting, they can try the Vom Fass. It holds excellent wines, spirits, and liquor. For Chinese foods, the P.F. Chang, is superiorly known for its excellent seafood, such as sushi, beverages, salads, and soups. Other foods worth trying are spicy tuna rolls and spicy wings. 
At Zoes Kitchen, visitors can find and enjoy delicious Mediterranean dishes with some excellent and unique representations of culture and cuisine. Apart from the Chinese foods, they can also enjoy fresh sea foods at Wildfish Seafood Grille. They offer great sauces served with some award-winning steaks and sushi.
Real Estate Options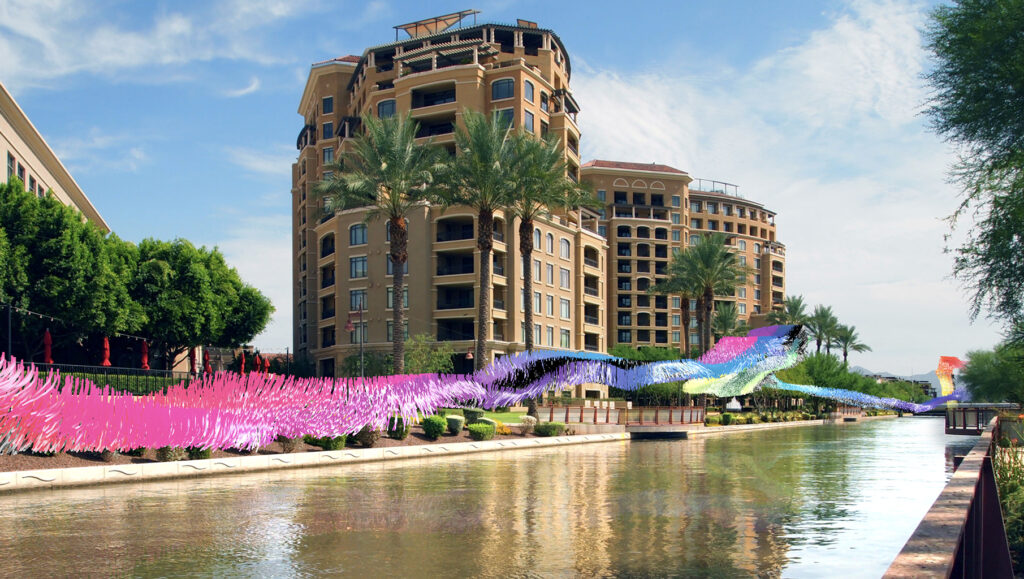 source: pinterest.com
Scottsdale Waterfront real estate is a promising business venture with diverse sizes and styles. The views are stunning, and the lawns are well manicured. Visitors can contact a local realtor who will provide up-close personal tours of the properties with contemporary designs.
There are tons of properties ready for purchase near Scottsdale Waterfront. Their price ranges are pretty affordable, with lots of great modern amenities. The median listing price is $870,000, an excellent offer for a property sitting on 5.835 square feet.
Condos Near Scottsdale Waterfront
The condo community in Scottsdale Waterfront is thriving, mainly due to the rise of new buyers. This creates the possibility of high-rise living. In addition, the range of foot plans can give the potential clients a better perspective of the areas.
Platinum Living is the absolute epitome of luxury living. The modern amenities included in these condos are breathtaking views of the area and large formal dining rooms. Their floor plans range from 1,000 square feet, which costs $725,000. 
There are upper-tier units with over 3,000 square feet, and the cost starts from $3 million. Queens Quay E is another elegant condo community with a single parking garage. It measures 600 to 699 square feet, and the minimum fee is $959,900. 
These one bedroomed houses have expansive windows which offer a great view of the surroundings and provide excellent natural lighting and fresh air.
Scottsdale Waterfront Residences
source: pinterest.com
The Scottsdale Waterfront residence is something to consider, whether renting or buying. The offers are affordable with a lot of options to fit any budget. The accessibility is excellent as even wheelchairs can freely move by. 
There are amenities like rooftop swimming pools. It is also easily accessible to lots of destinations. There is a fitness center, clubhouse, an elevator for easy accessibility, a spa, and a business center. 
They also have walk-in closets, excellent air conditioning, high-speed internet, stainless appliances, and granite countertops. 
Optima Camelview
The Optima Camelview draws its inspiration from the surrounding mountains and the native American desert communities. It has 700 units of mixed-use development. Additionally, there are eleven terraced bridge-linked buildings responding to the desert climate of urban Scottsdale. 
It creates a pedestrian-friendly shaded environment interconnected with the landscaped courtyards. The condos for sale in Optima Camelview here range in size from 800 to 3000 square feet and in price from $800,000 to $3,000,000 USD.
This peaceful and serene setting also includes unrivaled amenities such as spacious patios, granite countertops, and high ceilings. This community's features include racquetball courts, indoor swimming pools, and an outdoor putting green.
Single Family Homes near Scottsdale Waterfront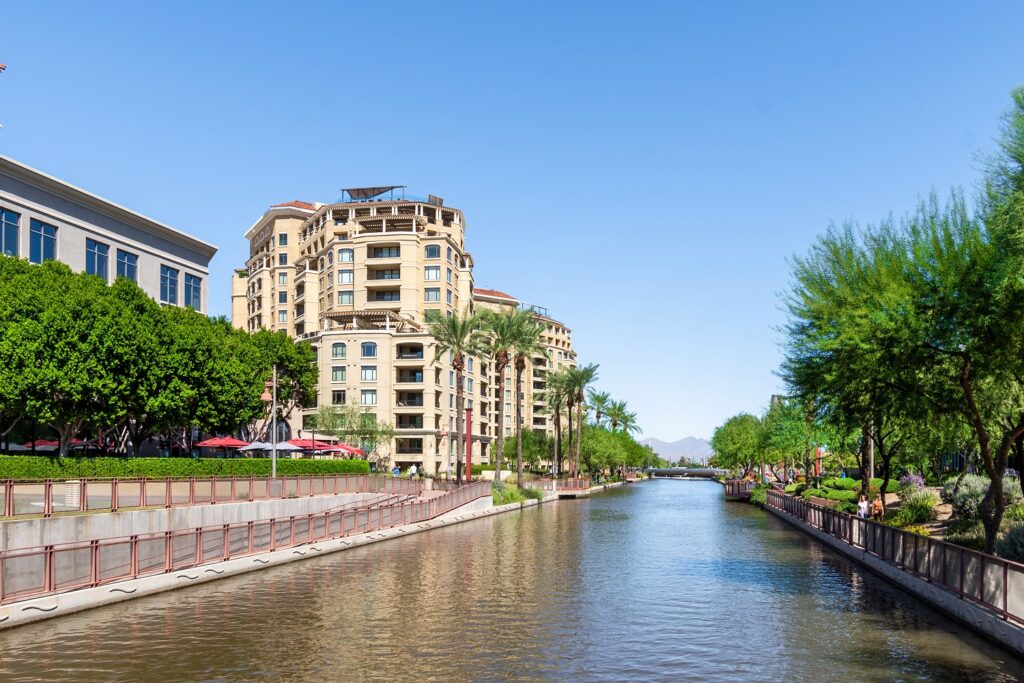 source: williamsluxuryhomes.com
Visitors to Scottsdale Waterfront can get their dream homes in these neighborhoods. The single-family houses around offer a range of diverse choices. For instance:
Southwest Village
The Southwest Village offers a dream home with a diverse neighborhood and listings of homes. The rolling driveways and sprawling driveways portray style and elegance. They can also find different ranges from Spanish missions to ranch-style homes.
Hidden Village
The Hidden Village displays the high-standard living with two to three-car garages, and the floorplans are open for easy living. The estimate for minimum prices is $695,000. However, the price stands at $1.5 million for more updated homes.
Townhouses near Scottsdale Waterfront
Luxian Villas on Camelback
source: segwayofscottsdale.com
The Luxixian Villas on Camelback is the best, with great value for every buck spent. They provide searing ceilings, graceful arches, and expansive windows. The interior space can measure as wide as 2,491 to 2,971 square feet. 
The location of these villas provides immediate access to the hiking trails, entertainment, and even golf courses. Residents looking to stay in these villas can also take advantage of its private spas and pools.
Summary
Scottsdale Waterfront is for visitors looking to buy their next home or property. Apart from the location, it is ideal, and with the fantastic representation of life and style around, its real estate is thriving. Other business opportunities around the area are a boost. 
Find and experience luxury living in the numerous condos around as well.