How to Clean Blanco Sink
Blanco SILGRANIT sinks offer a super-duper resistant nature. From taking on high temperature to resisting chips and cracks, these sinks can last really long. But, any blanco sink will need taking caring of to keep it in the best shape. That is why we show you how to clean blanco sink in this article.
I know what you might be thinking. It is cleaning! Why would I need to read a whole article on cleaning a kitchen sink, right? You are right!
Cleaning a sink is easy but not following the right procedure can cost you a lot. For example, using the wrong cleaning agent can cause discoloration to your precious blanco or any other sink.
Soo… we hope to teach you the way you can clean your blanco sink which will not result in a disaster.
An Apply a Day Keeps the Doctor Away and Regular Cleaning Keeps Your Sink Polished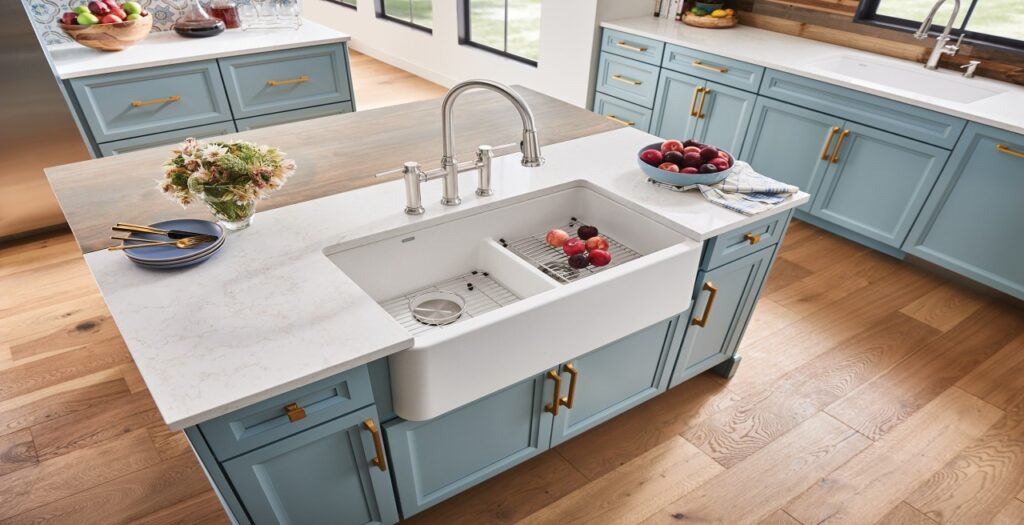 source: blanco.com
You will of course use your blanco sink on a daily basis. That is why regular cleaning is the best way to keep your sink in the best shape.
There's nothing fancy you have to do or spend hours on these daily cleaning. All you need is a sponge, some detergent, dry cloth, and water.
How to do this regular cleaning? Wet the sponge slightly and add some detergent on it. Then simply rub the entire sink with the sponge. Be sure to use the soft side of the sponge so that you don't end up putting marks yourself.
You can rinse clean the sink when done with the rubbing. And then use a dry cloth (microfiber cloth is best) to wash the sink so that limescale and stuff is prevented.
By the way, try wiping the sink completely dry after every use. Leaving water on the sink will cause spots and whatnot to show up.
How to Remove Limescale Marks & Dealing with Discoloration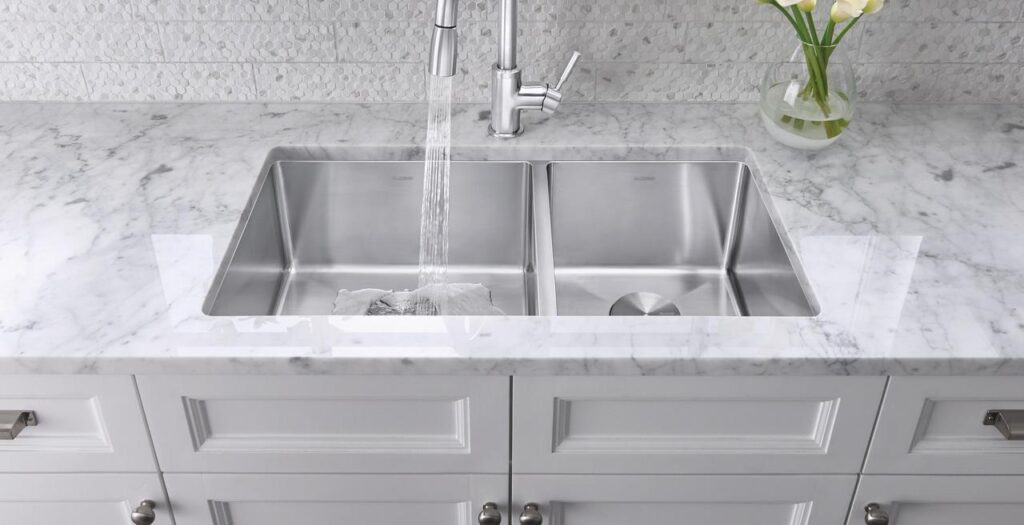 source: blanco.com
Wiping dry the sink off water should keep limescale buildup away. But, if you forgot to clean after every use or still discover limescale marks after daily cleaning then you have to remove these marks as soon as possible.
Even though granite or blanco sink are immune to discoloration. It is the deposition of limescale that can cause a discoloration. And well, you don't want that to happen to your precious kitchen sink.
We recommend using any standard detergent or the specific blanco activ powder when dealing with this issue. Here are the steps to follow:
Step 1: Close the outflow of the sink. And sprinkle blanco activ powder all around the sink and especially on the visible limescale marks.
Step 2: Boil some water on a kettle and pour the hot water onto the sink. Fill it up with around 140 degrees Fahrenheit water.
Step 3: Look for limescale spots on and around the sink. Use a mug to take the hot water and pour over those spots.
Step 4: Don't flush out the water yet. Keep it overnight if possible or at least around 2 hours.
Step 5: Drain all the water from the sink. Turn on the faucet and rinse any leftover powder and whatnot while cleaning with the sponge. Finally, don't forget to dry up everything with a microfiber cloth.
How to Remove Grease & Metal Object Marks from Blanco Sink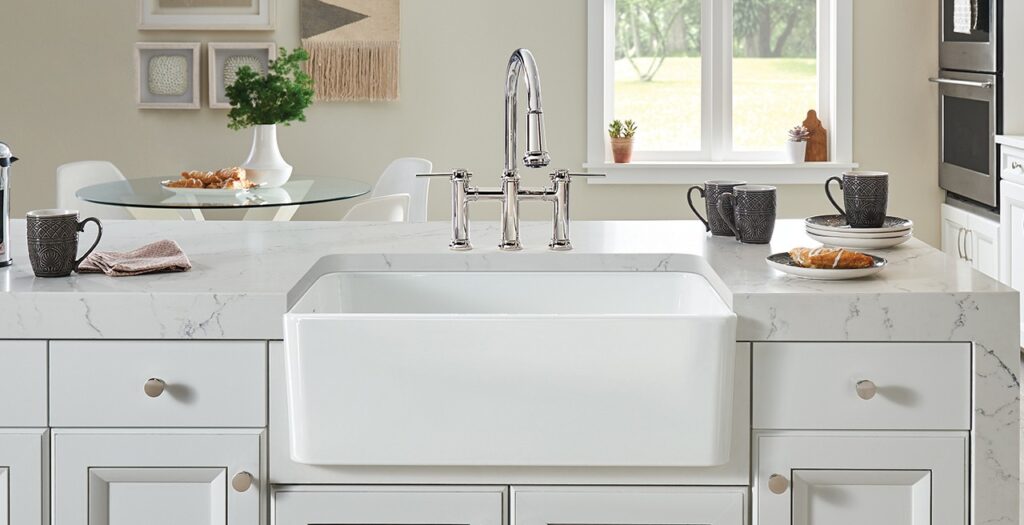 source: blanco.com
Washing oily and greasy stuff on a sink is not recommended anyone. But, who follows these simple instructions, right? So, if you find leftover grease on your blanco sink then you might wanna clean up before the guests arrive.
Cleaning grease from a SILGRANIT sink is very easy. As we all know, blanco sinks are indeed easy to clean. You can use washing up liquid to remove the most stubborn of grease marks. Put some washing up liquid on a sponge and wipe clean the grease. It's that simple.
While granite sinks are very resistant, hard metal objects can sometimes leave ash like mark. If you have a white blanco sink then that will be very much visible indeed.
Follow the similar process in case of removing these metal marks too. But, use the abrasive side of the sponge for this task. Don't wipe too hard though as you clean with the washing up gel.
Can You Use Abrasive Cleaners on a Blanco Sink?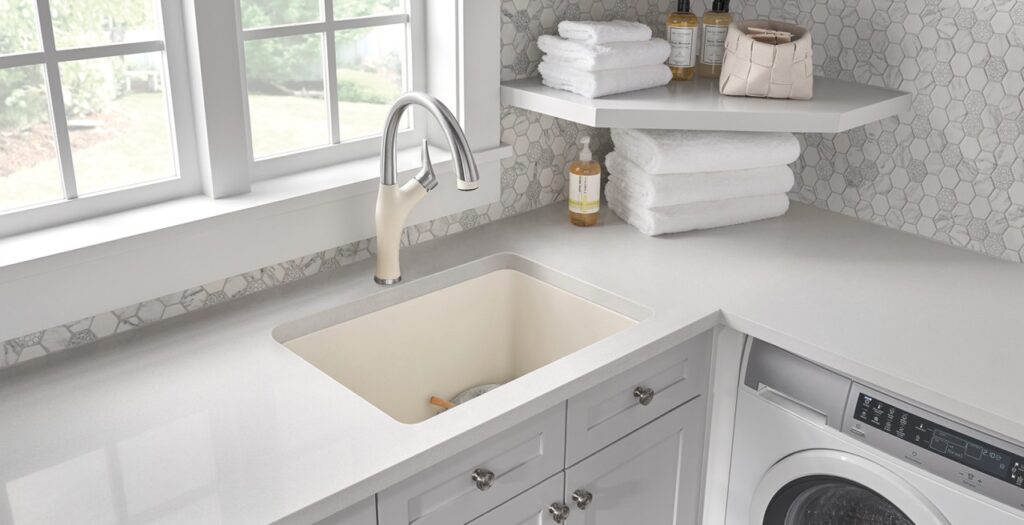 source: blanco.com
It is recommended to not use abrasive cleaners on any blanco sinks for the purpose of removing stains or limescale marks and whatnot. Besides, you now know how to clean a SILGRANIT sink anyway. Why would you take the risk and use abrasive cleaners, right?
But, you might get away with using an abrasive cleaner for in case of removing scratches. Even though you have to do the rubbing very carefully, it does work on a blanco sink.
Conclusion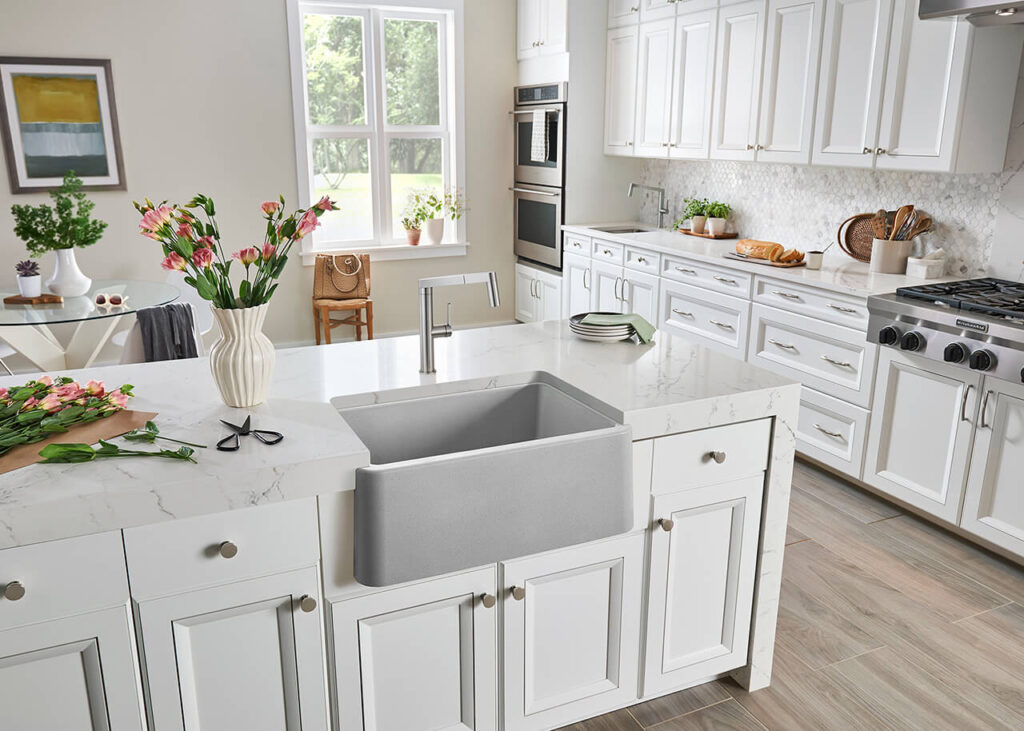 source: designmilk.com
No need to try anything out of the ordinary. Blanco sinks do offer a wide range of gorgeous look and it would be a shame if you were to lose that beauty for one wrong decision.
Soo… keep your SILGRANIT sinks clean and neat now that you know all about how to clean blanco sink in your home. And hey! Remember to wipe dry after every use!
Finally, don't shy away from commenting below if you have further queries.