Industrial design has been around for years and is still gaining pace. Its popularity is partly down to the flexibility and availability of items to build out the design. It looks pretty good too!
But what if you want to change it up a bit? Want to add a little individualism or personality to an industrial design?
Why not combine it with some rustic touches and create something a little different?
Rustic and industrial contrast in all the right ways. Rustic is soft and comfortable while industrial can be harder and more clinical.
Combining the two can soften those hard industrial edges without having to avoid a design scheme you might love.
Here's how.
Use distressed wood
source: pinterest.com
Distressed wood is a classic of rustic design. It adds character, colour and uniqueness to any space. No two pieces of wood are ever the same so it can add something truly special.
Wood is also used across industry so still fits in with an industrial design. All while adding texture and character and rounding off those angled edges.
Think wood tabletops, wooden chairs or stools, exposed wood floors or dark wood shelving.
Add metal accents
Metal accents work well with wood, which is why metal door handles, socket covers, taps, lights and other accents work so well.
Metal, combined with ceramic and wood adds another material and another texture to a space. All while being hard wearing, practical and easy to look after.
Think socket covers, metal taps, distressed metal door handles, metal worktop, metal splashbacks or light fittings.
Exposed structural elements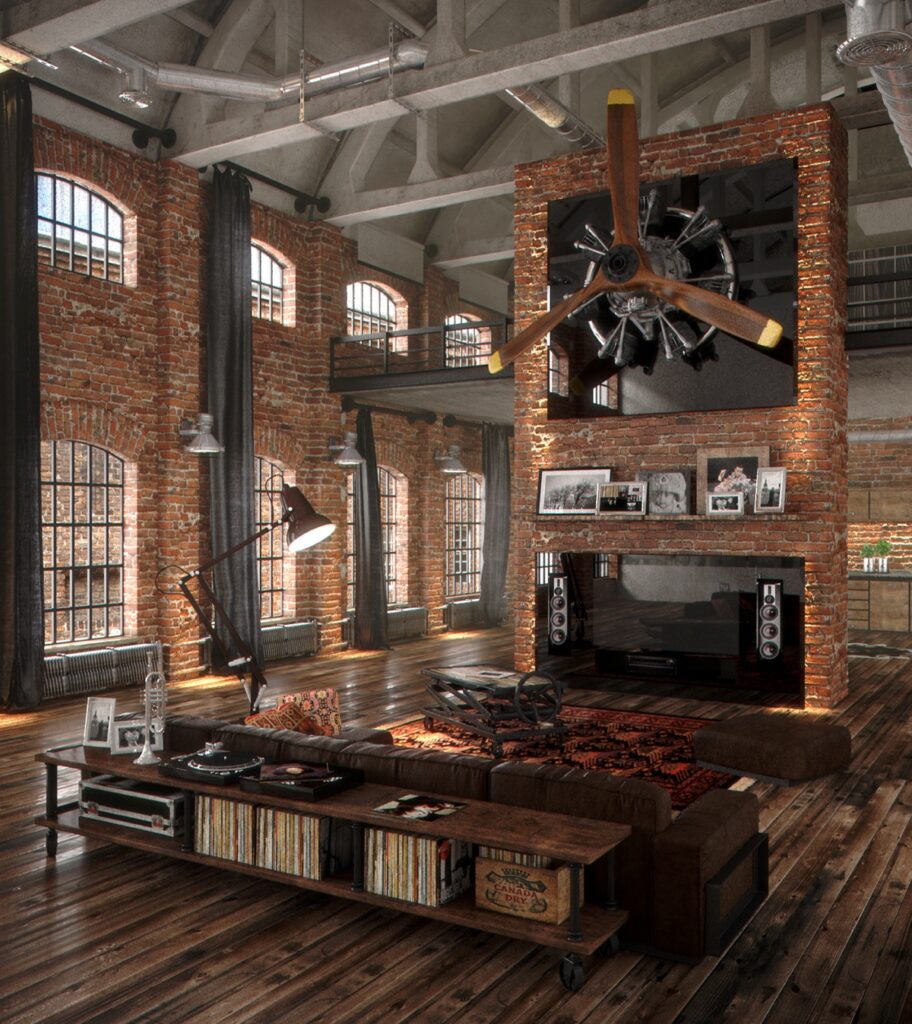 source: pinterest.com
No industrial design would be complete without exposed beans, floors, ducting or trunking. If it's used in a factory or warehouse, it can be used in industrial design.
It's a classic and for good reason. It's a conversation piece and a design element that shouts industrial while also being decorative and practical at the same time.
Many exposed elements can be cheap and easy to use. Think trunking for extra sockets, exposed pipes for taps or exposed ducting for an extractor hood.
Aged metal fixtures
Aged metal can add rustic charm to any space, yet tips its hat at industrial design thanks to the material.
You can select the colour, patina, tone and texture of metal and integrate it into an overall design with ease.
Think aged copper worktop, aged copper splashback, galvanised steel shelving or ducting and you're on the right track.
Industrial style decor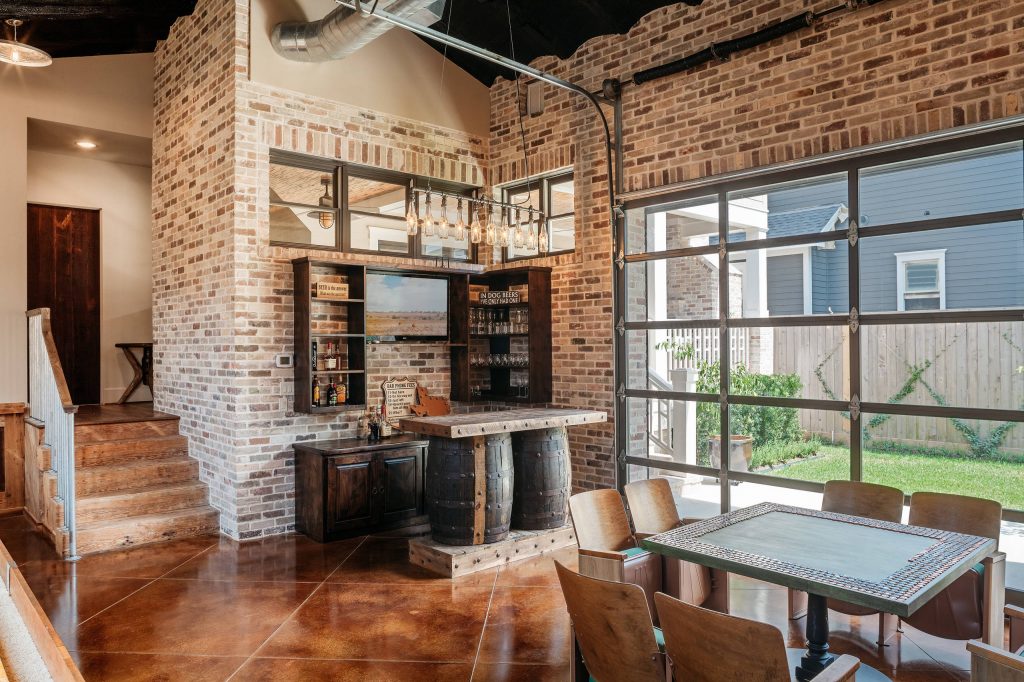 source: pinterest.com
Industrial décor can go in a few directions. You can use monochrome and dark fixtures and fittings and white walls, masculine with darker colours and darker fixtures, or keep it natural with a simple colour palette.
Also consider exposed brick walls, exposed floorboards or concrete, dark metal stairs or fireplaces and all those other ideas that help make up the industrial look.
Natural palette and textures
We mentioned a natural colour palette a moment ago, but as it's a distinct look, let's expand it a little.
Industrial design can be quite stark and potentially characterless, so adding some natural colours and a little extra texture can make a huge difference.
Think soft colour palettes for walls, adding layers with a wool rug or wall hanging or adding lots of soft furnishings or curtains to soften the room.
Dare to bare
Less if very often more and that can be the case with interior design. Bare walls, exposed brick, unpainted plaster, unfinished floors, no plasterboard on ceilings and so on can all add something while actually taking away.
Bare plaster is a current trend that's doing very well right now. As long as the plasterwork is of a high quality, leaving it bare adds texture and character and reduces your workload.
Combine with sharper industrial areas and you're using rustic elements in an attractive way.
Open up the space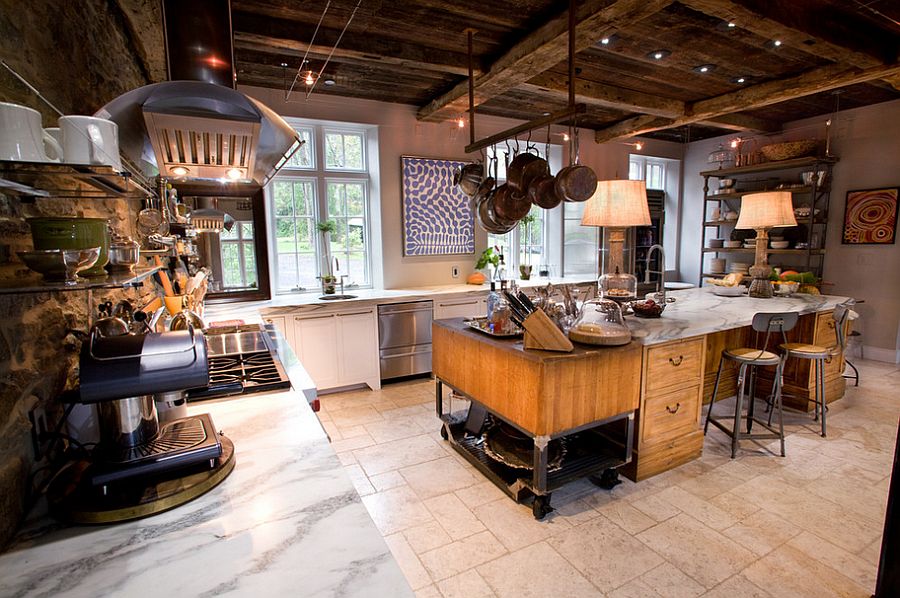 source: pinterest.com
While the current trend is to close spaces into rooms again, open plan is still a signature of industrial design. It's how warehouses and factories are built and how conversions are designed.
If your floor plan allows, opening up rooms leaving an exposed steel or concrete lintel can add to the overall effect.
Plus, you get usable spaces you can move around without the restrictions of doors or walls!
Industrial style lighting
Lighting is incredibly important in any space so it's good that the industrial design scheme has so many options.
Go black and keep it severe or use copper or brass to add colour or texture. Partner with the same metal fixtures and fittings and you can tie a scheme together without being too much.
Get your lighting right and you can transform a room. Industrial design is much more suitable than rustic but you can do whatever direction you like.
Consider faux features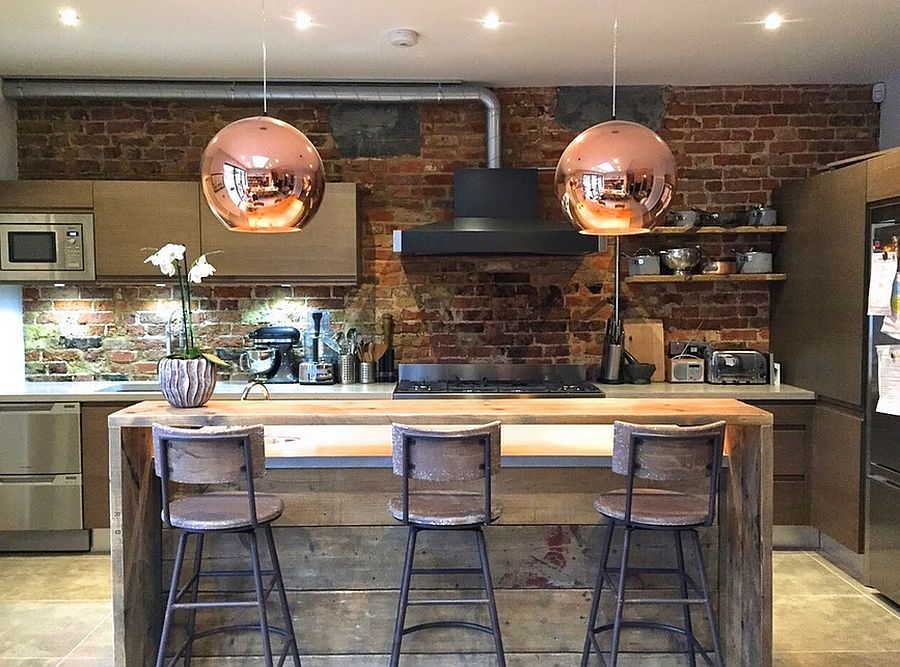 source: pinterest.com
Usually, the word faux is regarded with a particular type of disdain. But, done right, faux products can deliver an amazing look. If you're into sustainable living, faux products add an extra element to a space.
Consider faux leather seating, faux wool furnishings, faux fur cushions or pillows and so on.
You can add texture, warmth and character while also being sustainable and ethical, which is a win win!
As you can see, there is a lot of scope for industrial and rustic industrial design. There is huge freedom of expression with products, colours and schemes, with the only limitation being the space and budget!