A dining table is the centerpiece of the dining room but choosing a right dining table for your home is a challenging task. If you are wondering how to select a gorgeous dining room table, check the guide below which can be great help to you. 
Things That You Should Consider to Buy A Dining Table
Budget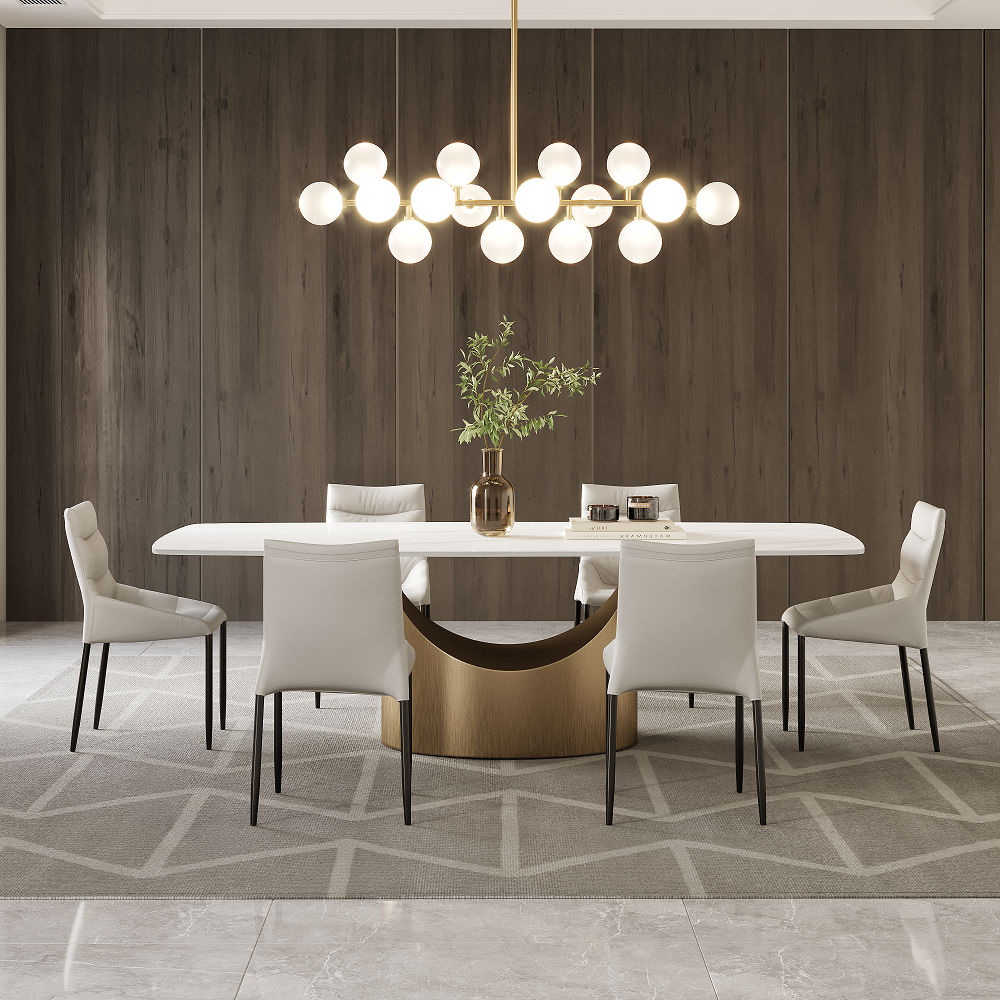 source: povison.com
Budget is always the first element to decide how to select a dining table. First of all, make sure the amount of money that you can afford, based on your economic conditions, for example, under 1000 dollars; 1000-2000 dollars or other. Then, choose the right one considering the following aspects.
Measurement
Before browsing the homestore or local furniture stores, please measure your dining room and consider the number of your family members and daily needs to determine the size of the dining room table. It is suggested to leave at least 36 inches in a standard dining room so that the people can walk through the room. Besides, the seating capacity of a common dining table depends on the length or diameter of the table. Moreover, don't forget to consider the figure and weight of your family members to determine the dimension.
For the rectangular table: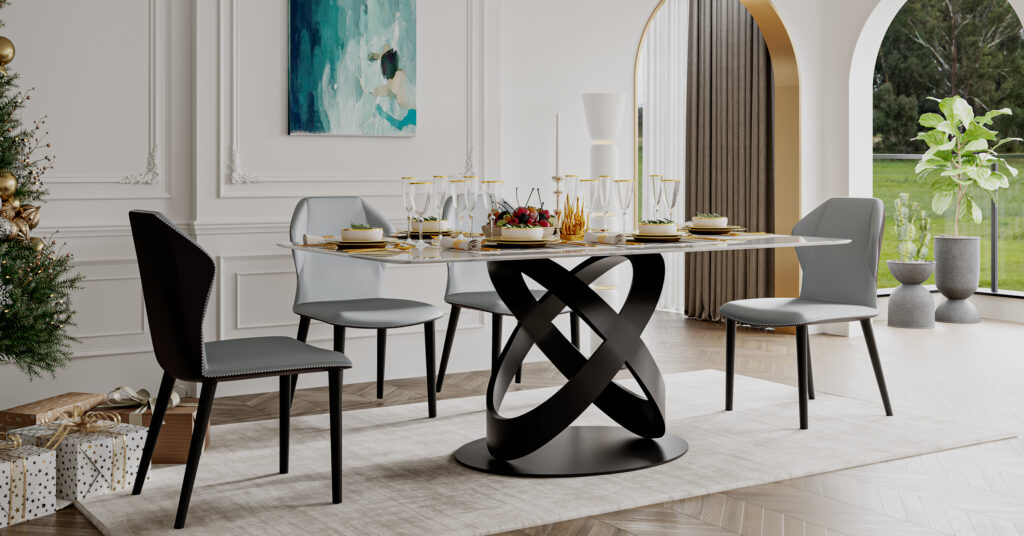 source: povison.com
less than 50 inches: 2-4 people

50-60 inches: 4-6 people

60-70 inches: 6-8 people

70-80 inches: 8-10 people

80 inches or larger: 10-12 people
For the round dining table:
45-50" Diameter for 4-6 people.

50-60" Diameter for 6-8 people.

60" or above Diameter for 8-10 people.
Type/Shape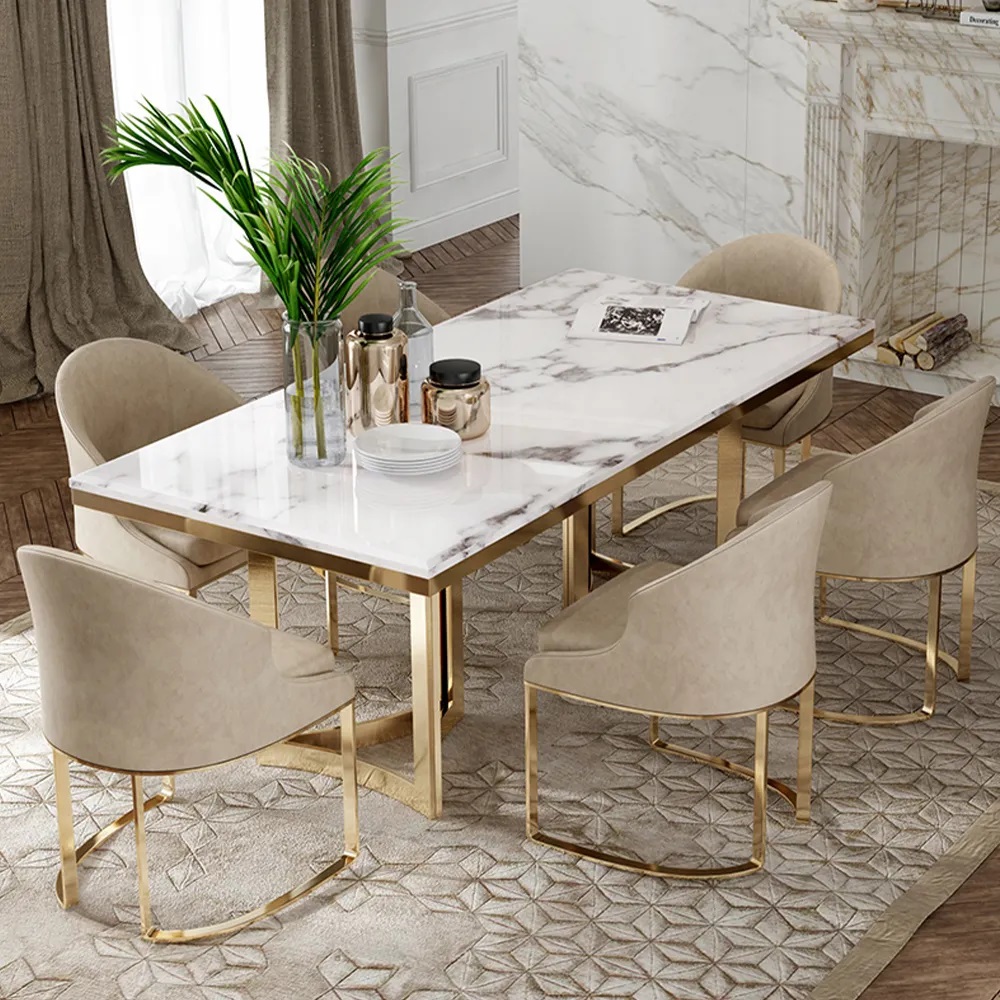 source: povison.com
The shape of the tabletop and the base will directly influence your dining experience. For the tabletop, rectangular, square, round and oval design are the commonly-seen dining tables but they fit for different dwelling sizes and situations. 
The square dining table, usually with four legs, is appropriate for a square dining room but it only can support less people, often four to eight. Therefore, it is not good to serve guests for gathering. Moreover, the corner is not so kid-friendly and easy to bump. It is suitable for small apartment or dorm since it can be placed against the wall. 
The rectangular table is designed with large lengths and also can be moved against the wall or stand alone. It is multi-functional to work as a buffet table, which is available for more people than square one. What's the most attractive is that it can well fit both small or large dining room. Thus the rectangular dining table is very popular in the furniture market, especially with unique chic design of pedestal base or legs, e.g.: the rectangular table with X-shaped circle base from Povison.
The round dining table is the relatively safe since it can prevent people getting bumped. Moreover, the seating capacity of it is more than the square and rectangular table in the same size, which is space-saving. When you tend to place a round dining table in your house, make sure the pedestal base can firmly support the tabletop.
Oval tabletop combines rectangular and round design together so it can stand against the wall and also be secure to protect people bumping with the curved corner. It usually gets a pedestal base or several vertical legs to guarantee the stability.
Material
source: pinterest.com
Material would comes to match with the style and design of the dining table. We often see marble, sintered stone, glass and solid wood tabletop in the market. The real marble tabletop is more expensive than sintered stone while sintered stone can be pattered with marble look and it is durable and thermostable. 
Glass tabletop is convenient to clean and usually appears in small dining room. It can be paired with any legs and base. However since it is easy to crash, it is seldomly used for a large dining table. 
Wood tabletop ensures great stability and sturdiness but some of them may be easy to crack due to dryness and bumping. Of course, it is can be repaired at ease. There are different levels of wood so the price ranges widely. The premium solid wood can create a high-quality dining table in various shapes. This material is particularly utilized in farmhouse dining room.
Metal is sometimes used for a tabletop and it is durable but it would make some noise when using. Actually, the designers and manufacturers tend to utilize it as the base or legs.
Style
source: pinterest.com
The dining table must strike balance with other dining room furniture. Thus, select the right style of the table for your living space: modern, contemporary, farmhouse, mid-century, classic, luxury or others. In fact, the color and the shape would establish the style of the table, so it is easy to make a decision. 
Type of Seats
We would choose dining chairs after dining table but sometimes, if you own dining chairs firstly, it is undoubtedly to think about them when purchasing a dining table. For instance, a rectangular table or long oval table will be perfect for a dining bench. Along with the armless and backless chairs for a narrow dining room, you'd better choose a square or extendable dining table to nest the chairs. 
You will be at the great position to select the right dining table for your home with those tips and tricks above. Hope you could enjoy meals or party with the new dining table.