Nowadays you must be choosy about each and every type of selection you are making for your home, as fashion and trend goes on changing every single day. Moreover who will opt for an old trendy fashion rather than opting for the new modern fashion? In short the selection made by you related to your home must have to be looked over, especially whenever you are opting for the type of furniture and paints. Most probably if you did not paint your home well it would work but inappropriate designed furniture would not work at all. Here the furniture includes every kind of furniture of your home interior whether it is a sofa, a dining table, a bedroom, etc.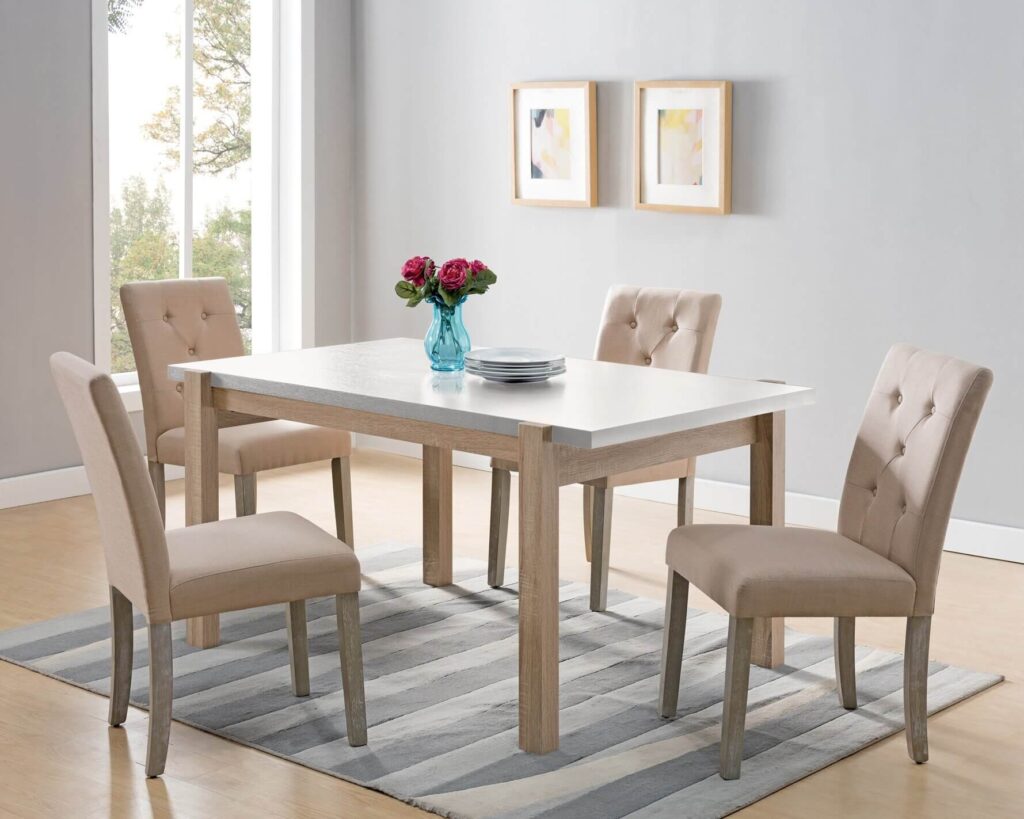 source: wayfaircom
Everyone would like to have their breakfast, lunch, and dinner at a place where there is full of peace and calmness. Though to achieve such a great environment obviously you need a best dining room consisting of the best dining furniture and here is where a dining table comes in and plays a vital role in one's happy life. Make sure to select the best dining table for home. As usual everyone's mindset is different and every home has their different taste of living, so whenever you are choosing such furniture you have to be sure that whatever the decision you are making must be best otherwise you will not get the type of environment for which you were looking for. Also it will put a bad impact on your diet. A healthy diet is necessary to create a happy and healthy family. But what if the place where you are going to have your food is not of your choice? Basically you would not like it. At such instances it is said that "A dining table is the essence of home". Furthermore it is a long term investment which is going to last long for some years or decades. Whenever selecting a furniture for your dining room you have to keep some of the main aspects in mind likewise select a furniture which remains trendy for several years, be choosy about the shape and style, be choosy about the furniture material and its utility, and at last its decorating styles and variants.
Choose the best dining table for your home to create the best atmosphere ever which makes your every family member happy at the time of having food. If you have a big family, perhaps extendable dining tables would be your best choice
Here we have come up with several types of steps from which you must go through while choosing the best dining table for home. Have a look now!
The size of your dining room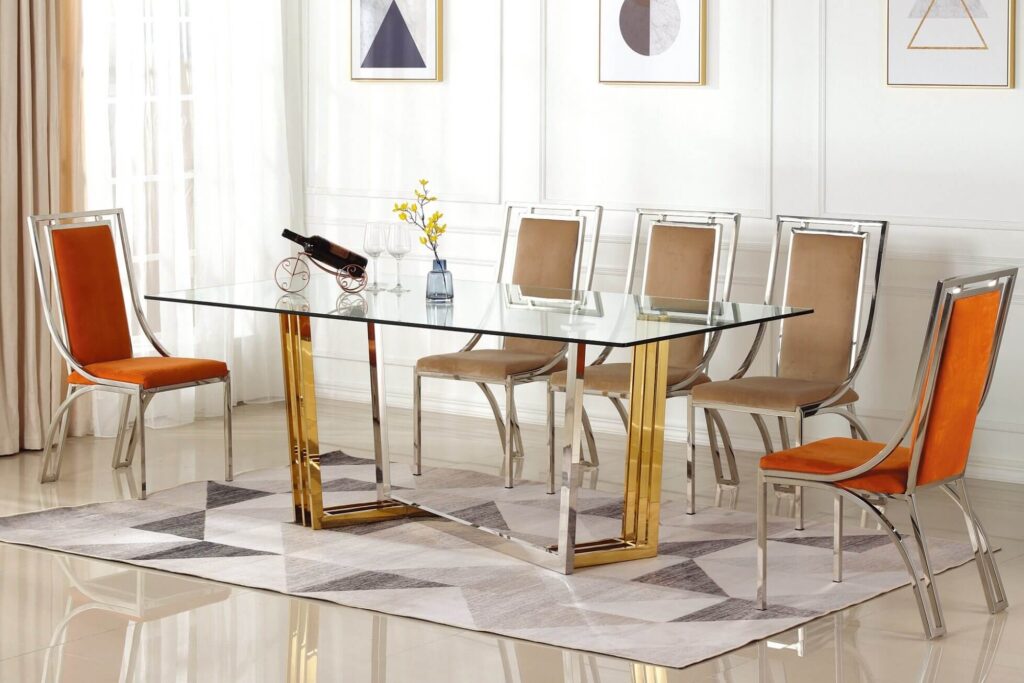 source: pinterest.com
Before you adjust your dining table, you must have to take a look at the space in the dining room, whether there is appropriate space including your dining table and other furniture or not.  You just need an open legroom where you can fiddle with 6 or more chairs and a big enough table, be aware to keep chairs with the distance of at least 3-feet from each other. So, one can sit contentedly without bumping into anything. Moreover you can adjust the table in the centre with the distance of 2-feet away from every chair, so that you can push back the chair without any interruption.
With reference to the above para, you became aware about how to put up the dining table in a proper way. But now you must know about the shape of the dining table according to furniture adjusted in your dining room. If you have big space in dining room you can prefer a long dining table with wide enough surfaces so that one can have food happily, if you like circular dining table, it could adjust other furniture with the dining table and you can easily take in-out the chair, as this matters if you are cleaning the floor you won't get in any trouble of removing a part of your dining table. As cleaning is necessary in our daily routine, but you are smart enough to prefer the perfect size and shape of the dining table and after being aware of your decision, we are sure that your family would love to have food together with enough space around them.
Usage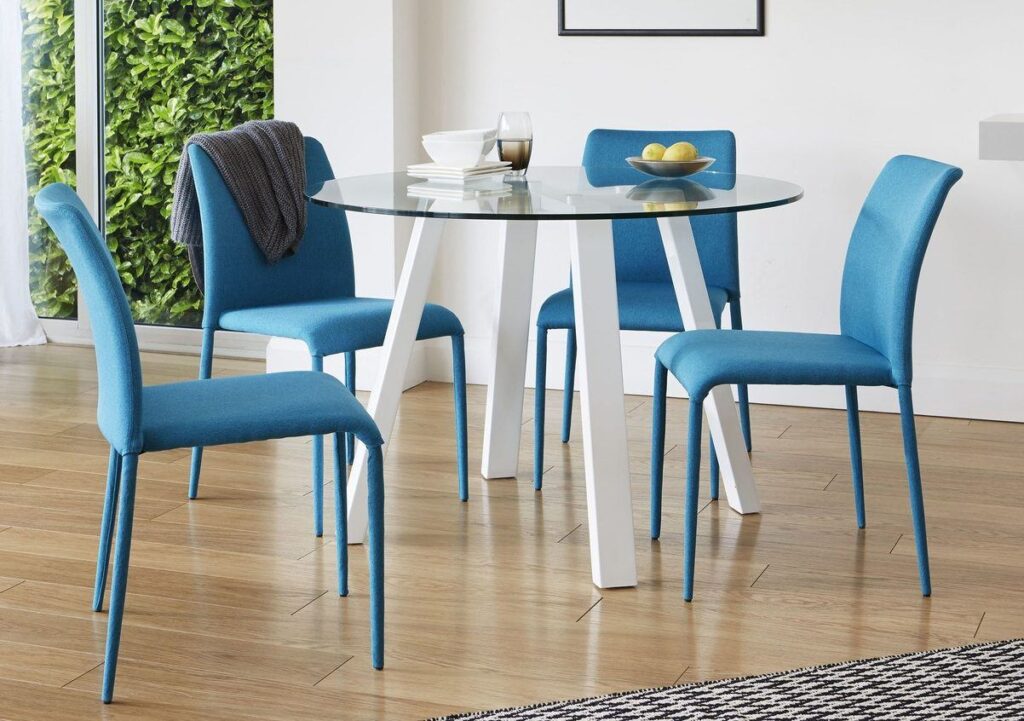 source: danetti.com
Of course everyone would like to approach something which can be used for various purposes. Though whenever opting for the best furniture that suits you and your usage ability be aware about its every purpose. As sometimes a piece of wood can turn into a lot more things. Usage is not just about how you use it? Sometimes usage is about why you use it?
Many of us live in rented houses while many of them own their own house. Thus looking at the usage, if you are staying in a rented house then do not go on opting for heavy material for your dining furniture instead choose a lightweight and durable furniture as you don't know whenever you have to shift. At such instances I would like to advise you to choose furniture made of light materials like plastic, fiber, etc. Now talking about the homeowners choice, if you are having frequent traffic at the table then choose a material which is heavy and durable for long lasting years as you have to invest just once for it, moreover to fulfill your further needs you can achieve it just by editing a bit, and if you are using it less frequently then do not go on spending much on heavy materials instead choose one which is light, durable, and more decorative.
If you think it in the best way then you can buy a table which is almost similar to the table we keep in the hall or living room, what happens if we have one? So basically what we can do is we can exchange that table whenever we are going to buy another table.
Decor style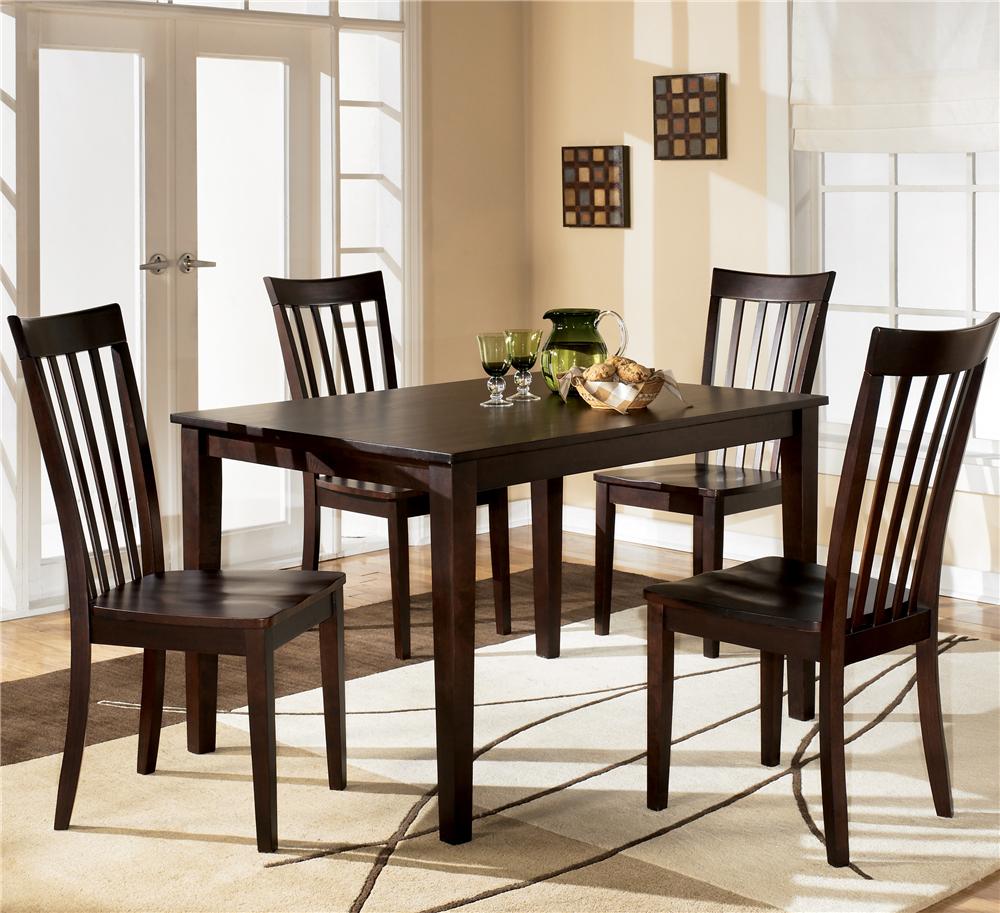 source: furnituredealer.net
Décor style and elegance are the most important aspects for achieving a good taste of a decorated living environment. As we know that trends keep on changing and along with that our needs fluctuates too. At a certain point you will feel that your dining table is now out of trend and then you will stop enjoying the environment while eating food which is a bad aspect of human life. For that what can we do? All you need to do is choose furniture that can be easily turned into that thing that you are looking for just with the help of bit edition.
According to a survey some love to eat in a traditional way, some need a green environment surrounding, some like a beachy environment, etc. to fulfill the requirements. What we can do is, and we can paint on our table in the way we require. Furthermore, always choose furniture which mixes with other furniture too and come up with adding more elegance. If the style of your surroundings is more eclectic, then choose furniture which becomes a focal point otherwise no one would like to have a look over there. Moreover choose furniture that works well with the other elements properly available in the settings inside your dining room.
Do not worry if you are having an out trended dining table, you can turn it in a trendy manner with help of some colors and stickers. Just be precise about their proper placement.
Material
source: nytimes.com
There are various materials used to construct a strong and fine table and furniture as per your requirements.
Wood
This material has been used for ages as it is natural and its properties satisfy the requirements in the best way ever. Furthermore this material never went out of the trend as one can easily edit in it and can make it trendy as usual. We even have options for choosing in between hardwood and softwood. Softwood includes pine, cedar, fir, etc. they remain natural and cannot be edited much though if finished properly they are the best material for this purpose. While in hardwood one can edit much by staining and painting it. The only disadvantage of this material is water.
Glass
Table tops made up of glass are very practical and they look very elegant and awesome. You can frame it with help of wood, metal, granite and much more depending upon your taste of décor. Glass tables are most probably better for modern, hi-tech, and minimalist homes. Moreover it has high heat and moisture resisting power, also if anything spills on it; wiping it out is easier. Be aware that it doesn't break.
Marble or granite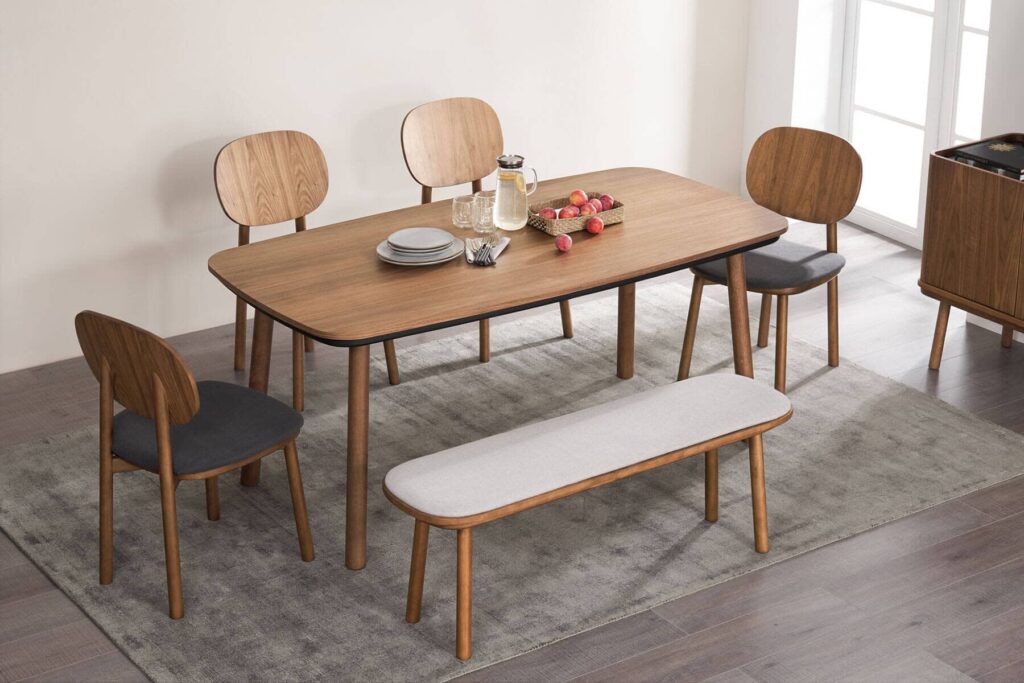 source: cloudinary.com
These types of materials come under heavy materials. Though, as we discussed in usages that if you are the homeowner then only rely on such materials otherwise choose a light and durable material. Here marble and granite are such materials which are naturalistic, heavy, and one can say it as the most durable materials. Usually while making kitchen interior such materials are used vastly. Thus, they will mix very well with the other elements present in, you can even consider them as a one time investment material as they never went out of the trend and nor will they. The only disadvantage is they are heavy to move for cleaning purposes and they are way too expensive.
Plastic
Plastic is very light in weight and durable in its structure along with such miscellaneous properties it is inexpensive also. The one who is renting in the house can easily afford on such material that too with utmost reliability. It can be easily maintained, cleaned, comfortable, water resistant, etc. However, a plastic table would lack the elegance and the charm of reality and nature.
Metals
Metal again is a heavy material, it is sturdy, durable, and really cool material with which you would like to contact. As we know metals have a property that they are lustrous in nature, thus if the finishing is done precisely then obviously it can boost up the elegance of your home. Most probably furniture made of metals like materials are used in industrial and contemporary styled homes.
Though we are not done with every type of materials over here, there are further many materials like quartz, laminate materials, MDF, etc.
Shape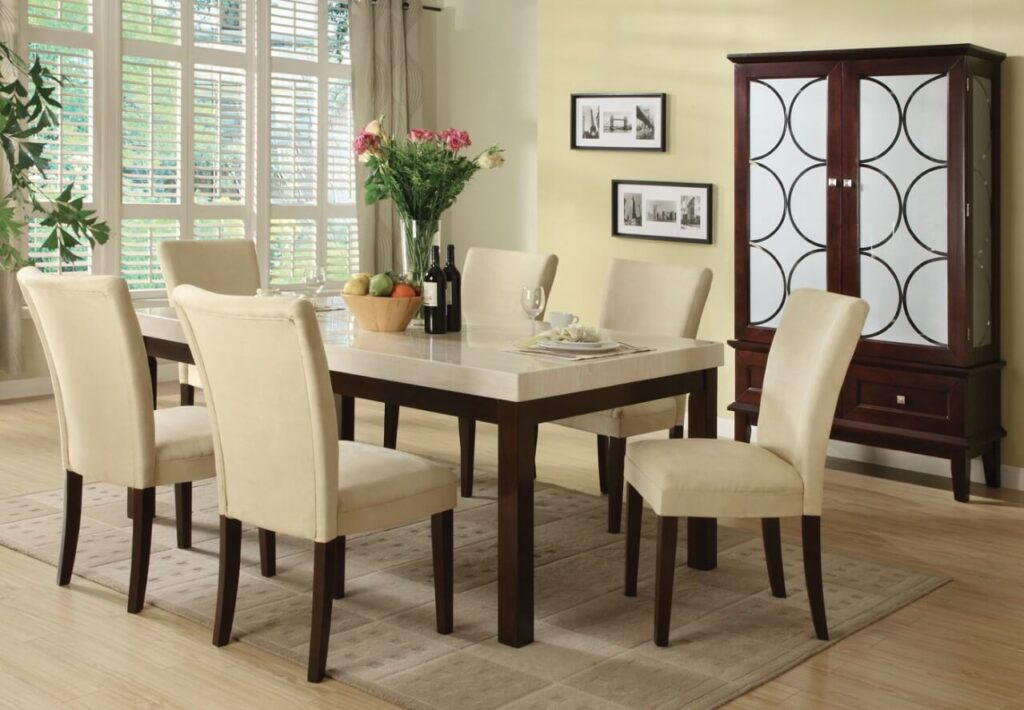 source: molotilo.com
With respect to the colors people are also choosy with the shapes also. As some like to have a rectangular table on the other side some likes to have a square table and at the same time some likes to have a round table. Let us discuss some types of shapes on which one can rely as per their requirements.
Rectangle
The most common used for dining purposes is nothing but rectangles, one can easily use such shaped tables for holding 6 – 12+ people at a time depending on the hall. At the time of some bigger occasions where there are many people's meetings together this type of dining table is used.
Square
These types of shaped tables look very simple and classy. The maximum range of people in such tables is from 4-6 only. It is best suitable for small area houses or modern style houses. Sometimes you would feel like the square table is taking up a lot of space and at that instance rely on a rectangular table.
Round
They are much similar to the square tables, most often they are used in small dining areas. The main advantage of this kind of table is that everyone can look at each other which creates an environment of gathering happiness. The bigger the diameter of the table the more uncomfortable you feel.
Chairs
The last ever step to be taken while choosing a perfect dining table for your home is not anything but chairs. A perfect seating is must with the combination of a perfect table. Sometimes chairs come with the tale itself or if you didn't like those chairs then you can even purchase a set from your nearby shop. Just make sure that it matches well with your table.