Introduction
A tablecloth brings elegance to the dining table, removes the need for placemats, and covers the table. Having a few tablecloths on hand is a smart idea, and the color will help set the mood. Though white is often appropriate, it can be fun to experiment with holiday or seasonal patterns.
This comprehensive article discusses the various types of tablecloths available for your table.
Classification based on shapes
Round tablecloths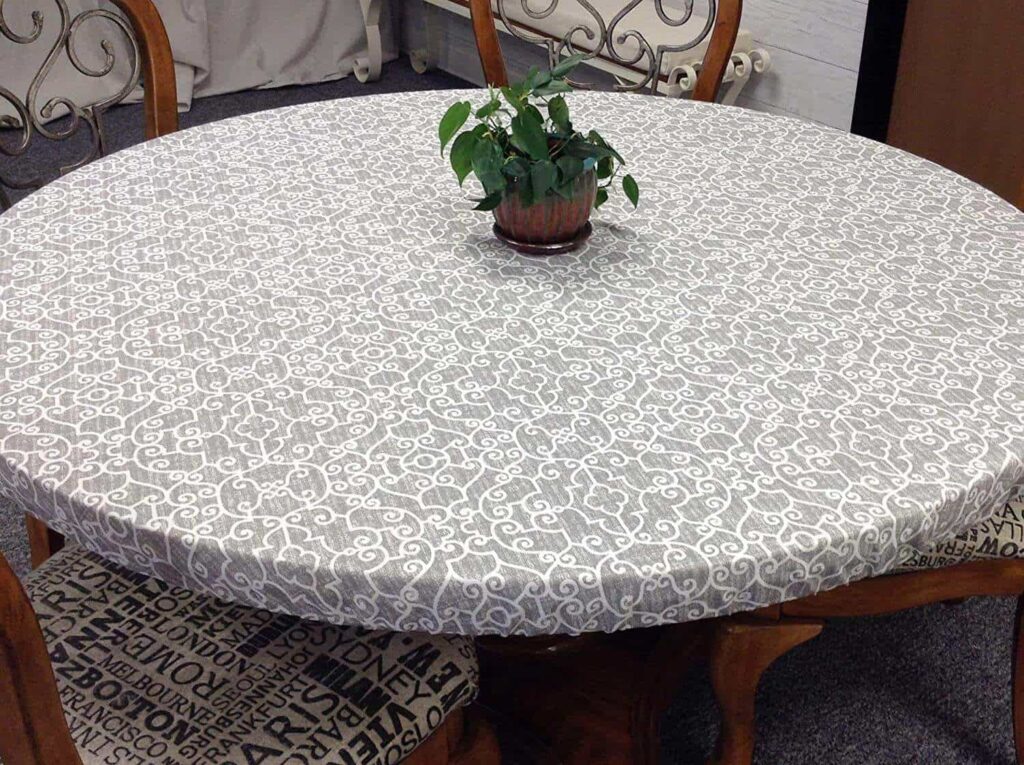 source: amazon.com
Round tablecloths are only appropriate for round tables. When looking for a round tablecloth, make sure you select one that is long enough just to hang down on the edges. If you have a formal dinner, the tablecloth can nearly reach the floor to cover the table legs, while less formal gatherings would have a smaller tablecloth and yet look fantastic. Make absolutely sure the fabric is not so long that it pools in the hands of the people seated all around the board.
Rectangular
These tablecloths are usually very lengthy and fit well enough on rectangular tables. Regrettably, if you are using them on a square table, they could either hang upside down very long on two sides or must be bent to make them the proper length. They are ideal for larger tables that would otherwise need two square tablecloths to fit.
Square
source: bigcommerce.com
The size of your table will determine the shape of the tablecloth you purchase, but you'll have some leniency. Although square tablecloths are ideally suited to square tables, they could be used on round tables.
When using a square tablecloth on the round surface, please ensure the tablecloth would be either broad enough to protect the table completely or tiny enough to serve as a decoration in the middle of the table.
Comparison based on style
Eclectic
Eclectic tablecloths stick out and offer you and your friends something to chat about in a room wherever you want to complete your home with fascinating artifacts and paintings. Be sure to pick one with a big and fascinating print that will draw the attention of anyone who approaches your house. Smaller printing will blend into the context, while logos and large prints will step out.
Classic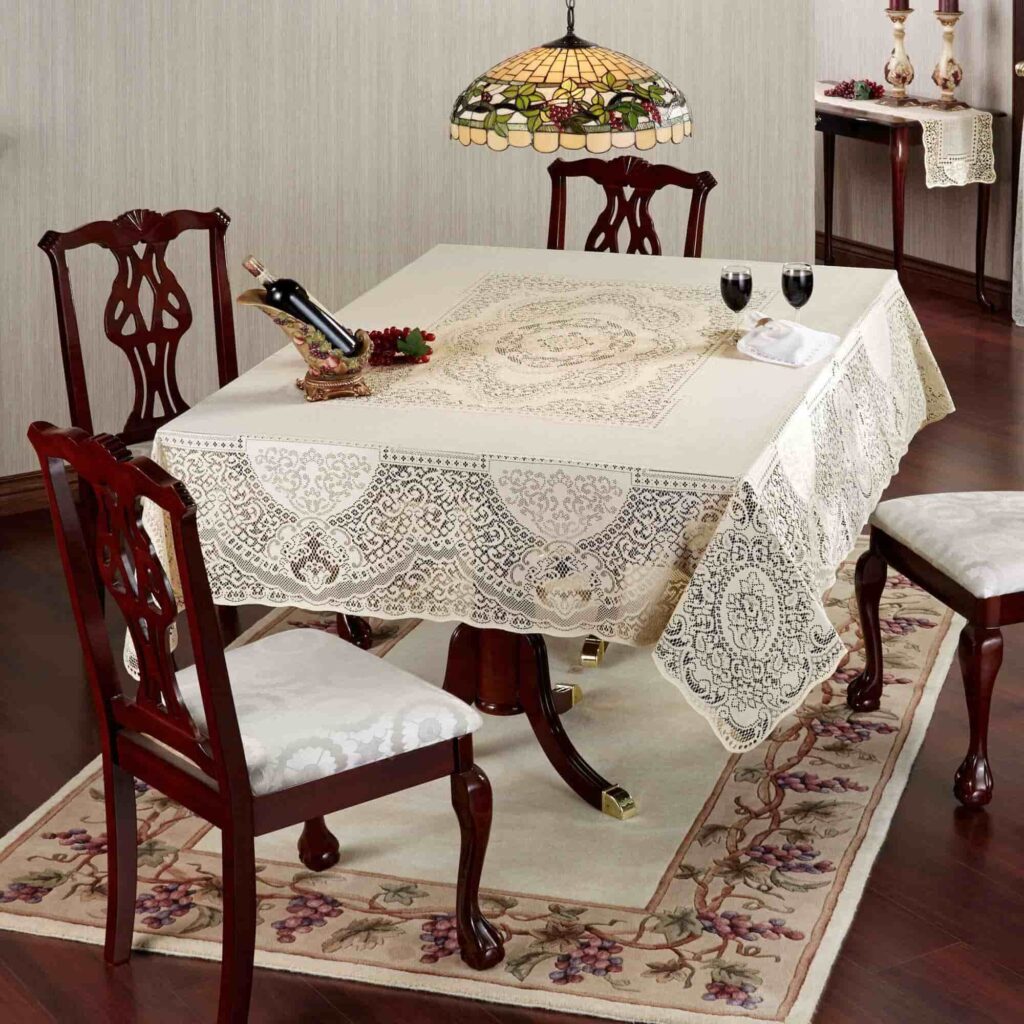 source: touchofclass.com
Classic tablecloths can be quite beautiful, particularly when they match the rest of your home's look and decorations. These tablecloths are usually floral, though some styles are possible. Many lace tablecloths are more formal in style and will add a unique addition to any home. Opt for lighter shades and fine detailing like embroidery or beadwork.
Tropical
When you pick a luxurious tablecloth, you can feel as when you're on a holiday of your imagination any time you have had dinner in your house. They are cheerful and colorful, with vivid flowers, animals, and crafts that will immediately brighten your room and change your mood.
Make absolutely sure the colors are vibrant and vivid so that you can feel like you are in the tropical regions. Although warm colors are attractive, they will not last as long when soaked repeatedly and will not give you the desired holiday feel.
Modern
If you want to give your home a really modern look, you should pay attention to the specifics of your art, materials, and accessories.
Rather than using a simple tablecloth, when you use a contemporary one, make sure you like the shapes, patterns, and colors in style. It will mean that the tablecloth blends in with the majority of your new home's decoration.
Two-way
source: ostkcdn.com
These tablecloths can be used in one of two directions. They are either made of a thicker and stiffer material, similar to thick linen or have bright colors and lines that make the tablecloth stand out. Whatever you choose, you can guarantee that your house has a Craftsman feeling from beginning to end.
Classification based on features
Water-resistant
These tablecloths would look fantastic on every kind of dining room table, but they looked great on Craftsman-style chairs to finish a well-thought-out and planned pretty much the entire feel.
Spills occur, and most linens absorb any fluid that is poured on the table easily. From water to wine, fruit juice to milk, using a water-resistant tablecloth will keep the table from being damp and enable you to clean up any spilled liquid quickly. 
It will save you from having to instantly remove the tablecloth to dry it because the tablecloth will be sprayed with water-repellent material.
Embroidered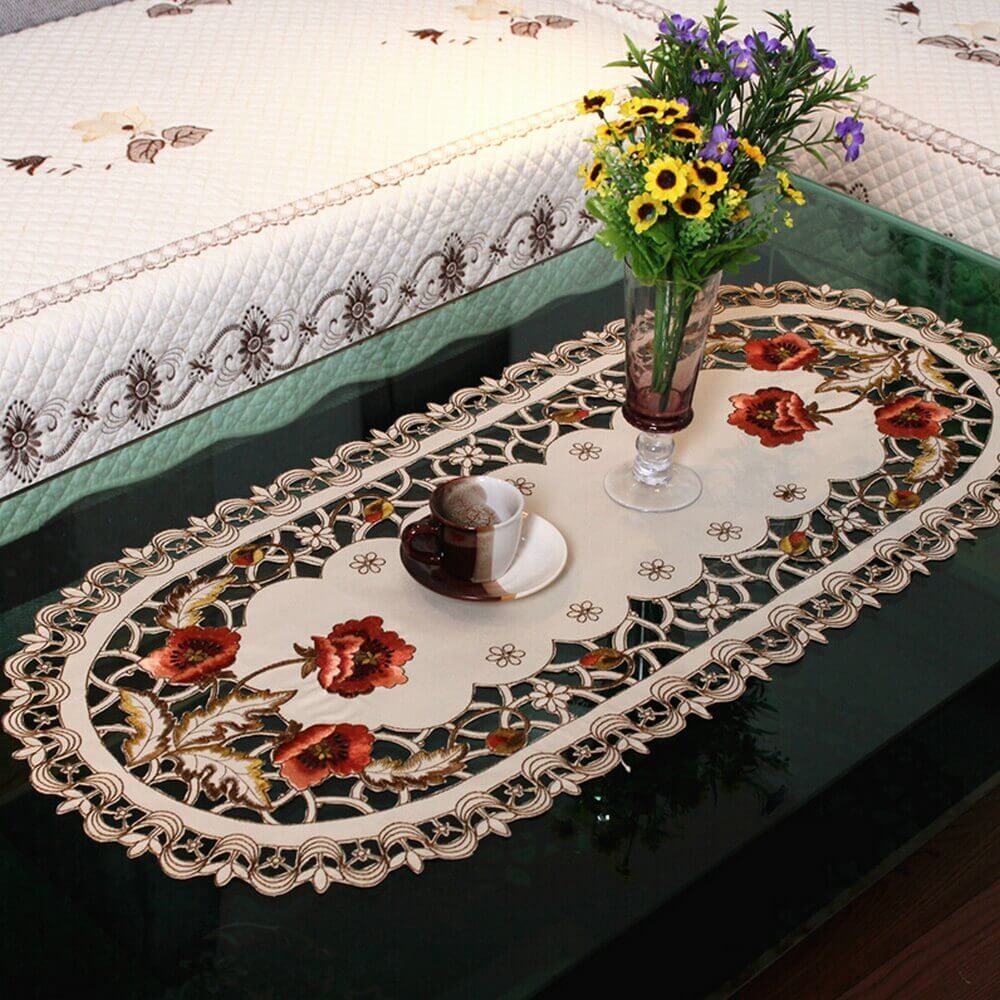 source: ebuy.com
Embroidered tablecloths will look a bit cooler and more classy than a regular tablecloth and immediately change your table's efficacy. 
Of course, these would need to be handled with caution since merely placing them in the washing machine can severely affect the embroidery. While adorned tablecloths are not often used for daily meals, they look perfect for special events such as vacations or big dinner parties.
Heavy-duty
Although heavy-duty tablecloths are not always appropriate in the household, they are ideal for those who operate catering businesses and must be able to embezzle their tablecloths several times without thinking about them staining, fading, or coming unfolded.
These tablecloths have also been designed to withstand a lot of use and will aim to search great no matter how hard they are cleaned.
They are frequently made of a heavier cloth that can handle many back-to-back items of washing and are usually in pleasant colors and styles to appeal to a greater variety of customers with whom the caterer might have been employed.
Reversible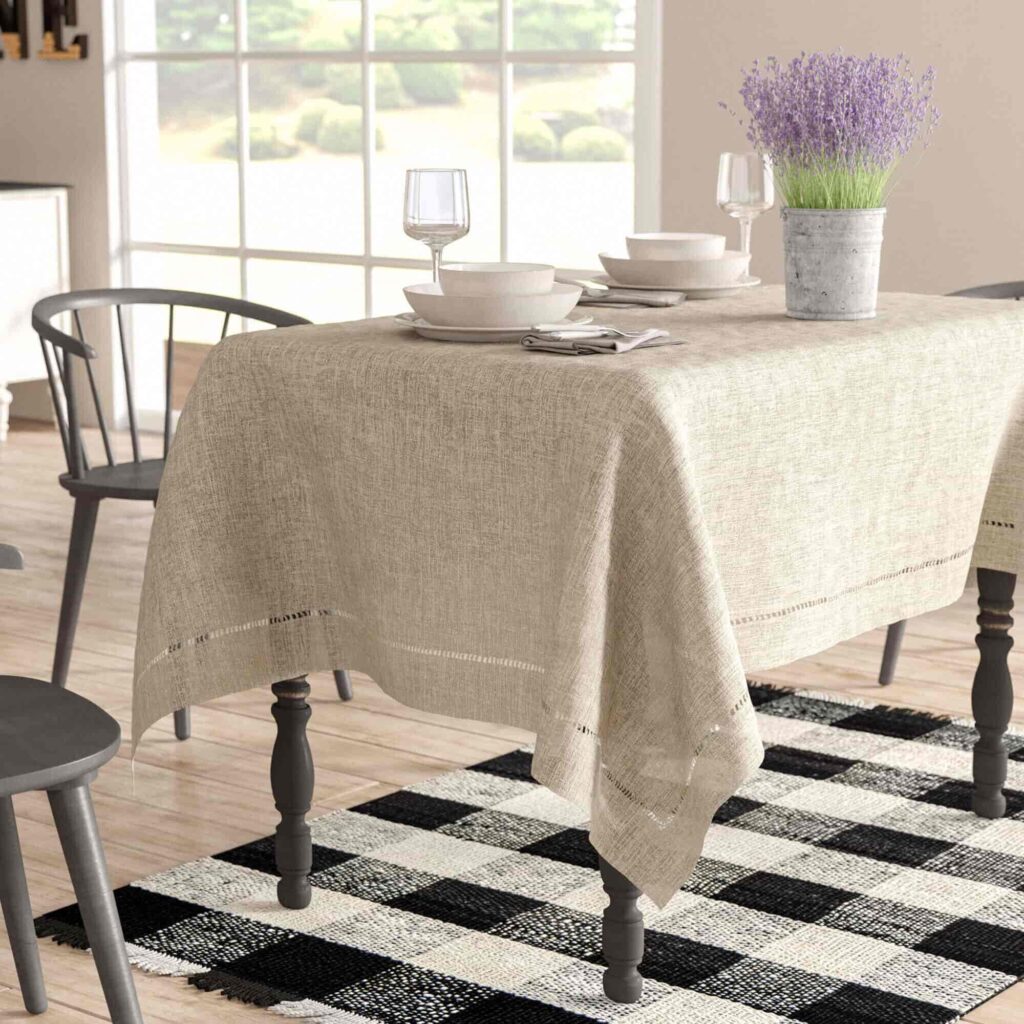 source: pinterest.com
When you purchase an interchangeable tablecloth, you can get two designs or models for the cost and storage of one. It is ideal for someone who does not have a lot of storage space in their homes for linens or needs to have a lot of decisions when making dinner.
Although dark marks or spots will shine across both hands, very light stains will not allow you to quickly turn over the tablecloth before the first meal to conceal the stain.
Stain-resistant
These tablecloths can be either covered with a substance that will help the fabric avoid marks or constructed a product that will prevent them instantly.
In any case, they are excellent at withstanding spills when concealing any impact to the tablecloth. Rather than scrubbing and washing the tablecloth right away to prevent a lasting stain, clean up the leak.
Although drops that have been left for a long period or spill on older stain-resistant tablecloths would be more difficult to eliminate and can leave a lasting impression, this style of tablecloth is far more challenging to smear.
Conclusion
Above we have stated, various kinds of table cloths, it satisfies your distinct needs. Table clothes of numerous shapes, patterns, features, and much more. You can choose the best one based on your choice, table shape, home decor, and other things which is worth considering while choosing.