Canopy beds are specialised beds crafted in sumptuous designs. They transform your traditional bedroom into an enchanted bed chamber. Since old times, people have used these beds to comfortably sleep as they conserve warmth in bitter weather.               
Canopy beds feature fabric drapes and coverings, as well as four-posters that support the fabric covering. These beds are often embellished with fine details such as tassels to enhance their unique design.
Nowadays, parents are buying canopy beds for children to provide them with a good night's sleep. In this article at The Architecture Designs, that will discuss everything you need to learn about kids' canopy beds.
What Is a Kids Canopy Bed?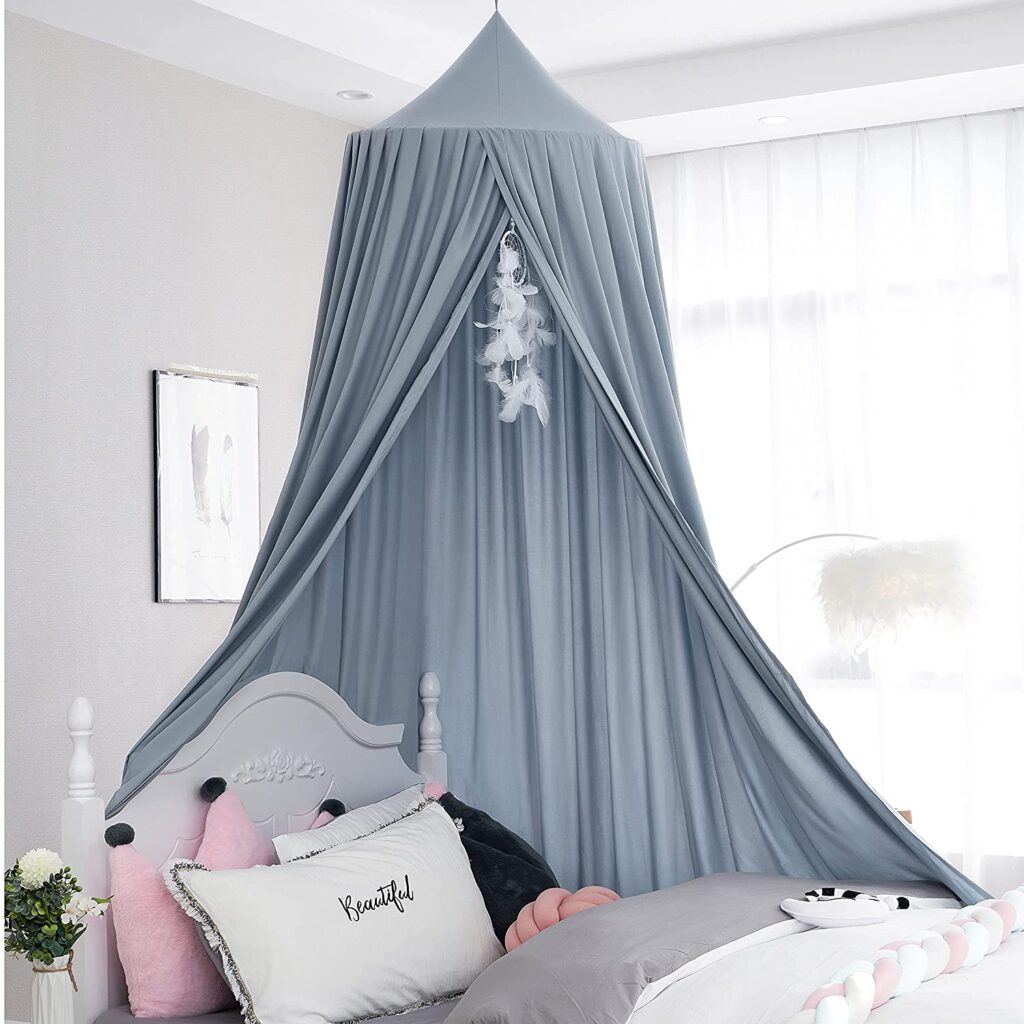 source: pinterest.com
A kid's canopy bed is a specialised canopy bed designed for children. Like any canopy bed, it has four posts emerging from each corner. These beds usually have metal rods connecting all four corners, forming a sturdy roof-like structure.
Benefits of Kids' Canopy Beds
Room Aesthetics
Canopy beds can add to the bedroom aesthetics. They come in a variety of sizes and décor styles, giving people a huge room for customisation. Children love beds that attract them. Buying a stylish canopy bed not only gives your children a place to sleep but also improves the appearance of their room.
Regulating Temperature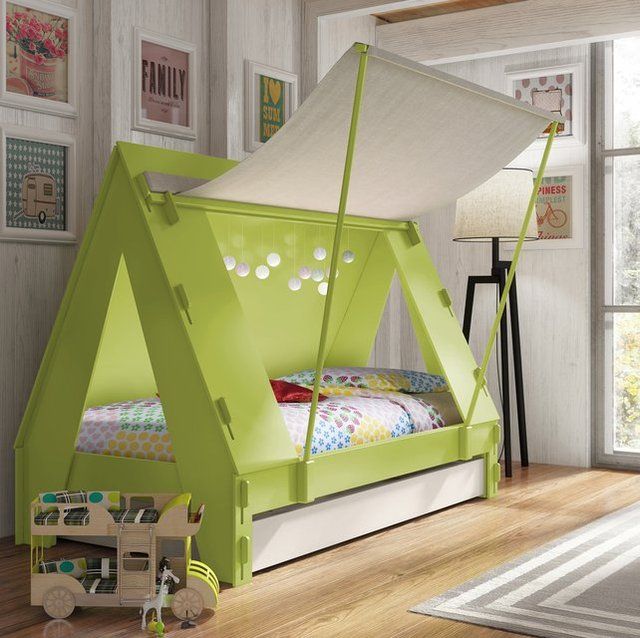 source: pinterest.com
Besides being aesthetically pleasing, canopy beds have several other benefits. Canopy beds provide people with an enclosed environment, keeping them warm in colder weather. Even during summers, these beds can keep you cool if you carefully position them for better ventilation.
A canopy bed's ability to regulate temperature makes the bed far more comfortable and cosy, regardless of the season. Moreover, the covering around the canopy blocks unnecessary light.
This allows children to sleep peacefully even when the sun is up.
At the same time, sleeping inside an enclosed bed also muffles sounds from outside. Therefore, your child can sleep uninterrupted regardless of any disturbances. Canopy beds limit visual stimulation, making it easier for them to relax in a safe and cosy environment.
Style Options
Canopy beds are available in several unique designs. The limitless style options are a definite perk for children. This means you can make custom style choices for your child and ensure they have the bed design they like.
For instance, you can buy a kids canopy bed with one large frame or a custom four-poster. If you like a four-poster, you can simply drape it over with customised fabric. In other beds, you can wrap the fabric of the bed around bed frames to give it a unique look.
Kids Canopy Bed Styles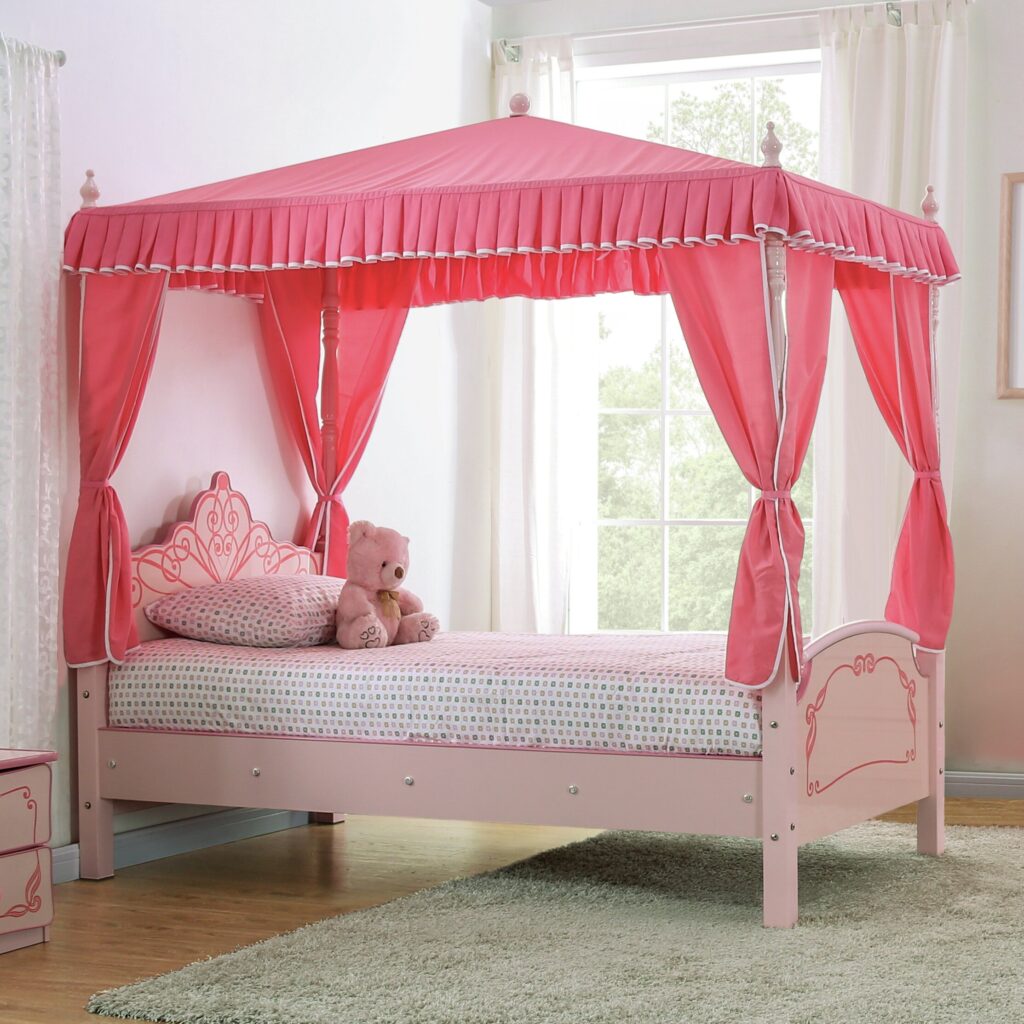 source: pinterest.com
Canopy beds are available in many styles. Although most popular models feature four posts, not all of them have the same structure. Some new models have four pillars rising from each corner, but they come together at an angle instead of going vertically straight.
Drape Canopy
Drape canopies are the ones that have vertical posts across all four corners. These beds usually have specialised drapes hanging over the four vertical posts, providing the bed with a cover. Draped canopies look stunning, especially when you decorate them with stylish drapes.
Round Canopy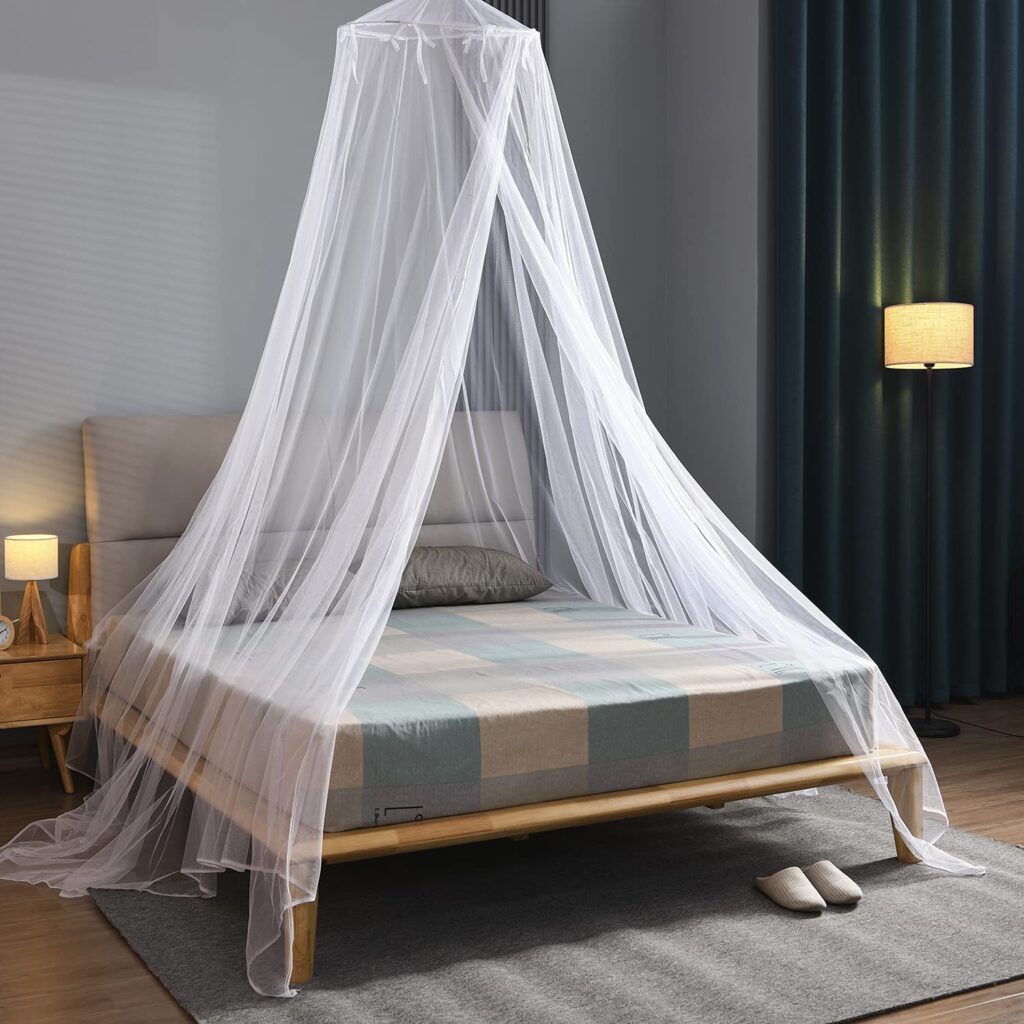 source: ubuy.co.in
Round canopies are the ones where the four angled pillars of the canopy bed are connected to each other. Some round canopy beds have a circular roof over the bed, but that's a common feature among all-round canopy beds. These beds are ideal for toddler beds and bassinets.
The type of canopy bed style you prefer comes down to your own choice and preference. If you want to give your child an enclosed, peaceful environment, it's best to buy kids canopy beds that form a secure roof-like structure.
How to Place a Canopy on a Kids Canopy Bed
There isn't a standard way to place canopies over a canopy bed. You can shift the position of the canopy according to the weather. Usually, parents cover the canopy bed from three sides and leave one side exposed to give their children a breezier feeling. This setting is perfect when the temperatures are rising. Opening the covering from more than one side improves the ventilation of the canopy bed and protects children from heat.
Canopy beds are great options for children and help them sleep more comfortably. With that being said, you should consider a few things before you buy canopy beds for children. Firstly, you must ensure that the bed size is perfect for your child.
Many canopy beds give you several style options, but sometimes, that can complicate the installation procedure. So going for a simpler frame option could be a better idea. Lastly, make sure you choose something your child likes.