The laundry room is often overlooked while organising the house. You might think it is not important as the other rooms since you only come to do the only laundry here. Just because you don't linger in the laundry room doesn't mean you can keep the place a mess. It is impossible to do the chore comfortably if the room looks like a disaster mess. The key to success for optimizing your laundry room is to use most of the free space available.
Add Storage Baskets in the Cabinet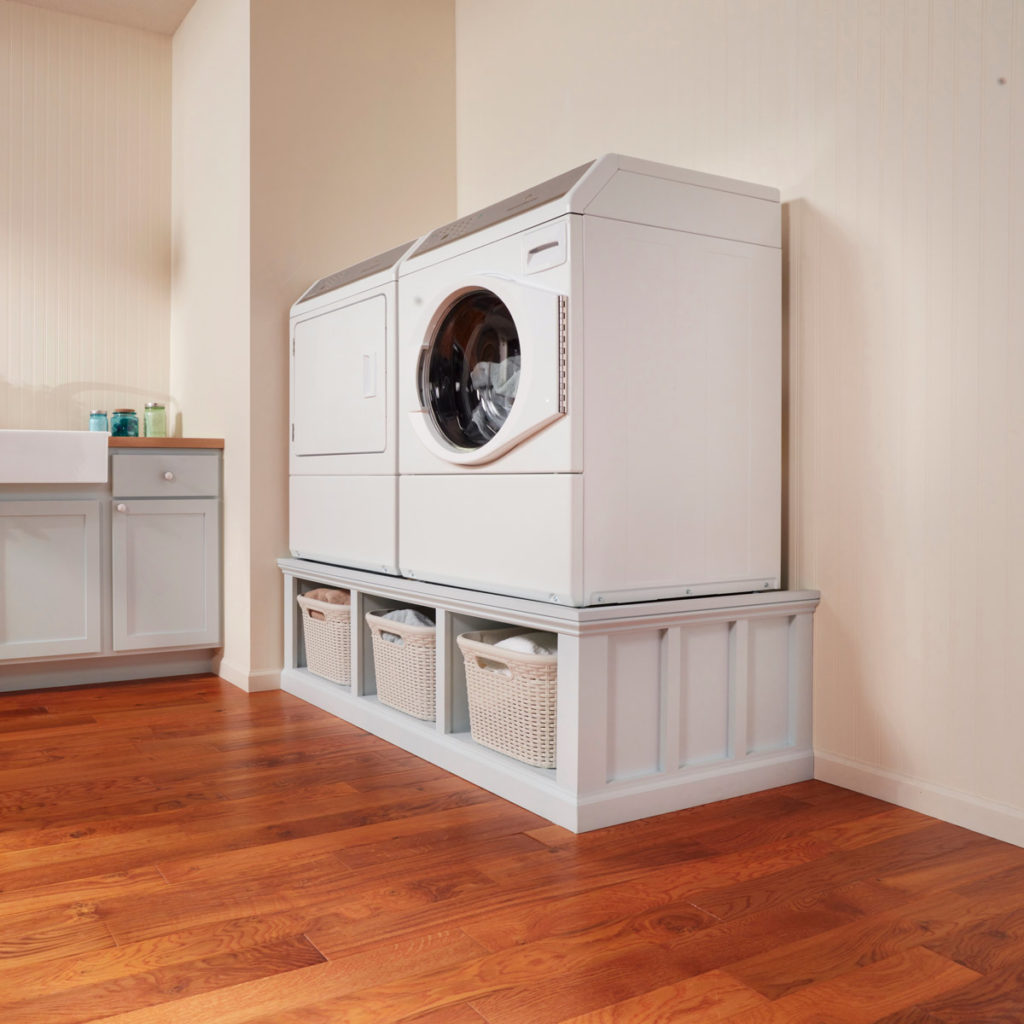 source: familyhandyman.com
If you have enough space to add cabinets in the laundry room upgrade them by adding some baskets or drawers for storing essentials. Often we find that storing in the cabinets is not used to its fullest. Keeping baskets on the floor makes your laundry room look very untidy, utilize the free space of the cabinets by adding some baskets to them giving more room for storing supplies such as towels, detergents and many more.
Install Plenty Of Shelves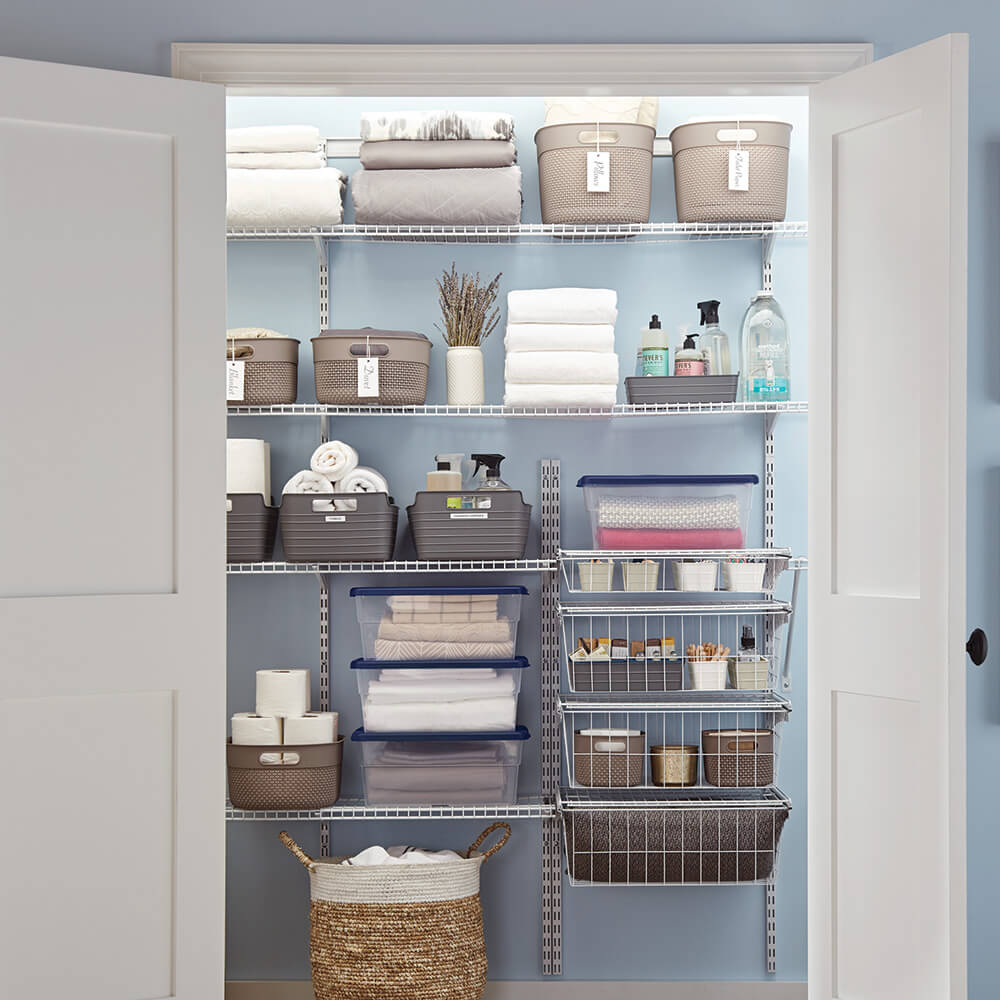 source: thehomedepot.com
A dedicated laundry space benefits you a lot as it adds extra storage space. Adding plenty of shelves from wooden to iron serves you the best for storing ample items such as shoes, clothing and detergents neatly. Use the unused corner of your laundry room to add up shelves as there are plenty of wall shelf options available since it reduces space a lot. Mix and match different types of shelves to make a customized laundry room storage. Well-organized laundry rooms are very pleasing to eyes
Make Use of the Doors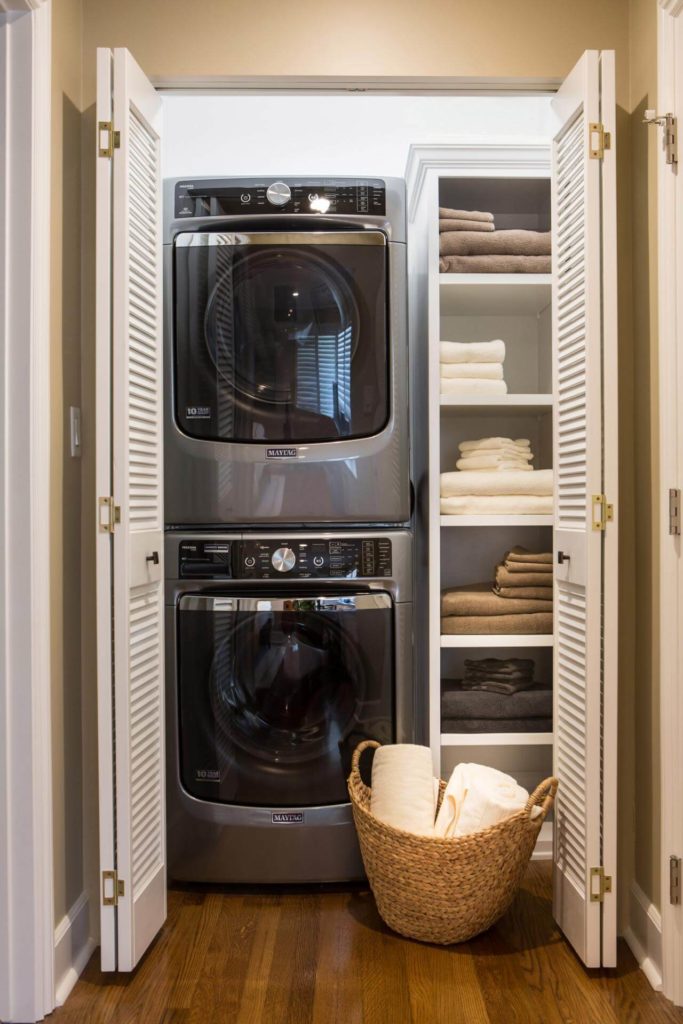 source: pinterest.com
The most neglected part of the laundry room is the door; use it as much as you can increase your laundry room storage. Remember the door of the laundry room is not just the place for entry; the best way to utilize the space on the door is by installing a few racks for storing cleaning essentials. You can also use an over-the-door shoe organizer in place of wooden or wired racks for quick and easy optimize of your laundry room storage. The doors of any room mainly act as guards, you may also add doors to cover up all baskets and appliances guarding them against getting a clear view hence giving the room a very clean look.
Use The Ceiling To Install A Drying Rack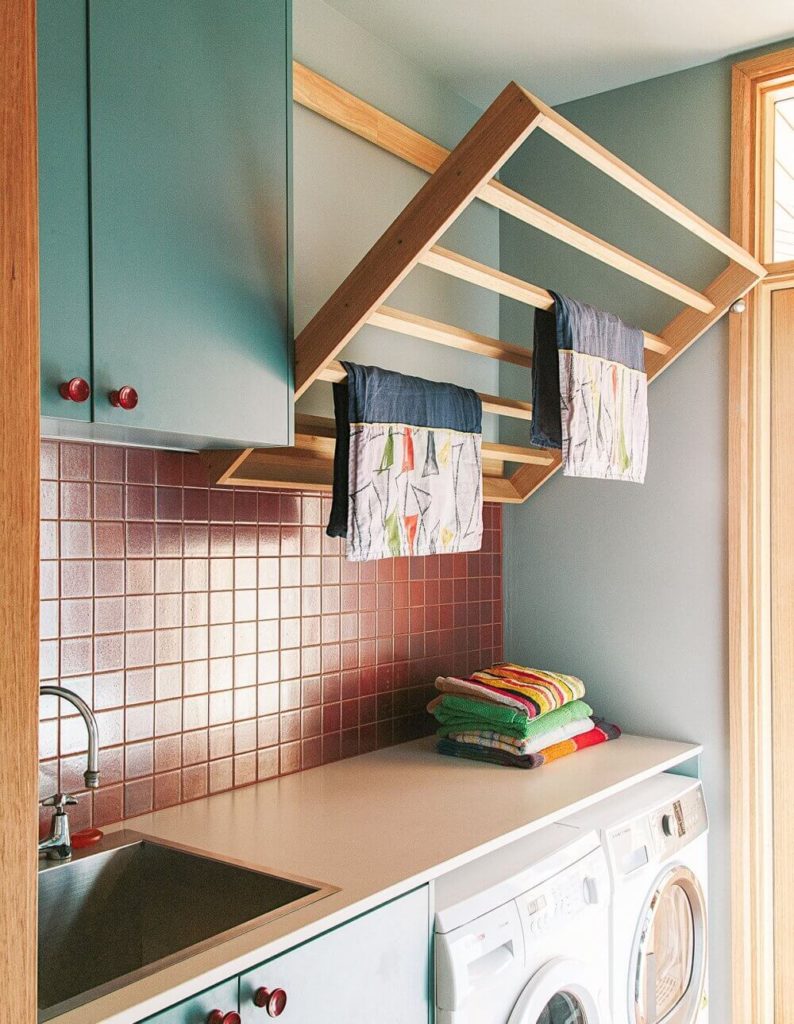 source: verityjayne.com.au
Another ignored part of any room is the ceiling of that room. If you are running tight in space make use of the ceiling room for drying of clothes to optimize your laundry room storage. Dry garments lying around not only make them dirty but also give the room a very grimy look. Wooden racks are generally preferable for dangling from the ceiling, making it an incredible spot for storing of dry garments or towels.
Organize with Basket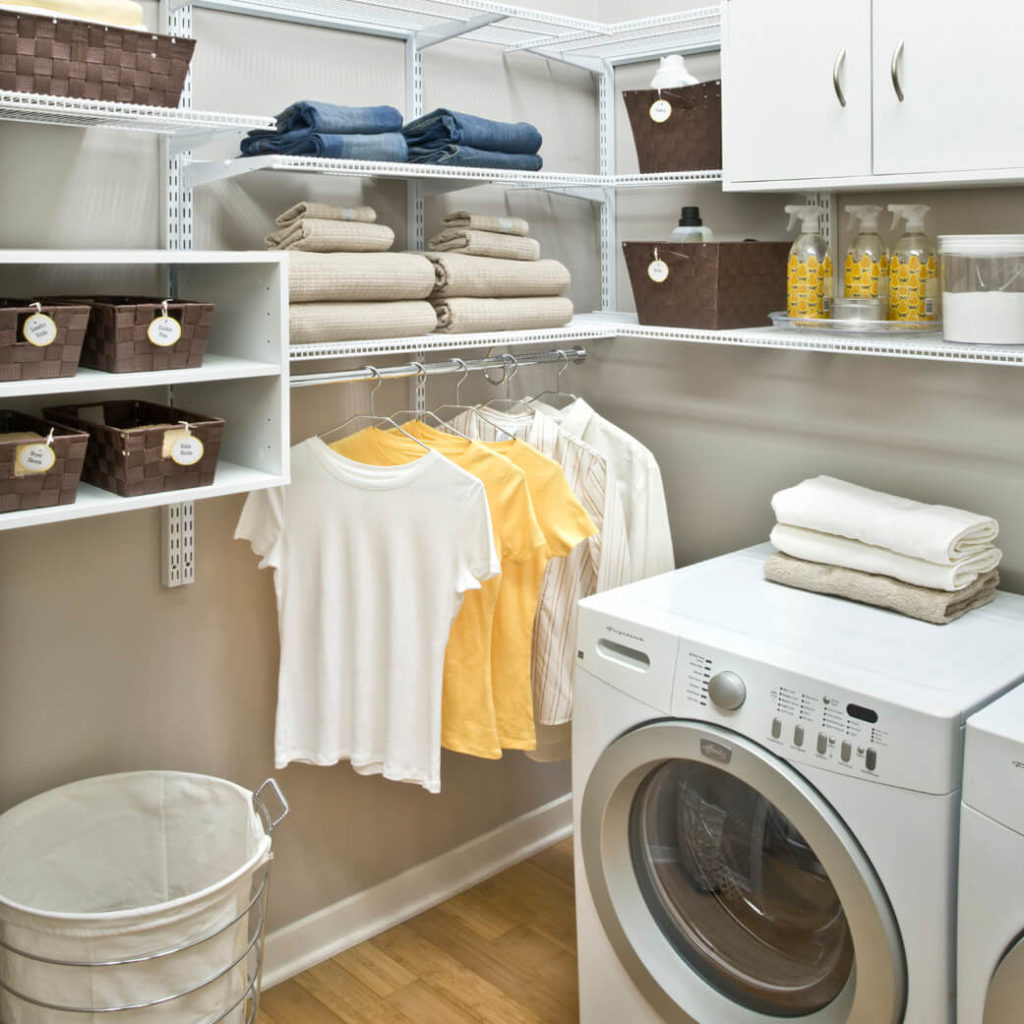 source: organizedliving.com
Baskets are a great way of storing things by keeping the clutter away giving a nice finish to the entire place. Instead of just keeping things just on shelves add baskets on the shelves or places near the washer and keep essentials on the baskets. Doing laundry is a real chore you can also make it interesting by adding some fun by using some cute baskets that will jazz the laundry room up.
Separate The Area With Curtains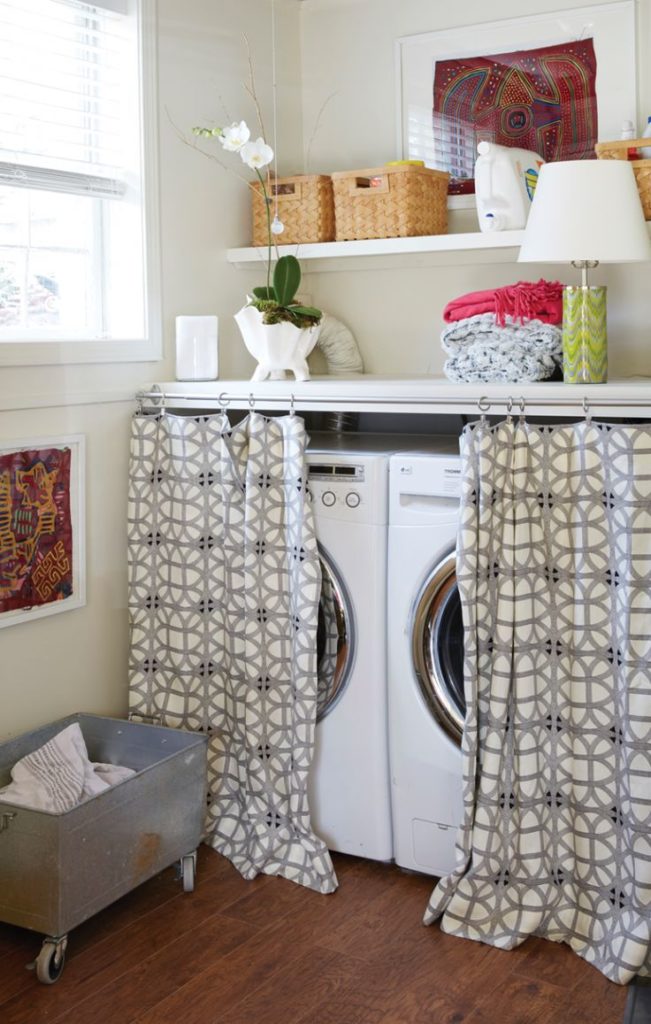 source: decoist.com
In case of tight space having door becomes of difficult task, you can optimize your laundry storage space by adding curtains as it cuts off a lot of space. Electronics appliances like washer, a dryer that comes into direct view can be hidden by the use of curtains, an alternative to the doors. Curtains can also be used as a medium for separating the areas needed to distinct also adding good quality of curtains allows you to flaunt your resources.
Optimize Wall Storage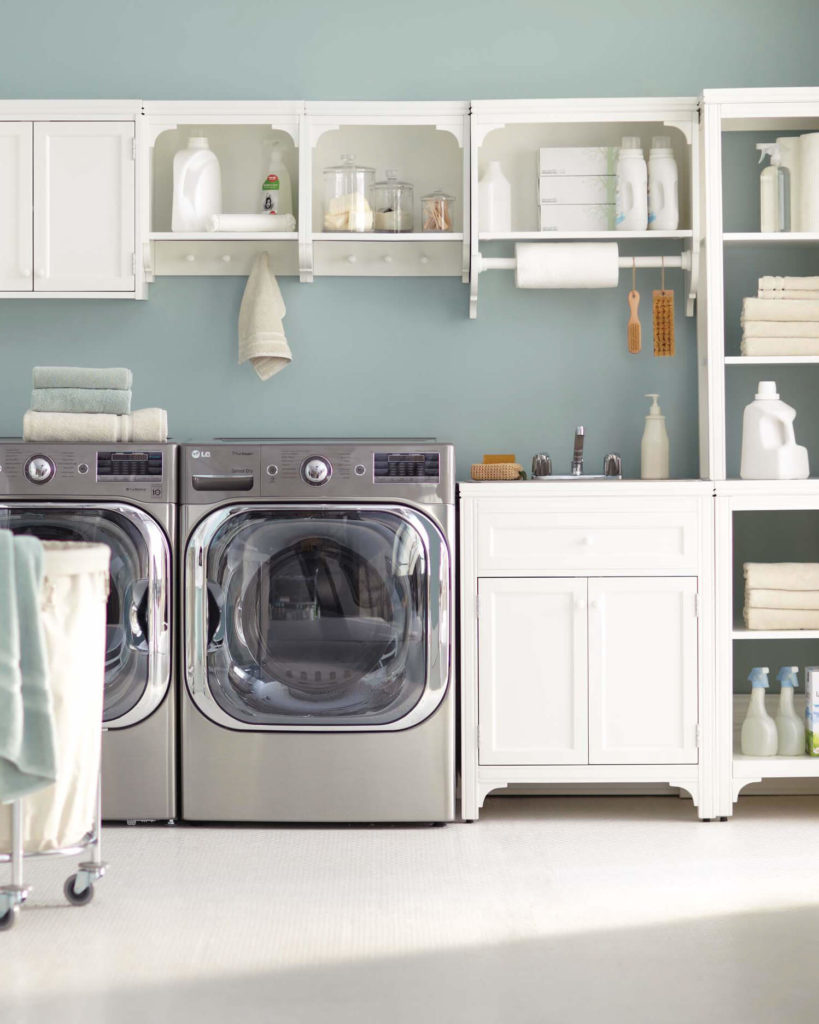 source: meredithcorp.io
If the laundry is your least favourite chore then it must have something to do with the design of your laundry room. Cluttered laundry essentials such as detergent soaps or conditioner on the laundry room make it look very chaotic and small. Use the free space on the wall by hanging baskets on them keeps every small and big thing organized and makes it easy to find.