In this faster growing world, everyone has a large collection of everything whether clothes, shoes, make – up items and some other personalizing entities too. In a happy kin there are almost 4 members in the house, everyone's collection of clothes, shoes and all other stuff varies from one to one. Those collections of clothes, shoes and all other stuff do vary as the season of your surroundings changes accordingly, you would have a question in mind that what do you mean by seasonal clothes? There are mainly three types of season which we take into consideration and we do switch our clothing and dressing style as per the season, the cloth which we wear in specific seasons is called seasonal cloth. Let us discuss different types of season and dressing style to be done keeping that season in consideration.
Summer season cloth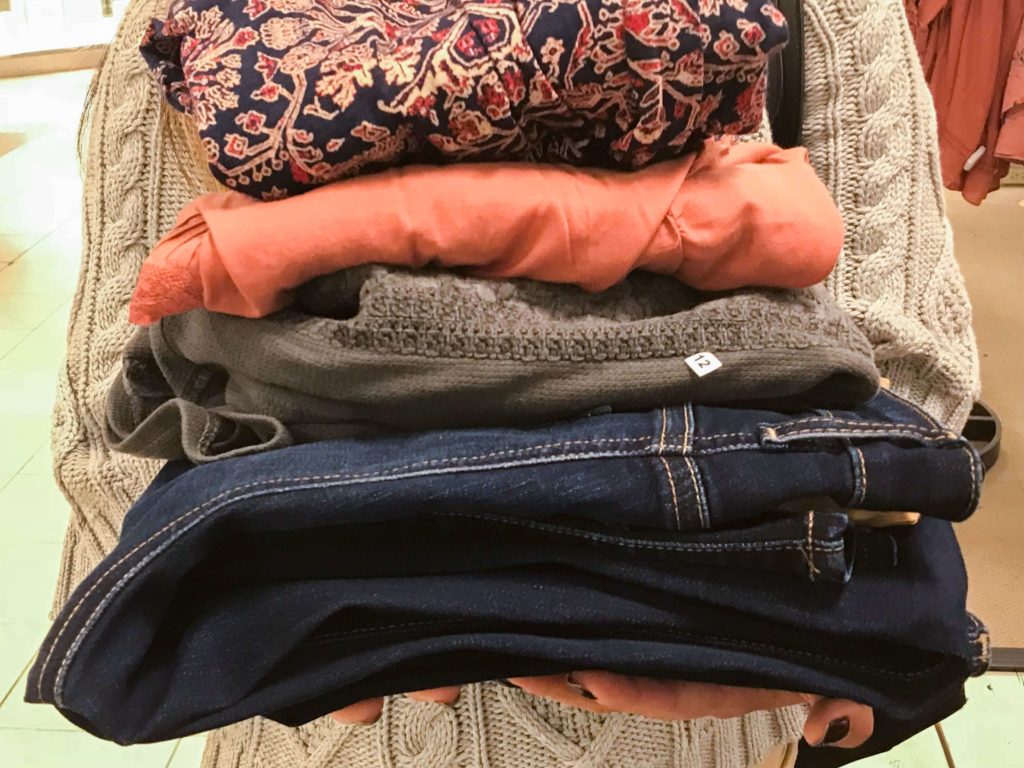 source: thekrazycouponlady.com
We all are familiar with that at the time of summer heat wind blows which increases the temperature of your surroundings, you can even say that the summer is the hottest season among all other seasons. Usually if the temperature of the surroundings increases your body starts sweating as you can't bear the heat coming, at that particular time we slowly and gradually switch our clothes to cotton clothes, as it is one of the good absorbers of water.
Cotton particles have natural property of absorbing the water, in the similar way they absorb the sweat coming from our body and exposes that sweat into the atmosphere, though it makes the overall evaporating process much faster and then fresh air passes through the cotton cloth which then the particles on the surface of sweat gain a cooling effect, thus whenever the air passes on your body will feel coolness. Moreover try combining cotton clothes with light color clothes as they are a weak absorber of heat which would give you a comfortable feeling. Most often the clothes we wear in summer are listed below:
 Winter season cloth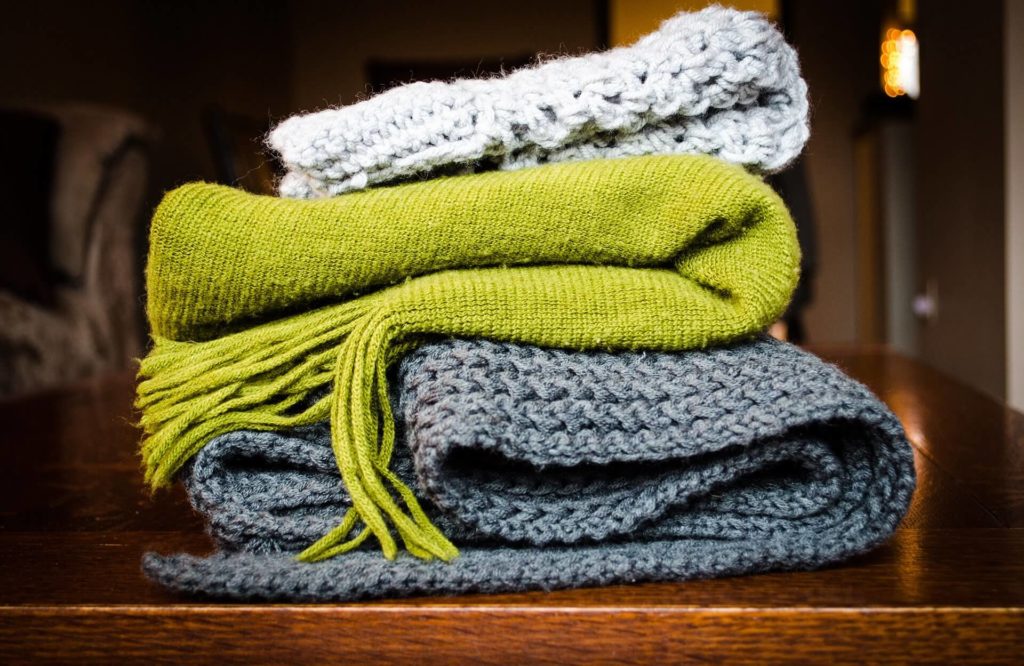 source: lifestorage.com
At the time of winter, the temperature is about 20 – 22 C inn somewhere the temperature may drop below 4 C, we feel cold air which makes the whole body shiver to avoid those shivering occurred due to cold wind we have to wear something that stops the cold air, for that purpose woolen clothes are the best to wear we even often call them sweaters, as they keeps our body warm and makes us sweat.
Woolen particles when embedded together to make out a cloth at that time the spacing between them is almost negligible, as their thickness is much more than cotton clothes they create a thick layer of cloth around our body which won't let the air enter inside them and you will not feel cold air anymore along with that your body will start sweating; it will give you a good comfort at winters. Clothes which we use to wear in winters are:
We do not focus much on monsoon clothes as they are simply made up of fabrics having a plastic cover on them some examples are rain coats, gum boots and many more.
Maintaining every type of cloth in just a small wardrobe is almost impossible, thus you have to manage your clothes according to the seasons and season pattern. Here, in The Architecture Designs we have 10 best tips for storing seasonal cloth. If you follow those tips thoroughly then you'll definitely get good managing skills about storing your clothes, moreover you can even sort out your clothes in some parts likewise clothes for home purposes, office routine, meeting routine, parties and much more. Looking for managing your clothes in the perfect manner so that you didn't get messed up while taking them out or moving them in
Then you must follow the below mentioned tips: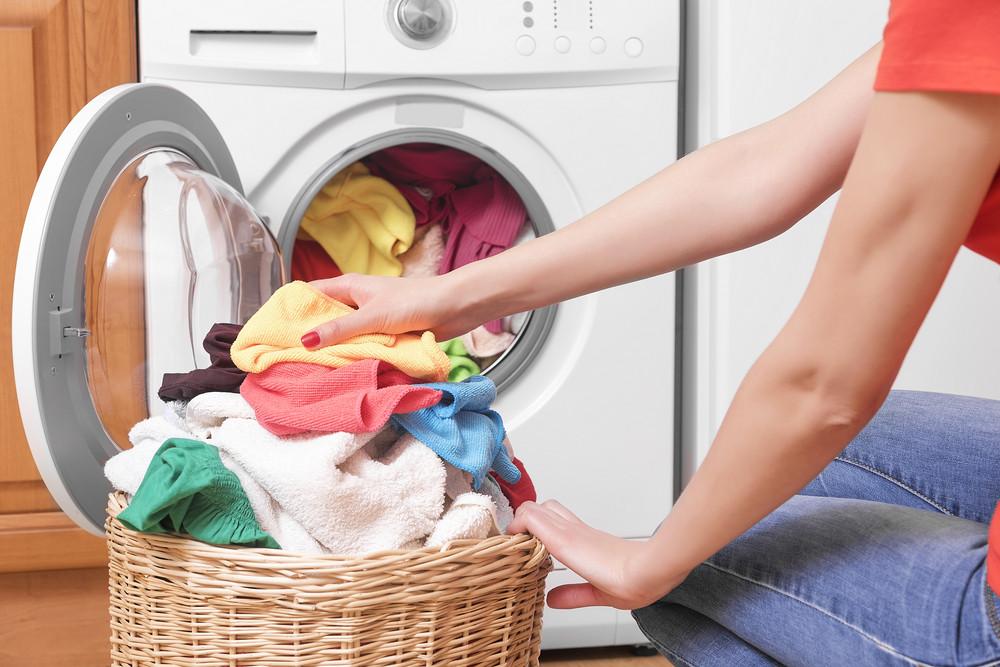 source: kaylaitsines.com
The first step taken while storing the seasonal clothes is cleaning, washing and drying. Why is it necessary?  Basically, when we wear clothes it comes in contact with so many unknown germs, dust and other micro particles too, thus, dirty clothes are hazardous and wearing them can lead to many bad effects on a human body. For preventing such bad situations the cleansing of clothes is a must.
Thoroughly washing of clothes will help you to get rid of dirt, food stains, oil and other stains, as this all dirt attract insects which spreads dangerous diseases, once washing is done then perform drying of them, if drying not done properly then the weight of the clothes increases in storage moreover it will start giving a pungent smell which no one would like. Before, packing and storing do clear the cleansing, washing and drying properly.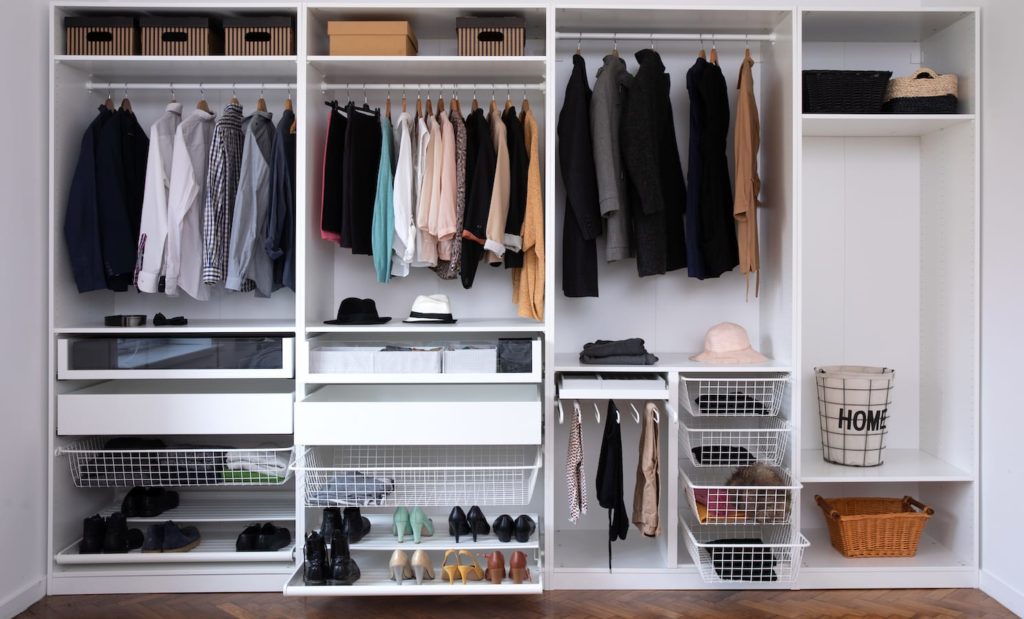 source: pods.com
Be choosy about the spot where you're storing your clothes, the spot must be insulated that means the temperature of the surroundings won't make the area swelter during the summer and freeze during the winter. Furthermore the storage must not be much larger than the things you have in hand and it must not be much smaller otherwise overwhelming must take place. Select a storage which is proper in the area and insulated with the reference to temperature and it should not devastate the roominess of any of the rooms. Secondary closet spaces are one of the best storage places, you can even store it under your bed or in a storage room if you have one.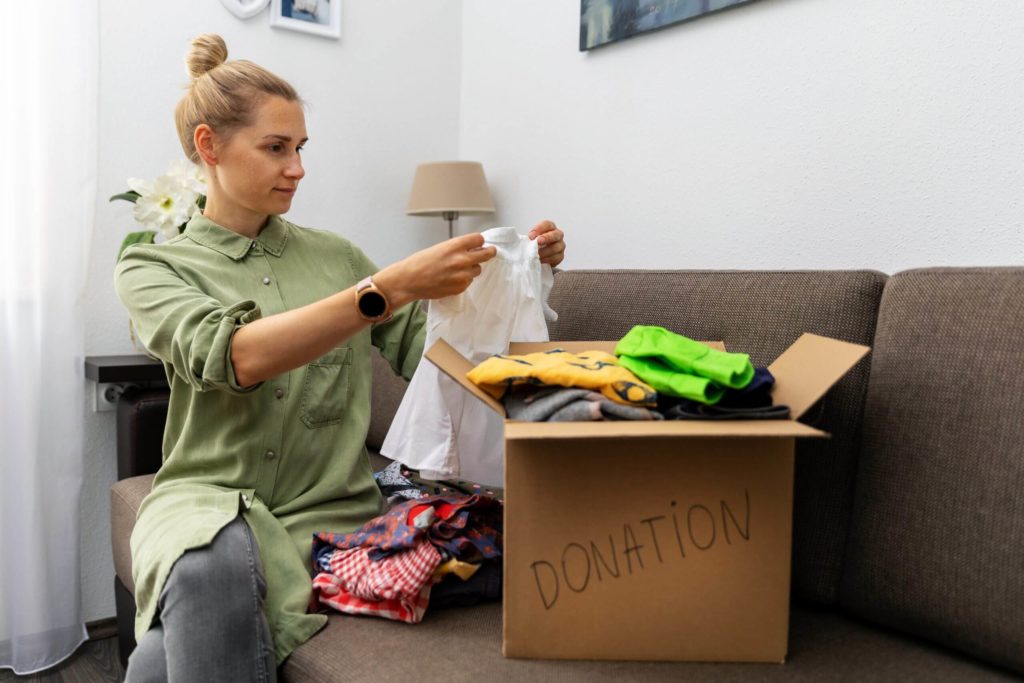 source: grmag.com
While packaging the clothes one would usually sort them out. While sorting them out there are many clothes which went out of the size, out of the trend or you didn't like to wear them, at that instance you must not throw them in the dustbin instead you must donate such clothes to other needy peoples. Donating is the best ethic to do you'll often get felicity.
The other way to use such clothes is re – using it. How can you reuse it? In kitchens you can use it as a utensil rubbing cloth, mirror cleaning purposes, floor washing and many more. Thus, re – using and donating is a good activity to do.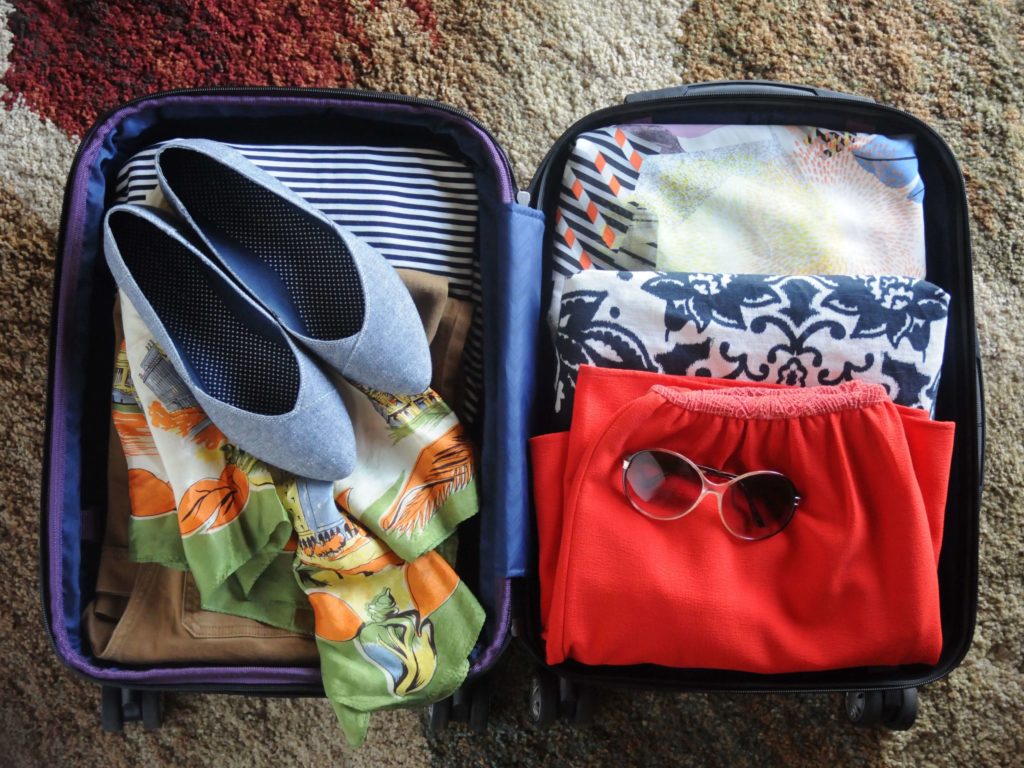 source: tripsavvy.com
The best thing to store your clothes in just one hump is suitcases. If you have numbers of suitcases unused around you then go rush on, take those suitcases and start rolling your clothes in a uniform manner to have a good sense of managing and storing them. All you need to do is bring 2 – 3 suitcases, keep one for shirts / t – shirts, keep one for pants and one for exceeding the number of clothes. All you need to do is roll your clothes in a uniform manner and place them in their respective suitcases. Why only suitcases? The reason behind this is very simple and pretty understandable, they are small in size but provide a large storing capacity easy to handle and manage, they are all almost regular in shape thus pooping out some space for them is an easy task for one to do.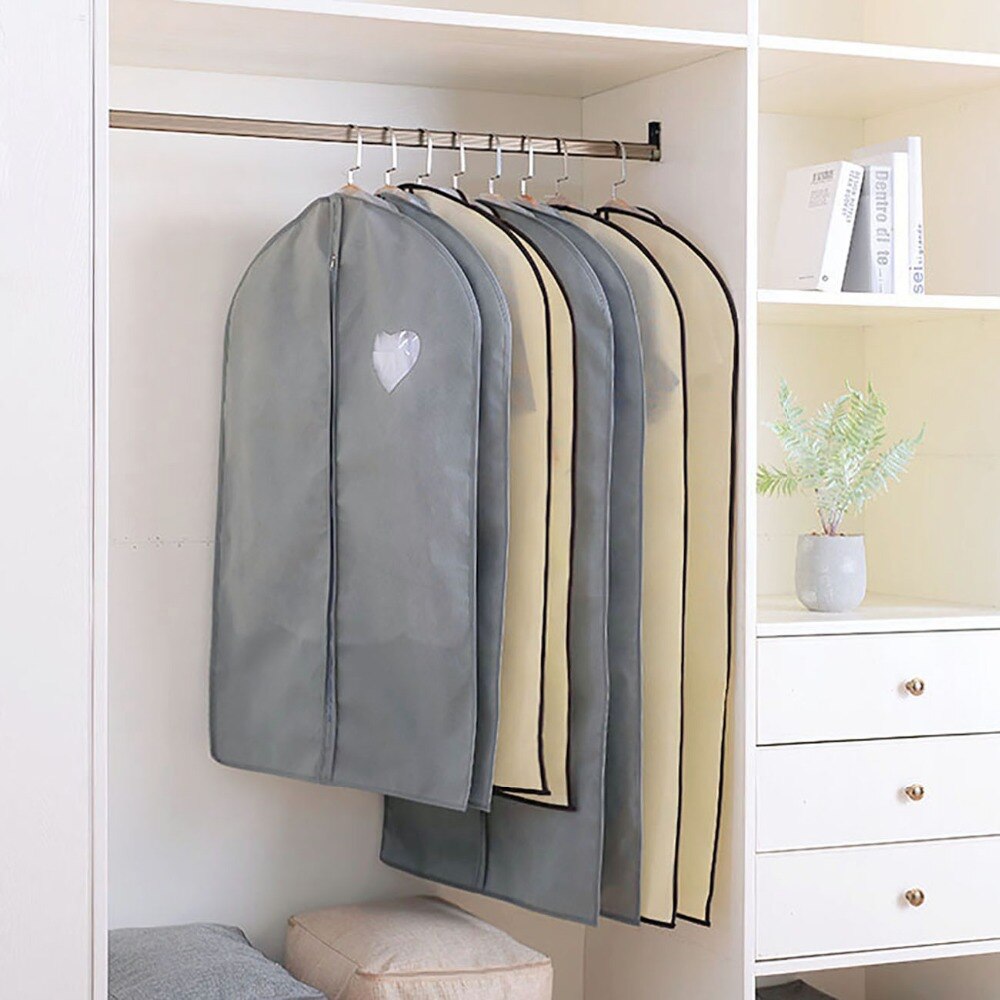 source: aliexpress.com
For handling your expensive and subtle clothes, go on to the market and buy some cloth garment bags, now the question arises what is a cloth garment bag? It is a bag which is made particularly to store expensive or delicate clothes separately, without mixing them with the traffic of other clothes. Do not buy a plastic bag ever, it will make your clothes trapped in them, moreover clothes also need a breathe for sustaining. You can keep those bags on your shelf or else you can hang them on the rod of your closet.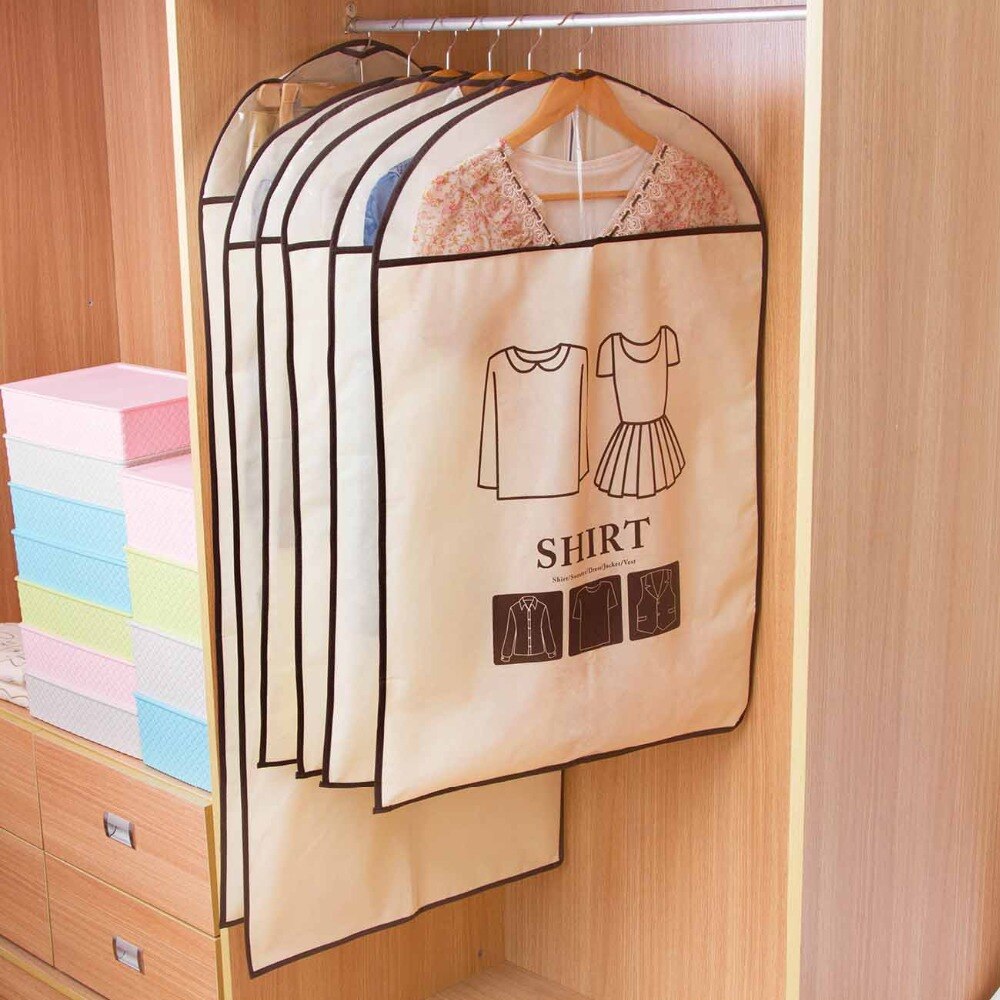 source: aliexpress.com
Do you think just keeping your clothes in an insulated place will make them safe from moth, rats and other insects? The answer is no! Moth, rats and other insects may get access to enter in your storage and also in your clothes, if they gets the access then they will start destroying your clothes which is not at all good, thus, for preventing them from such unwanted insects you can use naphthalene balls there smell will keep insects away but a disadvantage must occur, it will also make your cloth smell the same which one would not like. For achieving a total prevention without any side effects just go on storing in such a place where insects can't have access.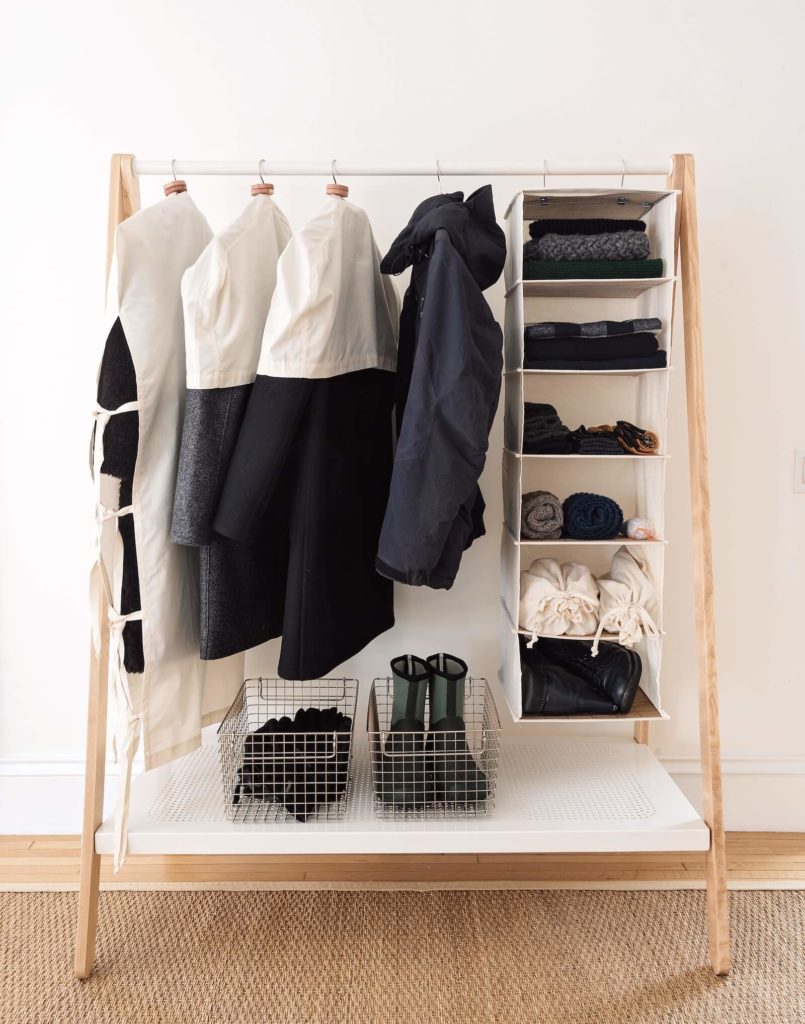 source: organized-home.com
Storing clothes for a long time can make your clothes have a pungent and bad smell; the reason behind those smells is moisture and naphthalene balls if you have kept them in. To avoid, use cedar balls; as cedar is totally made in nature it will give us a natural scent, moreover it has properties to keep fibers and other cloth materials fresh. Its smell is so dynamic that it not only keeps your clothes smelling well, but it also helps in keeping bugs away. If you didn't like cedar to keep in you can even switch to dry lavender or dryer sheets for achieving similar effects.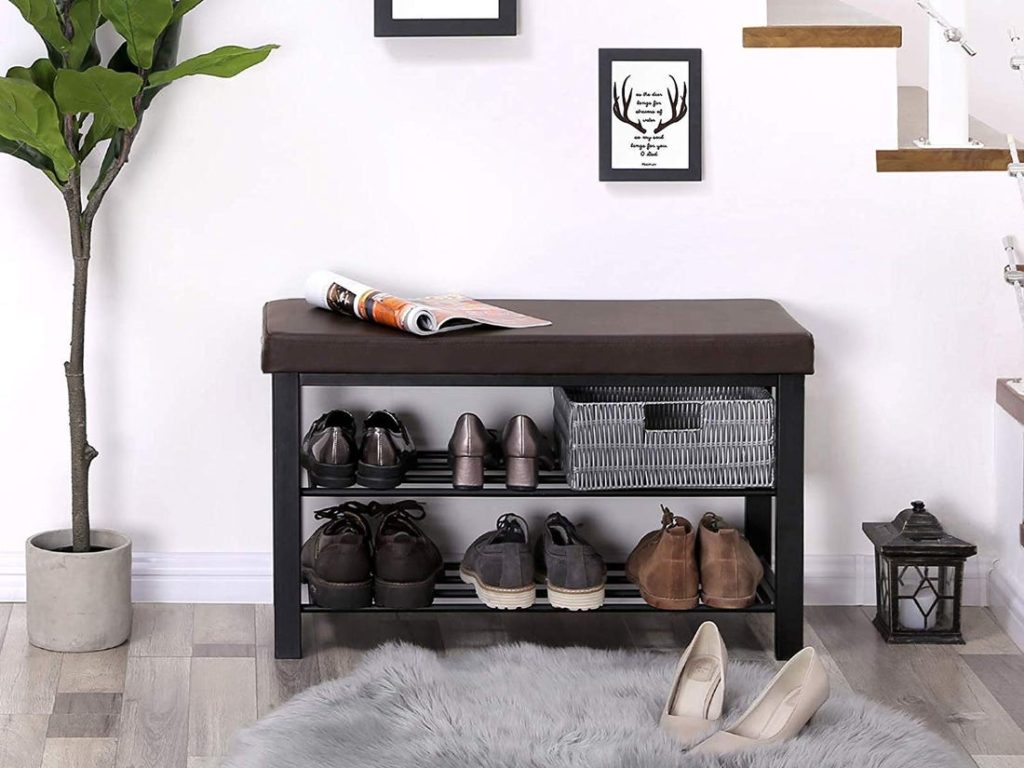 source: businessinsider.com
Looking for storing shoes in a proper manner, then do follow the steps mentioned below:
Wash / brush them thoroughly just with the aspect to achieve dirt free / germ free shoe. Moreover you can even wash the sole ( optional ).
Now go on adding a pinch of baking soda or any other strong fragrant inside the shoe, to remove the odors.
Once done with the above two steps, after then go for polishing your shoes, it will help you to maintain the same color of the shoe for a long time.
( Optional ) Looking to keep your shoe shape as delicate as it is you can use a shoe tree.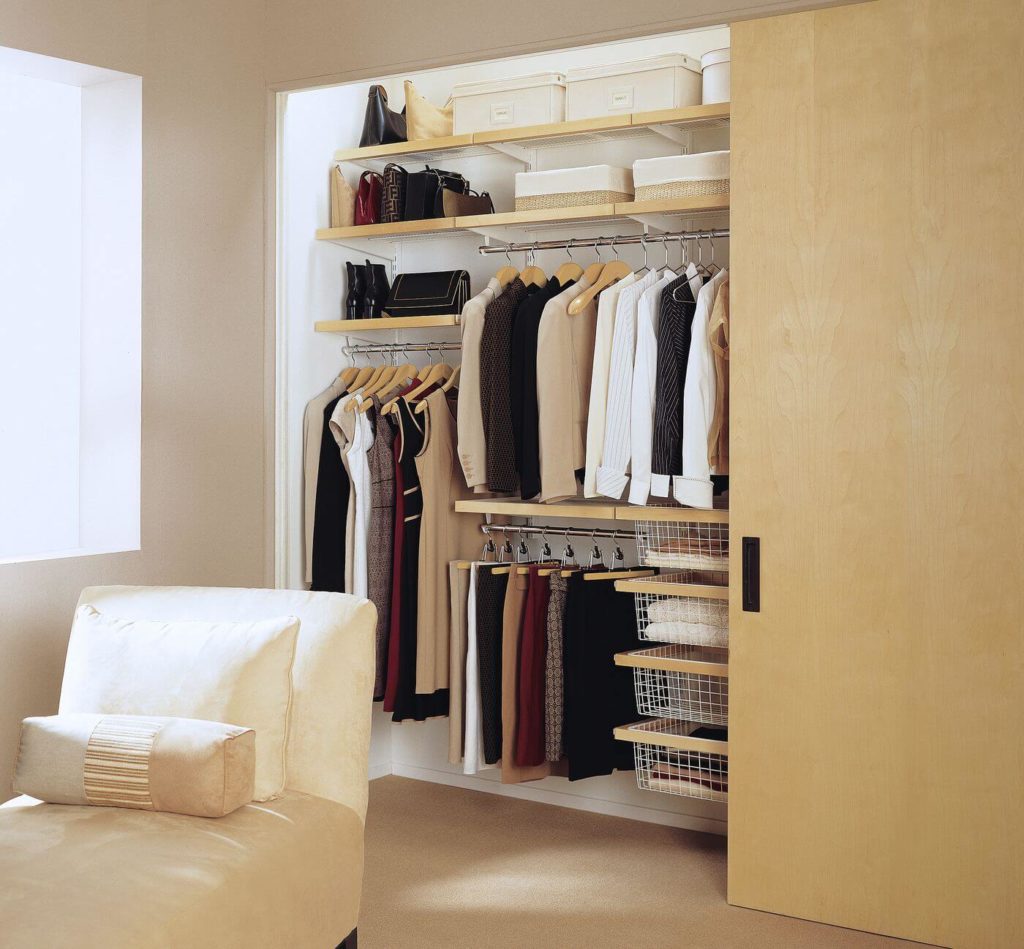 source: thisoldhouse.com
Achieving roominess is everyone's wish, one would not like to mix their clothes with other clothes, thus making separate shelves accordingly is a better idea to achieve roominess also it will help you in easy accessibility to your clothes. Separate shelves means making a separate place for you, your children, your spouse and your grandparents. If you do so then you can easily get to the place accordingly as per the needs but if you have mixed clothes then you won't be able to find them out easily, that will make you frustrated. Thus, keeping a separate shelf is helpful to work which one can do while storing the seasonal clothes.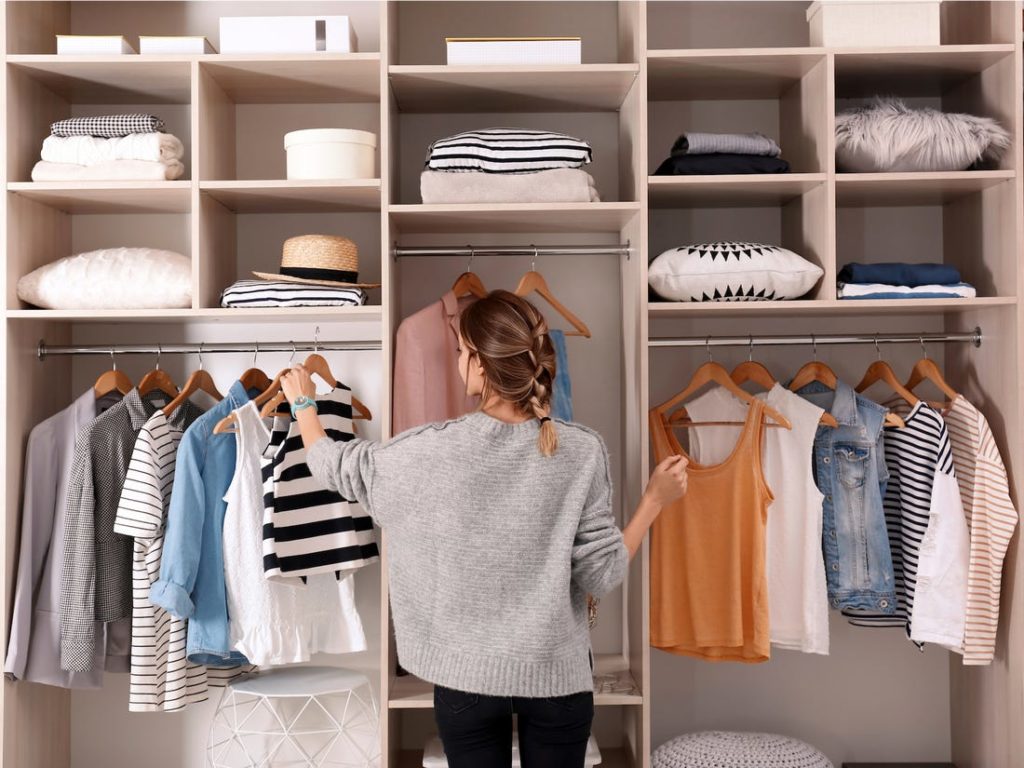 source: insider.com
Labeling is the last the step for storing your clothes, if you do not have a large space for making separate shelves for everyone or you are way confused with your storing bins likewise you forget that in which bin you have stored which types of clothes, at that time labeling comes in and a play a vital role. While making different – different bins for different types of clothes just take a piece of paper and pen and start labeling out your bins, suitcases and storage places, moreover as we talked about the separate shelves if you do not have enough space to make a separate shelves, you can go for labeling with your names too.
Following those tips will help you in organizing and managing your seasonal clothes in a proper manner. Thus, whenever you'll be in need of taking them out, because of your management you can get to them in an easy way. Furthermore those tips will help you in achieving roominess too.