A bathroom should be a place where you can relax and rejuvenate, and if yours is starting to feel a bit lackluster, there are plenty of ways to give it a fresh new look. You want a space that feels inviting and a haven for you to unwind in after a long day. Whether you want to create a zen oasis or add some functionality to your bathroom, these seven ideas will help you breathe new life into your bathroom.
1. Install New Plumbing Fixtures
source: pinterest.com
This can be as simple as replacing an old faucet or showerhead, or you may want to go for something more dramatic, like a new toilet or bidet. This will not only make a big impact on the overall look of your bathroom but also save water and reduce your utility bills when you opt for high-efficiency models. If you're not sure how to install new fixtures, consult a plumbing repair expert to do a professional job. 
2. Update Your Bathroom Tiles
If your bathroom is looking dated, one of the quickest and easiest ways to freshen it up is to replace the tiles. You could go for classic white subway tiles or opt for something more colorful or patterned. Either way, new tiles can make a big difference in the overall look of your space and give it a much-needed facelift. Opt for non-slip tiles to ensure safety, especially if you have young children.
3. Give Your Walls a Fresh Coat of Paint
source: pinterest.com
A fresh coat of paint can work wonders in any room, and the bathroom is no exception. Choose a color that will help create the vibe you're going for—whether that's calm and serene or bright and energizing. Only use paint specifically designed for bathrooms, as regular paint won't stand up to the humidity. Also, consider a bright and cheerful color to help start your day on a positive note or a soothing shade to help you unwind at the end of the day.
4. Add Some Greenery
Plants can help purify the air and add a touch of life to any room, so why not bring them into the bathroom? There are plenty of options that can thrive in high humidity, such as ferns, orchids, and even bamboo. Just be sure to choose a spot that gets plenty of indirect sunlight, as too much direct sunlight can scorch leaves. A small plant can make a big impact and really help freshen up the space.
5. Change Your Bathroom Accessories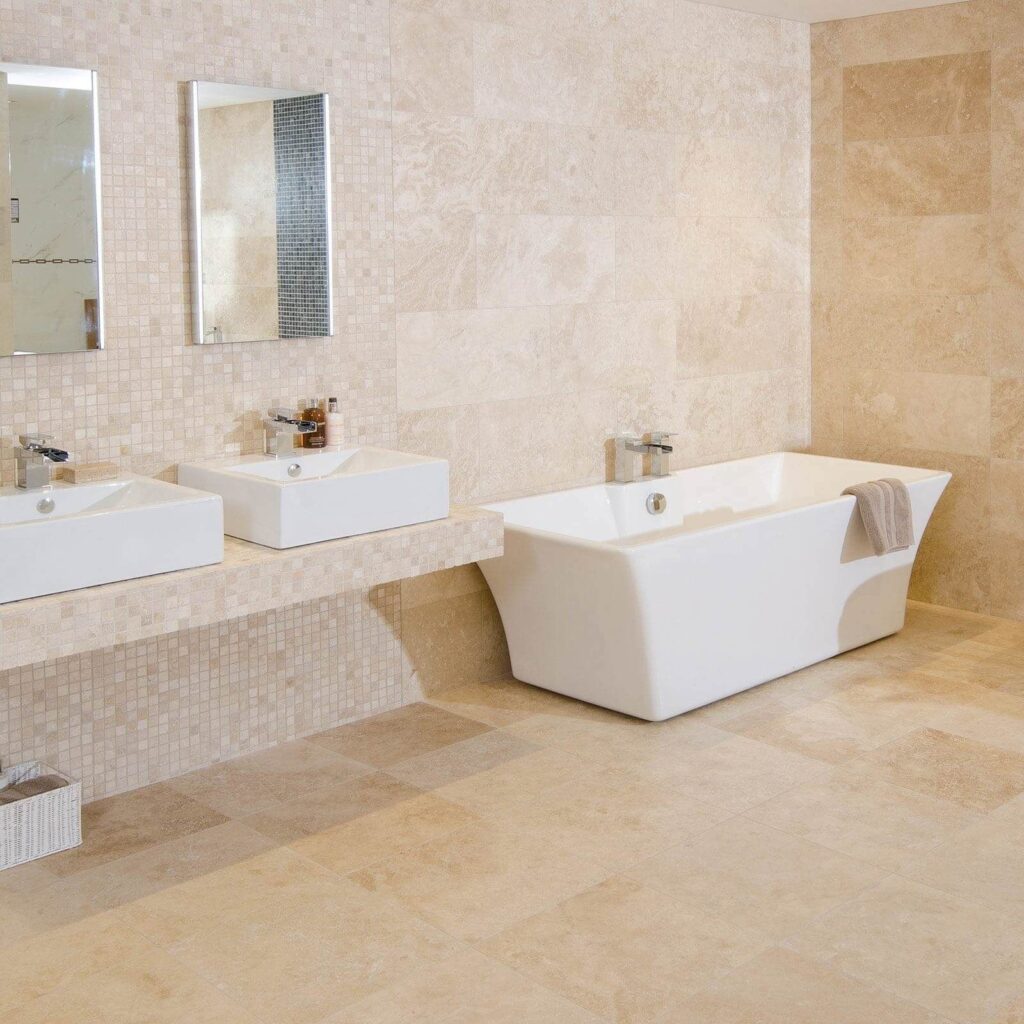 source: pionterest.com
Another quick way to change up your bathroom's look is to switch out your old, tired bathroom accessories for new ones. This can be as simple as swapping out your hand towel holder, tumbler holders, robe hooks, and tissue holders for new ones or replacing an old, chipped soap dispenser with a sleek new one. You can also go big and replace your shower curtain, toilet brush holder, or even your bathmat. 
6. Install a New Vanity or Sink
If you want to add more storage or practical functionality to your bathroom, consider replacing your old sink with a new vanity. This will give you plenty of space to store toiletries and keep the countertop clear. If you don't have the budget for a complete replacement, try adding a new sink. Install a floating vanity for a modern look or a pedestal sink to create more open space.
7. Play Around With Lighting to Create the Perfect Atmosphere
source: pinterest.com
You can also use lighting to change the ambiance of your bathroom and make it feel more refreshing. Try using softer, dimmer lights for a relaxing vibe or brighter lights if you want to energize yourself in the morning. You can even get creative with colored light bulbs to set the mood. Focus on creating a well-lit space rather than relying on one central light source. This will make your bathroom feel more spacious.
Go Ahead and Transform Your Bathroom 
Don't be afraid to change up your bathroom décor. Pick out a couple of these ideas and run with them. You may be surprised at how much of a difference they make in the feel of your bathroom—and how good it feels to have a space that's all yours, exactly the way you want it.