Read on for simple tips on how to dispel disharmony in the bathroom and turn it into a place where you can relax & unwind after even the most stressful of days.
Bathrooms may be the smallest of your spaces, but don't equate a lack of size with a lack of potential! Whether it's a total renovation, buying some new bathroom furniture, adding a few well-placed accessories, or just upgrading your storage – it's really worth taking the time to curate a space you can enjoy a moment to yourself in.
Storage spaces play a major role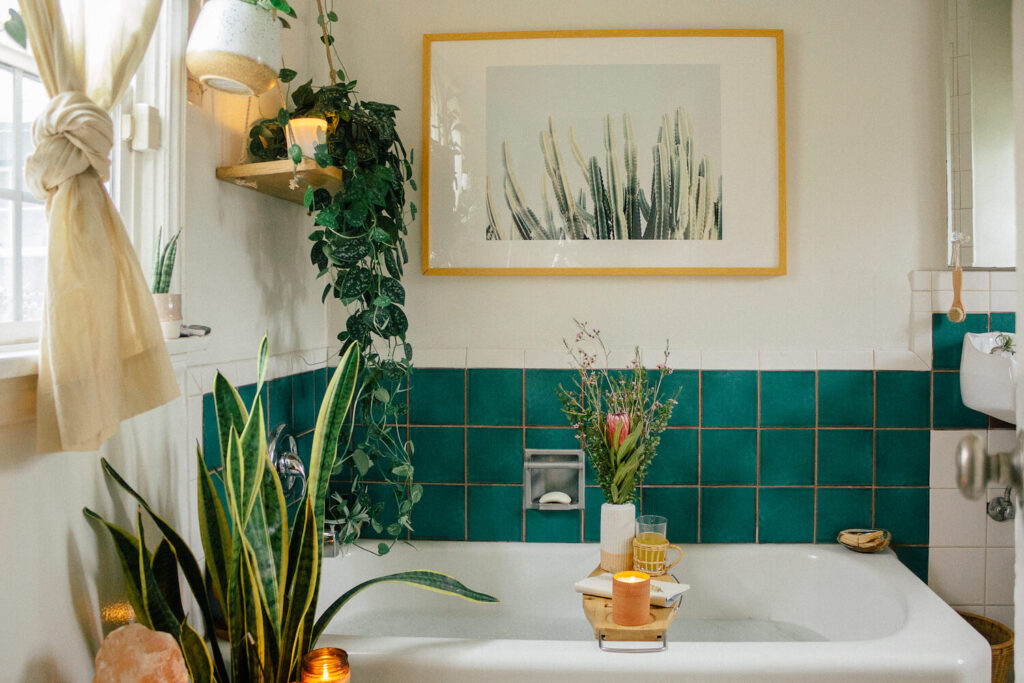 source: society6.com
It goes without saying that everyone needs privacy in the bathroom, but it's also the room that gets the most use. No amount of magic will make the bathroom bigger to accommodate everyone at the same time, but practical storage pieces will create space for all those bits and bobs you need to keep close at hand. Bathroom sets are a stylish solution. For one thing, they'll make your bathroom look perfectly coordinated, and for another, they'll give you enough space for everyone to have their own section.
Tip: Use every inch of your bathroom. Don't be afraid to go all the way to the ceiling with the shelving if you are really pushed for space, and don't neglect spaces like above the toilet or below the sink – perfect nooks for little cupboards or a few extra shelves.
Go for natural materials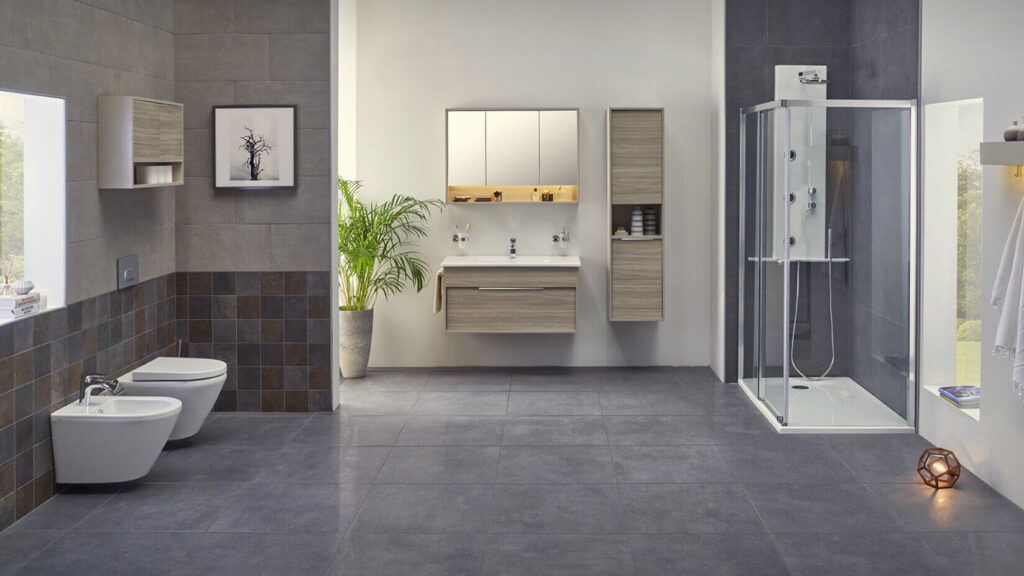 source: pinterest.com
Natural materials bring a harmonious atmosphere to the bathroom and don't overwhelm the space with garish colours. Plus, they're beautiful, long-lasting, and often eco-friendly. Grab a few well-chosen accessories such as wicker baskets, or wooden soap dispensers and shelves. For things close to sinks or showers, remember to go for tropical woods that are hard and highly resistant to moisture. And if you have a bathroom with windows, definitely get some plants. In particular, ferns, orchids, or other species from tropical rainforests thrive in humid environments.
Little things matter
source: architectureartdesigns.com
It's the little things and tiny details that make a house a home. And the same goes for bathrooms. Candles, dried flowers, and other decorative pieces are exactly the kinds of unexpected things that can make every day more luxurious. If you like to indulge in long, hot baths, think about getting some scented candles, bath oils, or aroma diffusers. The right scent will create a spa-like atmosphere as if by magic! And when it comes to textiles, make sure to go for high quality: the softer, the better. Nothing relaxes the body after a long day like a hot bath and a fluffy bathrobe.
Light works wonders in the bathroom
source: hgtv.com
Light has a huge effect on our minds. That's why smart lighting that you can adjust is ideal in bathrooms. The light can then be easily adapted to a brighter setting for doing make-up or shaving and a warmer, lower setting for relaxing in the tub. Why not install a mirror with an LED light built in – it's economical, intense, and long-lasting. When choosing bathroom lighting, also look out for the IP protection number. The higher it is, the more resistant the bulb is to damage and water penetration.