Many of us feel captivated when we see metal wall art. Some of us even end up falling in love with the design and the fact that it can complement almost any kind of interior design. However, there are also a lot of people who remain on the fence with metal décor. Some of you might ask, "what makes metal art pieces better than any other kind of décor?" 
Below are just a few reasons why metal wall décor can be a good thing to your interior design.
It is Durable and Long-lasting
source: pinterest.com
One of the biggest, and most obvious advantages of having metal wall décor is that it's long-lasting. Metal is strong, durable, and can be moved around and placed anywhere you want, with very little risk of it getting damaged. We're not saying you should be rough when handling them, but in general, they are built to last longer compared to other types of wall art.
Metal wall décor has an impressive longevity. Other wall art pieces are made from plastic and wood, both of which have their own disadvantages. Plastic, for instance, can break from impact, and wood can deteriorate in quality over time when not properly cared for. Wood also doesn't do well when exposed to different elements such as rain.
Metal, however, retains its quality for years from the day you purchased it.
Canvas art pieces are popular, and while they can be a good option for home décor, it comes with disadvantages as well. Canvas is easily damaged and can't be repaired when it takes a beating. This can pose a problem especially for homes with small children. 
Metal wall décor is a great choice for homes with small children, as they can withstand most of the damage kids are capable of causing. 
They are Easy to Hang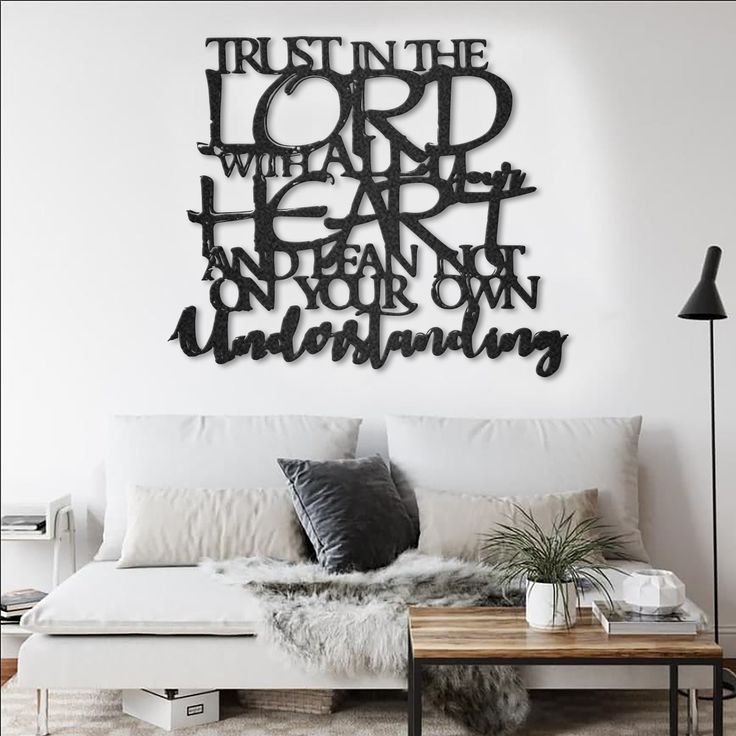 source: pinterest.com
One thing people love about metal wall décor is how easy they are to hang. They can be cut into any shape and style you want. There are even unique metal wall art pieces that deviate from the standard rectangular format, letting you create unique and beautiful text shapes.
It is Unique and Eye-Catching
One of the great things about metal wall décor is how persistently unique it is. Many familiar motifs have been established as the norm in interior décor at this point. You've probably seen them all before—framed pieces, canvas prints, text printed out or painted on wooden boards, and so on.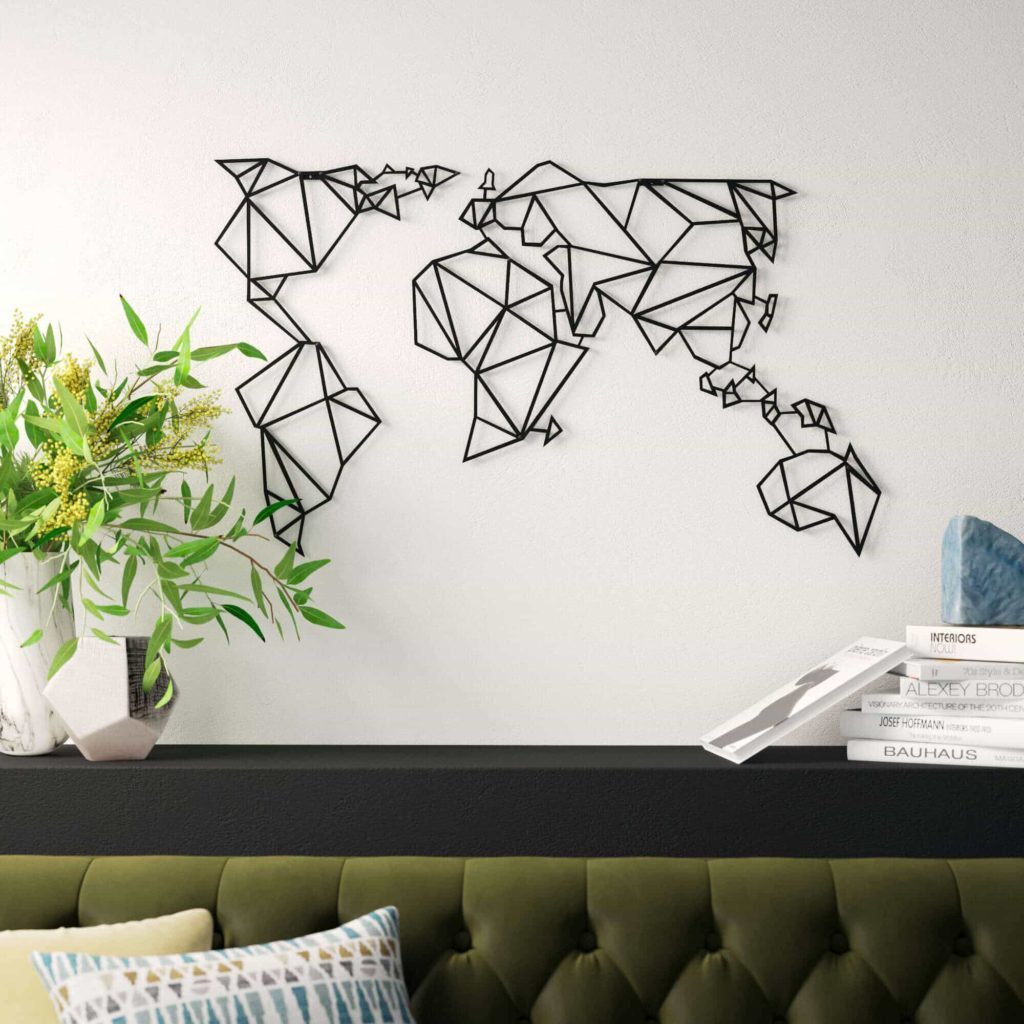 source: pinterest.com
Metal art, however, isn't as common in most homes. Metal art still hasn't gotten to the point where it's a first choice for interior design, and the reality is, many wall art sellers and makers do not have the equipment necessary to create high-quality, custom-made metal art pieces. This is why metal artwork is hard to find. This isn't a bad thing, however—it only means that every metal wall décor is unique in its own and will be sure to catch the attention of everyone who visits your home. They will not miss the chance to compliment such unique art pieces. 
Many metal wall décor makers make sure that every single one of their products is completely unique. It won't be possible for one manufacturer to copy another artwork that easily. It's not as simple as photocopying an image and calling it a day. 
Interior Design-Friendly
Let's consider the fact that not everyone is born with a talent for interior designing. Some people are naturally born with the talent of masterfully arranging rooms with no effort. They can piece together furniture, wall décor, supplies, and whatever they have on hand to make a room look beautiful. On the other hand, there are those who stress themselves out for weeks or months trying to come up with an aesthetically pleasing design for their room or home, only to fall short and be disappointed.
It's okay if you're not an interior design wizard—not everyone has that talent to be one. If you're using metal wall art, you're in luck! Metal wall décor and furniture complements just about anything!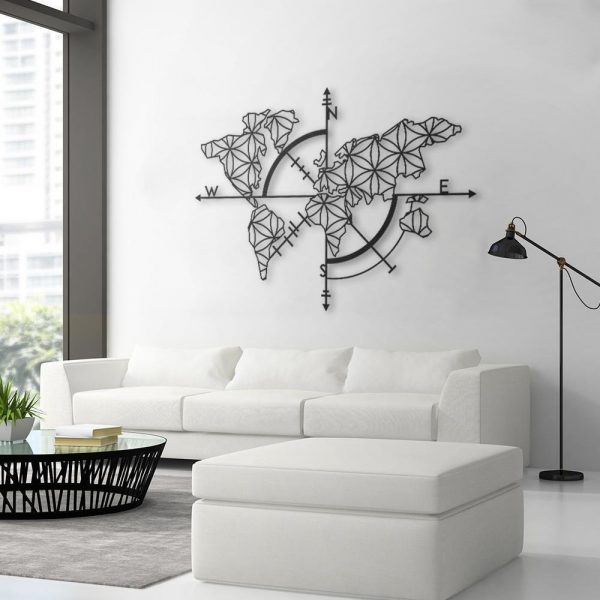 source: pinterest.com
Metal wall décor is unique in the sense that it is virtually universally compatible with almost any decorating style. Metal somehow finds its way to blend in with just about any motif you can imagine. It looks good in a minimalistic modern design, and it looks just as good in a rustic, old-fashioned country look. 
Metal's natural gray colors mix well with almost all colors. This makes it possible for metal to  blend in with monochromatic-themed rooms just as well as the brightly-colored ones. 
Although metal wall décor isn't guaranteed to work 100% of the time for some decorating styles, it does work most of the time, and can give any room that much-needed flair, especially when you feel that it lacks 'something'. It's amazing how a simple metal art piece can make any interior space look classy. 
Metal wall décor is very much a "one size fits all" for decorating purposes. If you are looking for something that's easy to work with and you don't have to stress whether it complements your theme or home's aesthetic, then this is one of your best options!
Conclusion
source: pinterest.com
Metal wall décor is probably one of the most durable and most flexible décor items you can have in your home. They are designed to last for generations so your grandchildren and their children can enjoy them. They are also adaptable which means they can be used indoors or outdoors. Some people might consider metal art pieces to be tacky, but most consider them unique and one-of-a kind.
Metal wall art is a unique art form that creates a focal point in your home like nothing else can. Most metal art pieces are stunning on their own too. Unlike other art forms, metal artwork is surprisingly cheaper. This can change in the future due to the rising costs of materials, but for now you can still enjoy the beauty of wonderfully crafted metal art pieces for cheap.