The summer season is here, which means that you might want to entertain your guests outside in the backyard. However, the biggest problem which everyone faces is keeping their drinks cold while waiting for dinner. The best solution to this is to create a DIY outdoor bar. 
If you want to design an outdoor wall for your backyard or your patio this guide is designed to help you find some of the best outdoor bar design ideas.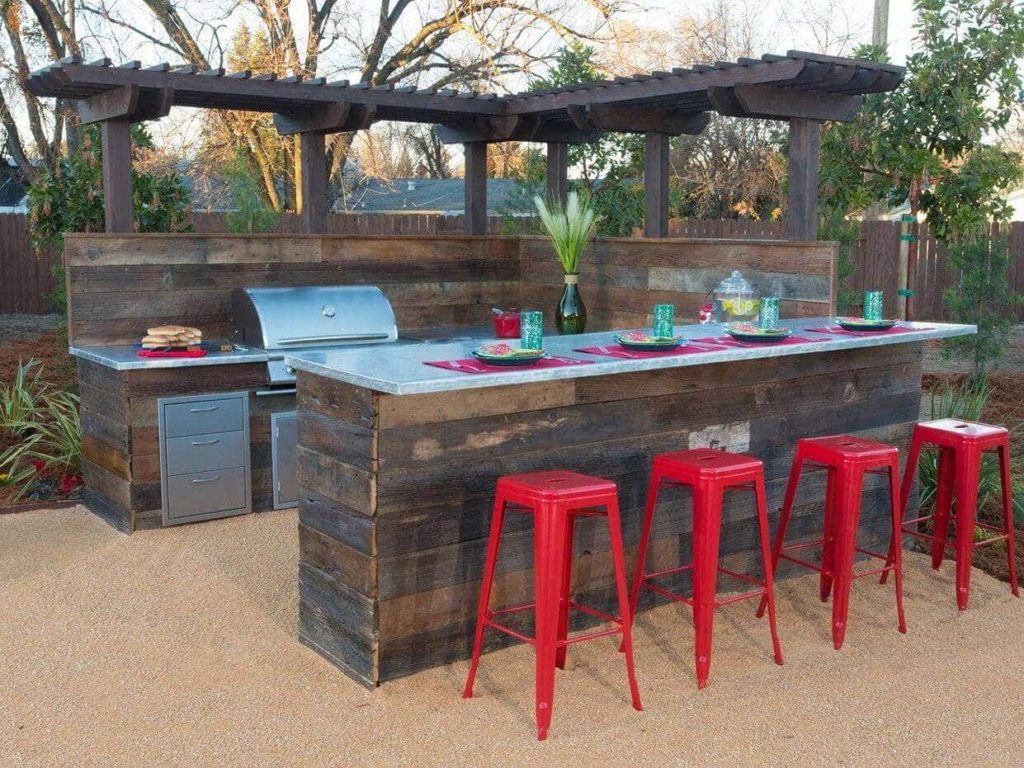 source: pinterest.com
If you like a contemporary and vintage feeling you can create a beautiful bar with wooden ply and a stylish countertop. You can complete the look with tall stools where you can sit with your friends and enjoy the evening.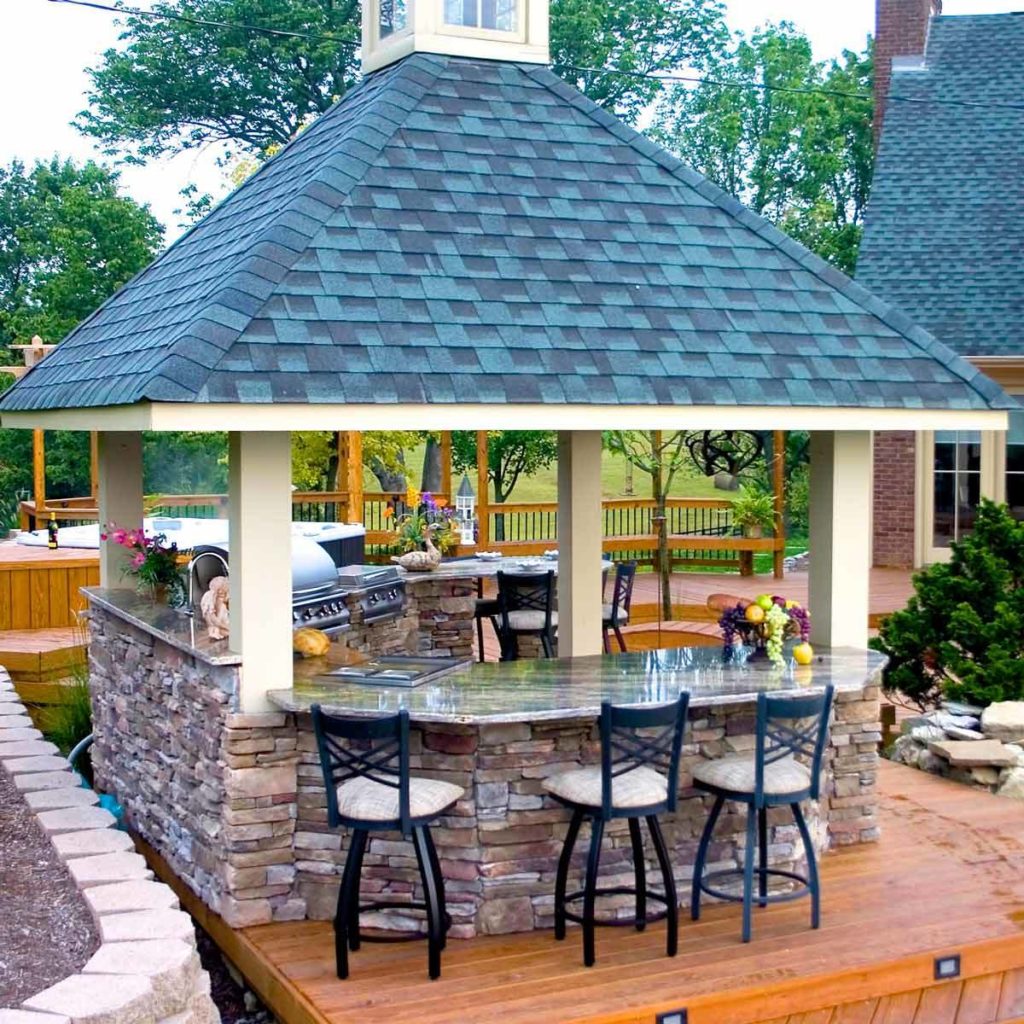 source: familyhandyman.com
Whether you are planning a get together with your friends or your family, this rustic

outdoor bar

will certainly capture the attention of your visitors. The blue roof and beautiful stone walls are one of the best combinations for an outdoor bar.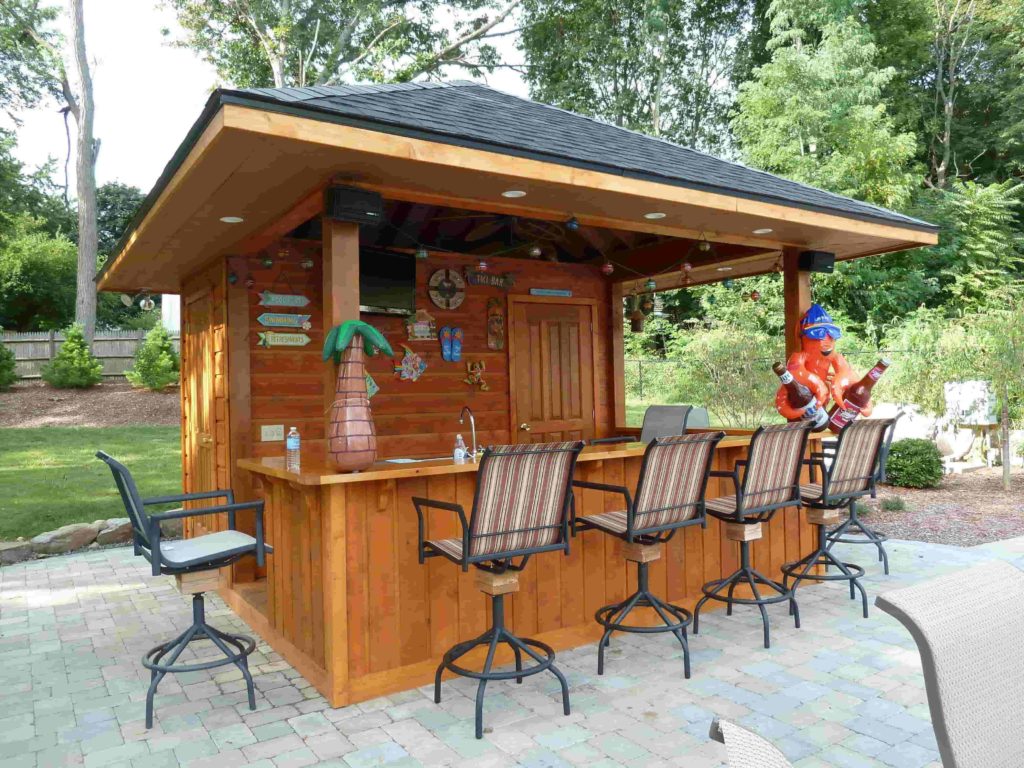 source: pinterest.com
Keep all of your beverages frosty and cool with this ingenious outdoor bar. All you need to do is use a wooden frame to create a small cabinet with a countertop. Place some chairs where you can sit while enjoying your drinks and you are good to go.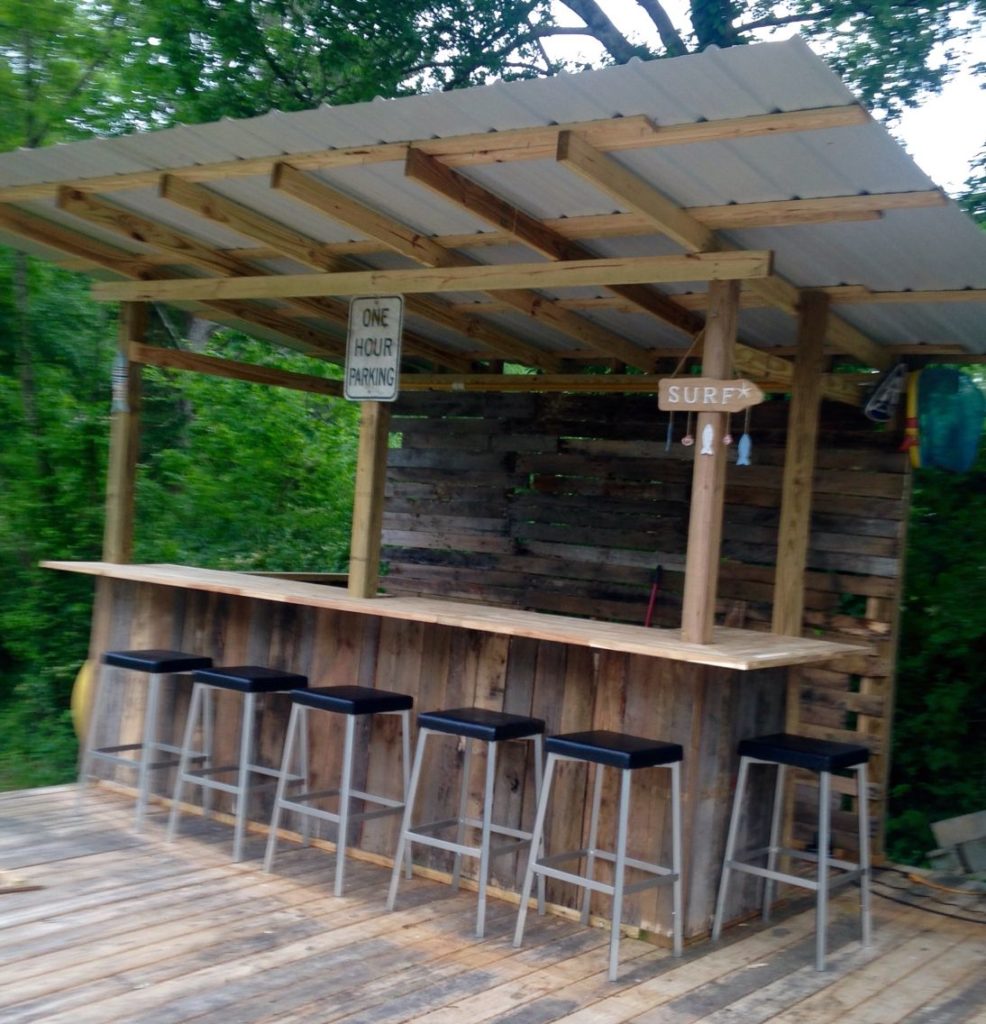 source: pinterest.com
If you do not want to spend a lot of time and energy to build a bar, you can just create the front of the bar and use some asbestos sheets as the roof. Now place some sitting chairs and you have your outdoor bar.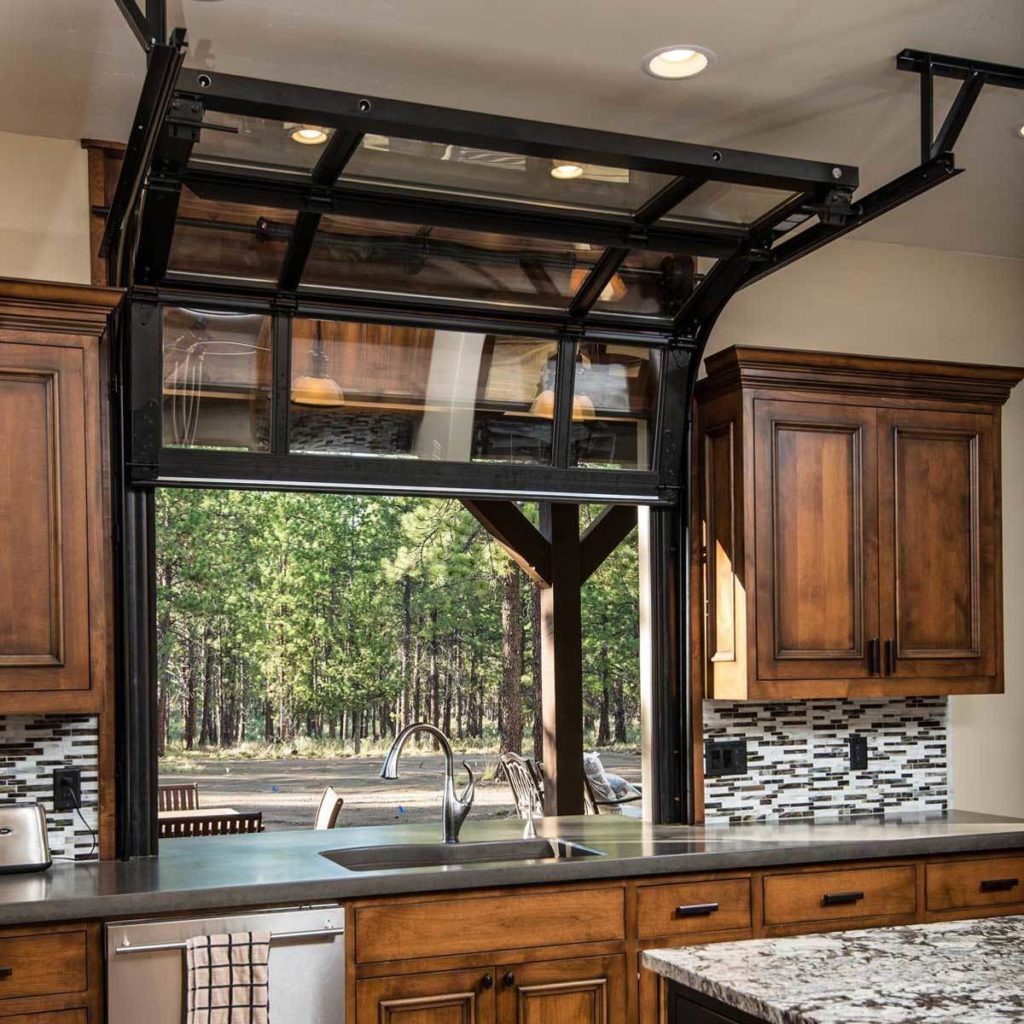 source: familyhandyman.com
One of the most ingenious garden bar ideas is to create a sitting area adjacent to the kitchen window. In this setting, you do not need to do anything except creating a sitting area. You can chat with your friends while preparing the food. You can also hand them their drinks through the window without the need to having a separate cooler outside.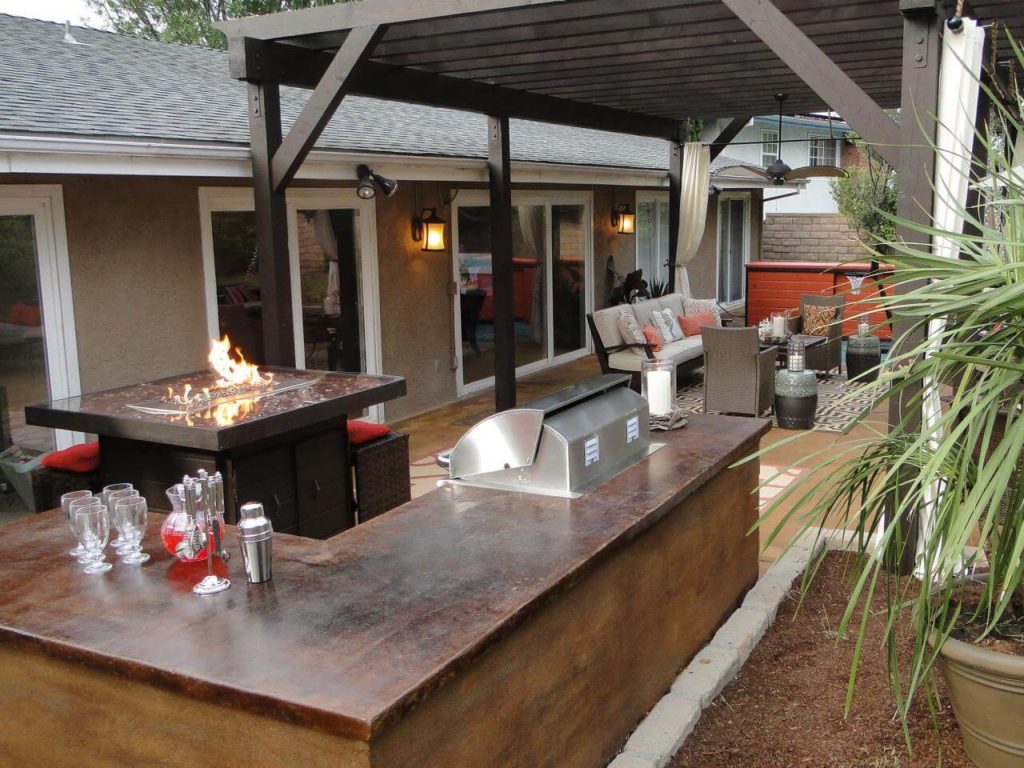 source: hgtv.com
If you want something stylish and sophisticated, you can create a full bar in your patio with beautiful and plush sofas. This outdoor bar with a live grill and subtle lights are sure to make your evening great.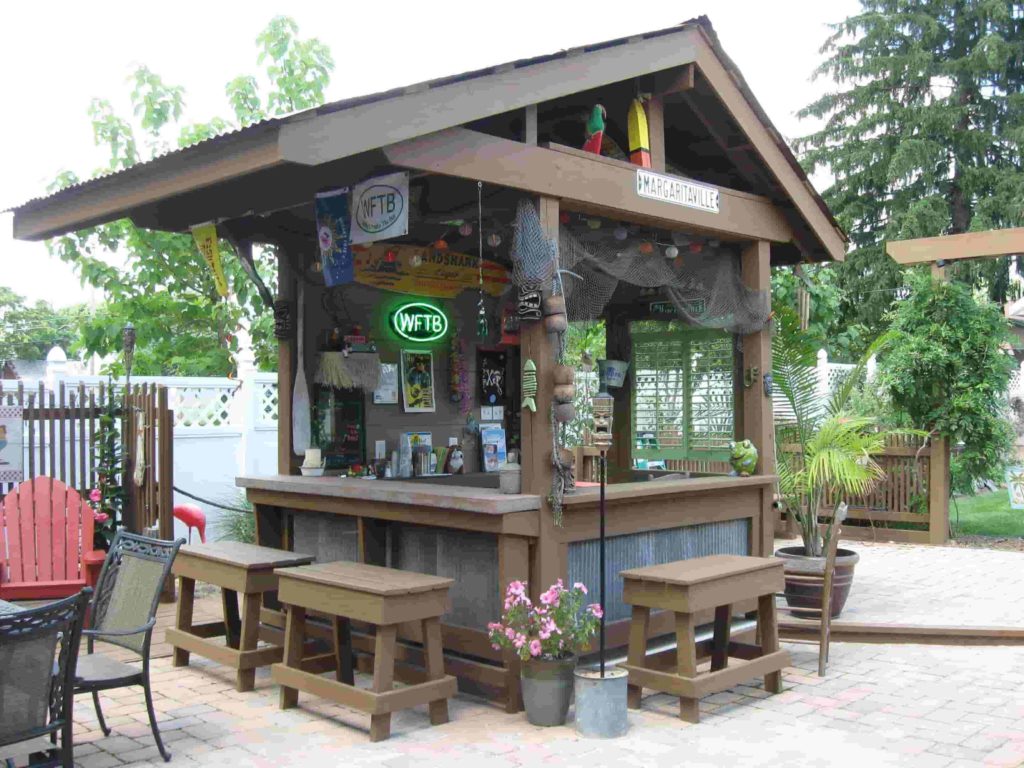 source: decoratoo.com
Among innumerable

backyard bar ideas,

this amazing bar is perfect for nature lovers. The beautiful and rustic design with a crooked roof and potted plants bring a stylish look to your backyard. Complete the look with some chairs and a wooden stool.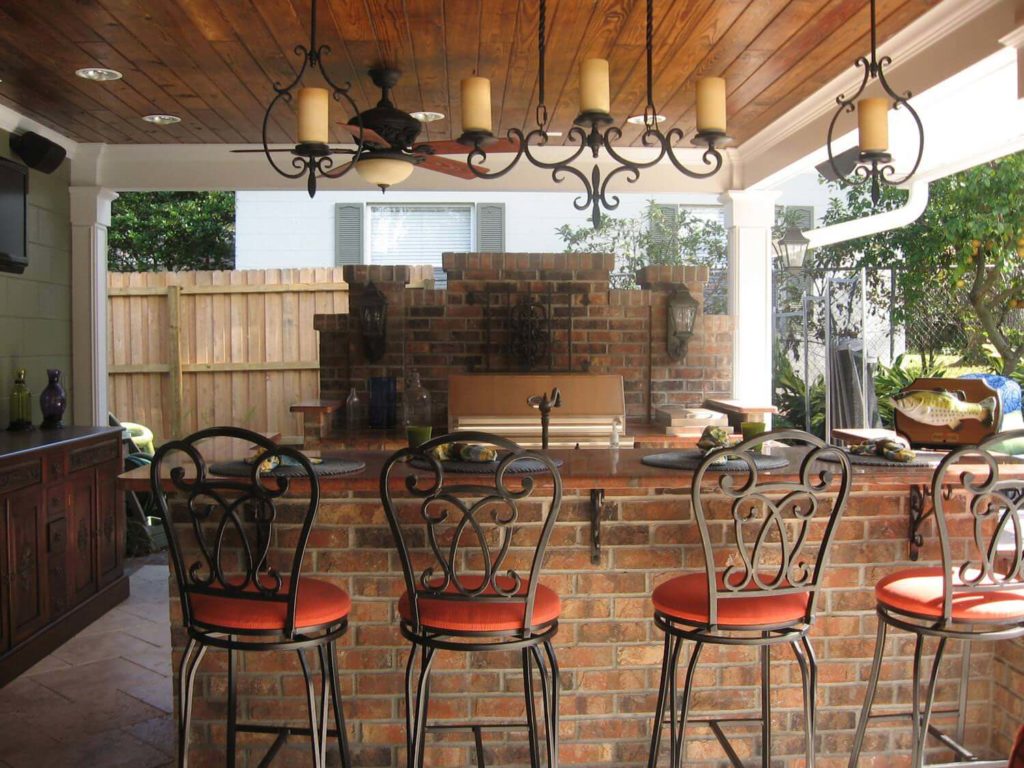 source: kimkatrinmilan.com
If you want an outdoor bar which is not too open, you can go for this beautiful design with matching roof and cabinets. Get some brick design cabinets to give your place a contemporary look. Finish it off with a stylish chandelier.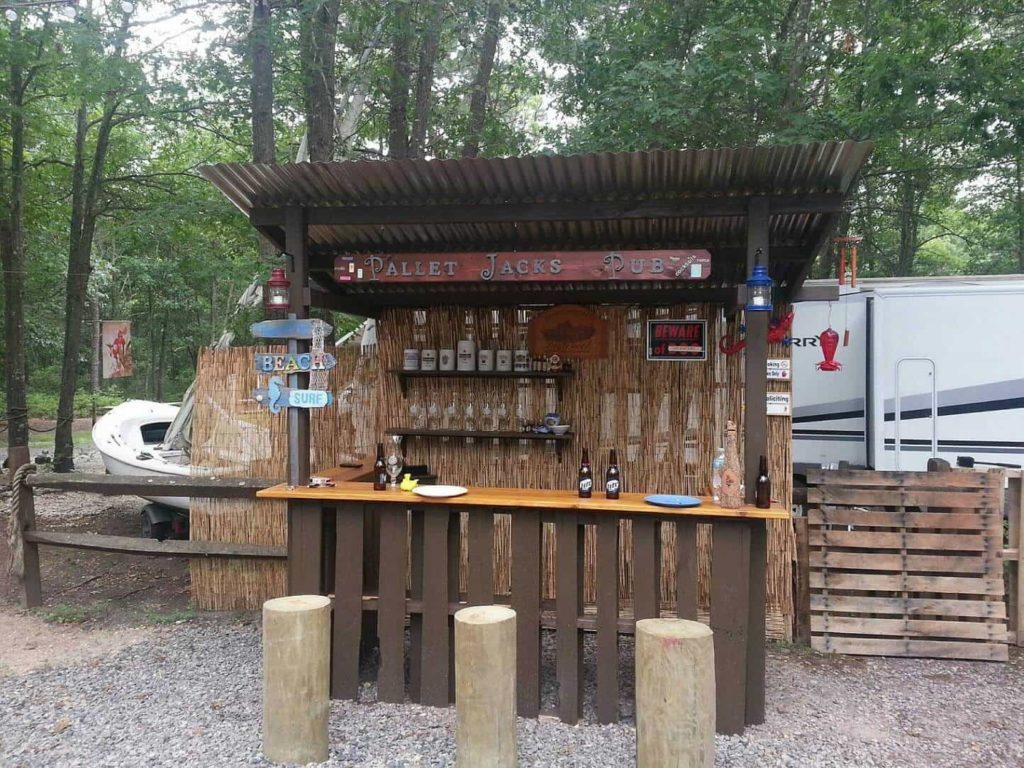 source: hawkhaven.com
People who love a wild and rustic look can certainly opt for this patio bar idea with cabinets made up of wooden ply and logs designed as sitting chairs.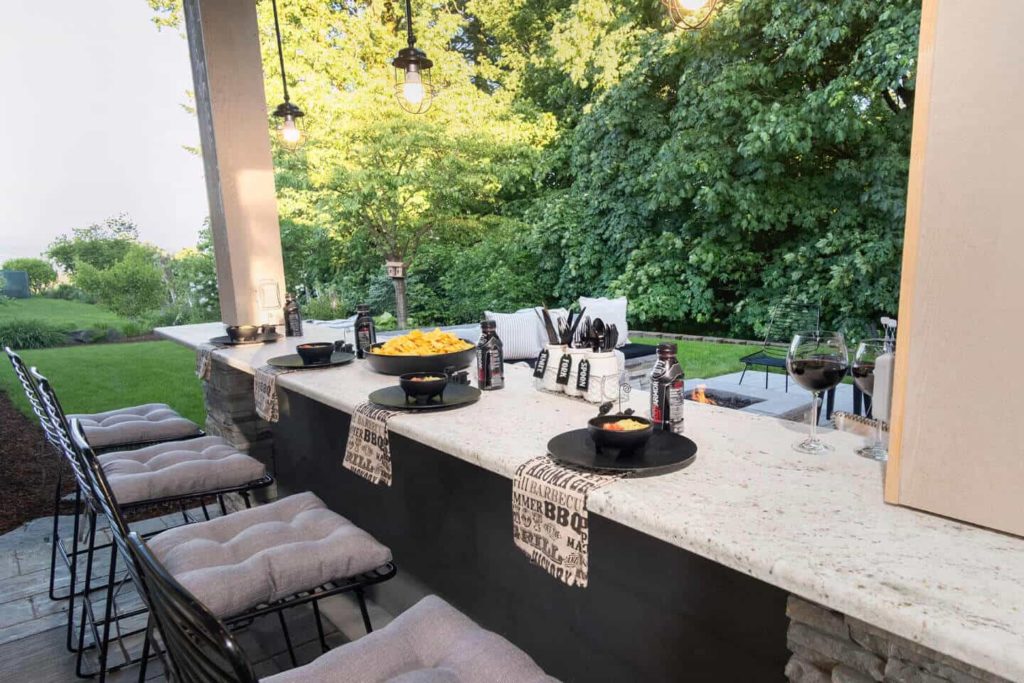 source: paradiserestored.com
This incredibly beautiful

outdoor bar design

with a central pool and lawn chairs surrounding the pool is the perfect choice of design for someone who wishes to enjoy a nice and cool bath while drinking some wine from the bar.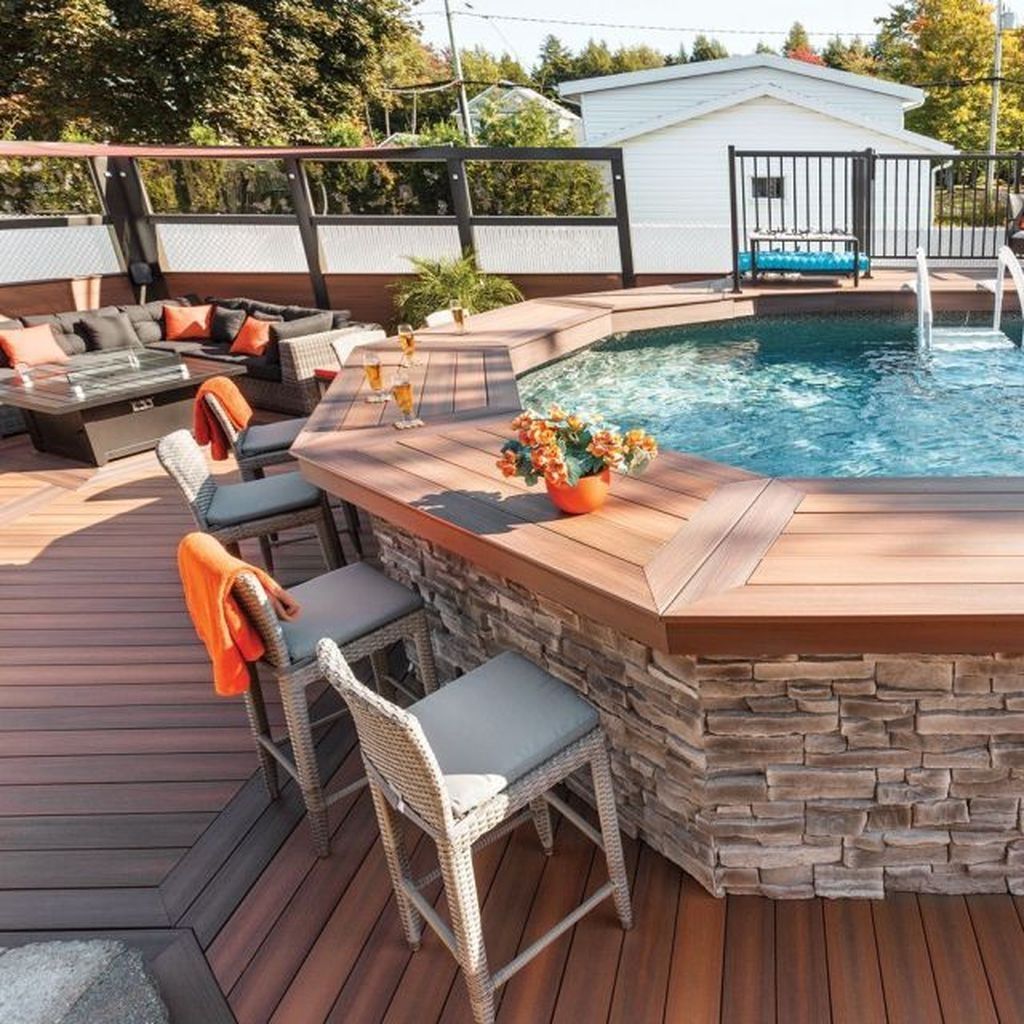 source: pinterest.com
A bar cart is perfect for small spaces. Not only this cart is on wheels which makes it super easy to roll but also saves a lot of space. You can have a small cabinet in the cart to store your extra beverages.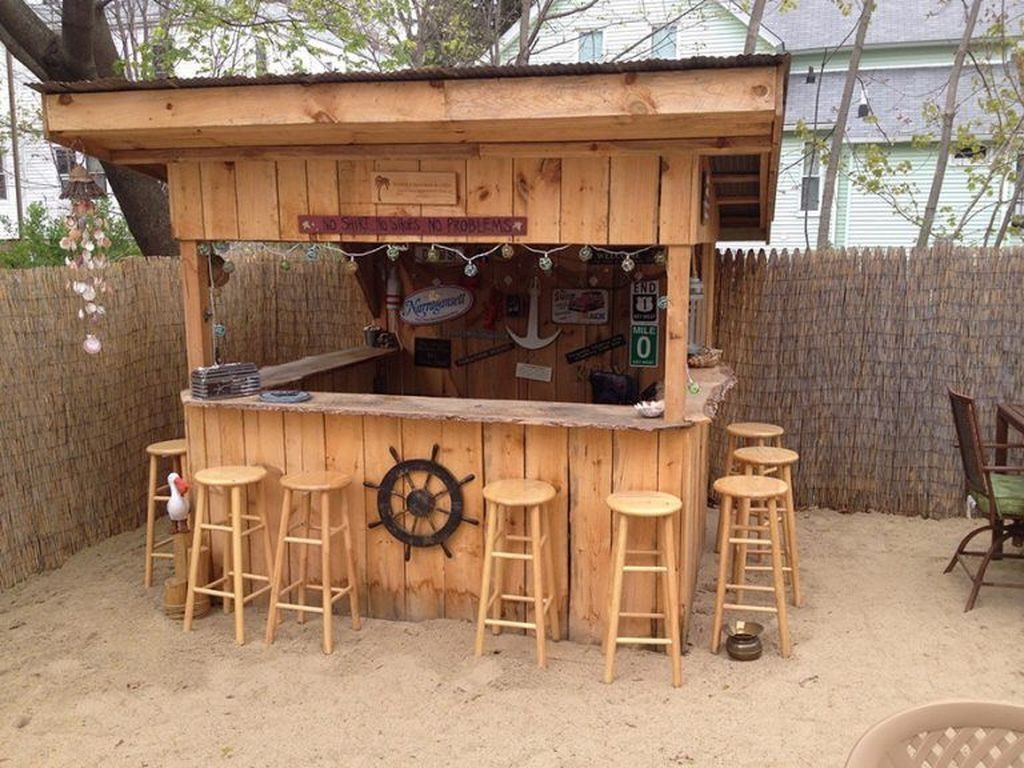 source: paradiserestored.com
This simple yet modern outdoor

bar idea

can be brought alive by using wooden planks and is set up just beside the pool. You can have a refreshing drink while enjoying the cool water in the summer season with your family or friends.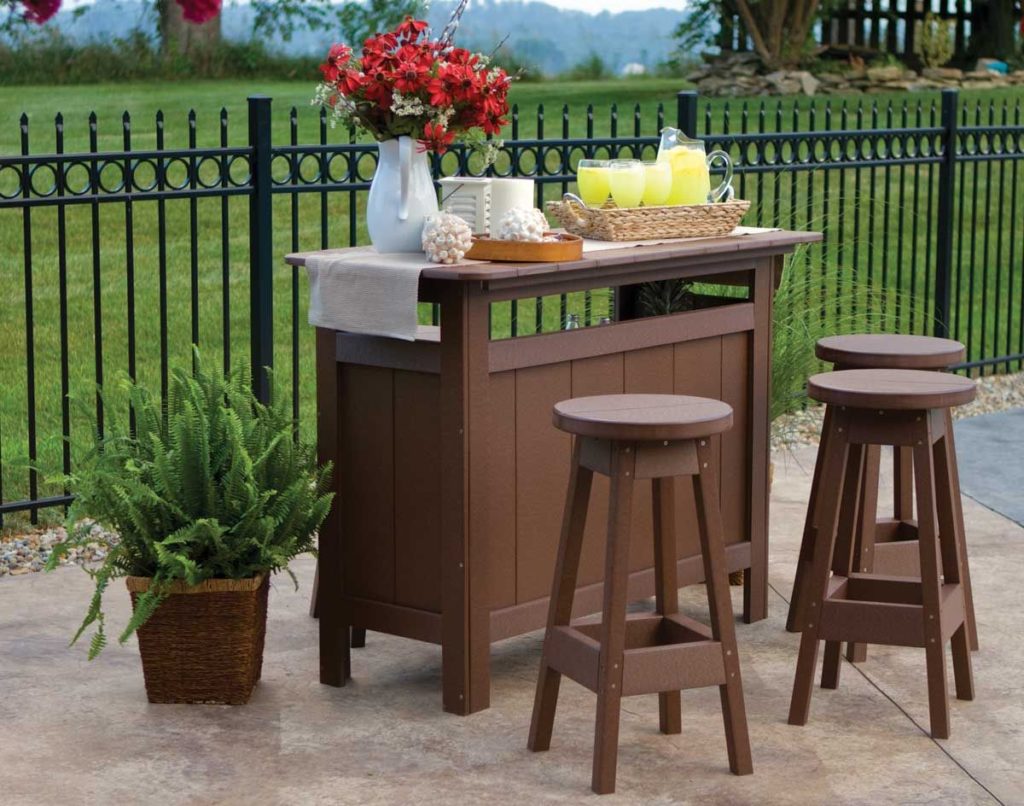 source: pinterest.com
This stylish outdoor bar makes the entire space look lovely and bright. Add a dash of golden lights to bring up the beauty of the setting. Lastly, you can set up some comfortable and stylish chairs where you can sit with your guests and have a chat while sipping your drink.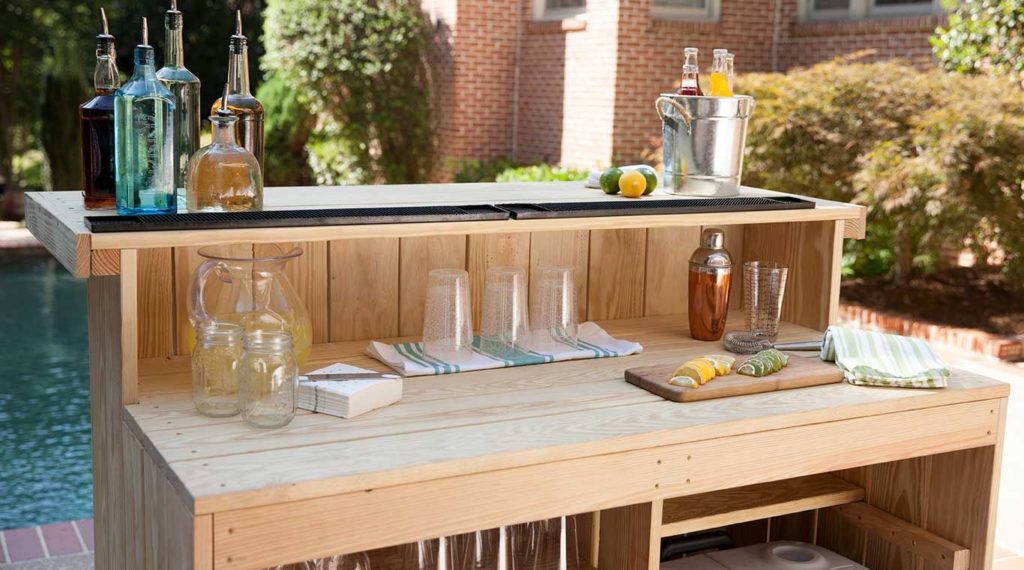 source: pinterest.com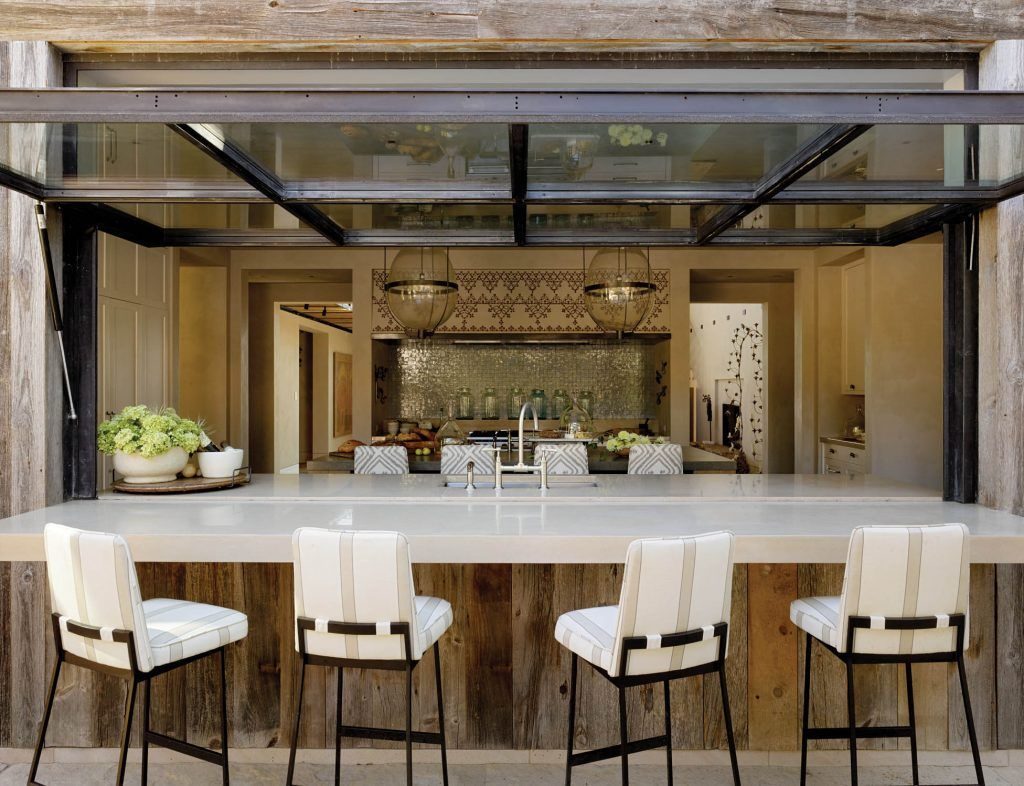 source: pinterest.com