An outdoor bar can make your background a lot more attractive and make it an entertaining area. Outdoor bars can be simple or even elaborate depending on your budget. There are several outdoor bar design ideas created by The Architecture Designs, some of which are-
A Bar for Every Bartender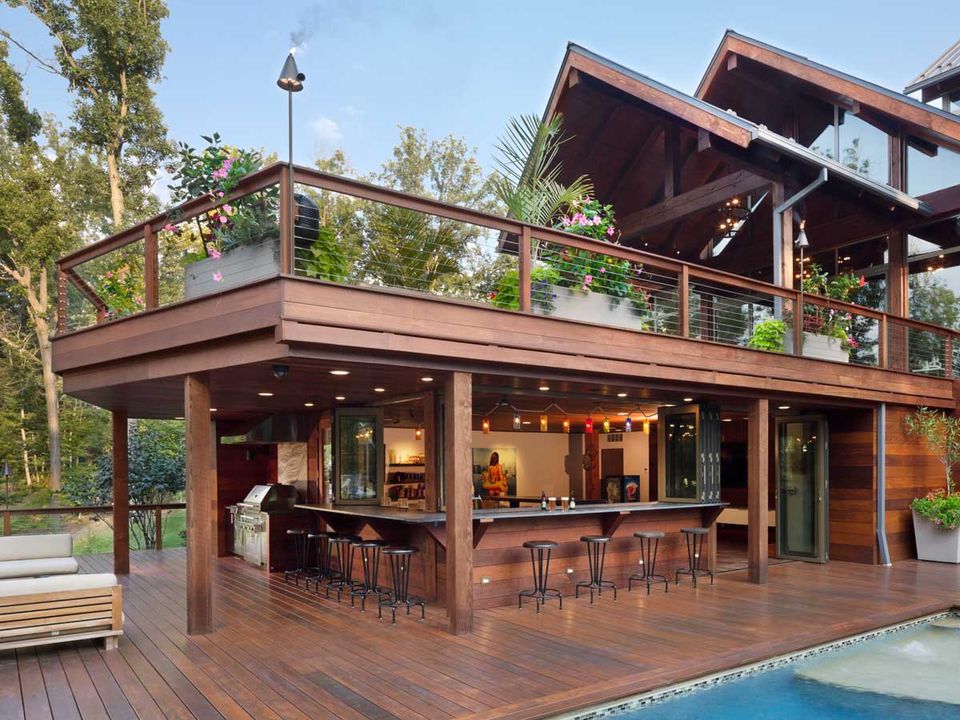 source: thespruce.com
An outdoor bar where every bartender has their individual space is a good idea for those places where there is huge traffic of customers. It can allow the bartenders to work effortlessly.
A Bar With a View
source: hotelvanzandt.com
Outdoor bars with an amazing view can be a treat for the eyes. People can enjoy their drinks while basking in the beauty of nature. A lot of bars are opting for this idea where they set up the bar just in front of a beautiful garden or a fountain so that the customers can enjoy the view.
Backyard Pub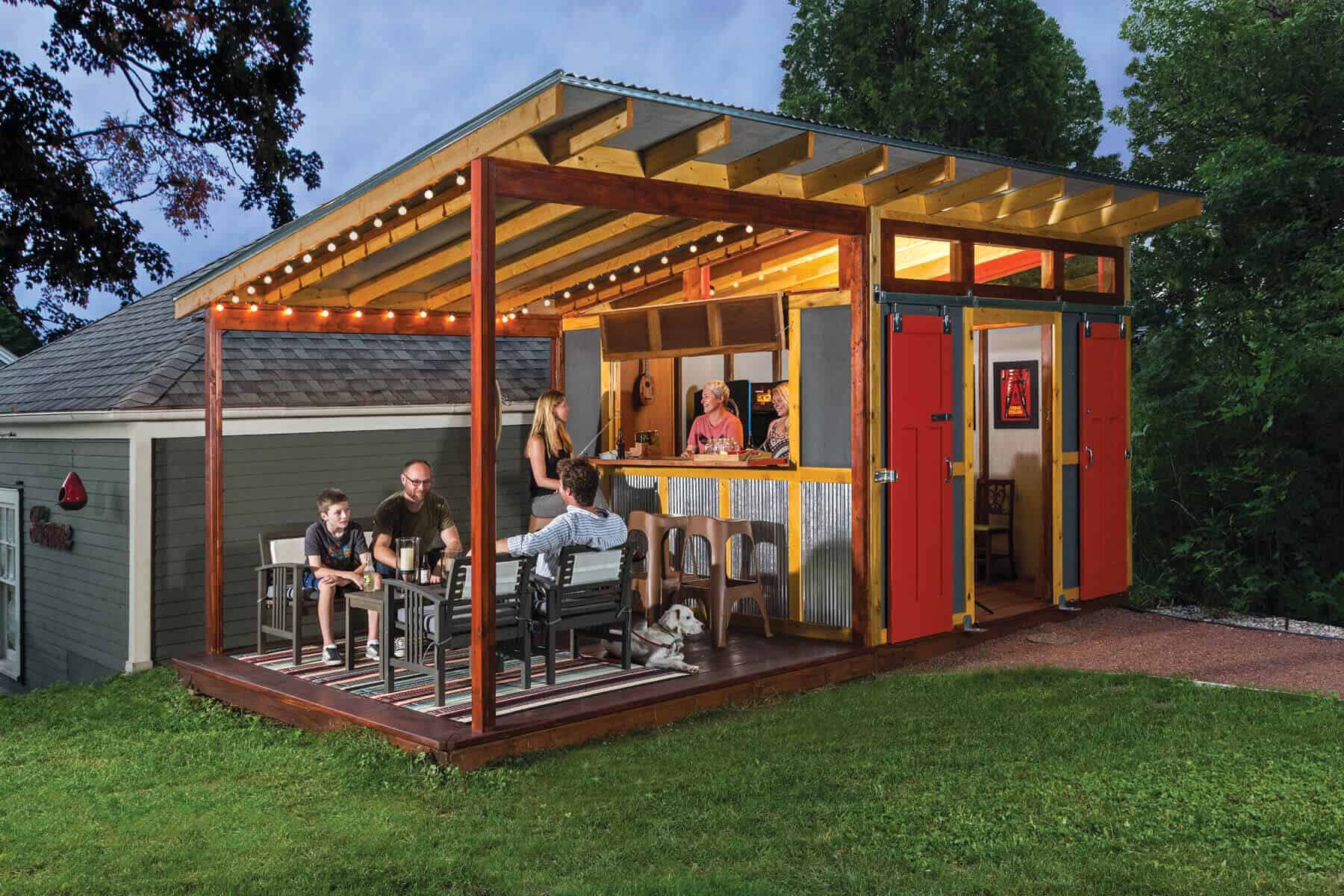 source: gmtoday.com
A backyard pub is another great idea to have in a home. Individuals who have a taste for outdoor bars can set up a bar just behind their house in the backyard. This becomes an excellent place for family members to sit down and enjoy their drinks while talking about their day.
Blue Resin Bar
source: neo-metro.com
Blue is a color of peace and soothes the mind. This has made blue bars quite famous. The blue light emanating from the bar eases the mind of the visitors who sit they're enjoying their drinks.
Bottle Cap Countertop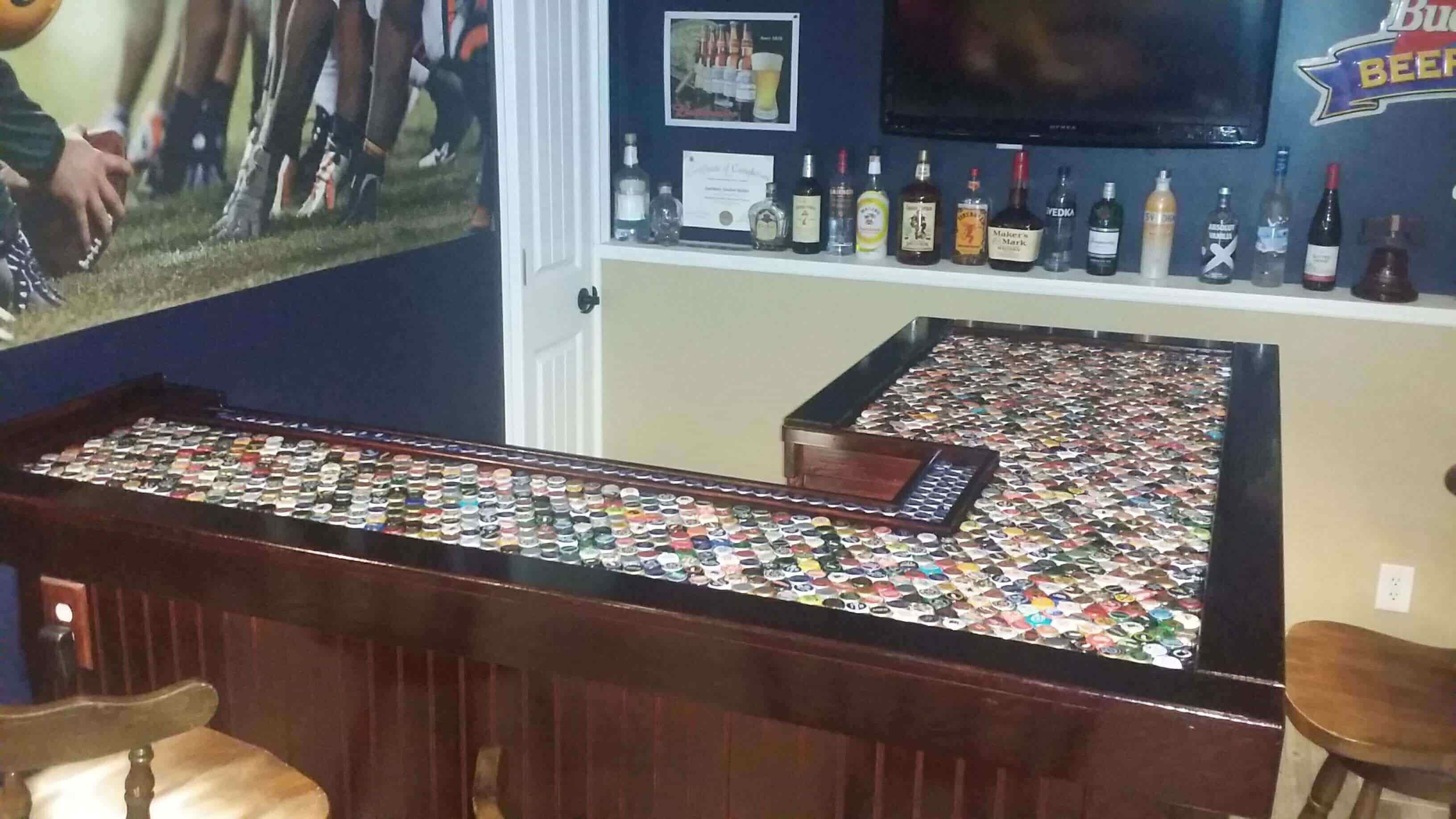 source: imgur.com
Individuals who have a creative mind, sometimes go a step ahead and create their own beautiful bar countertops. One of the most famous ideas for creating self-made countertops is the use of bottle caps which gives a unique look to the bar.
Farmhouse Bar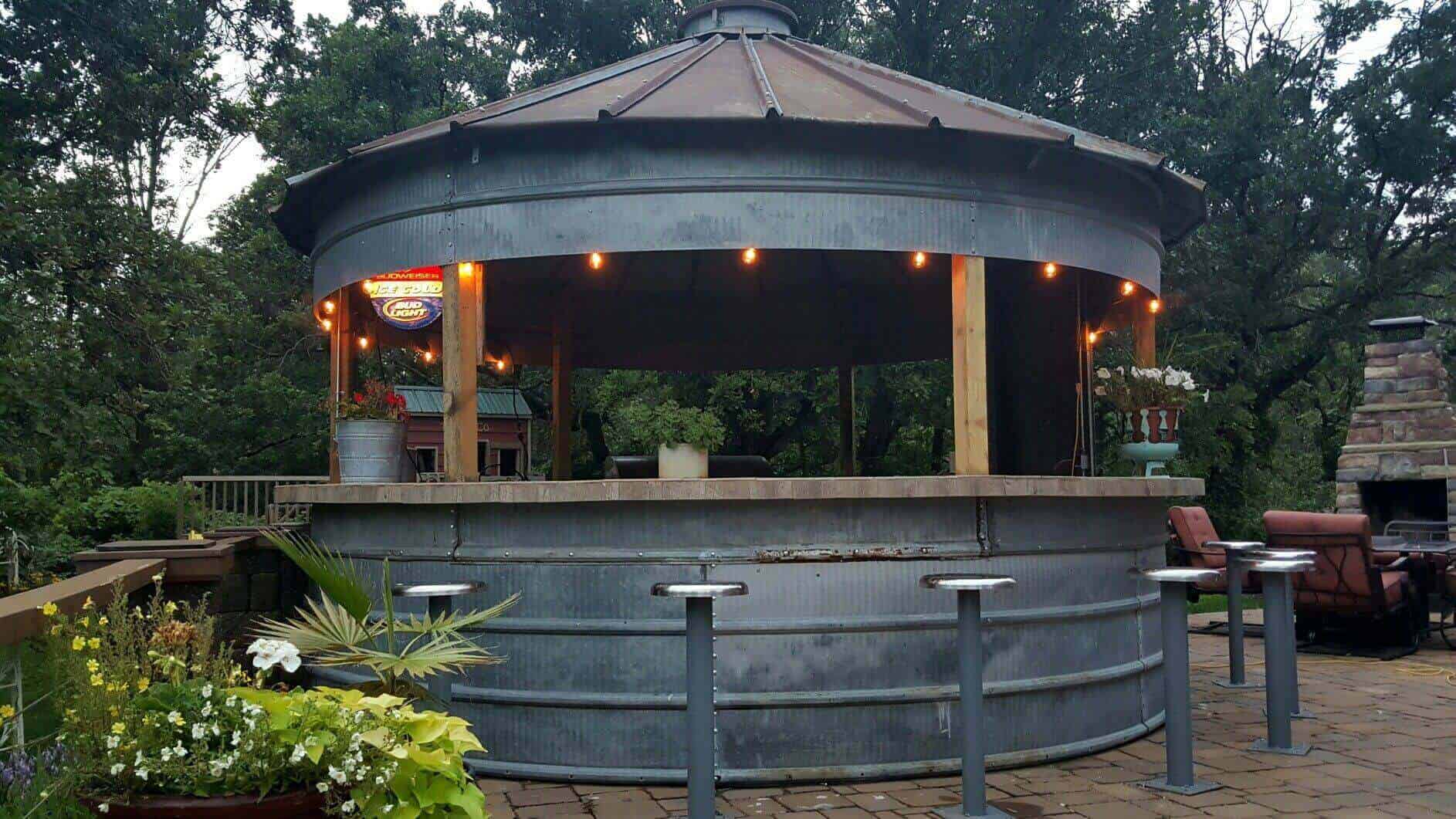 source: pinterest.com
Another great bar design ideas are the use of farmhouse style bar and have become quite popular among people. It takes you back to the feel of farmhouses, without you having to visit an actual farm. Farmhouse bars can be present in the middle of a bustling city while giving you a rustic feel.
Fold-Out Bar
source: 512woodworking.com
A fold-out bar is a great way to use a small outdoor space. Cabinets which can be closed and folded can be kept in the backyard with a beautiful countertop making it a handy outdoor bar without using much space.
Industrial Pub Shed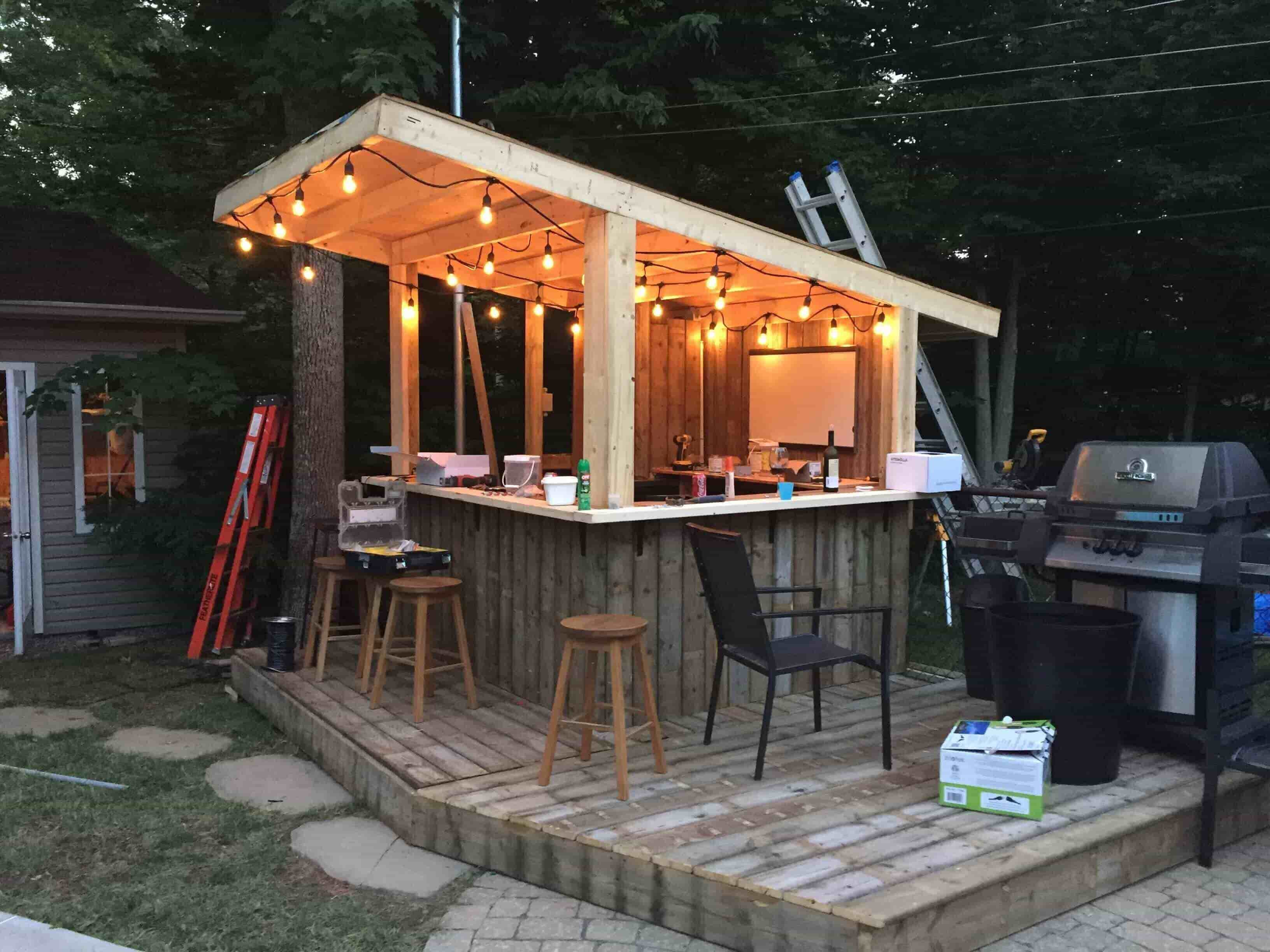 source: pinterest.com
Backyards having sheds can be used to create pub shed bars. A small countertop with some storage space can be installed. The shed can be decorated with lights and other decorative items.
Mixologist's Bar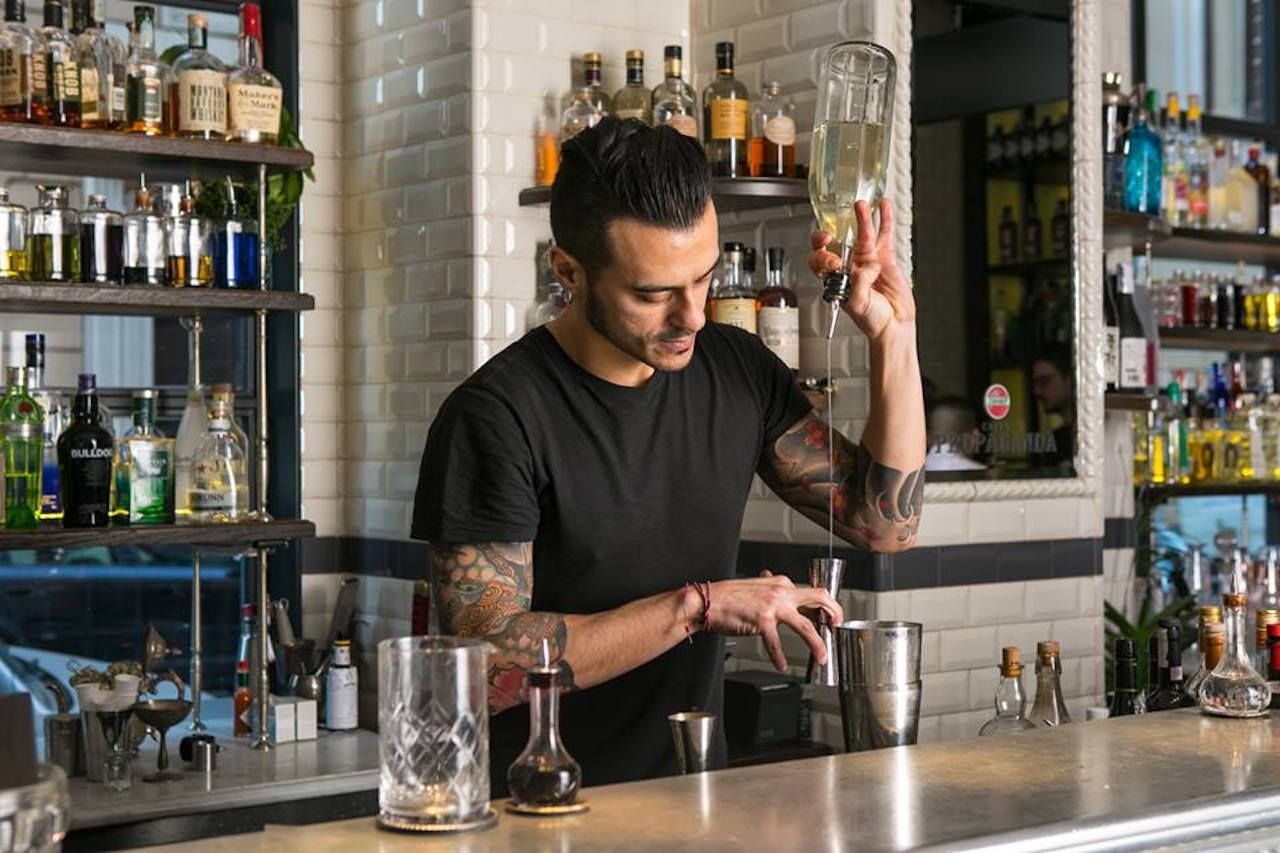 source: matadornetwork.com
Some drinkers prefer to mix their drinks instead of drinking one particular type of drink. A bar having various types of drinks with a mixing station can be an amazing idea for them.
Outdoor Bar With Pizza Oven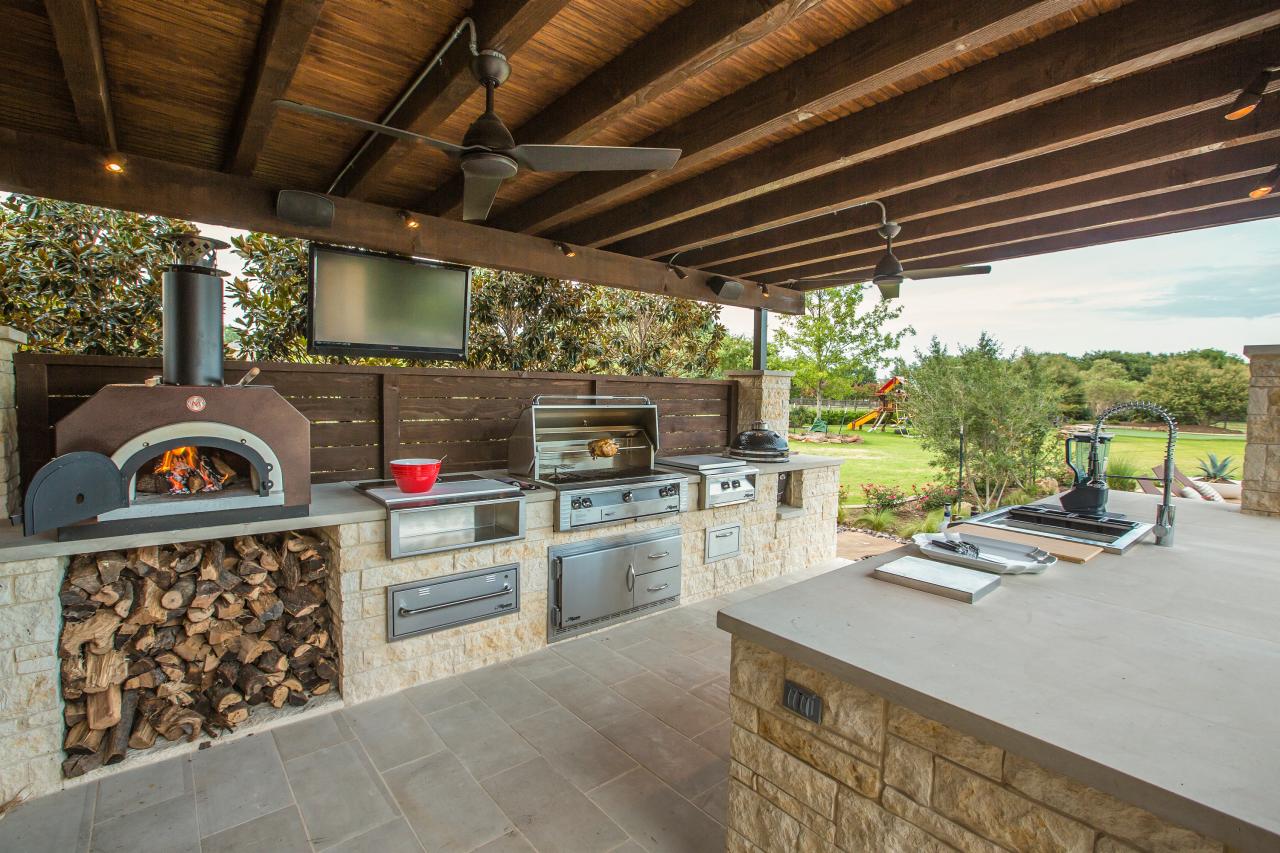 source: hgtv.com
No party feels complete without pizza. Keeping this in mind, the designers have created a beautiful outdoor bar with a pizza oven. In this type of bar, people can enjoy their drinks while baking a pizza for themselves. You can enjoy a hot and piping pizza along with a drink of your choice at the same time.
Outdoor Kitchen and Bar Combo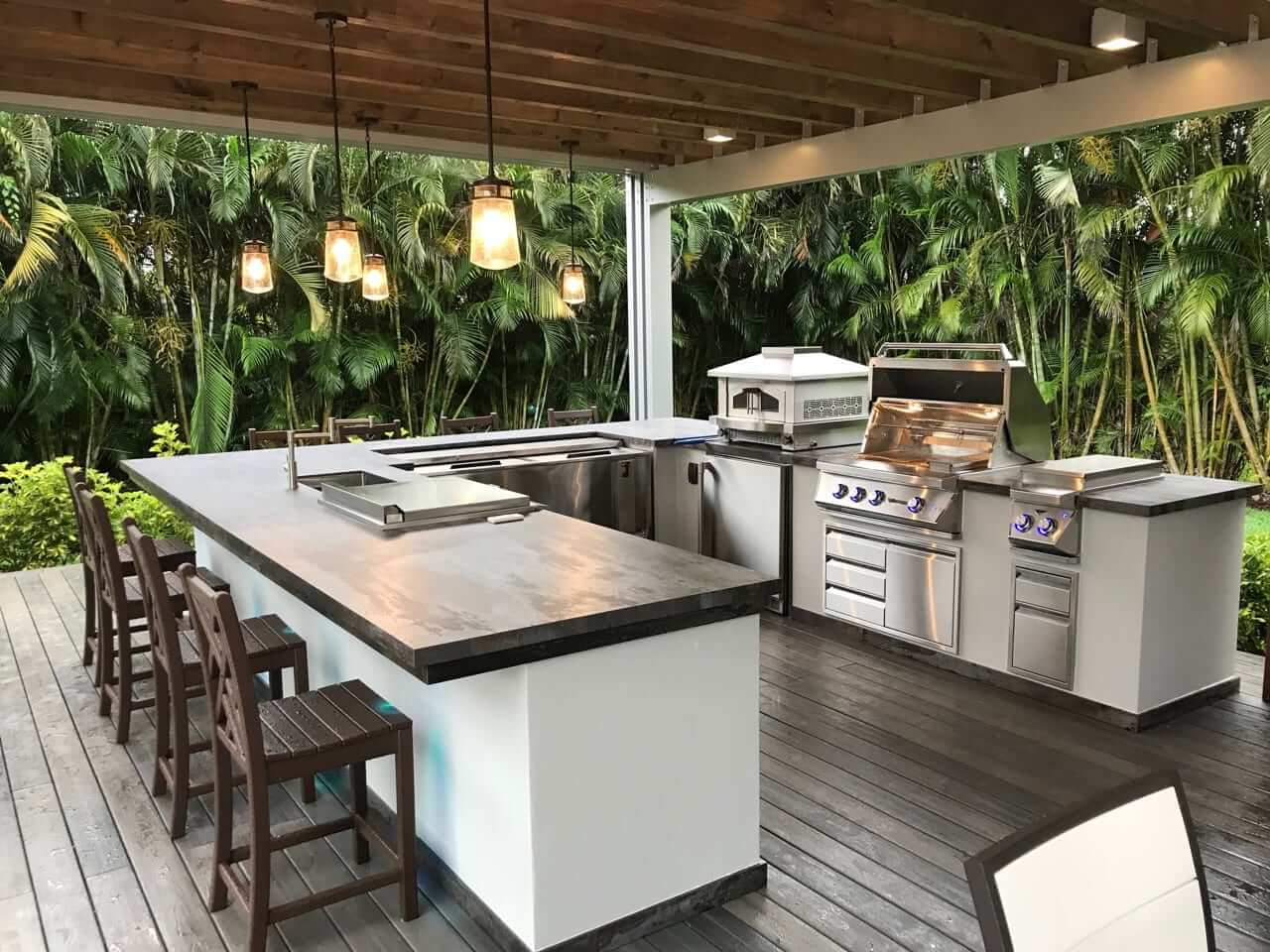 source: luxapatio.com
An outdoor bar along with a kitchen has become one of the most popular ideas which are trending these days. This allows the homeowners to cook their meals while their family members are enjoying their drinks while having a nice conversation. The family members can enjoy hot and delicious meals while having their drinks.
Pallet Bar With Storage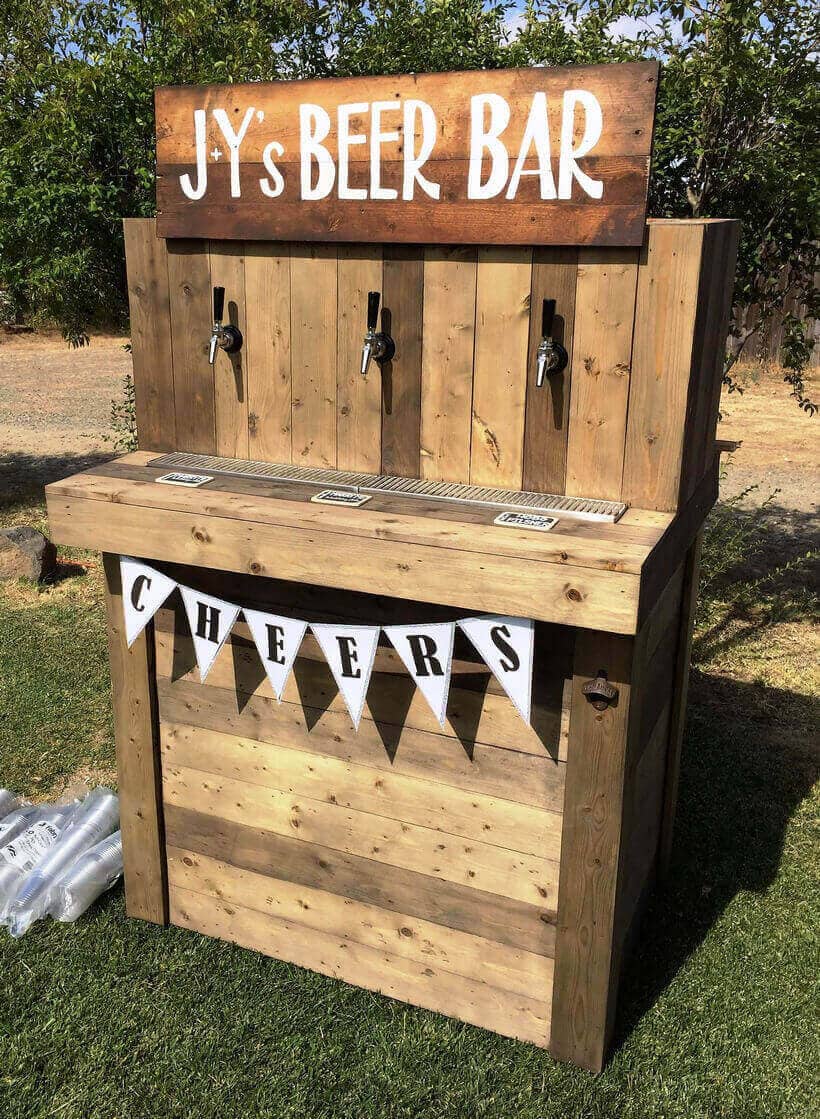 source: diymotive.com
Pallets can be used to create a simple and sturdy bar that can be used for various kinds of parties and events. The pallet bar can even have a storage option that can be used to store various items such as glasses and cutting boards.
Pass-Through Bar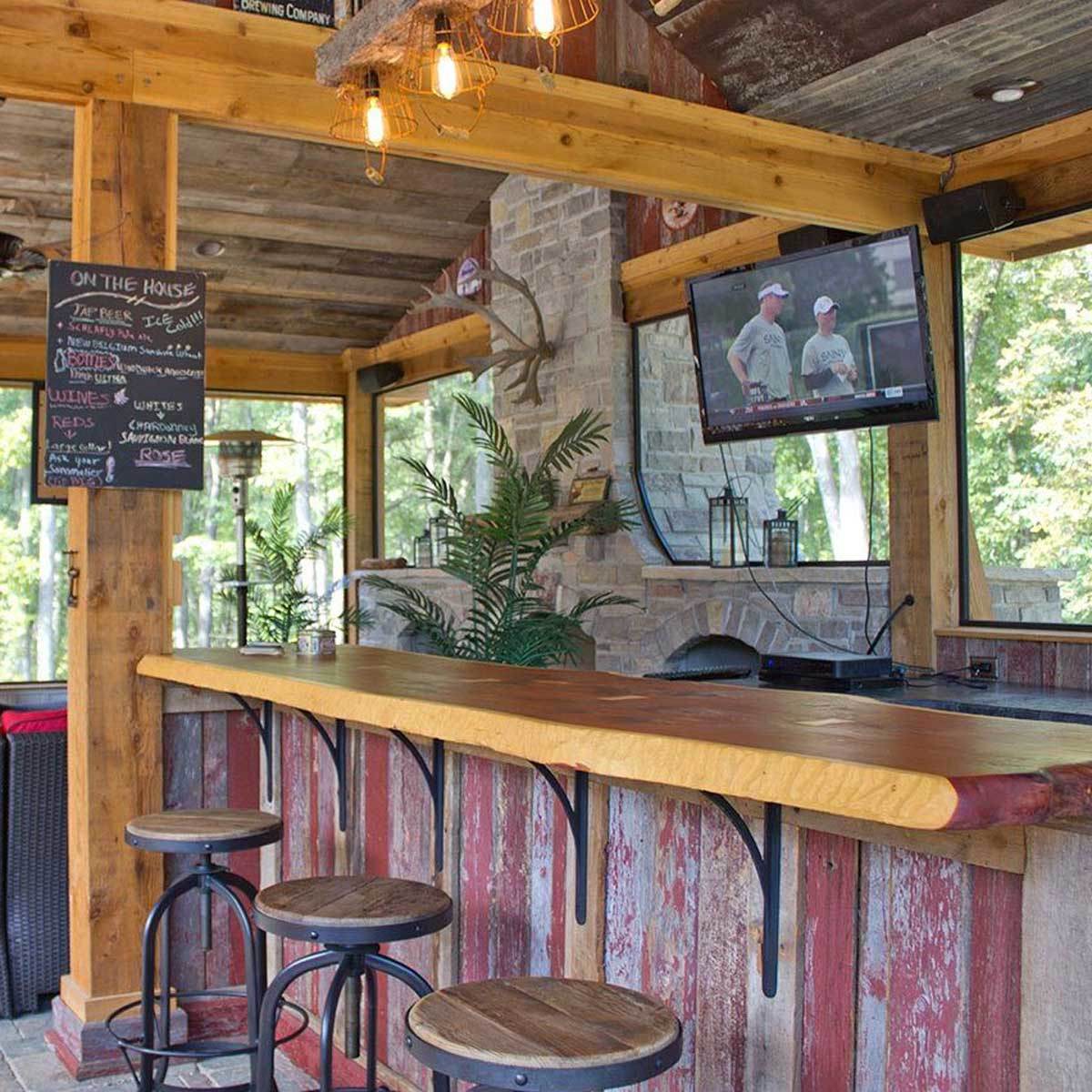 source: familyhandyman.com
Wood Wall-Mounted Bar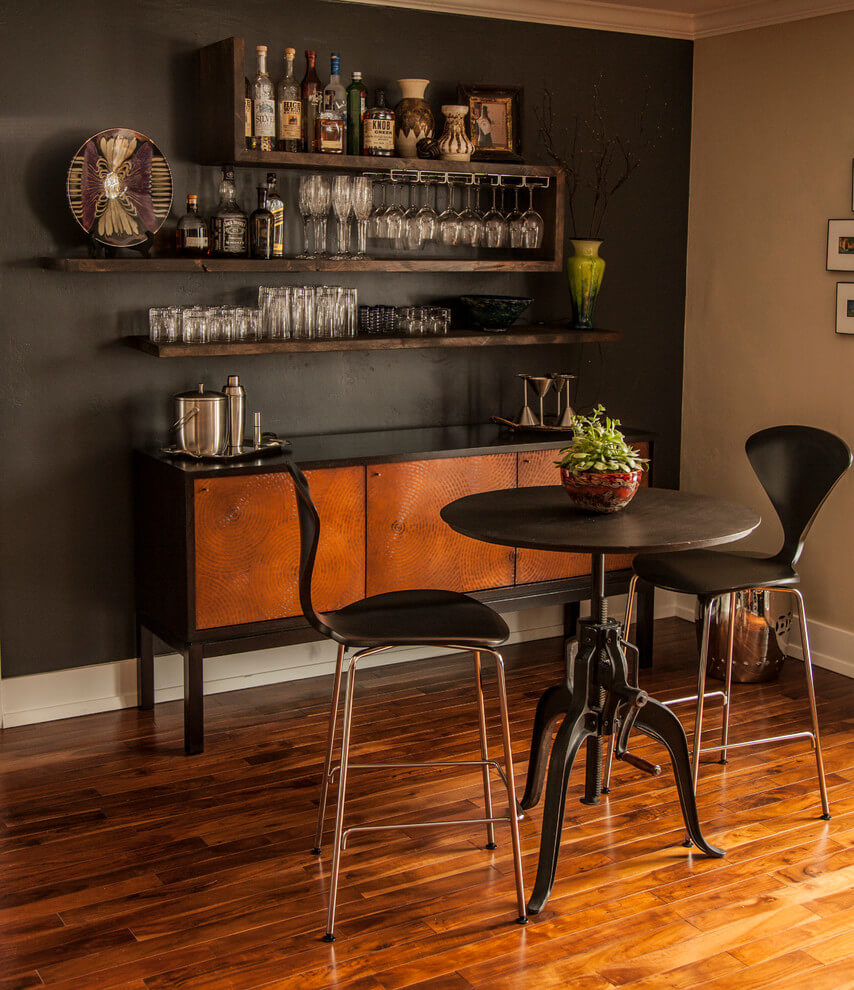 source: beeyoutifullife.com
A wall-mounted bar made up of wood is one of the most popular smart outdoor bar design ideas. It takes little to no space and can be put up in places where there is not much space. The wooden shelves can be used to hold the bottles and glasses, along with a small countertop which is usually used for mixing drinks.
Mixed Stone Bar
source: pinterest.com
Stone bars are an amazing concept for the creation of bars in the backyard of houses. You can create a bar by putting out various designs of beautiful and coloured stones together. This can give the bar a very aesthetic appeal. The stones can be fitted on the top with a wooden countertop which can be used for mixing drinks.
Tiki Pallet Bar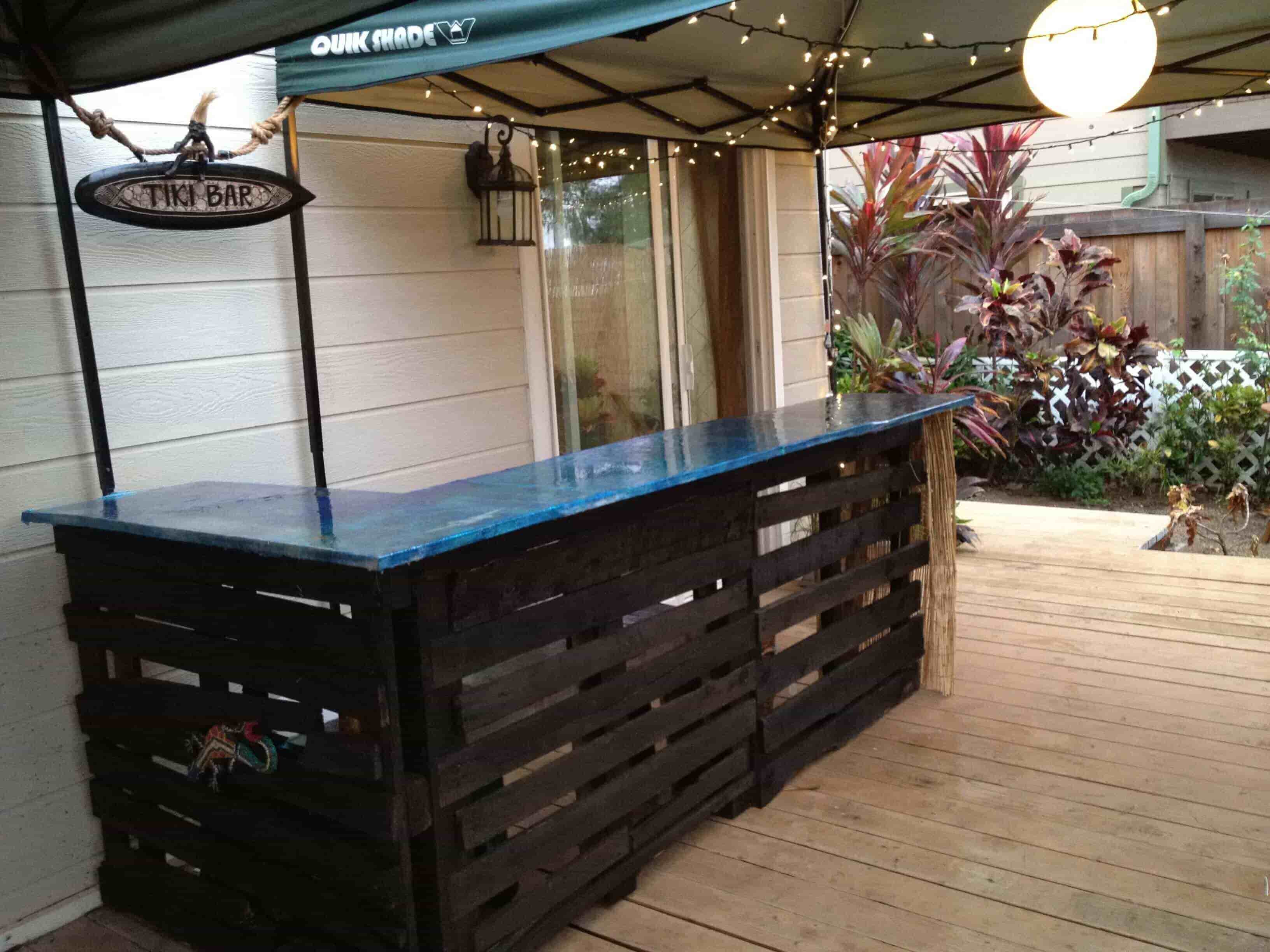 source: pinterest.com