Mandala is not a new art form. It has roots in the religions like Buddhism and Hinduism. Moreover, Mandala is connected to spirituality. It has a unique way to express inner feelings. Mandala artists feel a sense of meditation while designing a mandala art piece. On the other hand, art lovers who like Mandala Art Decor for their homes opt for designs that express their feelings of creativity.
First of all, we have figured out the benefits of mandala wall decor. It comes in various forms and designs but the central theme of the Mandala is a circle with a CenterPoint.Circular forms and designs in various color combinations add an aesthetic appeal to your decor. Secondly, we must know the spiritual benefits of Mandala Art. It is like a healing therapy or we can say one type of meditation.
So let's deep dive into the world of Mandala Wall Art design and find out the best designs that can suit your interior. There are varieties in texture also like wooden mandala art and metal mandala art. Handmade paintings have their charm but they are not as durable as wood and metal options.
Two-Piece Set of Mandala Wall Art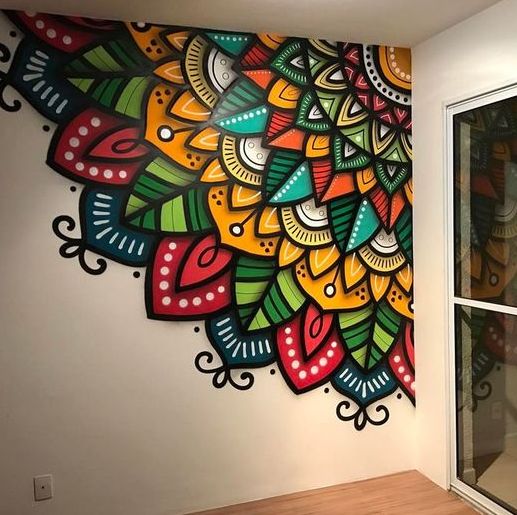 source: pinterest.com
This is a unique style of painting that divides itself into two separate pieces. A wooden frame with gorgeous mandala artwork with two pieces set is best for your living room. Select the design with bright colors if you want to opt for the living room. However, Bedroom decor needs some calming and soothing appeal. It is also suitable for prayer or meditation halls. If you place it in the center of your living room wall above the sofa, it will look amazing.
Metal Art Work Wall Pieces
Metal is a hard texture that gives formal vibes. Add metallic texture to your modern interior of the living room. It can come in black color and a metallic matte finish that exudes the modern flair. The great choice to place it is beneath the hook rack at the entry palace of your home. This decor piece also goes well with the outdoor wall decor like patio or garden area.
Bright and Bold Mandala Art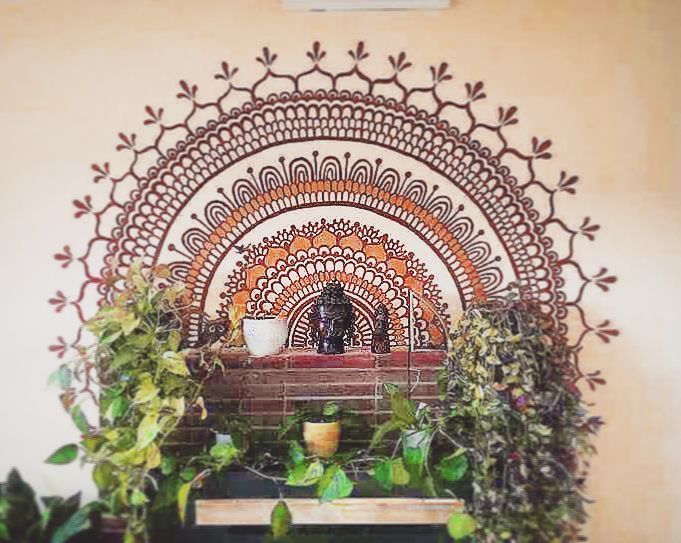 source: pinterest.com
Instead of giving neutral colors, give your mandala art piece vibrant colors. Bright and bold colors give youthful energy vibes. Kids also like to play with colors so you can select the place like kids' room, play area, bedroom, etc. If you have a minimalistic approach, this type of art piece will fulfill your decor needs.
Lotus Mandala Wall Art
Lotus flower petals have charm and softness. You not only bring peace into your living room space but also bring harmony by adding this type of lotus mandala. It is good for the bedroom. Additionally, it can be used as a headboard for the bed. Generally, White, Black, and Rose-pink are the colors that suit but you may have a different color choice. Another good place for this wall art is your private space for meditation or the backyard area.
Ombre Indian Mandala Wall Art
Firstly it is lightweight due to the wooden texture and secondly, it is carved beautifully that it will add the curb appeal to your overall look of the interior of the house. It is easy to replace and hang. Add the beauty with the ombre effects that will extend from the center to the edges. An interesting place to put this wall art piece may be the dining room.
Half Mandala Wall Sticker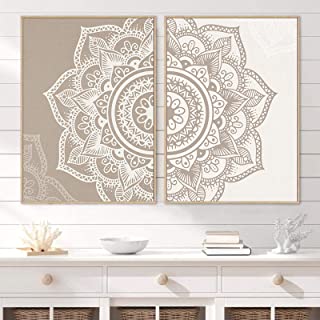 source: pinterest.com
Half painting creates curiosity. Likewise, the half mandala will create the appeal of interest in the living room decor. You can select the large-size lotus mandala artwork for your living room area in selected colors like white, black or golden. This style can recall the bohemian vibes. This type of half-creative piece is best suited vertically for the corner of the rooms. Stickers are also available in markets.
Mandala Stencils
Stencils have more varieties and sizes compared to paintings and other decor materials. You can do DIY Mandala decor with a selected piece of the stencil. In addition to that, stencils will give you the freedom to choose various patterns, colors, and styles. Just add the calming effects to your outdoor yoga or meditation space with these mandala stencils. Mandalas represent life circle and you can get the stencil with "OM" resting in the center of the mandala.
LED Light Mandala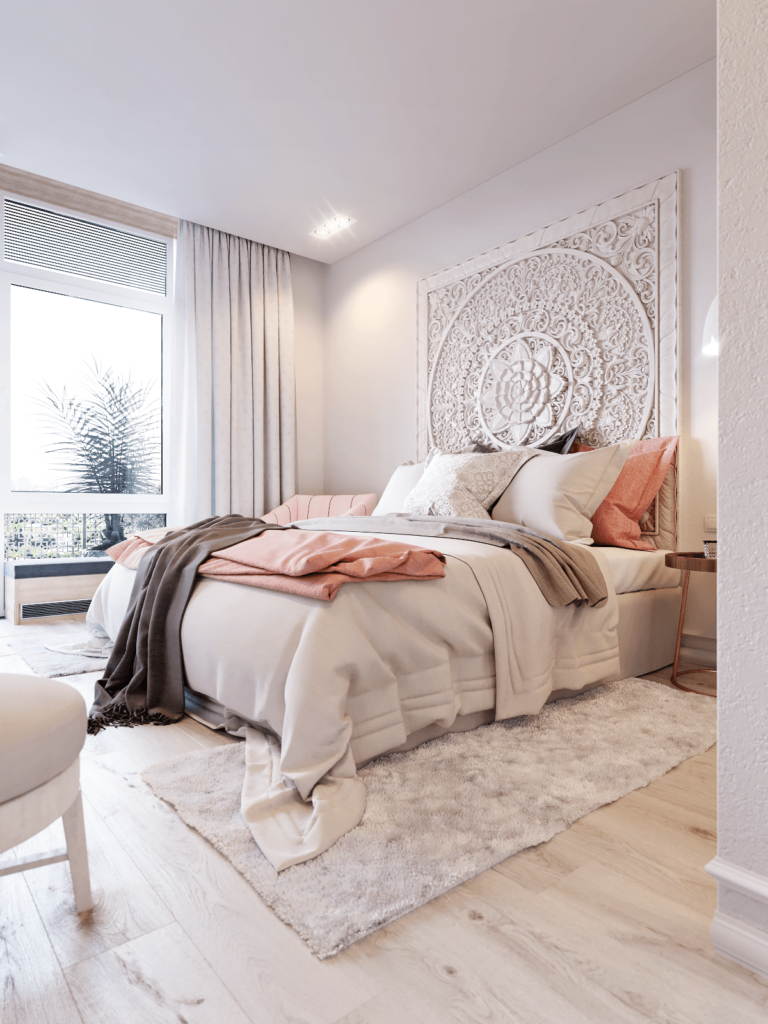 source: homebnc.com
A unique combination of Mandala with colorful LED lights is a contemporary trend. However, the mandala itself is a unique art but the harmony of lights with the design adds curb appeal to the entire space. Camoflague them lightings of the mandala with your moods and setting. Moreover, you can change the decor of lights for celebrations, parties, and other functions. If you have a balcony or backyard, this design is suitable for that space also.
Handmade Mandala From Bali
All the colorful rainbow colors are handcrafted in a beautiful way to create an aesthetic masterpiece. Apart from that, it induces positive vibes and inner peace. You may attract all the good things and warmth from the universe by applying this theme. It comes in a layer of three to four sheets. As a result, a 3D effect gives life to your wall decor. Hang this beauty in the middle of your living room and there is no doubt that it will become the center of attraction in your home.
Final Thoughts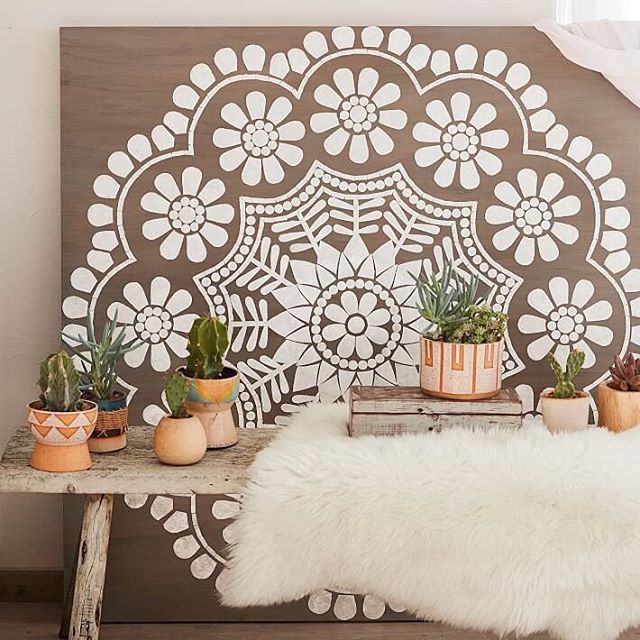 source: pinterest.com
The presence of a Mandala is almost obligatory for followers of the Buddhist or Hindu faith as well as yoga practitioners. It is an effective approach to minimizing daily stress and adding some creative beauty to your home. At last, we can say that the incorporation of a mandala in your decor is a fantastic idea including everything from yoga studios to all spiritual settings in between.