Driftwood furniture can be a great addition to any home, offering a rustic yet luxurious touch to the space.
If you are looking to add texture and traditional style to the home, then driftwood furniture should always be considered. One room in particular that can benefit from driftwood is the dining room, and a driftwood dining table can become a stunning centrepiece that will get all the right kind of attention.
Having a driftwood dining room is the perfect excuse for celebrations and dinner parties, creating the perfect setting for any kind of event and should be your next home investment.
In this guide, we are sharing all the tips you need to help you find a driftwood dining table for your home and create that perfect setting for any occasion.
Why Choose Driftwood Tables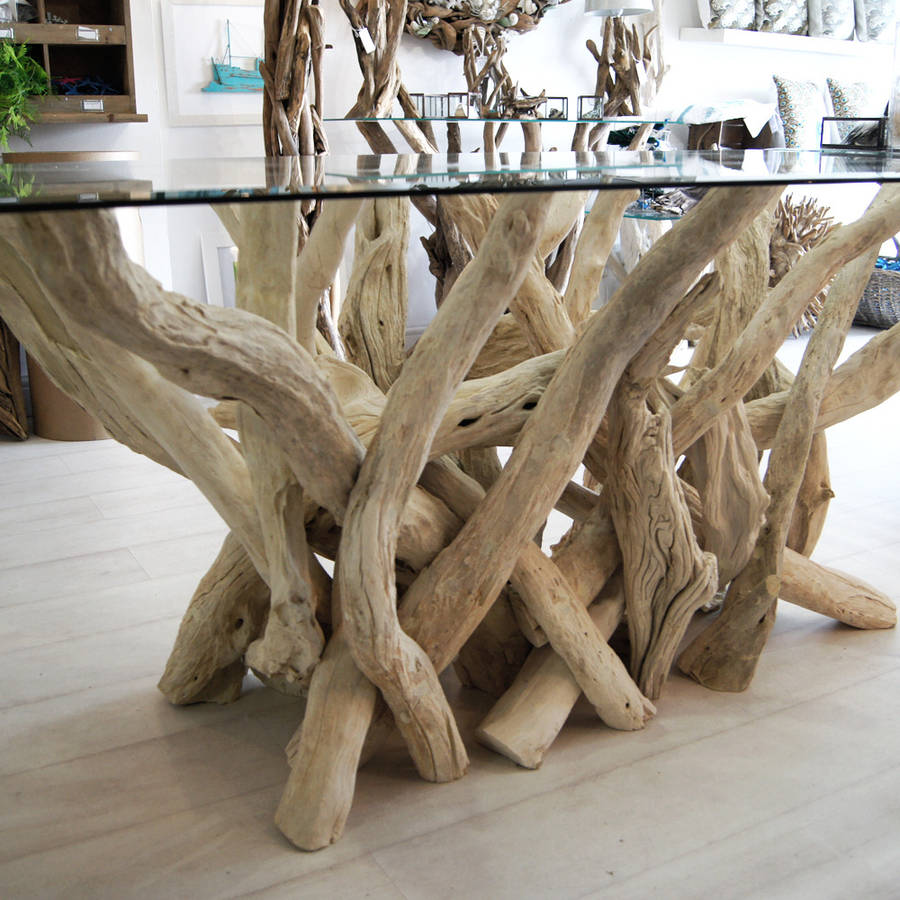 source: pinterest.com
Driftwood furniture has always been a fashionable interior design trend and one that will never go out of style. That being said, you may have overlooked driftwood until now because you simply have not considered the benefit it can bring to your home.
As it has always been a trend, it is common for homeowners to overlook the beauty of driftwood furniture and not consider it for their own space, but now is the time to change this.
Driftwood is a stunning material and one that can make solid furniture, such as dining tables.
Investing in a driftwood table for the dining room is not only a practical option, as it gives you a space for dining and dinner parties, but it is also a stunning addition to your interior design. Driftwood is a solid yet rustic material that can create lasting pieces.
It also adds texture and warmth to any room with its natural appearance, yet it can fit in with any interior design you already have.
Most driftwood tables are made using sustainable materials with natural wood, offering appeal in a whole new way while also bringing a touch of the seaside to your home.
The Sustainability Of Driftwood
source: pinterest.com
Driftwood is a sustainable and recycled material, with most furniture manufacturers using natural wood to create dining room tables and similar items.
While you can consider different types of driftwood for your home, most of these pieces will be made using recycled wood.
Whether this wood has come from furniture manufacturers, such as with the Driftwood Collection from SLH Furniture, which relies on cast-offs from other manufacturers or has been collected organically, it is good to know you are making the right choice when it comes to your interior design.
There are several forms of driftwood you can consider, based on shaping and shape, each of which is designed to contain as many natural elements as possible. With knotting, burs, and even some defects, each driftwood piece is completely unique and certain to stand out in your home.
When you invest in driftwood furniture, you can rest assured that you are not only getting something stunning and unique to add to your home but that you have made the right choice in terms of sustainability.
Finding The Right Driftwood Table For Your Home
Now you understand the benefits that can come with driftwood furniture, it is time to consider your options and decide to invest in a dining room table.
As driftwood is a timeless interior design trend, there is no shortage of suppliers for this kind of furniture, but this does not mean they are all equal. 
Not all manufacturers can ensure the sustainability of their driftwood furniture, so you want to consider this carefully if it is important to you.
There are other factors that you want to consider when it comes to finding the best driftwood dining table for your home, including: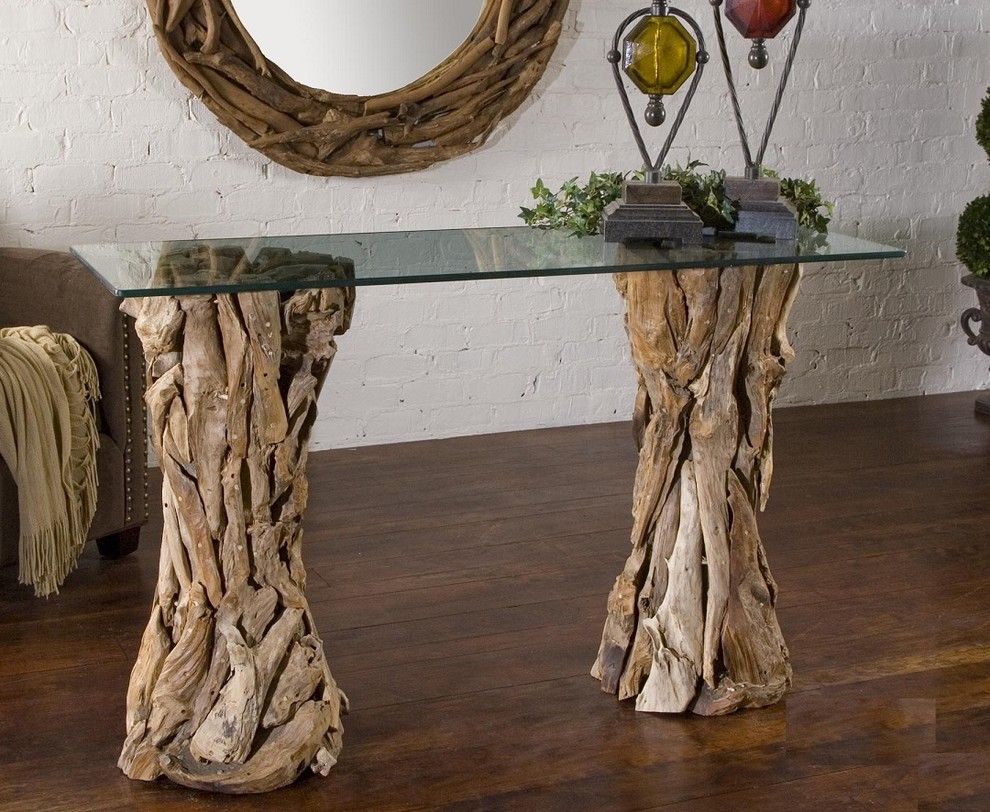 source: pinterest.com
To get an authentic look when it comes to driftwood, you want to opt for recycled or reused wood. Not only is this important in terms of the sustainability of the table, but also for style.
Using recycled wood for a dining room table ensures that it will be unique. Due to the recycled wood, the table will come with authentic details, such as the markings, that make a driftwood table stand out from anything else.
The kind of driftwood you want to use in your home is often based on the color, as there are different shades to consider when it comes to any wooden furniture, but there are other aspects to consider, too.
Authentic wood will always have markings, burs, and knots, but how visible these are will differ based on the type of driftwood you choose.
The shading of the wood can also make a difference in how visible any unique markings are and whether this is something you want people to notice when they come into your home.
While most factors when buying driftwood tables are all focused on the material, there are other considerations to make, too. These are the standard considerations to make when buying any form of dining room table, such as the size and shape.
This will be based on the available space you have in the dining room and what will fit into this room best.
When buying a dining room table,  you want to ensure you have enough room to accommodate the family sitting around it.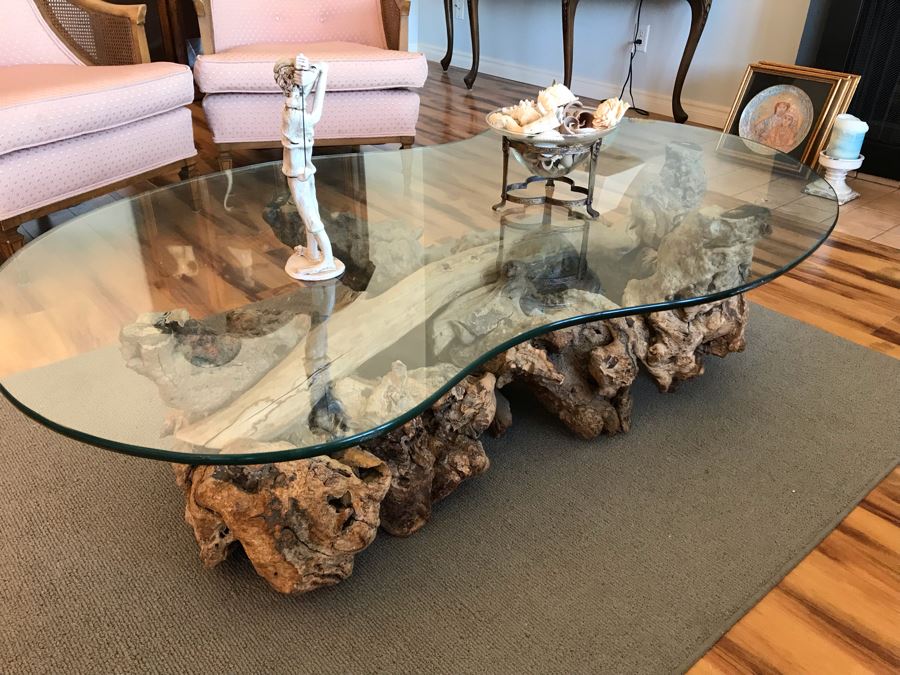 source: pinterest.com
Considering how many seats you need for the people in your household is a good starting point, and most people add two more seats onto this at least to accommodate guests.
Summary
A driftwood dining table can be a great addition to any home, offering lasting style and creating a stunning centrepiece for entertaining.
Driftwood is an attractive material for household furniture, as well as being durable and sustainable, so your investment is worthwhile.
To find the perfect driftwood table, you need to consider several aspects carefully, like the color and the size of the table. This will help you find the perfect piece for your home.