Certain antiquated, awkward, or fragile styles may spring to mind while considering room divider options. Room separators are useful for defining space in open floor designs, but they must also be visually appealing. A well-chosen wall divider will fill the gap between shape and structure. 
You're actually putting it in the center of your room to split up the area, so it might appear… odd if you don't choose correctly. Fortunately for you, we've discovered 22 great wall divider ideas that provide all of the finest of what you're looking for in a room partition.
Charm Of Macrame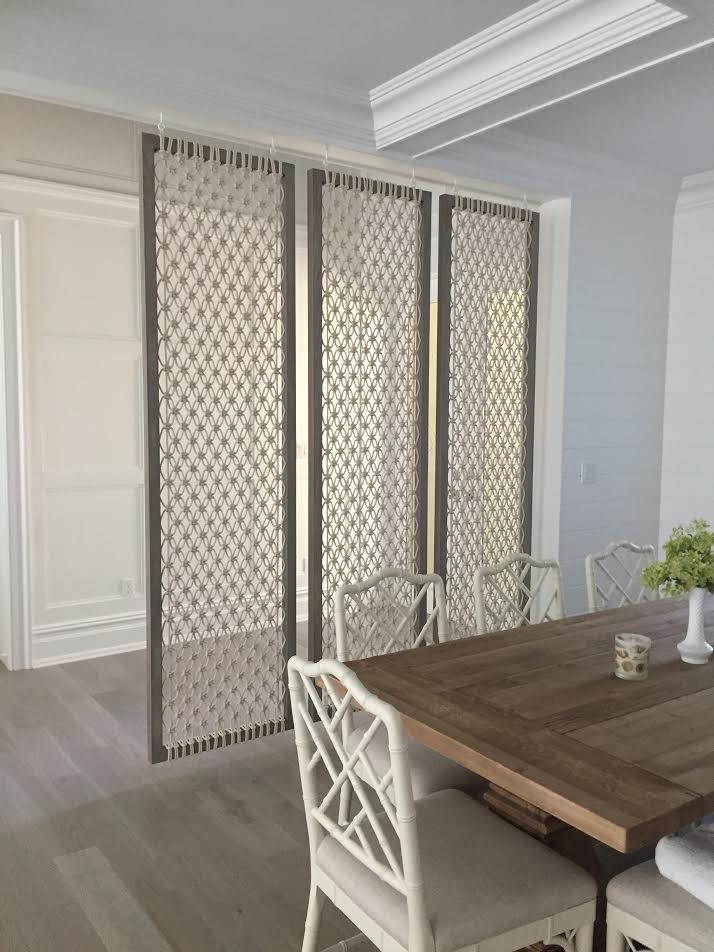 source: pinterest.com
This is one of the more attractive portable room dividers we've seen. The wooden bridge is stained in an intriguing tint that shows the grain in stunning, high-contrast detail. A simple yet gorgeous design is created by the macrame hanging from the top beam. Because it is movable, you can easily position it against a wall (where it will seem like a piece of artwork) or pull it out to aesthetically define a space.
Elegant Plywood Divider
Get your power tools ready and follow our simple instructions to create a stunningly magnificent contemporary screen. This tall paravent design covers over 8 feet in a Z-shape. It also folds effortlessly when you wish to gather it or return it to an open-plan layout. Surprisingly, you'll only need a pile of boards and some 1×2 timber to create a modern screen that will undoubtedly turn everyone's attention.
Simple Curtains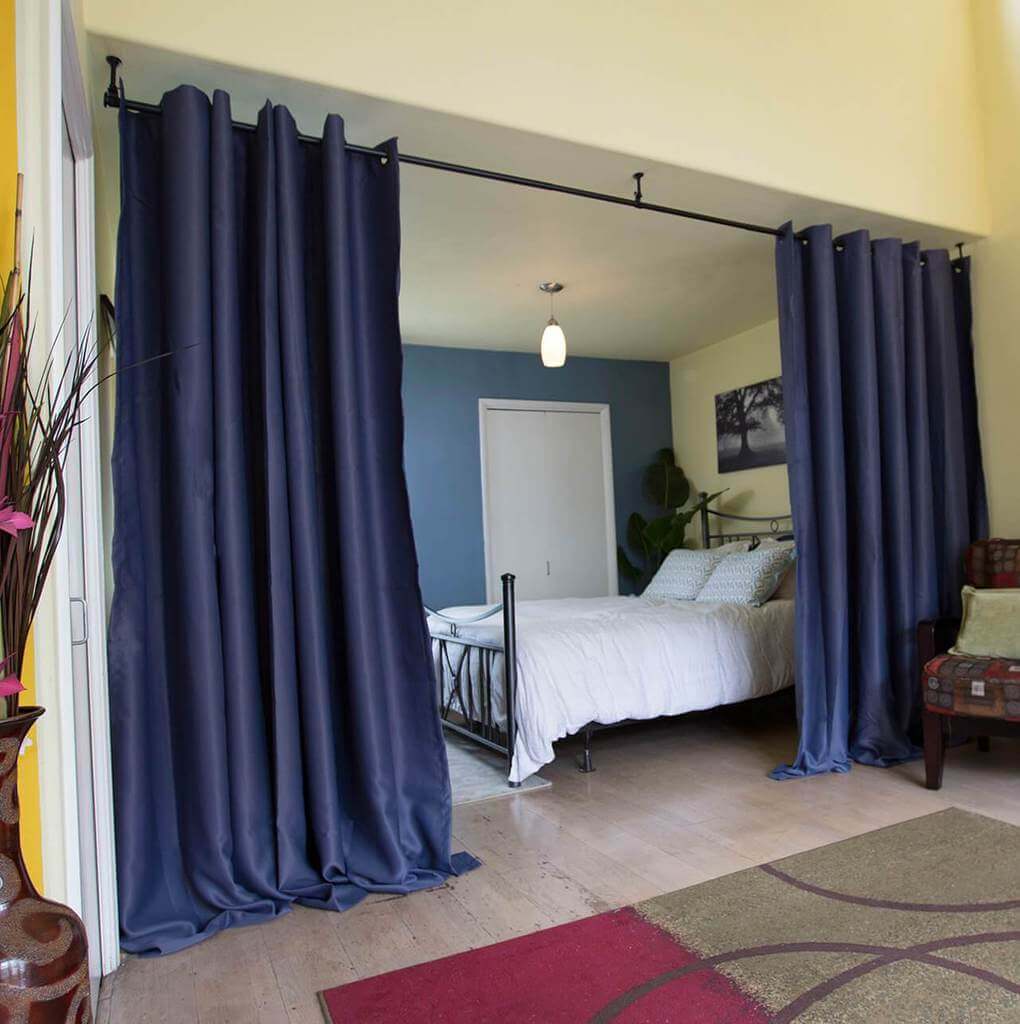 source: homebnc.com
Set down your drill and hammer; you won't need them to assemble this simple yet stylish freestanding room divider. This comes in a simple do-it-yourself package. Two tripod supports are connected by a hanging rod to provide a large base for the linen curtain. The rubber grommets curtain threads onto the hanging rod, and you have a freestanding room divider! This is a beautiful example of a room divider concept that is both basic and attractive. It appears to have come straight from a trendy loft apartment or an artist's workshop. The best part is that black metal and linen fabric go with almost anything.
Gorgeous Origami Doors
This design will wow your visitors. It will stun you! It's so lovely to look at that it's almost like a masterpiece. It's not a terrible technique to separate your room using a divider. With silver hardware, this design hangs on the wall. Each one of the white facets is organized in the form of a diamond. The facets may also be twisted, which breaks up the pattern and adds texture to the design. This would look fantastic in a modern or contemporary house, or in large, open areas that need to feel cozier.
Multifunctional Room Door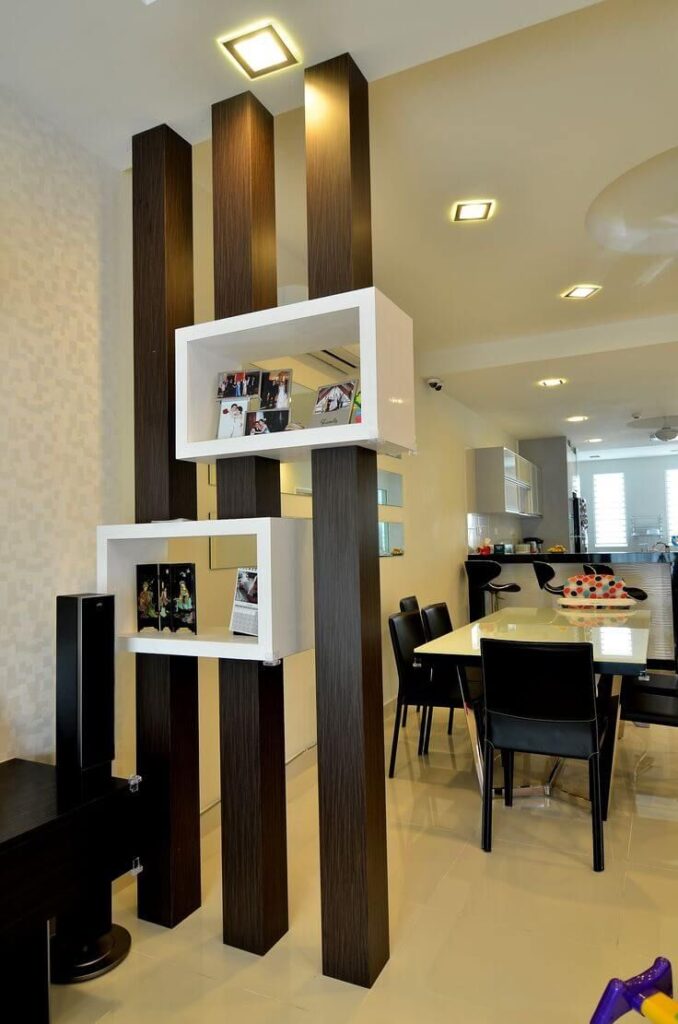 source: pinterest.com
That couldn't be more adaptable! A room divider on wheels eliminates the need to devote to keeping it in one location. This is ideal for places that you wish to keep open on occasion – simply roll the movable room divider out from the door! This design is freshly painted, but the pipe and wood could easily be left unfinished for a more industrial aesthetic. 
This DIY project is also unique in that it functions as a closet. You may remove the dividing curtain and hang clothing on the pole while storing shoes in the base. Nothing beats multipurpose furniture for making your DIY heart sing!
Add Floating Furniture
We can't get enough of this open living room design. Because the room is entirely white so there are no boundaries to physically divide it into two rooms, a floating couch on a plush rug is designed in the center of the space.
When viewed from the other side of the room, the daybed serves as a major focal point, making the living area feel like a private retreat.
Create Border With Rugs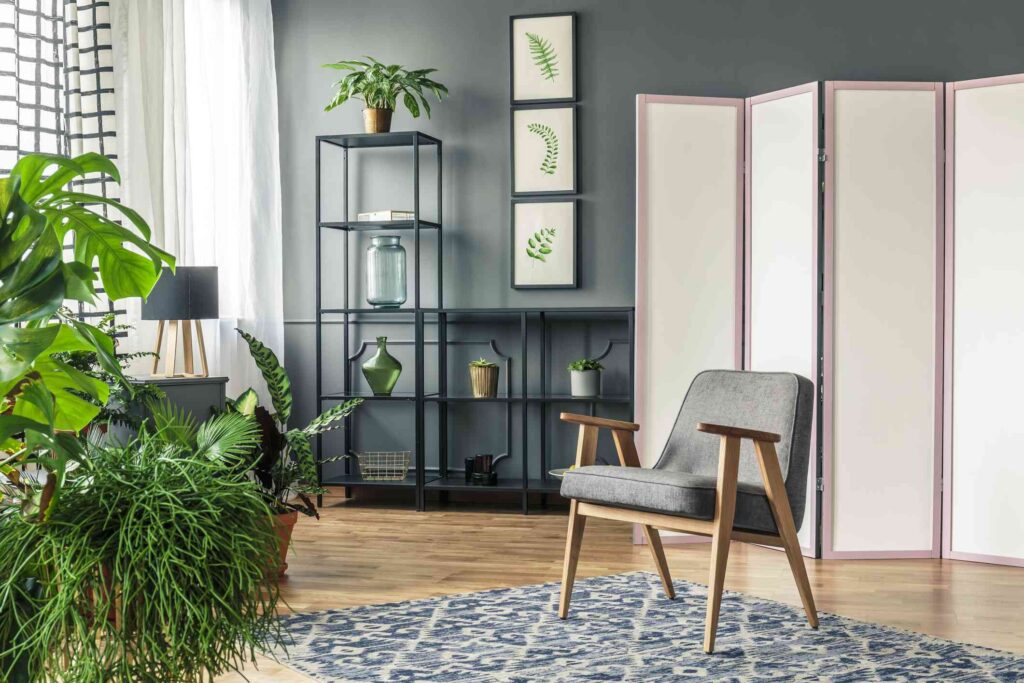 source: thespruce.com
Style diverse rugs that make a visual effect on the floor to establish separate sections without placing curtains or room dividers. designers created a formal dining area in an open living space with basic neutral carpeting to complement the white decorations on the opposite side of the room. When installing rugs beneath dining tables, be sure to pick the correct size: each chair ought to be good enough to pull out of the table properly without abandoning the rug.
What happens when you mix a rattan room divider with knitwear? You have this lovely beauty! Room divider ideas do not require you to build from zero or purchase a fully finished product. You may meet in the center and create your own design! Take a look at this adorable concept. A simple design is woven into a section of each panel using a palette of five yarn colors. The finished product is simple and stylish, with a small flash of color in an already neutral room divider.
Flexible Sliding Door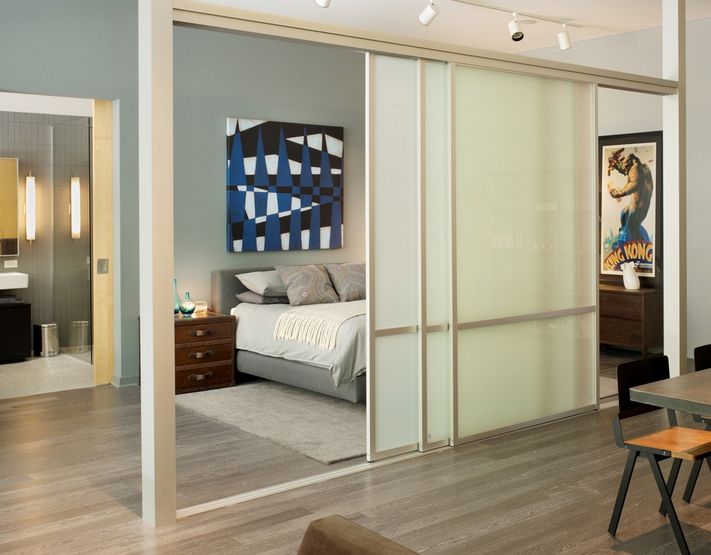 source: homedit.com
Aesthetic? Cottage? Do you adore the beauty of wooden planks? Then this room separation concept is totally right up your street. The barn door design is both fashionable and functional. It saves space, and when the barrier is open, it just seems to be a textured wall. The beadboard is a great accent that breaks up the pure white tone without interfering with the rhythm of the walls and ceiling. This is a fantastic method to include a rather large division in a non-obtrusive manner. Finest of all, it can always be "unfinished" by gently sliding the door to the edge.
Laser Print Hanging Door
This internal partition has a charming and nostalgic feel about it. The pattern is a contemporary and basic geometric floral pattern carved into a plastic substance in the manner of a laser pattern. It's exceedingly light and simple to install, making it ideal for flats or rental homes where space is limited for hanging or building. 
The basic white design looks great with modern minimal décor, but it would also look great in a place with a nostalgic 50s or 60s style. It may be mounted from the wall or the ceiling, giving you flexibility. Even better, connect a movable rod to the wall and suspend it over from there so you can swing it into a spot as a room divider whenever you choose!
Take Away
source: archdaily.net
Room dividers are a simple and unique method to separate your room without recruiting a new someone to construct a new wall or simply searching for a creative strategy to create a temporary headboard.  We've gone through room dividers that can be used in most houses, apartments, and other tiny places in this guide. Hope you have found one!