Designing a kitchen is not only the task of selecting the colors of tiles, cabinet design, or color scheme. It is also a task to give attention to unobtrusive parts like kitchen curtains ideas. You will have a drastic change in the overall looks of your kitchen if you give preference to the decision of selecting the curtains wisely.
Your cooking space is the place where you spend half of your day time. It affects your moods and energies. Every aspect of kitchen decor appeals to you so do the kitchen curtains. Therefore, you should keep in mind various elements like color, texture, and motifs while selecting the kitchen curtains. However, the size of your window and where it is situated is two big decisive factors for curtain selection.
Moreover, you can select curtains for home with thick fabric for privacy. If you want light-colored curtains go with lightweight fabrics and linens. The texture and thickness of the curtains will decide how much air and sunlight comes through them and how much privacy you will get. Your cooking space should be minimalistic, pretty, and bright.
Semi-Sheer Shade Curtains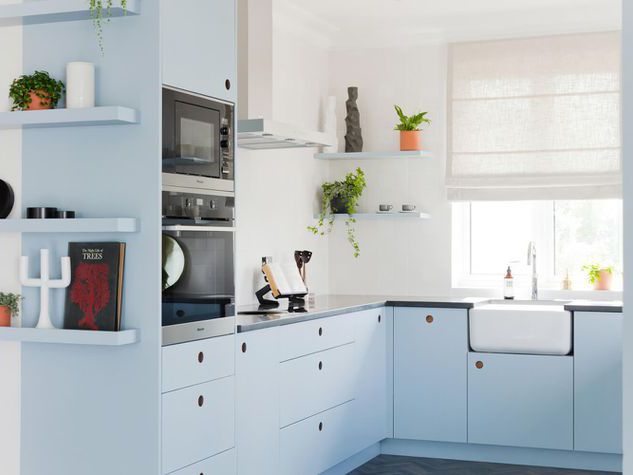 source: mydomaine.com
Semi-Sheer shades provide more privacy than standard sheer shades. They do not block the sunlight entering your kitchen but they do prevent outsiders from seeing in. Additionally, they are more opaque in their coloring to lessen the transparency. Greyscale roman style shades are popular for kitchen curtains. It is most suited above the countertop workspace. Tie-back curtains are in trend. So go for this style and upgrade the kitchen decor.
Neutral Color Linen Shade Curtains
Neutrals can go with any style and decor. Particularly, kitchen decor needs this type of styling where color combinations are limited. You can match the neutral color curtain with the furniture and fixtures of your kitchen. Another option is to give a cohesive look to your dining area with neutral curtains as well as the kitchen windows with neutral colors. Linens are easy to clean and can stay crisp for a long time so it is best suited for the kitchen area.
Printed Curtains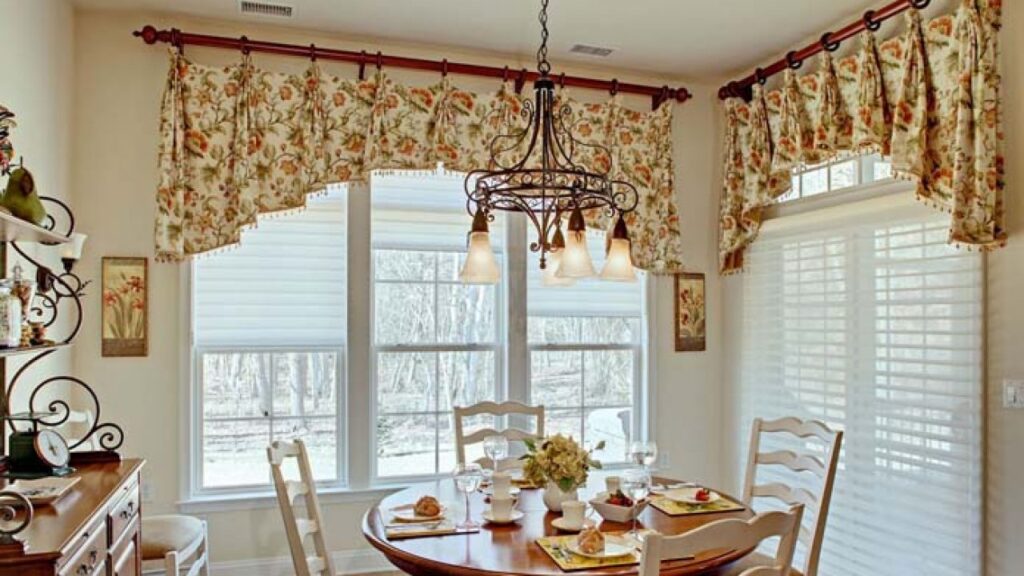 source: livinghours.com
Prints reflect your style of creativeness. Always choose the print that suits your personality. You can choose any fun fabric which is soberly printed to breathe extra personality into your kitchen. The color combination is the key in printed fabrics. In particular, a Light color print in dark shade background is ideal for kitchen curtain designs. For example, a tight navy blue background with sky blue floral print. This is an ideal color scheme for printed fabrics.
Curtains with Floor Length
A house where the kitchen, living area, and dining area share one room space have large windows. Thus you need curtains with extra length. On the condition, floor-length sheer curtains are the best choice. This will not only serve you for privacy purposes but also for air circulation purposes. However, they do not touch the floor so you become carefree about the cleanliness of the curtains. A bright and light color scheme is good for floor-length curtains.
Opt For Shutters Instead of Curtains
Think out of the box and go for the shutters instead of going for fabric curtains. Yes, this is possible. It is not a new concept but a unique way to give a hard touch to your kitchen decor. Fabric curtains give a soft touch to the kitchen area while shutters give a hard feeling. Applying this theme you will introduce a new concept of decor that is timeless, simple yet versatile.No need for any fabric and no tension in choosing colors, designs, and styles.
Classy Woven Shades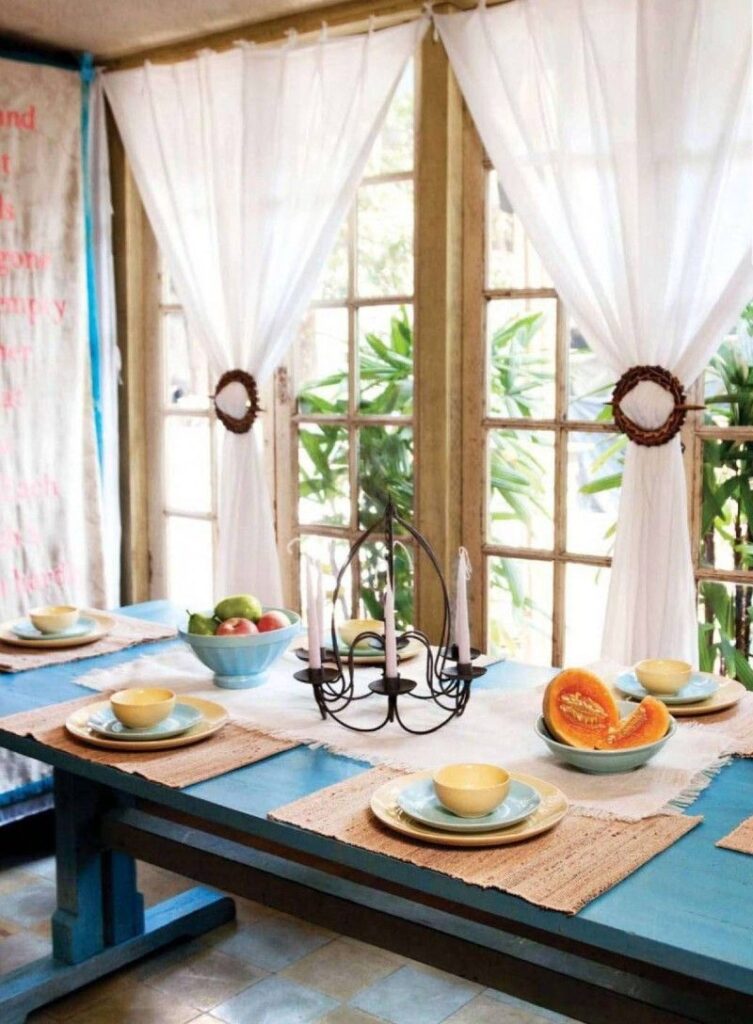 source: pinterest.com
Woven shades are made from neutral and renewable materials like bamboo, jute, grasses, and reeds. This is the best style if you want to go for some organic stuff in your kitchen. It allows enough light to peek through, emitting the sift flow inside the kitchen space. This is an eco-friendly style of curtains. But pick your shade wisely because woven shades can wrap or fade after some time. Best suited for rentals.
Bright White Shades
White color is a symbol of purity, innocence, and simplicity. It can go with any color and shade but the thing is that your window pane color should be contrasting to get the most of this look. For example, paint the interior window casing black and get the graphic pop shade without much effort. You do not need to search for specialty shades if you opt for white and other contrasting shades for your kitchen curtains.
One Shade For Two Adjoining Windows
If you have a big space or the window pane is wide, at that time one single color scheme is best to select. There are some spaces where detailing is needed. Kitchen windows are the space where every detail matters. Two windows covering a single large curtain go well in looks and appeal the most. So stretch one shade across the two windows. It will enhance the kitchen decor with an outline feature.
Matching Shades With Kitchen Countertop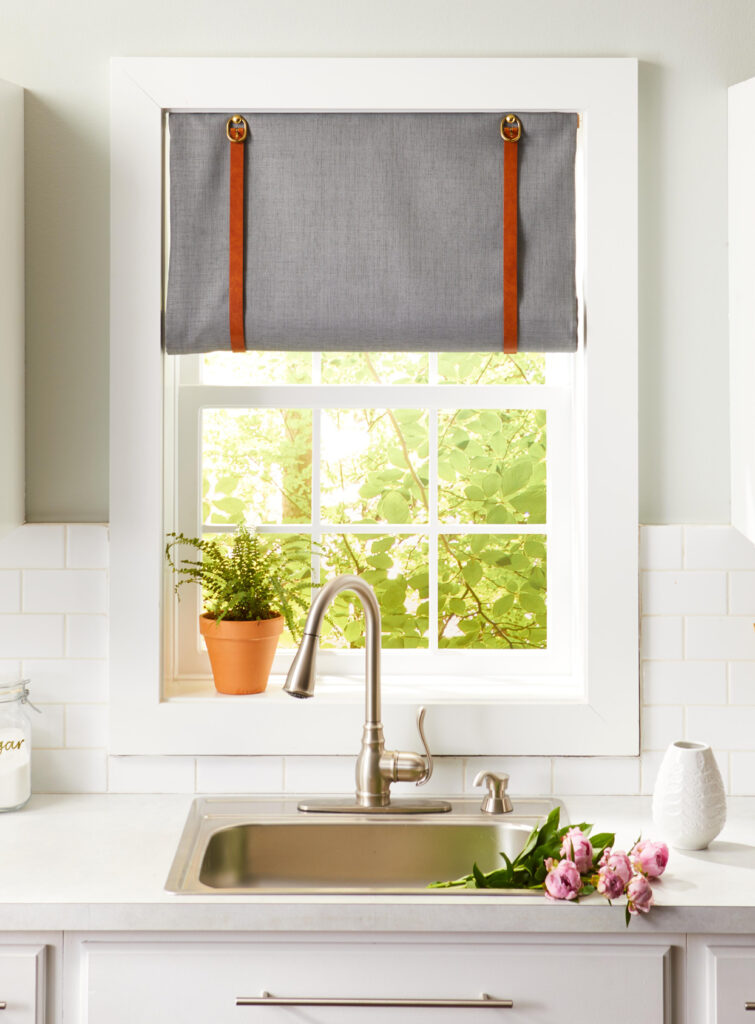 source: pinterest.com
The matching concept is fascinating as well as eye-catching. Your kitchen has so much stuff on the countertop and in the cabinets. Match your curtains with three to four selected items like stone/marble countertop color, kitchen towel colors, crockery color, etc, and match your curtain color with them to create a color scheme. It will create a cohesive look and give contemporary vibes.
Bare Windows
Imagine you have to keep your windows bare due to some reason. How do you feel? It is a feeling that something is missing. So worried about the necessity of having curtains in your kitchen? Ditch the thought because keeping your windows bare is also perfect and stylish. Instead of having expensive curtains you can enjoy bare windows that will give you more functionality. Having curtains in the kitchen window is not always necessary.
Conclusion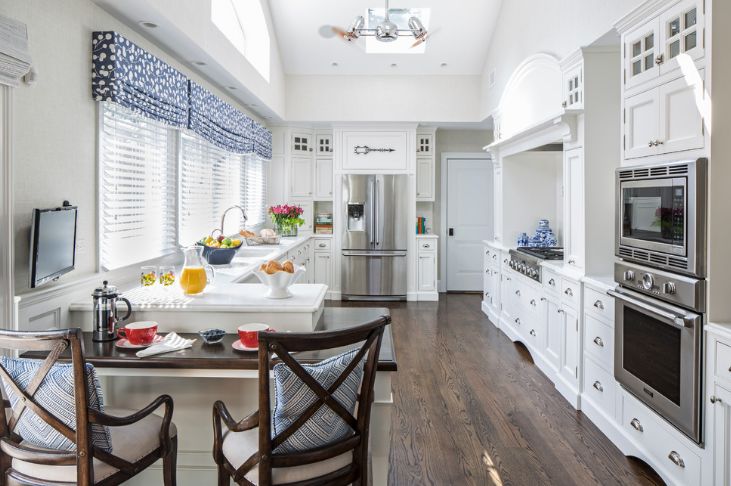 source: homedit.com
Curtains are a crucial component for hiding any unpleasant regions and covering your windows. They do so much more than just shield your house from the heat and provide shade at night. The kitchen is the area where you will find heat and moisture simultaneously. So choose the curtains wisely, particularly for the kitchen. At last, we can say that curtains have a huge impact on the overall decor of your kitchen.These kitchen curtain design ideas will blow your mind.