Privacy is essential for creating a calm escape in your outdoor space, but built-in screens and shades may be costly. Consider hanging outdoor curtains instead for a quick and easy, low-cost option to limit views surrounding your deck or patio.
Exterior draperies are designed to resist severe sun, wind, and rain while giving relief from searing summer weather, including dangerous UV rays.They're helpful in keeping the solar radiation out of your eyes, decreasing midday heat, and providing seclusion in situations where you might seem more drawn,
Outdoor curtains are a decorative element that may give charm to your patio in addition to their utilitarian benefits. They come in a number of designs, colors, and patterns; just make sure you choose one that repels water.
Definition Of Outdoor Curtains?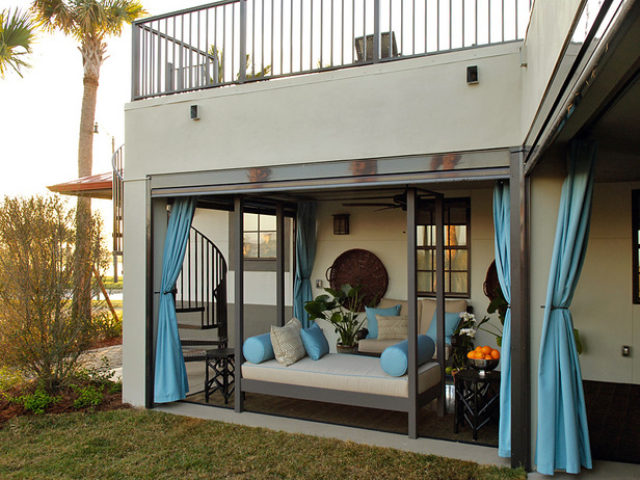 source: pinterest.com
Outdoor curtains are widely known for their sturdiness. They're made to survive the weather without fading, ripping, or forming mold. Many varieties are made of weather-resistant textiles that withstand water and stains, and many are UV-stable to preserve their color over time.
Outdoor curtains are frequently installed along the header with strengthened hanging hooks or grommets to ensure that high winds do not take them away. Heavier materials can provide UV protection as well as keep temperatures under your porch or patio in control on hot summer days.
Outdoor Patio Door Curtain Style Ideas!
Browse our selections for the best outdoor curtains to add privacy and protection to your deck or patio. Make it seem like a fashionable extension of your home!
Transparent Sheer Patio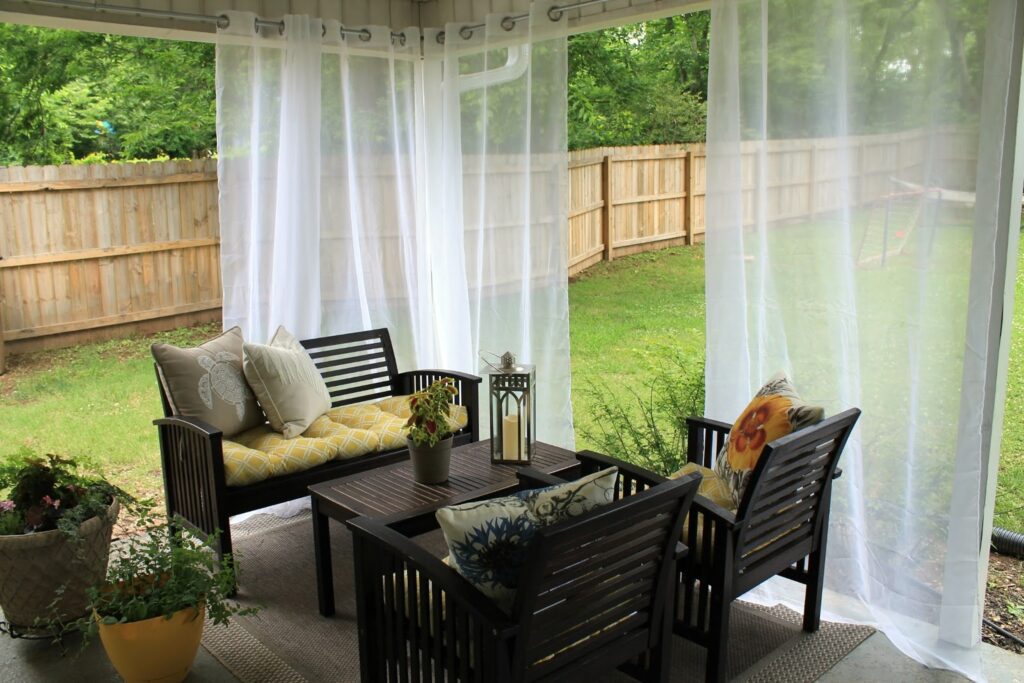 source: pinterest.com
Sheer outdoor curtains are great for keeping pests out while preserving a bright, open feeling. These curtain panels (available separately) include a rope tie that allows you to effortlessly pull them back when your porch is not in use. The top tabs are attached with hook-and-loop tape, allowing you to detach the curtains without pulling down the entire pole.
Waterproof Patio Curtain 
Waterproof curtains are an excellent alternative for adding seclusion to verandas, terraces, and decks. PU-coated polyester fabric is used to make waterproof outdoor drapes. The elastic locking method prevents it from flying away in windy conditions, which is an appealing feature. The tab loops are embellished with decorative wooden buttons.
Plastic Curtain For Patio 
For classrooms and nurseries, plastic strip door drapes are the finest option. These exterior drapes are constructed with insulating characteristics that aid in preserving inside temperature by keeping cold air from entering from the outside. They keep the surroundings peaceful and quiet by lowering the noise level.
Outdoor Canvas Curtain 
These appealing canvas curtains are made of an acrylic mix, are heavy-duty yet lightweight. It is made of colorfast material and has the feel of cotton cloth. These outdoor drapes are stain, mildew, rotting, and mold resistant. The weather-resistant metal grommets glide easily, making it simple to move.
Honeycomb Blinds For Door
If curtains aren't a good fit for your design, consider patio door shades because they promote energy efficiency. These honeycomb blinds are ideal for both cold and warm  weathers. Their honeycomb architecture traps air in separate pockets, resulting in insulation that can assist reduce your energy use and expenses.
Indoor/Outdoor Curtain
If your balcony doors are frequently left wide open to let the air in, an indoor/outdoor curtain is an alternative. The curtains are meant to survive the weather since they are mold-resistant, water repellent, and give some UV protection. Buyers said they were simple to hang, well-made, and long-lasting.
French Outdoor Curtains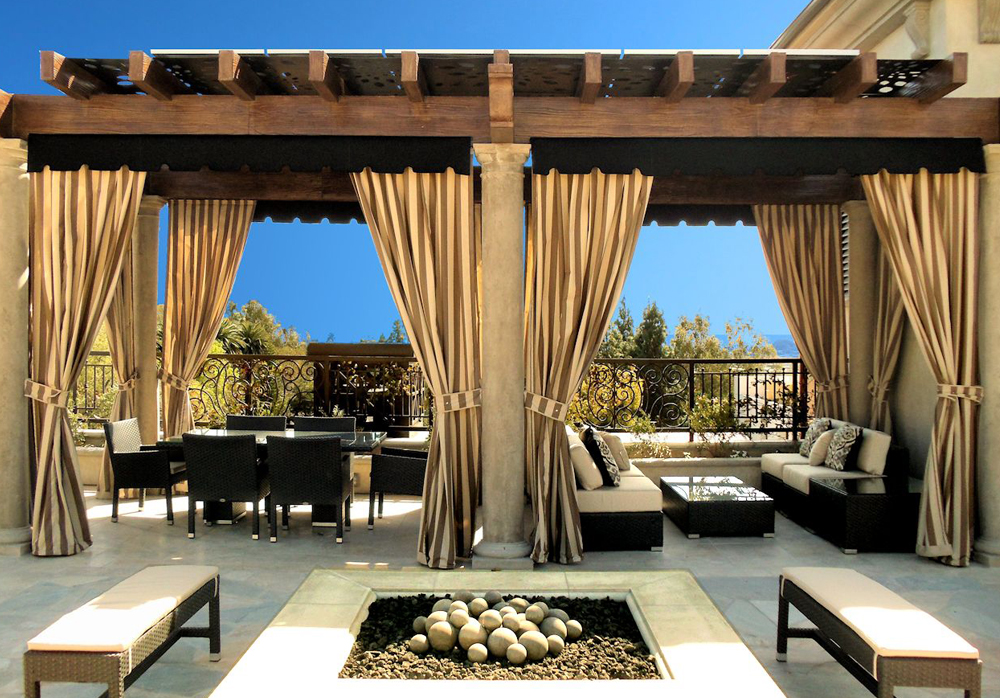 source: homedit.com
These French door curtains, which come in a number of patterns, block out up to 95 percent of the sun's unwelcome light while also helping to insulate your house during the colder months. Some people believe that when it comes to balcony door curtain ideas, the ability to shut down all light is essential.
Solar Shade Outdoor Blinds
On sunny days, enjoy calm moments with see-through solar blinds of synthetic fiber. It significantly lowers heat build-up and furniture deterioration by shielding UV rays by 85 percent. These outdoor balcony curtains may be installed on a metal frame, and the anchor loops at the bottom provide stability. To clean it, simply rinse it with water and allow it to air dry.
Animal Print Outdoor Curtain
An animal pattern curtain design for your patio performs a fantastic job of providing a decorative element and revitalizing a somewhat boring appearing environment. You may choose a jaguar spot or a zebra stripe, and you'll never go wrong with your unusual aura design. These patterns are also in keeping with nature and will look great on patios with a lot of plants.
Personalize Curtain Ideas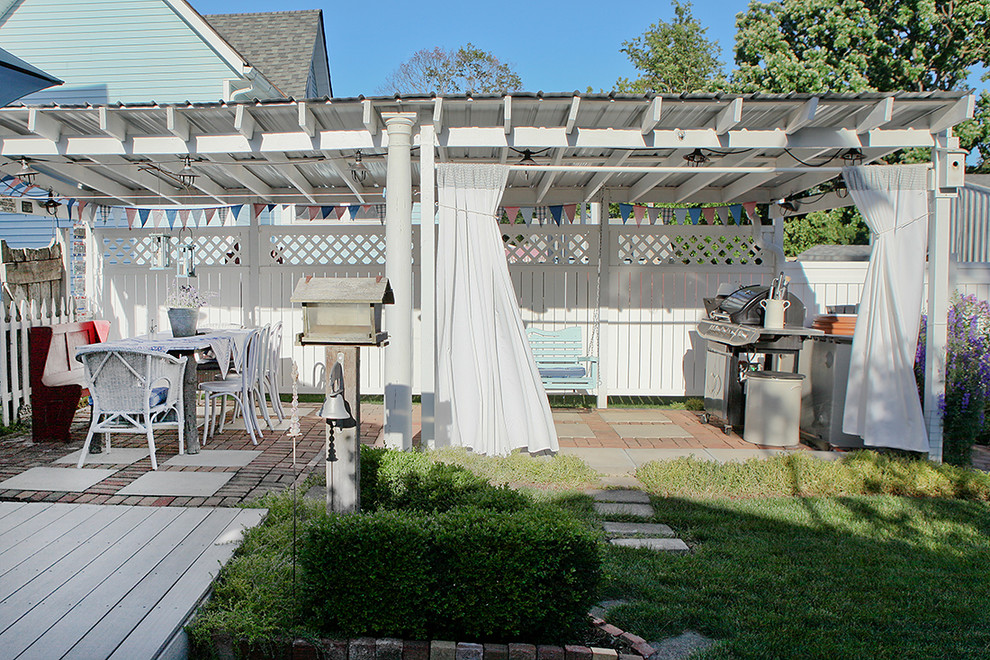 source: nextluxury.com
You may give your patio doors a special treatment by personalizing your curtains. To add aesthetic appeal, you can utilize art elements like beards or a textile braid on the hem. If your drapes are too short, add more fabric to make them longer. One advantage of customizing your curtains is that they will have a one-of-a-kind appearance no one has.
Outdoor Roman Shades
Because of their richness and glamor, Roman hues can never go wrong. The curtains perform their duty since they are sun insulated. They help keep your house looking lovely since they may fold into elegantly created pleats. They will not clog your windows and will instead guarantee that your property is nicely structured.
Types Of Outdoor Curtains You Should Buy!
Outdoor curtains are the ideal blend of style and usefulness, whether you're trying for a flowy seaside-house feel or need some heavily loaded drapes to keep the sun out. Here are some basic concepts to consider when selecting the appropriate fabric and layout for your outdoor space:
Acrylic: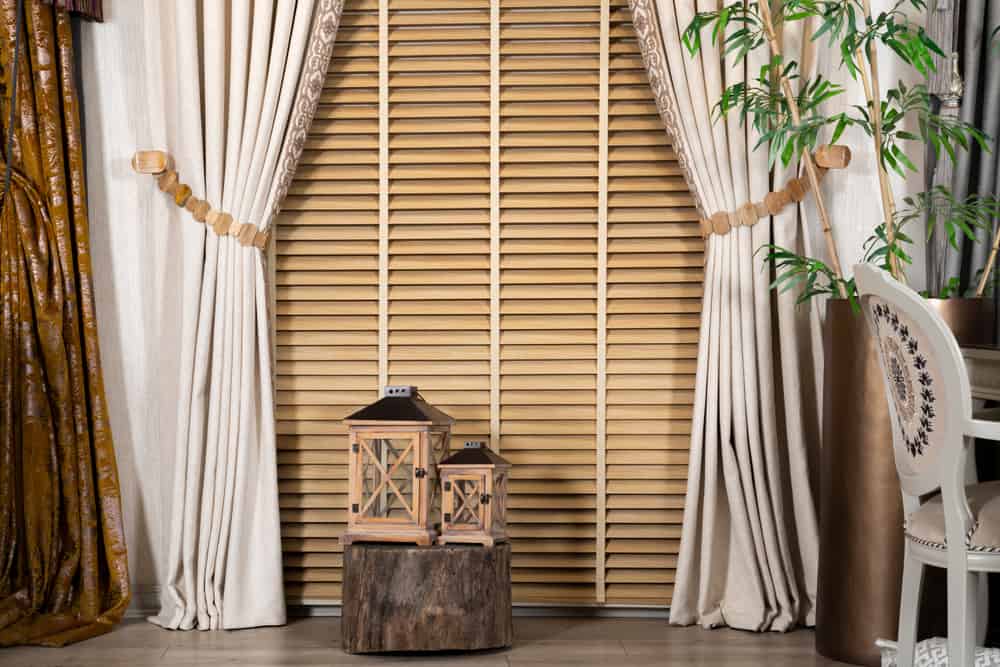 source: stylesatlife.com
Acrylic, which is commonly used as an outdoor fabric, comes in a variety of multiple colors and designs, making it easy to fit your inside color scheme and personal style. However, acrylic has one drawback that may be bothersome in curtains. Lightning is a common drawback with this fabric.
Static in your acrylic curtains may be a source of aggravation and discomfort since it attracts dust, filth, and dog hair. Not only from dangerous static shocks, as well as from washing the curtains on a regular basis. This is one of the reasons acrylic curtains are not as common as polyester or Olefin outdoor blinds.
Polyester:
Polyester and polyester mixes are among the most affordable outdoor curtain materials available. They do have a disadvantage because they are inexpensive. They are not as weather-resistant as more costly ones like Olefin.
Polyester is a long-lasting fabric that can endure UV radiation, rain, and direct sunshine. Although it will have a shorter lifespan, polyester may be a more cost-effective solution or a catch until you can find something better.
Olefin:
Olefin, a polyethylene fabric, is at the top of the list. Because it consists of two plates and is UV resistant, it is the most popular option for outdoor curtains. It dries rapidly and is mold and mildew resistant. Even better, it does not fade in direct sunshine.
Olefin is a very durable, lightweight, and soft material. It drapes nicely and is available in a variety of patterns, textures, and motifs to make your outdoor area stand out. Olefin is popular because it can be colored with any dyeing solution, resulting in a wide color spectrum.
Types Of Outdoor Curtain You Should Avoid!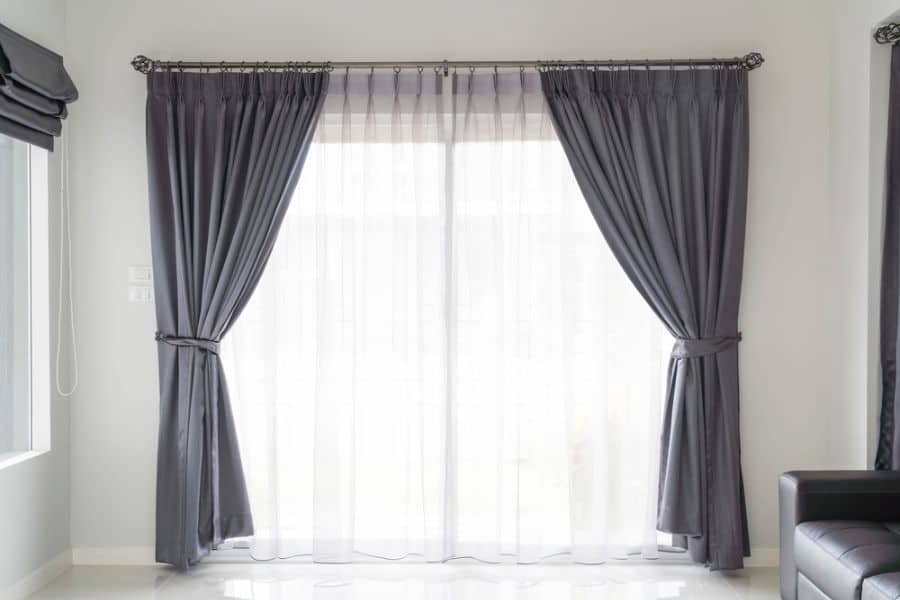 source: nextluxury.com
Most textiles have characteristics that make them more suited for some purposes than others. Outdoor curtains are no different. They require a strong material that can endure wind, rain, and bright sunshine.
Not all textiles are capable of this. We'll look at certain materials to avoid while buying outdoor curtain material in this section. Despite the fact that they appear to be qualified for the position.
Indoor Fabrics:
Indoor fabric, as the name implies, is intended for use within your house. The material's weaving and polish make it inappropriate for use outside. An indoor cloth will not have the same waterproofing or durability as one designed exclusively for outdoor usage. Mold or mildew may develop quickly on curtains made of an indoor cloth.
Outdoor textiles include specific weaves and treatments that protect the fibers from the elements. Many feature a triple weave, which makes them extra robust and able to withstand long-term exposure to the outdoors.
Although certain interior textiles may be weatherproofed with chemicals and sprays, the protection is temporary and not as durable as a textile meant for outside usage.
Cotton & Canvas:
Cotton's absorbency is one of its key drawbacks. Normally, this is a positive thing, especially when it comes to apparel suited for warm temperatures. It helps you stay cool. It isn't ideal for outdoor curtains.
When your drapes get wet, soaking in rainwater becomes an issue. It will make them weighty, and because cotton does not dry fast, there will be a lot of additional weight dragging down on your veranda or patio curtain lines.
Although canvas is essentially cotton, it is robust cotton that is utilized in products such as tarpaulins. Rainwater will add more weight, making it too heavy to flow freely. Tugging at it when it's damp might result in your gazebo collapsing on your head.